Hawaii is an island state, surrounded by the beautiful Pacific Ocean. We call Hawaii—so ethnically diverse—the melting pot of the Pacific, the gateway to Asia for the West and the gateway to the mainland U.S. for Asia. Our location in the middle of the Pacific Ocean is a long way from the Mainland, and we rely heavily on imports brought in by either plane or ship. We import somewhere between eighty-five and ninety percent of our food supply. In our lifetime, how do we move that dial back ten percent to become a little more self-sustaining?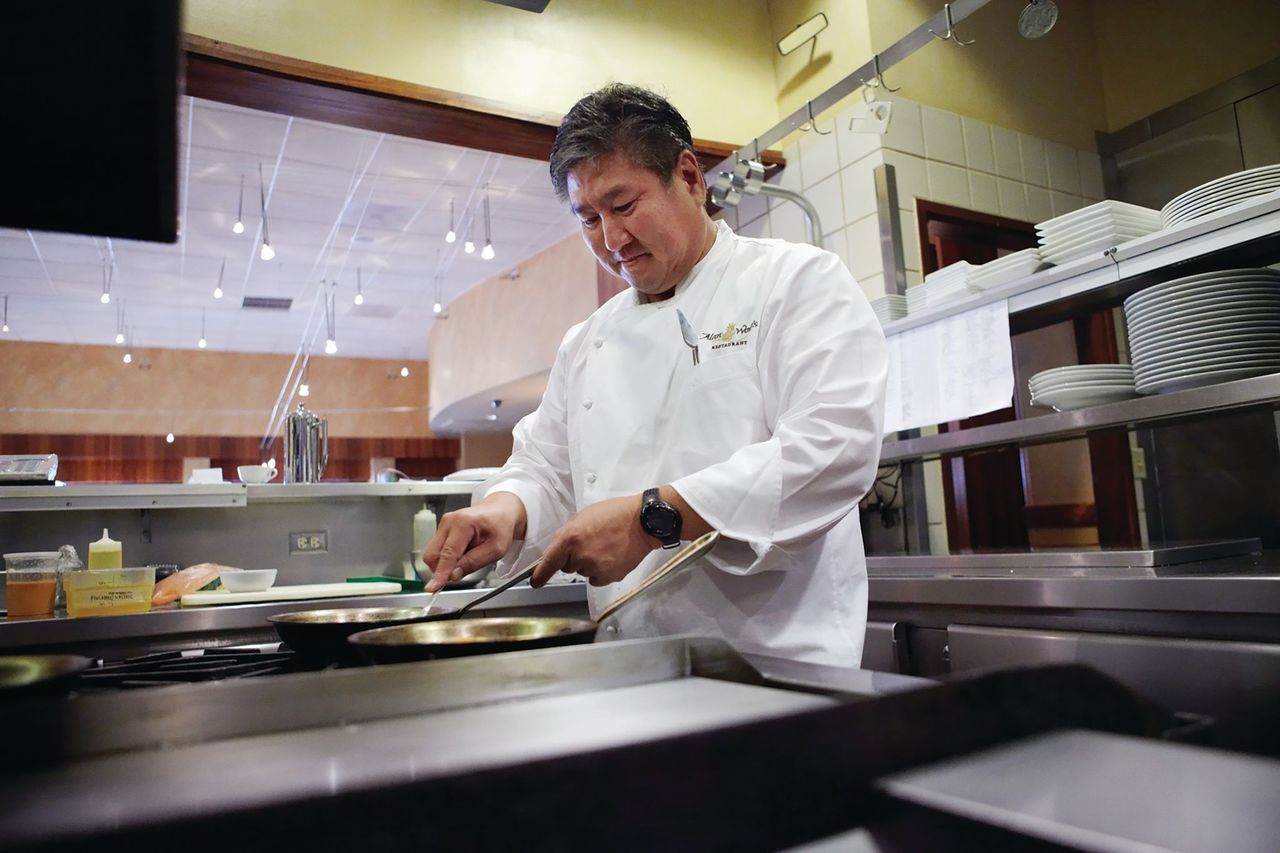 "How do we move that dial back ten percent to become a little more self-sustaining?"
Chef Alan Wong: Helping put Hawaii and its culture in the spotlight. Photos: courtesy of Alan Wong/"Taste Our Love for the Land," 2015
Hawaii was born from agriculture. Sugar cane and pineapple were dominating industries once, but now they barely exist in the Islands. Pork and chicken are popular with the locals and we produced much of it back in the day, but now very little. Local dairy and egg production once accounted for up to seventy percent of what we consumed, but now it's only thirty percent. We never had a six-month fishing ban on bottom fish until a few years ago. Our aquifers still produce awesome drinking water, but what was abundant once is slowly diminishing.
One of the original goals of the Hawaii Regional Cuisine movement, which began in 1991, was to help develop the agricultural network in the state of Hawaii. Today, cooks and chefs have much more to choose from as more product is being grown and produced in Hawaii. The number of farmers markets across the state is at its highest ever. 
One of the goals of the Hawaii Food & Wine Festival has been to put the spotlight on Hawaii—the people, the culture, our food, our farmers and what we grow, raise and produce here in the Islands. The two biggest groups receiving monies raised from this event represent Hawaii's future cooks and future farmers. When you have more than a hundred world-class chefs from all over the globe cooking with local ingredients at the festival, it says a lot about what we eat here. If all of this helps move that dial back ten percent, to help create a more sustainable Hawaii, then all of us will have helped make the Islands a better place than before. By putting our food in the spotlight, we also put the farmer, the rancher and the fisherman in the spotlight. If that encourages more farmers to get started, and helps keep the existing ones in business and growing even more product, we're all on the right path—so that our grandchildren's children can enjoy what we have today, tomorrow.
Korean Chili Vinegar Kualoa Shrimp with Seafood and Local Vegetables
Serves 4 | By Alan Wong
Korean Chili Vinegar Kualoa Shrimp with Seafood and Local Vegetables
Serves 4 |  By Alan Wong
1 cup assorted Ho Farms tomatoes
2 ounces yellowfin ahi, cubed
4 to 8 tongues uni (sea urchin)
1 Big Island abalone, thinly sliced
4 tablespoons ikura (salmon roe)
½ avocado, cubed
2 small beets, roasted and halved
4 teaspoons microgreens (shiso, basil or cilantro)
8 slices Hilo hearts of palm, sliced in rings approximately 1/8-inch thick
2 Hamakua alii (king oyster or eryngii) mushrooms, halved and sauteed
Remove the shrimp from the pickling liquid and artfully arrange on each plate. Divide remaining ingredients equally among the plates and serve immediately. 
Korean Chili Vinegar Kualoa Shrimp
3½ tablespoons minced shallots
1½ teaspoons minced ginger
1½ teaspoons minced garlic
¾ cup unsalted butter
½ cup canola oil
¼ cup Korean chili powder
2 cups rice vinegar
½ teaspoon Madras curry powder
½ teaspoon cardamom
½ teaspoon coriander powder
6 raw Kualoa shrimp, 16/20 size, peeled and deveined
2 tablespoons fish sauce, Red Boat brand preferred
In a saute pan over medium-high heat, saute all of the ingredients except for the fish sauce and shrimp. Bring the mixture to a quick boil then lower the heat and simmer for 5 minutes. Cool until just warm and blend until smooth.
While the mixture is cooling, sauté the shrimp. When the shrimp is just about cooked through, add the fish sauce and mix thoroughly. Add the blended chili vinegar mixture to the pan and bring to a boil. Once the mixture boils, turn off the heat. Pour the shrimp and chili vinegar mixture into a container and cover. Store in the refrigerator and let the shrimp pickle for at least 24 hours. Maximum pickling time is 3 days.