For five years now I have been dedicated to an organization that is very close to my heart. I learned about Common Threads when I was invited to cook at its fundraiser in Chicago by its founder chef Art Smith. While there, I asked myself why on earth don't we have something this wonderful and rewarding for so many people in Miami. That moment I decided to bring it home; I raised as much money as I could through dinners and brunches at my restaurant, Michy's.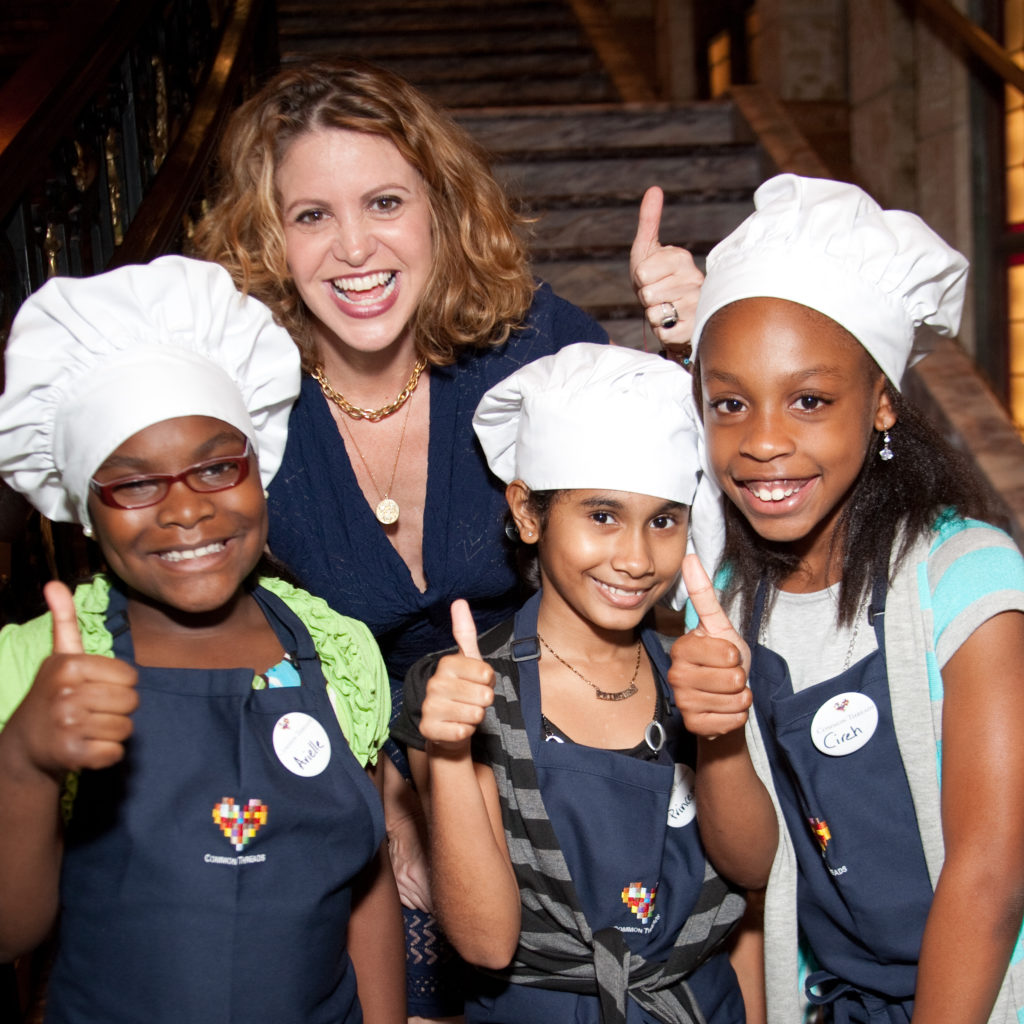 "Children eating at home consume more fruits and vegetables and cook more healthfully as adults."
Chef Michelle Bernstein with Miami Common Thread students (left to right) Arielle Germeus, Princess Cummings and Cireh Collins. Photos: courtesy of Michelle Bernstein/"Taste Our Love for the Land," 2015
Common Threads is an afterschool program that teaches underserved kids about cooking, socialization skills and nutrition; The 8-12 year olds are taught in their own cafeteria kitchens in their middle schools or we bus them to culinary schools nearby. They are taught about a certain part of the world, its language difference, its cultural difference but we stress the similarities in children throughout the world. Then they are brought into the kitchens to learn recipes from those specific regions and an hour and a half later they eat! By the end of the school year, many of the Common Threads students cook regularly with their parents at home. The children eating at home consume more fruits and vegetables and cook more healthfully as adults. The students are learning a life skill that can help prevent obesity.
 We started our first year with one class and 14 students; 5 years later 40- some classes and a summer program to boot. We are growing every year, and are now part of the Dade-County School System and proud to be affecting so many more incredible kids every year. We hope to teach 1 million kids and their families by this year!
Scallops with Oxtail
Serves 4 (with leftover oxtail)  | By Michelle Bernstein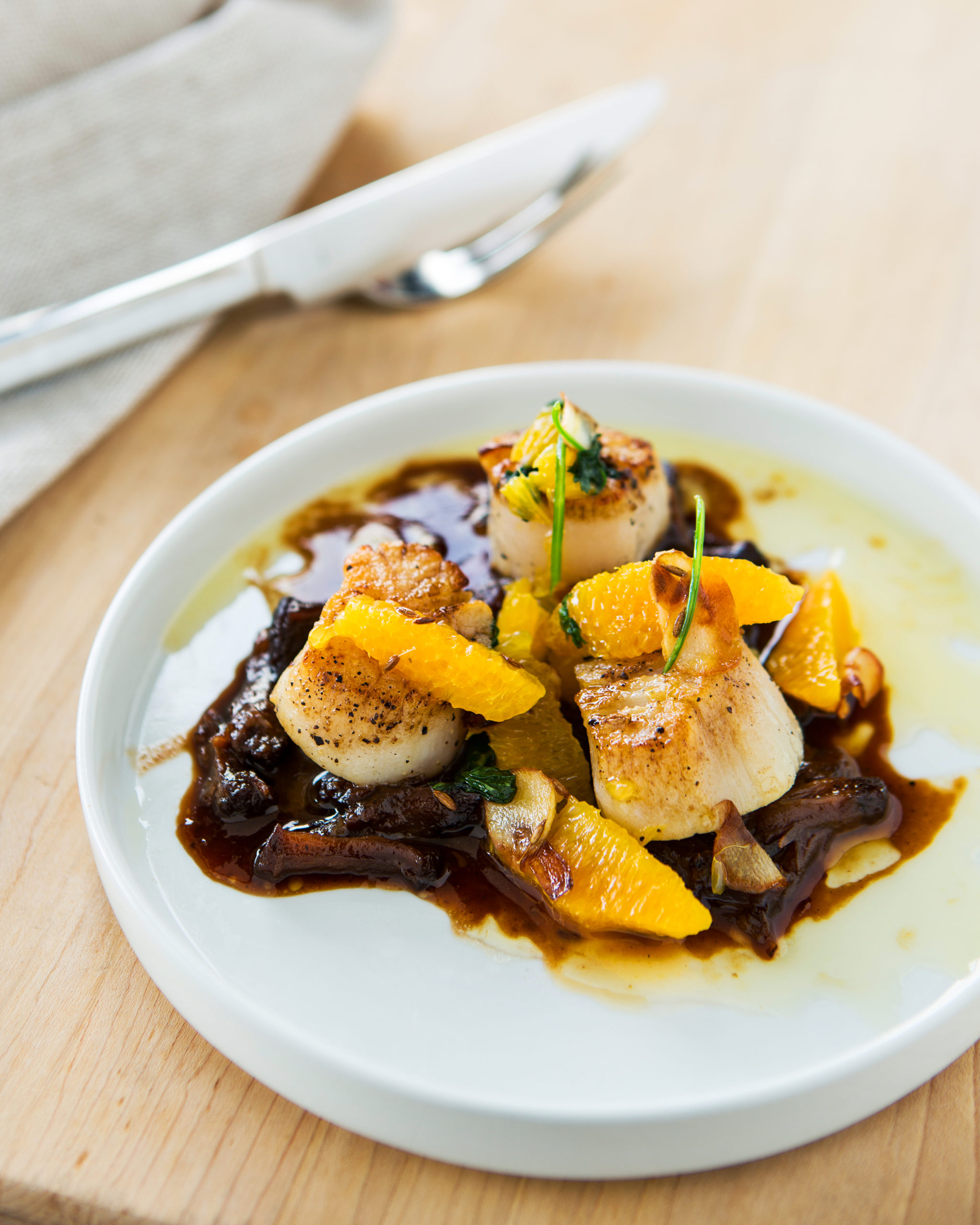 Scallops with Oxtail
Serves 4 (with leftover oxtail)  |  By Michelle Bernstein
4 diver scallops
¼ cup olive oil
Kosher salt
Freshly ground black pepper
½ cup segmented oranges
2 tablespoons dry oloroso sherry (suggestion: Lustau "Don Nuño")
1 tablespoon cilantro, roughly chopped
Oxtail (recipe follows)
Prepare oxtail first.
Season the scallops with salt and pepper. Heat a sauté pan over medium-high heat and add the oil. When hot, sear the scallops on all sides to medium. Remove the scallops; add the orange segments, sherry and cilantro, shaking the pan to combine. Serve the scallops over a spoonful of the stewed oxtail and spoon the pan sauce over the scallops.
For the Oxtail
2 pounds oxtail, cut into bone-in chunks
Kosher salt
Freshly ground black pepper
Flour, for dredging
3 tablespoons olive oil
1 Spanish onion, peeled and diced small
2 carrots, peeled and diced small
¼ cup diced celery
¼ cup red pepper, diced small
4 cloves of garlic, minced
¼ teaspoon ground cloves
¼ teaspoon ground allspice
1 tablespoon fresh thyme, chopped
¼ cup Italian parsley, chopped
1 tablespoon cocoa powder
Zest of 1 orange
2 tablespoons tomato paste
½ cup white wine
4 ounces dry oloroso sherry (see note above)
4 cups demi-glace
4 cups chicken stock
2 tablespoons Worcestershire
1 Scotch Bonnet or habanero pepper cut in half
Season the oxtail with salt and pepper and dredge in flour. In a large braising pot with a top, heat the oil on medium high heat. Sear the oxtail in the oil, on all sides, until golden. Remove the oxtail from the pan and, in the same pan, add the onions, carrots, celery, red peppers and garlic. Cook until soft. Add the cloves, allspice, herbs, cocoa, orange zest and tomato paste. Cook for approximately 5-6 minutes. Deglaze the pan with the white wine and sherry. Reduce by half and add the demi-glace and chicken stock. Add the oxtail back to the pot. Add Worcestershire and Scotch Bonnet pepper into the pot. Cover and cook until soft (about 3 hours). Remove the oxtail from the broth, strain, then cool the broth to remove fat from the top. Debone and shred the meat. Meanwhile, reduce the broth about halfway down. Moisten the oxtail with the reduced broth before serving.