I believe only in regional cuisine and using the freshest ingredients from the local market wherever I am in the world. When chefs commit to cook from the local market, sustainability happens. Since a small group of us started the Hawaii Regional Cuisine organization in about 1990, we've each worked in our own way to support local farmers and to build a demand in the market for dining experiences unique to this place. That's our part in sustainability. It's been energizing to take our cuisine on the road and have people taste our unique fish, meat and produce. Now I would say that most guests are looking for local products in our restaurants.
What I appreciate the most from farmers is consistency, which is very difficult to achieve in our tropical climate. If Hawaii is a paradise for humans it is also a paradise for birds and bugs. It's why it can be very challenging to feature Hawaiian products, and of course it's more expensive. But it's worth every penny to get the freshness and quality and to assure the sustainability of Hawaiian crops.
Here's my favorite example. Sumida Watercress was certainly one of the first ingredients in Hawaii to blow my mind. Of course you can find watercress everywhere in the world, but never in my life have I found watercress so fresh, so beautiful and with a very characteristic spiciness of black pepper accents that you cannot find anywhere else!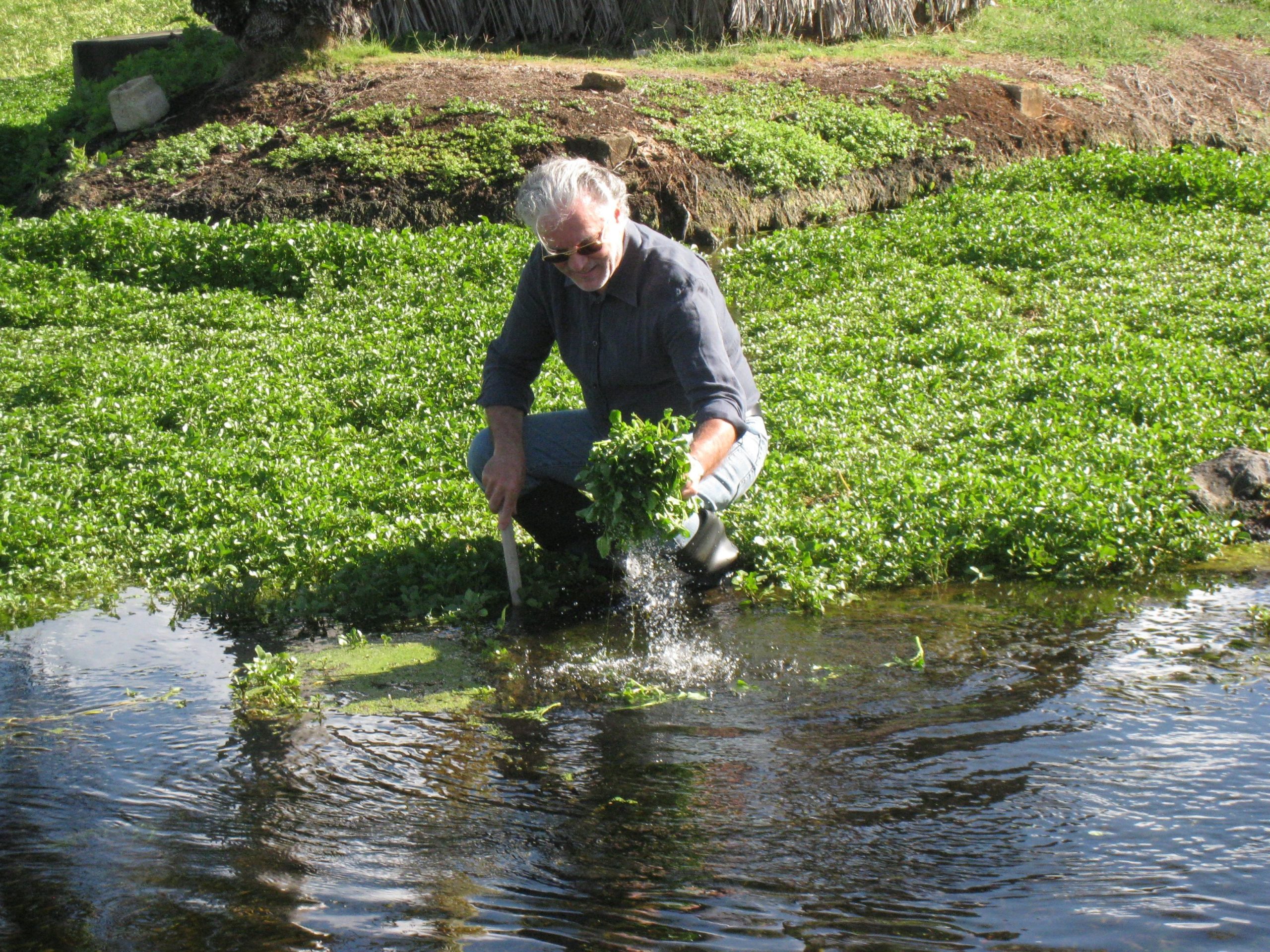 Never in my life have I found watercress so fresh, so beautiful!
Born in Marseilles, James Beard Award winner Chef Georges Mavrothalassitis has lived in Hawaii since 1988.
Since I landed in Honolulu in 1988 I have always featured watercress in each seasonal menu. And since I change the menu four times a year, you can do the math on how many recipes I've done with Sumida watercress!
Everything about Sumida Farm is amazing. This is a multigenerational local business, in Pearl City on the island of Oahu, that is now run by David and Barbara Sumida, the fourth generation. Their father, the legendary Masaru Sumida, was larger than life. When a big regional shopping center wanted to take over his land, Masaru Sumida refused to sell. So they built the shopping center around the farm, as you can still see today.
Everything about this farm is a symbol of sustainability. Number one, the terroir is just perfect. What do you need to grow watercress? Water and sun. Water—there are maybe more than a dozen natural springs on the farm. The water comes from the mountains on its way to the ocean, irrigating ten acres of watercress along the way. The sun—Aiea is one of the sunniest places on the island. The microclimate of Aiea is exceptionally sunny. This makes for the exceptional quality of the production.
When you harvest watercress, you cut the top part and toss the roots back into the water and it restarts itself, reborn to produce more watercress. A few weeks later you have a new crop as beautiful as the previous one.
Sumida Farm provides seventy-five percent of all the watercress consumed in Hawaii. And as David's grandfather told Masaru, "Son, in life do only one thing and do it well." And they did, and they are still doing one thing well.
Maitake Mushroom and Sumida Watercress Salad
Serves 4 |  By Georges Mavrothalassitis
Maitake Mushroom and Sumida Watercress Salad
Serves 4 |  By Georges Mavrothalassitis
4 whole Kona lobster tails
3 ounces alii (king oyster or eryngii) mushrooms, thinly sliced on the bias
4 ounces Cured Pork Belly (recipe follows)
16 tablespoons Kombu Stock (recipe follows)
16 tablespoons Black Pepper Butter (recipe follows)
2 ounces Mango Curd (recipe follows)
Fresh mango, diced, for garnish
Divide lobster tails by cutting between their natural segments. Swirl a little bit of oil in a large sauté pan on high heat. Add mushrooms, pork belly and lobster segments. Sauté until mushrooms are soft, lobster begins turning red and pork belly is semi-rendered. Deglaze with Kombu Stock and reduce by half. Add 2 tablespoons of Black Pepper Butter and whisk to emulsify. Toss lobster in pan to ensure each piece is coated with sauce. Taste and season with salt and pepper if necessary. Remove from the heat.
To serve, place lobster pieces on a large plate, pour sauce, pork belly and mushrooms over the top. Garnish with Mango Curd and fresh mango.
Cured Pork Belly
1 pound pork belly
1 cup salt
½ cup brown sugar
4 sprigs thyme (leaves removed)
Combine all ingredients, except for pork belly, and mix well. Heavily coat the pork belly with the dry brine mixture, and let sit for 12 to 18 hours in the refrigerator. Once pork is cured, rinse excess brine off, and pat dry. Place in a convection oven at 300°F for 1½ to 2 hours until semi-tender. Cool on a rack and refrigerate. Once chilled through, chop into medium dice.
Mango Curd
8 tablespoons mango purée
4 egg yolks
¼ cup water
8 tablespoons sugar
Pinch of salt
2 lemons, juice only
In a double broiler, combine all ingredients and whisk vigorously until a smooth consistency is reached. The eggs should cook and no longer have a loose texture.
Kombu Stock
1 gallon water
4 cups mirepoix*
2 pieces kombu (dried kelp), 6 inches by 8 inches each
3 sprigs thyme
* 2 parts onion, 1 part carrot and 1 part celery, roughly chopped
Bring all ingredients to a boil, simmer for 45 minutes, let cool and strain.
Black Pepper Butter
3 pounds butter, tempered
¾ cup minced garlic
¾ cup minced shallot
½ cup freshly ground black pepper
½ cup fish sauce
1½ cups white wine
½ cup minced chives
½ cup minced parsley
6 lemons, zested
In a sauté pan, sauté garlic and shallots in 2 tablespoons of butter. (Store leftover butter in refrigerator for future use.) Add in black pepper and continue sautéing until toasted. Deglaze with white wine and fish sauce. Reduce by half. Remove from heat and cool. Meanwhile, in a stand mixer, cream the butter with chives, parsley and lemon zest. Add in the cooled black pepper mixture until evenly incorporated.