Chef Colin Hazama uses watercress at C4 Table, his popup at Kaiser Farmers Market where he showcases upscale comfort food. "Watercress is very versatile, and I use it from tip to stem," said Hazama, expressing his love for the vegetable.
No stranger to unique ingredients, Hazama was the first place winner of the 2019 HFWF Emerging Crop Recipe Challenge, for which he created, Voyaging Foods Spiced Ulu Flour Flat Bread.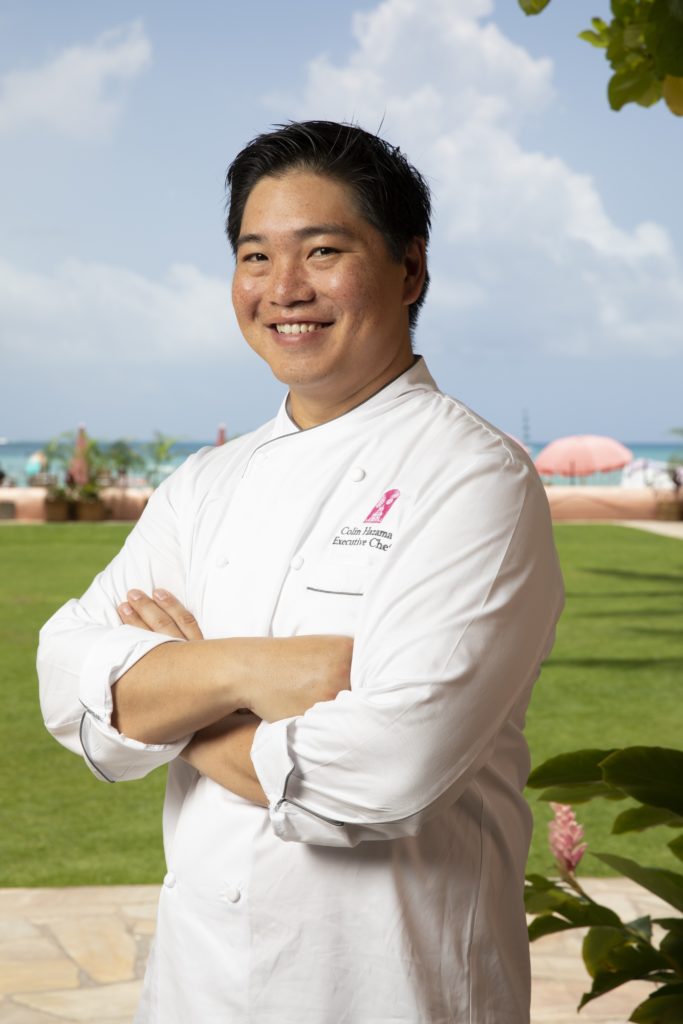 "

Watercress takes on a nice herbal and unique flavor that you can't find in any other vegetable

."
Chef Colin Hazama features upscale comfort cuisine at his new concept, C4 Table.
At C4 Table, he offers a steamed fish with his ginger watercress pesto, garnished with radish from Ho Farms, shiitake mushrooms, long beans and steamed rice. Other dishes chef Hazama offers featuring watercress are a fish jun served with kimchi watercress namul and watercress pesto, along with an ahi tataki soba salad served with watercress. "Watercress takes on a nice herbal and unique flavor that you can't find in any other vegetable," Hazama explains. "Watercress has the same nutrients, but it has this unique flavor. I like the peppery spiciness and the bitterness to it."
He also appreciates the balance watercress provides to rich foods. "I recommend balancing out watercress with something acidic," said chef Hazama, describing a watercress salad he makes at home with a black garlic, sesame and miso vinaigrette.
His tip for cooking with watercress? "It's best to add it to a soup or a sauce at the last minute so it keeps its nice bright green color."
Ginger Watercress Pesto
Yields 2 cups  | By Colin Hazama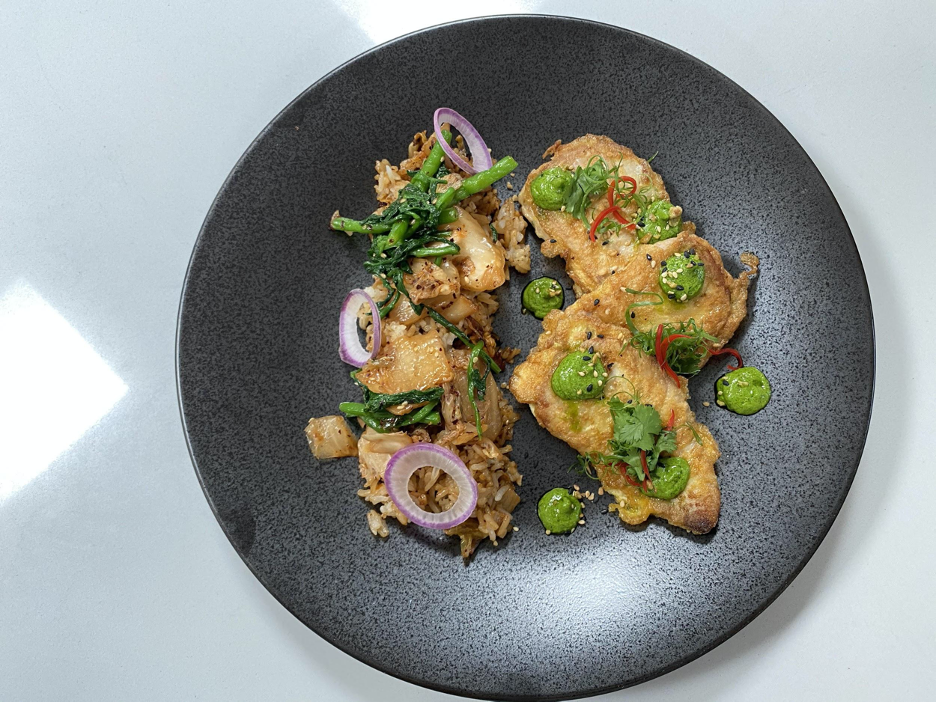 Ginger Watercress Pesto
Yields 2 cups | By Colin Hazama
1 cup grape seed oil
2 tablespoons sesame oil
1/2 cup minced ginger
1/2 cup thin cut green onion
1/2 cup blanched spinach
1 cup blanched watercress
1 teaspoon sambal chili paste
2 tablespoons kosher salt
In a small pot, add water for blanching. Have two separate bowls, one for mixing the ginger, green onions and watercress. In the other, fill with ice water for cooling down your blanching of the watercress and spinach.
Blanch watercress and spinach for 30 seconds in boiling hot salted water, then shock in ice water and squeeze all excess water out. Add to ginger and green onion. Salt well and add chili paste. Next, in another small pot, add grape seed oil and sesame oil and place on high heat until oil is smoking. Once it's up to smoking point, be careful.
Burn the ginger watercress mixture and slowly spin the bowl after hot oil is poured, using a metal spoon to mix so all surfaces of the ginger are cooked out. Next, blend on high speed for about 2-3 minutes till its pureed and pesto is formed.
Be sure to cool down by pouring mixture in to a mixing bowl and place another stainless steel mixing bowl underneath with ice to cool down mixture completely before storing so pesto stays bright green. Then, place in a squeeze bottle to plate.