"We believe [Kalauao Springs] is what makes our watercress some of the best in the world," said Emi Suzuki, Business Manager of Sumida Farm, referring to the natural spring on which Sumida Farm sits.
Sumida Farm, a watercress farm located in Aiea, grows foot-and-a-half long watercress which locals can taste in restaurants — and even in their own kitchen. Watercress is a versatile, nutrient-dense superfood, which can be used in many different dishes to make healthy and delicious food. Suzuki added, "Our family's favorite recipes are watercress tempura, pork watercress soup, watercress cream cheese dip, and even kalua pork tacos with pico de gallo spiced up with watercress instead of cilantro!" Sumida Farm wants to encourage people to pick up watercress when they see it, and many people are experimenting with the unique vegetable.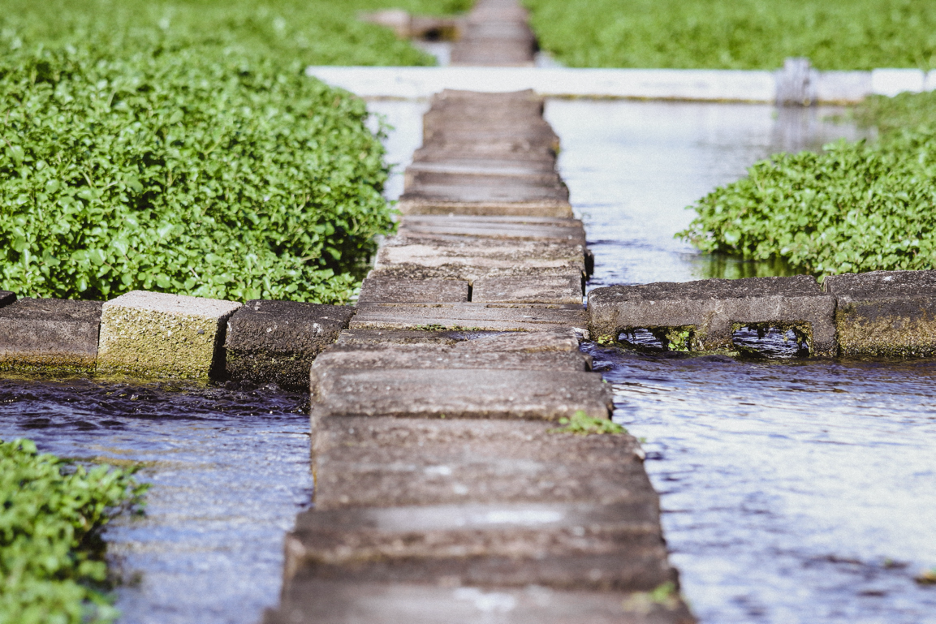 Sandwiched in between the phases of Pearlridge Mall, the green landscape of Sumida Farm represents 92 years of Hawaiian farmland history. The watercress sits on Kalauao Springs. Photo: Corey Rothwell, courtesy of Sumida Farms
"Try different things with watercress," said chef Alan Wong regarding his use of the vegetable. Chef Wong described three ways to use watercress: in a soup, in a salad and in a manner similar to a tsukemono with the stems cut off. A tsukemono is a Japanese-style preserved vegetable. At Alan Wong's Restaurant, Wong offers a pork watercress soup and a watercress stem sukimono with wasabi. Chef Wong described watercress as a "bitter green," in the same category as endive and arugula. "I appreciate the bitter flavors now more than ever because I've learned that it complements certain dishes in the way that bitter and fat go well together."
Chef Wong encourages locals to start eating watercress by cutting up a little at a time and throwing it in a tossed salad. He gave tips to chefs experimenting with watercress at home for the first time: "When you cut it up and salt it, or when you blanch it, a lot of the bitterness goes away." For optimal blanching, put the watercress in boiling hot water for ten seconds, then throw it in cold water with ice immediately after. "It's a great way to get started on watercress, until one day you get used to it enough where you can just eat it raw."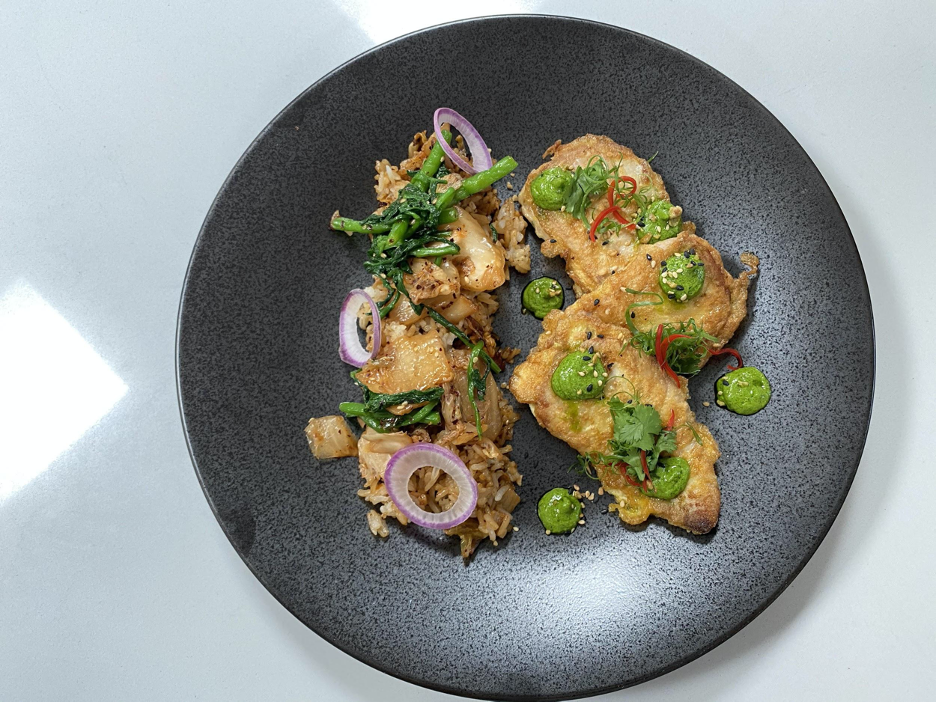 Chef Colin Hazama's "Kamanu Fish Jun," served with garlic sesame fried rice, Sumida Farm watercress kim chee namul and ginger watercress pesto. The dish can be found at C4 Table, his popup at Kaiser Farmers Market. Photo: courtesy of Colin Hazama
Chef Colin Hazama uses watercress at C4 Table, his popup at Kaiser Farmers Market and M by Chef Mavro, where he showcases upscale comfort food. "Watercress is very versatile, and I use it from tip to stem," said Hazama, expressing his love for the vegetable.
At C4 Table, he offers a steamed fish with his ginger watercress pesto, garnished with radish from Ho Farms, shiitake mushrooms, long beans and steamed rice. Other dishes chef Hazama offers featuring watercress are a fish jun served with kimchi watercress namul and watercress pesto, along with an ahi tataki soba salad served with watercress. "Watercress takes on a nice herbal and unique flavor that you can't find in any other vegetable," Hazama explains. "Watercress has the same nutrients, but it has this unique flavor. I like the peppery spiciness and the bitterness to it."
He also appreciates the balance watercress provides to rich foods. "I recommend balancing out watercress with something acidic," said chef Hazama, describing a watercress salad he makes at home with a black garlic, sesame and miso vinaigrette.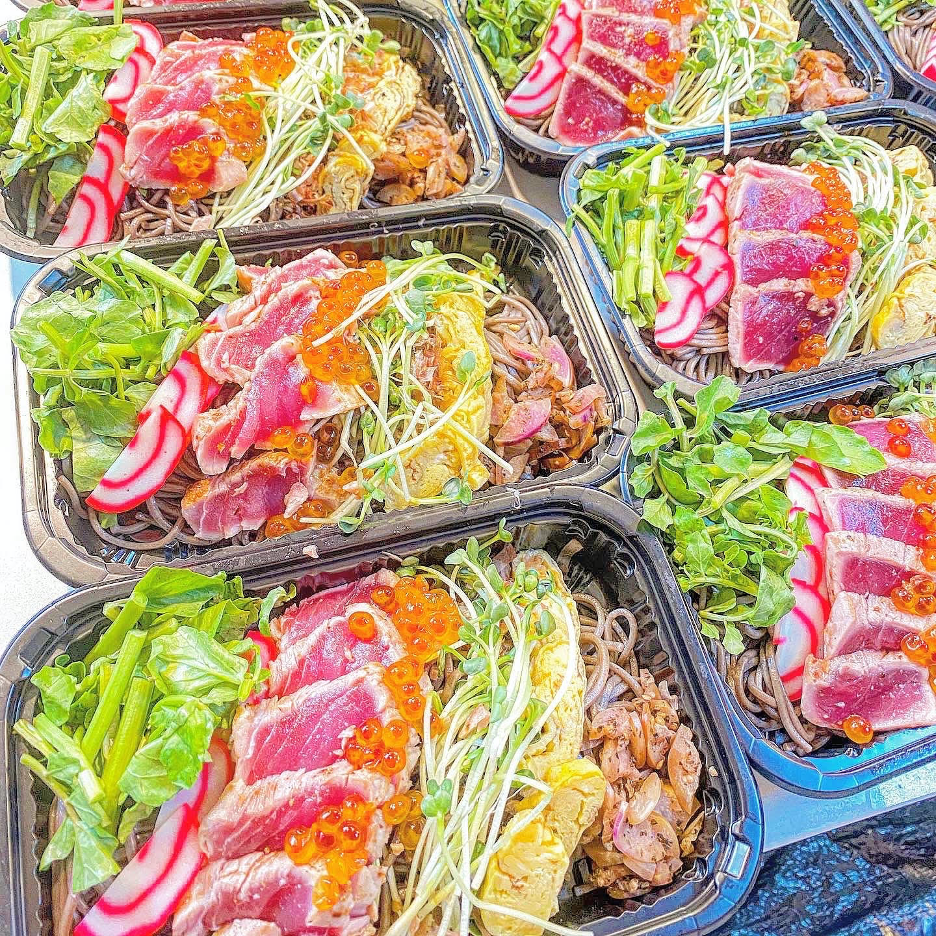 Colin Hazama's "Garlic Big-eye Ahi Tataki Soba Salad," served with Sumida Farm watercress, ikurazuke, tsukemono, kamaboko, bonito flakes and ginger yuzu tsuyu dressing.  Photo: courtesy of Colin Hazama
His tip for cooking with watercress? "It's best to add it to a soup or a sauce at the last minute so it keeps its nice bright green color."
Ginger Watercress Pesto
Yields 2 cups | By Colin Hazama
1 cup grape seed oil
2 tablespoons sesame oil
1/2 cup minced ginger
1/2 cup thin cut green onion
1/2 cup blanched spinach
1 cup blanched watercress
1 teaspoon sambal chili paste
2 tablespoons kosher salt
In a small pot, add water for blanching. Have two separate bowls, one for mixing the ginger, green onions and watercress. In the other, fill with ice water for cooling down your blanching of the watercress and spinach.
Blanch watercress and spinach for 30 seconds in boiling hot salted water, then shock in ice water and squeeze all excess water out. Add to ginger and green onion. Salt well and add chili paste. Next, in another small pot, add grape seed oil and sesame oil and place on high heat until oil is smoking. Once it's up to smoking point, be careful.
Burn the ginger watercress mixture and slowly spin the bowl after hot oil is poured, using a metal spoon to mix so all surfaces of the ginger are cooked out. Next, blend on high speed for about 2-3 minutes till its pureed and pesto is formed.
Be sure to cool down by pouring mixture in to a mixing bowl and place another stainless steel mixing bowl underneath with ice to cool down mixture completely before storing so pesto stays bright green. Then, place in a squeeze bottle to plate.