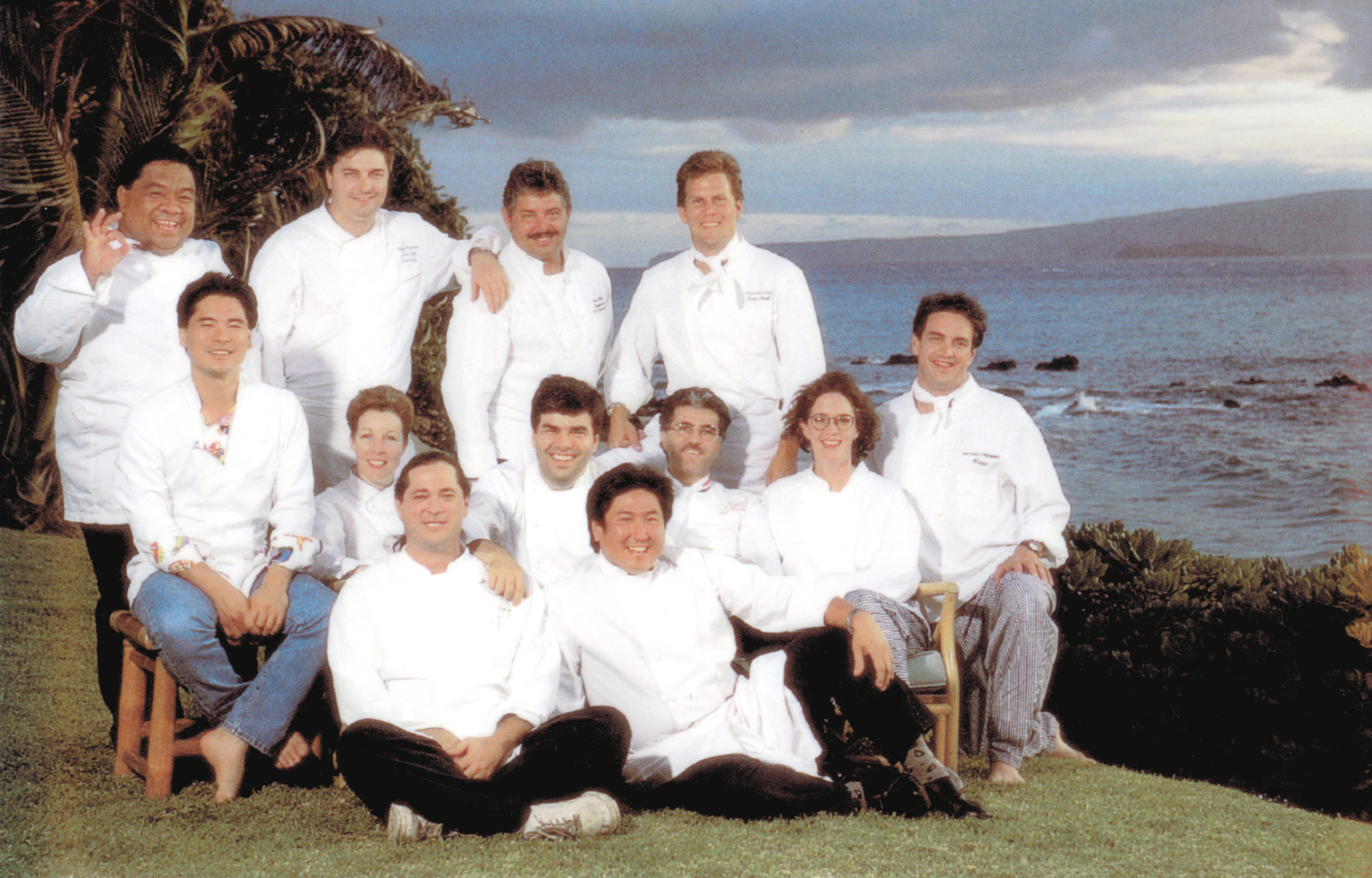 The twelve founders of Hawaii Regional Cuisine. Photo: Steven Minkowski/courtesy of Janice Wald Henderson/copyright "The New Cuisine of Hawaii", Villard Books New York, 1994
As the Hawaii Food & Wine Festival toasts its fifth anniversary, raise your glass to the state's next agricultural and culinary movement.
Twenty-five years after 12 island chefs put the Aloha State on the foodie map with Hawaii Regional Cuisine (HRC), the Hawaii Food & Wine Festival (HFWF) has been declared "the next agricultural and culinary movement in the State of Hawaii."
State Rep. Scott Nishimoto sponsored House Concurrent Resolution 77 to recognize the valuable role this growing epicurean event plays during a slower fall tourism season.
"The Hawaii Food & Wine Festival has put Hawaii on the world's food and wine map in a monumental way and is truly a showcase of our local produce, our islands, our people, our culture, and our talents," Nishimoto explains.
The State Legislature unanimously supported HCR77 because "after years of watching Hawaii's regional cuisine develop, the Hawaii Food & Wine Festival provided the next step to further push Hawaii's reputation as a food destination," he adds.
Hawaii's destination in the middle of the Pacific has challenged local chefs to shine a spotlight on unique fusion dishes, inspired by local ingredients. First, with HRC, and now the HFWF, the state has a signature event to promote Hawai'i as a culinary hotspot.
Two of Hawaii's original celebrity chefs, Alan Wong and Roy Yamaguchi, founded HFWF to raise the profile of HRC again. At its height, the movement's top chefs were staples on the Food Network, opened up restaurants, and churned out cookbooks that kept people talking about Hawaii cuisine.
After 20 years though, the talk shifted in some circles. Some started talking about HRC in the past tense. This was the rub: It was so closely associated with its 12 founding members, there was no room to grow, no pathway to include the next generation of chefs.
HFWF was the game changer, bridging the past with the future. Wong and Yamaguchi called on a who's who of celebrity chef friends to create a world-class event, starring local food and farmers.
The heart of the festival is the tag line "Taste our Love for the Land." That local focus distinguishes HFWF from its Mainland counterparts. While chefs at other festivals often fly in extravagant items, visiting HFWF chefs must use ingredients from local producers.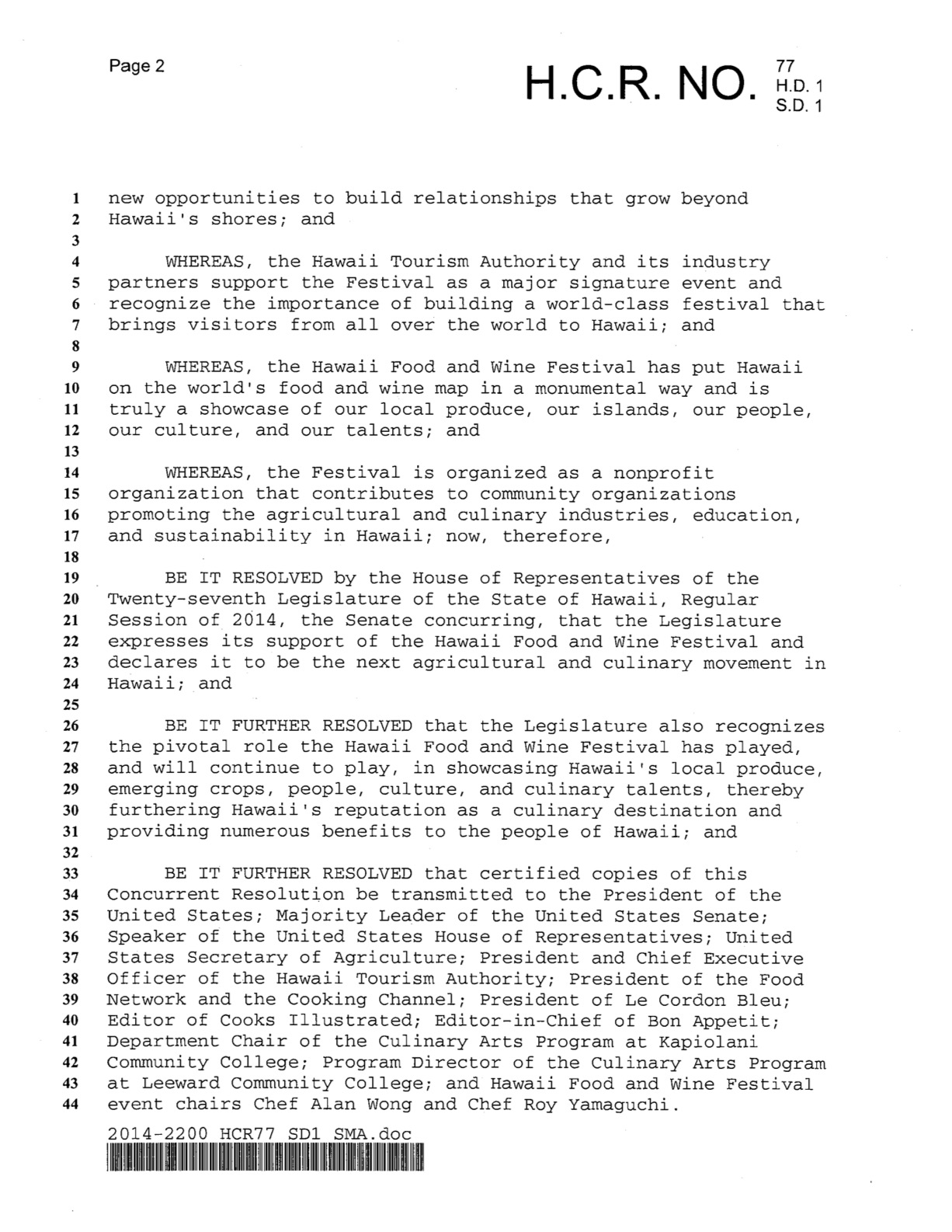 House Concurrent Resolution 77  sponsored by State Rep. Scott Nishimoto to recognize the Hawaii Regional Cuisine movement. Photo: Hawaii Food & Wine Festival
"The Hawaii Food & Wine Festival has put Hawaii on the world's food and wine map in a monumental way and is truly a showcase of our local produce, our islands, our people, our culture, and our talents."

-Scott Nishimoto
The Islands' bounty and beauty are the main attraction, brought to life by a dream team of participating James Beard Award winning chefs and Iron Chefs. Shep Gordon, the brains behind the HRC movement, says the state's recognition of HFWF as the next agricultural and culinary movement adds legitimacy to the festival as "a rebirth and extension of Hawaii Regional Cuisine, allowing a new generation of local chefs to participate," he says.
The next wave of chefs — Mark Noguchi, Michelle Karr-Ueoka, Ed Kenney — embrace the spirit of HRC but with a fresh take on locally sourced with farm-to-table and boat-to-table ingredients.
Gordon firmly believes, in five more years, the festival will only get "bigger and bigger."
The Hawaii Food and Wine Festival began in 2011 as a three-day event on Oahu with 2,000 visitors. It's now a two-week extravaganza spanning Oahu, Maui and Hawaii Island, attracting more than 100 acclaimed chefs and 9,000 visitors. Readers of USA Today and 10 Best recently honored HFWF as the sixth best food festival in the nation.
It's a coup for the state's No. 1 industry — tourism.
"It has grown year after year to become a premier food and wine experience highlighting Hawai'i's unique and diverse culture through our cuisine" says Hawaii Tourism Authority President and CEO George Szigeti. "With eating tours, gastro- and agritourism gaining popularity, HFWF is able to capitalize on a these niche markets as visitors seek more authentic experiences."
Rep. Nishimoto adds: "The most inspiring aspect of the Hawai'i Food & Wine Festival is that it does more than showcase great food and wine from Hawai'i. The festival is truly a collaboration with many different stakeholders in the sectors of culinary, agriculture, tourism, education, culture, environmentalism and sustainability in our state."
In addition to the boost to our economy, last year alone, HFWF raised more than $250,000 for local beneficiaries that promote Hawaii agriculture and sustainability.
The caliber of chefs drawn to HFWF every year is a testament to the resurgence of Hawai'i Regional Cuisine. They're household names. Nobu Matsuhisa, Cat Cora of "Iron Chef America," Michael Mina, Ming Tsai, Martin Yan. Gordon explains the ripple effect this way: "The impact is huge and global. All the visiting chefs will bring back a sense of aloha to the lands."
The greater legacy of both movements will be written by the next generation of chefs you may not know — yet.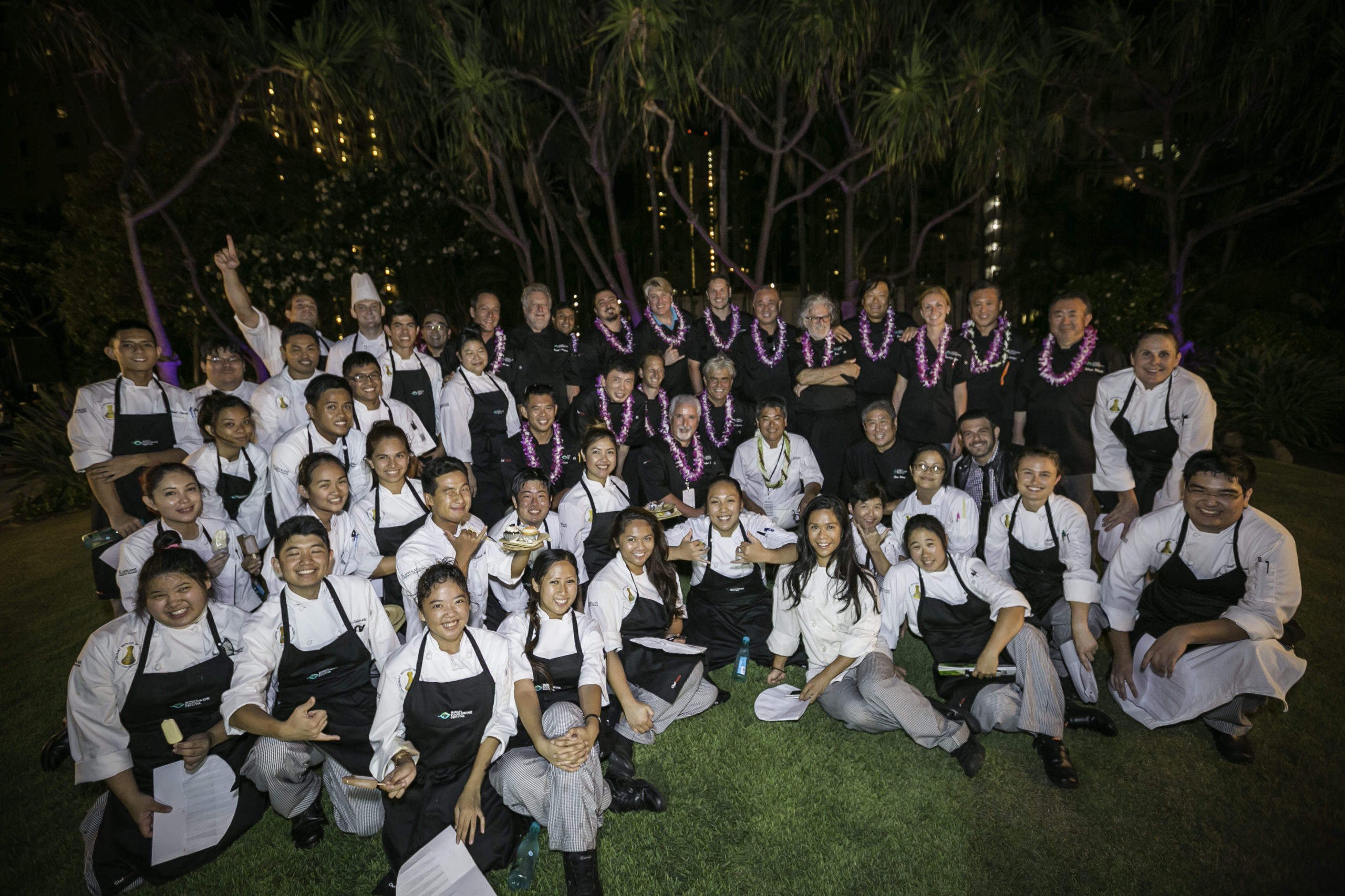 HFWF chefs with student volunteers from the Culinary Institute of the Pacific, the "next generation chefs."  Photo: Travis Okimoto/Hawaii Food & Wine Festival, 2014
Fourteen-year-old Mililani High student Hunter Gentry wowed a star-studded panel at the "Keiki in the Kitchen" competition last year with his dish of shrimp and vegetable wontons created with 100 percent local ingredients.
"I like to go to farmer markets and buy the vendors' vegetables and fruits because it's local," says the aspiring chef. "It's better to support them because it helps our island, sustainability and our economy."
Hunter's desire to pursue a culinary career is no surprise to his parents. His father, Hugh, says his son's favorite bedtime story was "Mr. Cookie Baker" by Monica Wellington.
"He'd make us read it 10 times a night when he was 2 years old," recalls the proud pop.
"He really loves shopping at different open markets and experimenting in the kitchen," adds his mom. "Since he won the competition, we talk a lot about what's going to make him a chef that stands out."
Take it from the standout chefs who make HWFW shine: mixing quality ingredients with passion and talent is a proven recipe for success.