It was a simple bottle of wine that changed the course of Richard Betts' life.
Back in 1996, after a long day in a lab in graduate school at Northern Arizona University, Betts bought a bottle of wine from a liquor store with his last $10. As soon as he poured it, he says, he recalled a specific memory for the year he spent in Italy right before he graduated from college.
"It was really compelling, so cool," says Betts, now 44. "I realized right then that this is what I wanted to do, what I wanted to study. That's all it took."
He finished grad school — he earned a master's degree in paleo fluvial morphology, a specialized branch of geology — but declined admission to law school, quit a clerking gig, and ditched the goal of becoming a lawyer to focus on his passion: wine.
"It was an easy decision," Betts says.
Betts worked at Janos in Tucson, first as a cook, then as the restaurant's first-ever sommelier. Then, in 2000, he joined the Little Nell in Aspen, Colo. as a sommelier, building a wine list that won a Grand Award from Wine Spectator. He passed the Court of Master Sommeliers' Masters Exam on the first attempt, becoming only the ninth person to do so and one of only 150 master sommeliers in the world.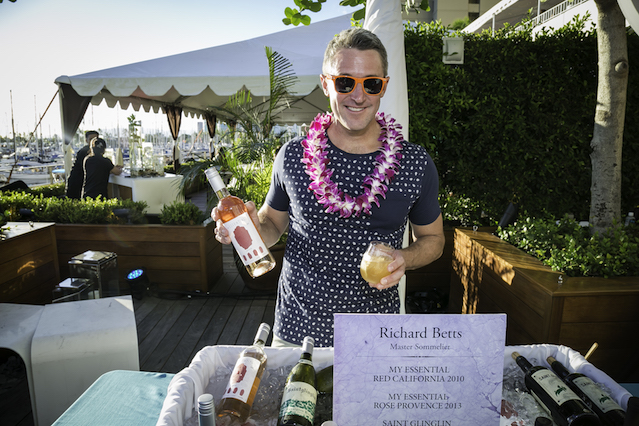 Photo: Travis Okimoto/Hawaii Food & Wine Festival, 2014
Betts returns to the Hawaii Food & Wine Festival for the fifth straight year.
"It's one of my favorite food and wine festivals," Betts says. "When I come to Hawaii, it's super mellow. Everybody's so chill. The events are amazing and the chefs are amazing. There's so much great talent and food, it's outta control."
Betts was born on the East Coast but spent most of his childhood in the southwest. His parents — his dad was a biomedical engineer; his mom, armed with a Ph.D., ran a successful teen parent program in the local public school system — instilled the love of the outdoors in Betts.
"Almost every weekend we were on a beach in Mexico," Betts says. "It was great. We would be in a sleeping bag on a bed of seashells and it was lumping and rocky and I loved it.
At the beach, he would snorkel, fish and play in tidepools. He remembers one night, during a full moon, he went with his family to the beach with a flashlight to explore. He was about seven years old. The tide had dropped so much, exposing the reef for 100 yards. Betts found an octopus and picked it up.
"I saw it and grabbed it, as young boys do, and then it grabbed me back," Betts says, laughing. "It grabbed onto my arm and my mom was yelling, 'Drop it! Drop it!' And I said, 'I can't! It's holding on!' It was an amazing memory."
That love for the outdoors spurred his interest in geology. He attended Occidental College in Los Angeles, with the long-term goal of becoming an environmental lawyer.
"It was cool to solve a riddle," he says about his years spend studying science. "And it's really cool to learn the scientific methods. It makes you just a good thinker overall — how to approach problems, how to isolate variables, how to end up with real information rather than just dogma. If you don't really do the work or research in a real manner, you don't have any real information. And without any real information, you have no legs to stand on."
That mindset has influenced the way he views life — and may have contributed to his sudden change in career paths in college.
"One of the biggest things I loved about geology was that it put everything into context," he says. "It makes you realize how insignificant our time on earth is as human beings. And that's awesome. You think about what's possible. Life is great. You don't get hung out on old ideas or on being self-important. It doesn't matter at all."
It was while in college, majoring in geology, that he decided to take off the year before his senior year to live in Italy.
"As a kid, (Italy) always held an appeal to me," he says. "I was into old gangster movies, and there was all this romanticism associated with it."
During that year, Betts rode bikes, learned to cook, and studied the language. And Italy was his introduction to wine — and everything surrounding it.
"There, wine is a grocery, not a luxury," he says. "Wine is always on the table. In fact, the table isn't set until there's wine on it. That's true for lunch, that's true for dinner. There was always wine."
When he returned to Los Angeles the following year, he brought that wine habit with him.
It wasn't long after that Betts shifted gears and became one of the most sought-after sommeliers in the U.S.
The year he earned his master sommelier title, Betts partnered with Dennis Scholl on a wine label — Betts & Scholl — producing wine from Australia and France's Rhone Valley. Its vintage of the Barossa Valley Grenache (2001) gained recognition as the Star Selection of the best new wineries in the world for 2004 from Food & Wine Magazine.
Betts left Little Nell in 2008 to focus on his wine label and started another brand, Scarpetta, and a new mezcal venture called Sombra. In 2009, he sold both Scarpetta and Betts & Scholl and now spends most of his time traveling the world from his home in Boulder, Colo.
"He's classy, polished, elegant and sought-after, much like his wines, tequila and mezcal," says Warren Shon, executive vice president and general manager of Southern Wines & Spirits of Hawaii, who's known Betts for about 10 years. "And as well-known and world-traveled as Richard is, he stays grounded. He is one of the nicest gentlemen around, and he is always willing to help others. And he always does so with a big smile on his face."
In line with helping others, Betts has always believed that wine should be accessible. So he decided to write a playful board book on wine that wasn't snobbish or elitist. It was about sharing his passion in a way that was fun, creative and really useful.
"To me, it's really important to be inclusive and not exclusive," Betts says. "That's how I want to give back to the food community. I want to knock (wine) off its pedestal, make it democratic and make people feel like their opinion matters. To put that in book has been very meaningful work."
"The Essential Scratch & Sniff Guide to Becoming a Wine Expert: Take a Whiff of That" was published in 2013 and quickly became a New York Times bestseller. His follow-up book, co-authored by Crystal English Sacca, is "The Essential Scratch & Sniff Guide to Becoming a Whiskey Know-It-All: Know Your Booze Before You Choose," which will be on shelves in October.
"You should've seen our apartment," Betts says, laughing. "We blind-tested more than 400 whiskeys. It took all summer."
It was during his book tour two years ago that Betts gave up his apartment and drove around Miami for four months with his girlfriend (and fellow sommelier) Carla Rzeszewski and two suitcases. They both discovered a kindred love for a nomadic lifestyle and have been traveling together ever since.
In July, alone, the couple will have traveled to New York, Hong Kong, Australia and Mexico to swim with some whale sharks.
"We're here (Boulder) at most 10 days a month," Betts says. "I'm a carpe diem kind of guy."