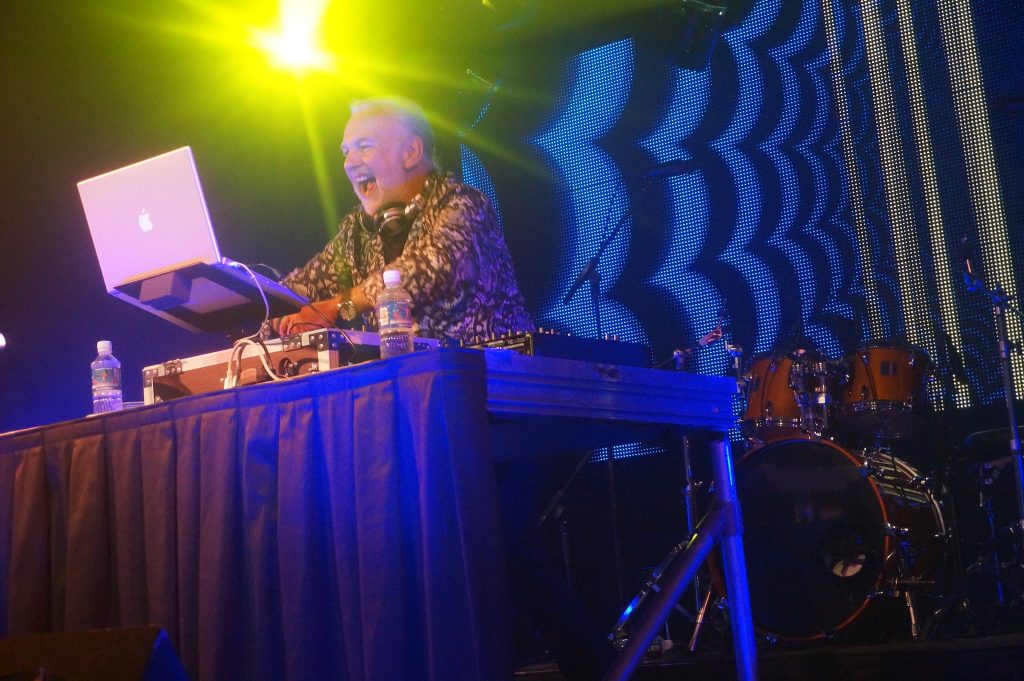 Chef Hubert Keller deejaying the Hawaii Food & Wine Festival After Party held at The Republik. Photo: Ed Morita/Hawaii Food & Wine Festival, 2014
Hubert Keller
Chef and Restauranteur
Signature event: Beauty & the Feast, Sept. 13
What's been your favorite part of the Hawaii Food & Wine Festival?
Everything is so well organized, everything is so professional, and everybody puts their heart into it to make sure the entire event is a success. (The festival) is totally geared toward people who are attending. As a chef participating, that's always something I really appreciate.
When it comes to food, what's your guilty pleasure?
It might be boring when I say this, but it's vanilla ice cream. I could eat vanilla ice cream from the morning to really late at night. But it has to be the real deal, with real vanilla bean. I always have a pint of it in the refrigerator at the house. In the restaurant, when I'm the last one leaving, everyone knows where to find me. I'm at the refrigerator. Sometimes (the staff) has a spoon ready for me … I never get tired of it.
What's your favorite place/dish to eat while you're in Hawai'i?
This is not a fair question. I wouldn't be fair to point that out. But my favorite dish was part of the lūʻau (at Laulima at Heeia). We had food you couldn't get anywhere else. It was an amazing experience, building the wall and eating those prawns. That was my first time out (to Heeia Fishpond). I was very impressed. I totally loved it.
What's your favorite ingredient right now?
When it comes to an ingredient I love to cook and use, it's the vanilla bean. And it has nothing to do with eating ice cream at night! The vanilla bean is something that's been around for so long, been used a lot, and still sometimes I think it's underused. We always think of it for dessert, but I think vanilla works so well with lamb, seafood, chicken, scallops. It's like a magic little stick. Whenever you make a sauce or oil infused with it, or you touch it with a vanilla stick, it transforms it.
What's one thing you'll never eat and why?
Never eat? Oh, I've only heard about this delicacy from Asia, where you are served heads of small monkeys and you eat the brain. You'll never get me to sit at a table to eat that. It would gross me out so much.
What's your favorite dish from your childhood?
It's a three-meat potato stew with lamb, beef, pork and pigs' feet in it. It's just a really old dish from the east part of France that I grew up with. You layer it the potatoes, meat, vegetables and marinade overnight, then put another layer of potatoes in an earthenware (tureen) and seal it with bread dough and stick it in the oven for three to four hours. Then you put it on the table and crack it open and serve with a salad. I eat that twice a month at least. (It's called "Beef, Lamb and Pork Baeckeoffe" in Keller's cookbook.)
What's the best part about your job?
I consider myself in the entertainment business because that's what we do, we entertain people. We create some pleasure, give people a good time. I still feel like I achieve that everyday, when people walk out and shake my hand and say thank you and they had a great time. It's not just the food. The restaurant should provide hospitality, too, the entire experience. If that works, that's the best part of my life.
If you weren't a chef, what would you be?
I would be a musician and a deejay, for sure. I usually deejay during the festival. I bring my gear and deejay one night. I do electronic house and progressive house music. And as a musician, I would be a drummer. Not now. I used to think I would do that when I was young. I think (my hobby as a) deejay annoys my neighbors, but the drums would be worse.