COVID-19 has disrupted the entire infrastructure of the food business — from restaurants and food supply, to behavioral changes and the job market. The historic impact on the industry that employees more than 8 million individuals has been catastrophic, with an uncertain future ahead.

In a new series, COVID Conversations, Hashi sits down with HFWF

talent, leaders and friends to discuss the real struggles, concerns, actions and predictions they have for the long road to recovery ahead.

These are their stories.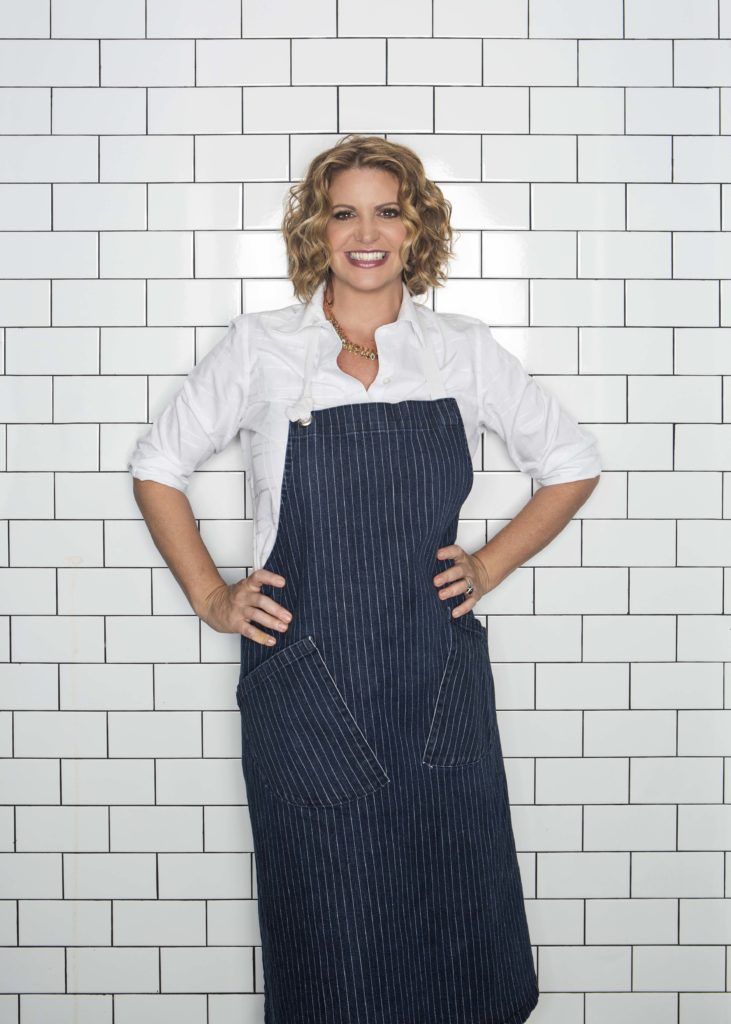 Chef Michelle Bernstein of MBC Michelle Bernstein Catering Company, Cafe La Trova. Photo: courtesy of Michelle Bernstein
Chef Michelle Bernstein is a five-year veteran of the Hawaii Food & Wine Festival. A Miami native of Jewish and Latin descent, she has dazzled HFWF attendees with her sublime cuisine and a personality as bright and vibrant as the Florida sun. Bernstein and her husband/business partner, David Martinez, own and operate MBC Michelle Bernstein Catering Company, a full-service catering company as well as Cafe La Trova in Little Havana. These days, Bernstein is busier than ever adjusting to the effects that COVID-19 has had on the restaurant industry and independent restaurants.
HASHI: Thanks for taking the time to chat today. How are things going for La Trova?
MB: Well, the Governor of Florida has left it up to the counties' mayors to decide when and how restaurants can operate. The mayor of Miami Dade County — which is our county — had previously allowed us all to reopen and we thought we were doing a good job. But, too many people were getting sick, so restaurants were all shut down again. Unless you have outdoor seating, you can't open again until further notice and we see the percentages go down to about 8% to 10% which realistically may not be until November or December.
HASHI: With La Trova closed for dine-in, what are you doing in the meantime?
MB: After having to close again, we picked right up and are doing catering Wednesdays and Saturdays. I'm also private cheffing a lot at the moment since there are a lot of tourists that are still coming in to Miami then end up stuck here and can't go back home. I'm actually in the middle of that right now — prepping to feed a family tonight.
There are two foundations that I'm a part of — one is the Common Thread, which is a nutrition program for underserved kids. And right now, for Guitars Over Guns, we're working on their gala — and you know for organizations like these they live by their galas. That's where a large amount of their funding comes from. And so we are putting on a virtual gala for Guitars Over Guns where ticket buyers will get the meal delivered to them.
Another gala we are participating in is for Camilla's House, the largest homeless shelter in South Florida. I'm part of the virtual entertainment. Ticket buyers will get their meal delivered mostly done, then I'll show them how to complete the meal during the gala via video.
HASHI: It seems like you and your team were able to pivot quickly!
MB: We had to. The worst part is that I lost 75% of my staff and I'm hoping that they are either getting unemployment or found other work — which isn't a great possibility. With the requirement of outdoor seating and the current temperatures around 95 degrees, it's not feasible for most restaurants to open up for dine-in service.
It's funny — as I mentioned, I'm doing a lot of private cheffing right now. I was cooking today and wearing a mask and I'm cooking with all these herbs I picked this morning from the garden and I can barely smell them because of the mask. I can't even taste the sauce I'm making — what way of cooking is this now? Don't get me wrong, I mean I know this is the new normal now but what the heck? I can't even taste my own food anymore! I can't pull down the mask to taste, and that bothers me. Because cooking is so tangible and visceral — it's such a part of who we are. And I'm worried the food I prepare isn't tasting the same.
HASHI: Are you considering adapting your restaurant to be able to open for outdoor dining?
MB: Instead of dine-in, starting Saturday August 15, we are doing something we call "La Terrazza" (The Terrace in Spanish) — an outdoor area with an awning. Our bartender Julio Cabrera will be mixing cocktails out of a bar he built in the back of his 1957 Chevy truck. We're renting grills and making choripan (sausage sandwich popular in Argentina), burgers and other items. It'll be a happy hour — mainly for people in the business — so we'll make it super cheap and affordable, like $10 for everything. If it goes well, we'd like to do it every week.
HASHI: That sounds great! Are you getting musicians involved?
MB: Of course! We always bring in our own house musicians whenever we can.
Julio and I have even done online stuff where if you buy our La Trova experience dinner, it will include online access to watch videos of him making cocktails, me cooking and then hear a soundtrack of the band.
HASHI: We love seeing you and Julio working together. You were both part of our 2019 festival and it's wonderful to hear you both are pushing forward.
MB: We are just doing what we can to remain in peoples' minds and just keep moving.
Chef Michelle Bernstein and her son participated in the #alohachallenge during COVID-19 to raise awareness for the Kokua Restaurant Workers' Fund to support Hawaii's restaurant workers. Video: courtesy of @chefmichy/Instagram
HASHI: In addition to laying off your staff, which I know had to be so tough for you — and all chefs or restaurant owners — what other concerns are at the top of mind for you during this challenging time?
MB: Independent restaurants. I see more and more closing every single day. We're just hoping that we're going to be able to open up La Trova again. I'm not 100% sure of anything but just hoping for the best. You know that there's nothing there to protect us — the independent restaurants — and we feel very alone at this time. It feels like the corporate restaurants always have a cushion and if there's any money or assistance out there it's going to go to them first — which it did, sure enough.
And independent restaurants are in trouble. I'm worried about extinction, I really am. I don't know how we're going to come back from this. It's a scary time.
I'll never forget in the 90s where there were some areas in Miami that I grew up going to — little pockets where you could find artisanal stores and independent shops. And as soon as I saw the big stores like Victoria's Secret coming in, I knew soon enough we were going to lose all these great little stores. And this is what I am worried is really going to destroy us as independent restaurants. The corporate chains can handle it, but we just can't. We need help — we need federal funding and if it doesn't happen, I hate to say it, but it looks like at least 75% of the independent restaurants will be gone.
And that is my number one concern on a daily basis — along with the health and welfare of everyone.
HASHI: Aside from your restaurant and the restaurant industry, what other concerns do you have?
MB: I'm terrified of the already poverty-stricken parts of our country — every country, in fact — and how are people going to bounce back from this? It's going to be years.
Education is also on my mind. What is going to happen to children psychologically? My own son — I'm worried that he's going to become an introvert and socially inept and not want to see people. I see depression hitting these young kids.
It was just mandated for Miami Dade County that our children cannot go back to school until the percentages go down to at least 5% to 8% percent.
HASHI: So the kids are doing virtual/distance learning — how is that going for your family?
MB: I find myself in the closet crying once a day — seriously though, school hasn't started up yet, so I've been having my son tutored to ensure he doesn't fall behind.
How can you expect a kid to be driven and have motivation? What is he going to get in return? A jump in the pool? He gets to do that anyway. It's not been easy, but I realize it's been a lot worse for many others. So my family feels really lucky. This current way of living and working with COVID-19 — it affects everyone.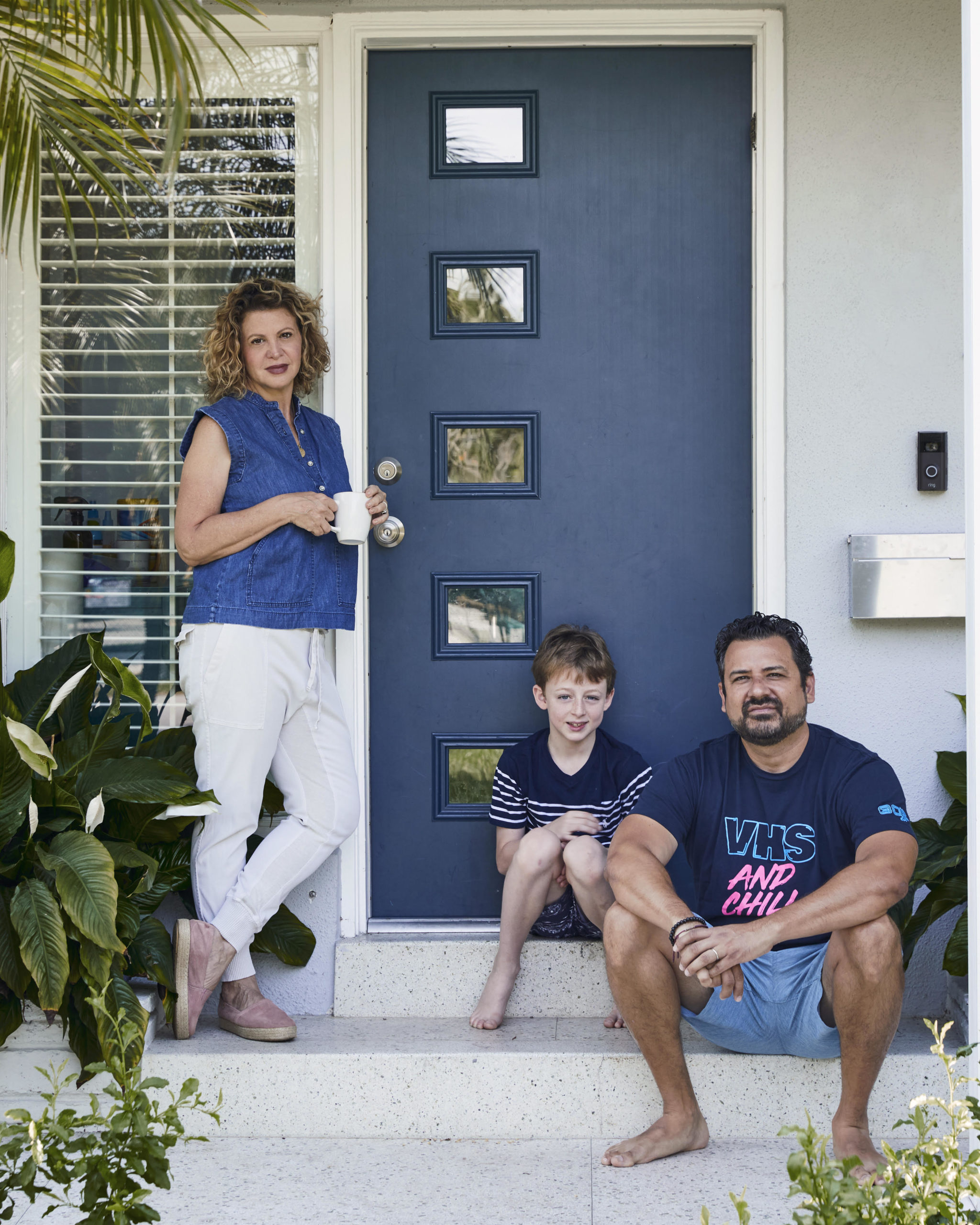 Chef Michelle and family at home. Photo: Michael Pisarri/@PisarriPhoto
 HASHI: Yes, in the end, no one is immune.
MB: There is just no escape. The scary part is the unknown. I worry so much about our economy and our beautiful little restaurants and the small businesses that just can't handle this.
HASHI: Absolutely. It makes me think about those that want to enter the restaurant industry — the up and coming chefs and restauranteurs that have these dreams and are now in a place where they don't know what they should do.
MB: Yes, they are going to be scared, but they might also be in a place where they now know more and differently than we did. Maybe they are going to come into it thinking, "Well I'm going to learn from what happened to everybody during this time of COVID-19." Maybe they will be able to look at the entire situation and say "I'm not going to let this hurt me."
Let's face it, the restaurant industry was pretty broken anyway. I mean the fact that we brought 8% to 10% to the bottom line? That's not a sustainable industry. We didn't care as much pre-COVID-19 — it's not like we did it for the money. So maybe the younger generation will come and figure out a better way to actually sustain themselves and a family and be in this industry.
HASHI: What other observations can you share about how the restaurant industry has been affected?
MB: Ninety percent of our culinary schools in Florida are gone. The last one was my culinary school and I still can't believe it's gone. I have a feeling that's just the tip of the iceberg. I don't know where the kids who want to go to culinary school will go.
HASHI: In general, are there any lessons you have learned — personally or professionally — that you would like to share?
MB: I found a lot of things out through this: who your really good friends are; that it's good to have a really good doctor in the family for advice; and that you find out how much you really love your spouse — or not!
HASHI: Glad to know you still have a positive outlook and a sense of humor even while going through tough times!
MB: I am not going to let this bring me down. This is not going to get us. We have to overcome — we don't have a choice. But on a serious note — I worry about Hawaii Food & Wine Festival. Obviously I feel you guys are going to come back for sure. But at what cost? How hard is it going to be? And all the other festivals that we chefs are all a part of — when are we going to get back to them? When are we going to be able to cook for people? Be elbow-to-elbow with all the amazing people that we love to work with? Until there is a vaccine? I don't know when we're going to be able to feed people normally again.
HASHI: Do you have any words of encouragement for your peers or others out there?
MB: Of course! Honestly, I'm a middle aged woman with a very young child and failing businesses and I'm not giving up and neither should you. I found a way to evolve, I found a way to pivot and, if anything, I'm learning every single day from this. It's allowing me to be a better mother, a better teacher, a better cook — but most of all a better person. Considering all the amazing people that are out there that use their intelligence, their drive and their creativity — I'm sure that every single person that reads this can find a way to learn something new and be even better when we come out of all this.
It's all very emotional. We never thought we'd be at this point. But maybe it's a way of telling us to wake up and realize what we had and what we are and it's time for us to change.
HASHI: That is a great message. Thank you so much again for taking the time to speak with us!
MB: It's my pleasure. We miss Hawaii desperately and we can't wait to come back!
HASHI: We are certainly hoping that we can resume our events in the future and bring great chefs such as yourself back to Hawaii! For now, we are doing what we can to see what form the festival will take this year.
MB: If you consider doing it virtually, I'm definitely in — I'm sure my colleagues feel the same way — we all love HFWF. You can get any of us to cook a virtual dinner with people  and we would gladly be a part of it. Send the food to people and we would find a way to teach and to help bring Hawaii to everyone. We all want a piece of Hawaii and HFWF this year.