As Hawaii Food & Wine Festival marks its tenth year and we birth Hashi, our new digital platform, I want to thank all of you for your continued support. From the very beginning, it was always a vision and dream to bring our attendees and followers more than just an experience and a great time through our events. For me, the journey has always been about creating meaningful experiences that invoke thought-provoking conversations over food to bring about change. With the coronavirus pandemic and racial discord in our nation among some of the most pressing issues facing us today, we hope Hashi will inspire you with stories from our Festival community so that we can find solutions to make our world a better place.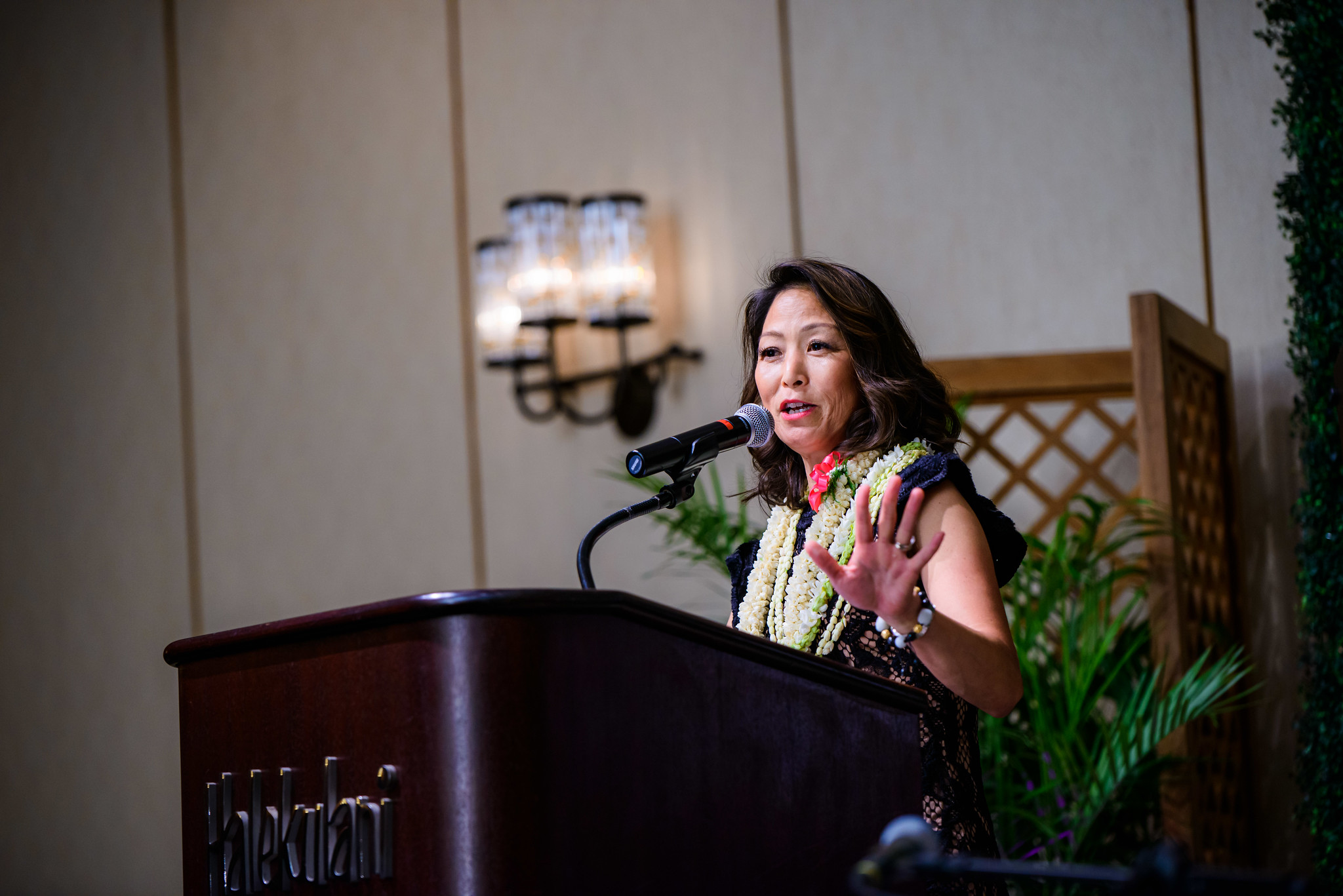 Denise Yamaguchi at the Saks Fifth Avenue Presents Halekulani Culinary Masters Gala – Michelin Stars, October 27, 2019. Photo: Reid Shimabukuro/Hawaii Food & Wine Festival, 2019
Over the last six months, we have experienced life as we have never before, and wonder what our future will look like. The virus doesn't discriminate and has taught us that we are all vulnerable in so many ways. Our world faces unprecedented times with so many unknowns. Unlike 9/11 or any other crisis of our time, the pandemic seems to bring daily challenges as we search for "the end," "the way out," "the right time," and "the right answer."
How we as human beings react to the crisis over the next day, month or year will determine who we are as a community, as a country and as a people. Will humanity, compassion, forgiveness, patience, love and A-L-O-H-A win over the hatred, spitefulness, anger, fear and frustration that will surface as a result of the virus?
In this second edition of Hashi, we share with you the imaginative, innovative and courageous stories from our HFWF community and hope that you will be inspired to be part of our A-L-O-H-A. One of the most encouraging and generous A-L-O-H-A stories happened in April, when our chefs, winemakers and mixologists came together in a crowd fundraising campaign that raised more than $160,000 for restaurant and bar workers laid off in Hawaii as a result of the pandemic. We thank our more than 50 participants for singing their hearts out and making us smile when the world seemed like it was coming to an end, as well as our donors who generously opened their pocketbooks to support others. The Festival team has also volunteered to give out Kokua Boxes through a partnership with Ham Produce and Seafood's USDA Farm to Family program that provides fresh produce to those in need. These are just some examples of what our Festival team is doing, and through Hashi we hope to bring you many more uplifting A-L-O-H-A stories of others doing their part to make a difference.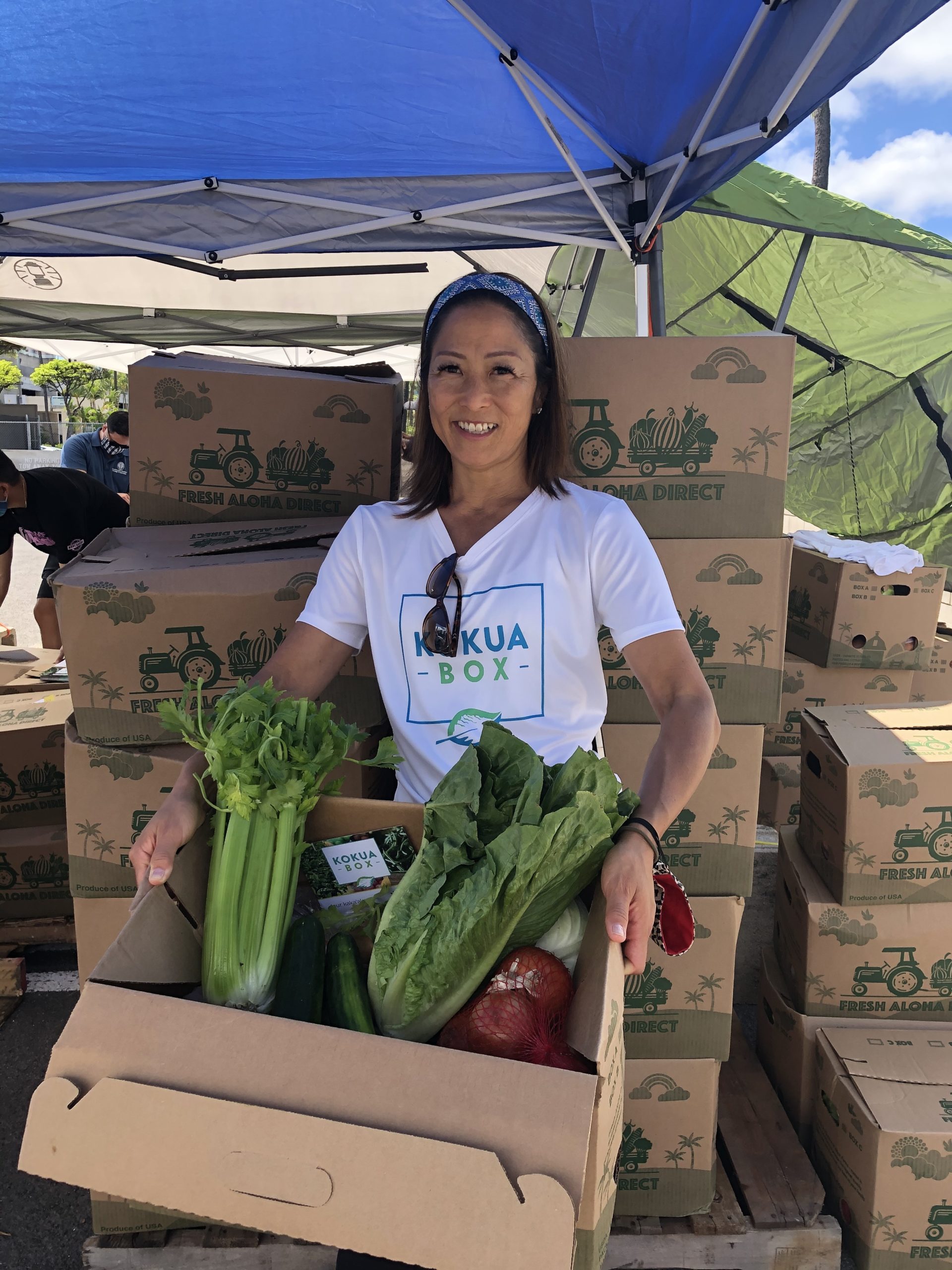 Denise Yamaguchi at the Kokua Box distribution for those out of work due to COVID-19. Photo: Hawaii Food & Wine Festival, 2020
The Hawaii Food & Wine Festival and Hashi team are resolved to not let this pandemic change our course to create fun, meaningful and memorable experiences for you. Our new virtual event series, Talk Story and Pau Hana with #HFWF and Cook and Drink Along with #HFWF, delivers a different kind of experience in the new normal of today, but with the same purpose and intent to continue bridging relationships and bring people together.
Finally, I want to express my sincere condolences to the families of two of our dear friends, chef Floyd Cardoz (HFWF alumnus from NYC) and Kaulana Pakele (lead singer of Manao Company), who in their own way contributed to our 10 years of HFWF. We launch this this issue of Hashi in their memory.
We thank each and every one of you for being part of our ohana, and hope you will be inspired to "spread a little A-L-O-H-A around the world."
With aloha, 
Denise Yamaguchi