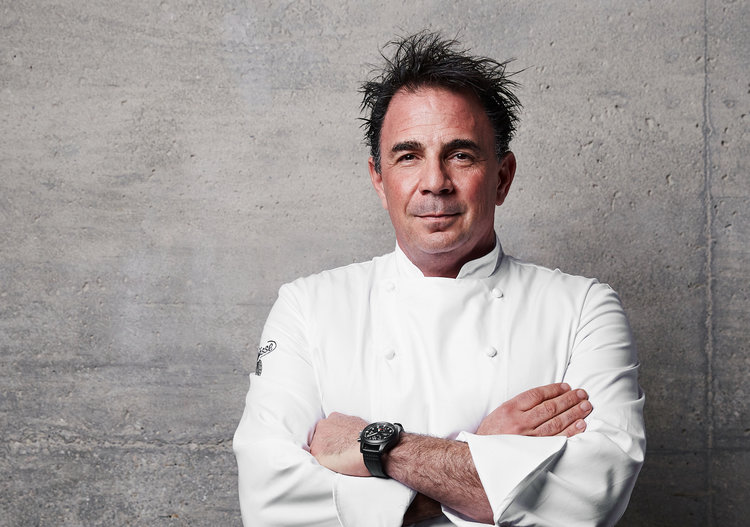 Mellisse Restaurant, Lemon Moon Cafe, Sure Thing Burger
Josiah Citrin was 13 when he went on his first surf trip — to Oahu. Now, the passionate chef/owner of the highly acclaimed Melisse Restaurant in Santa Monica, Calif. visits the Islands often, and usually with his surfboard. Just this year Citrin recently opened Sure Thing Burger in Lahaina with partner Scott Picard. Looks like he'll be coming here even more often.
CET: What is your favorite surf spot in Hawaii?
JC: My absolute favorite spot in Hawaii to surf is Pipeline.  In the early 1980s, when I was 15, I competed in a US amateur surfing competition in Hawaii and ended up staying there for a couple weeks.  On Christmas day we woke up and headed to Pipeline on an absolute perfect day- double overhead in the outer reef but by the evening it became a perfect 6-8 feet on the inner reef.  It was one of the best surf sessions of my life, and I can still hear the waves break, the way the water felt just like it was yesterday.
CET: So where else, besides Hawaii, have you surfed?
JC: Tavarua (Fiji), Bali, Mentawai, Australia, Costa Rica. I like Mentawai and Pipeline, of course. I'd like to do another board trip in the Maldives.
CET: What's your board quiver look like?
JC: Right now I'm riding a 6-8 swallowtail. I have a lot of boards. I have a longboard, too, and I do use it.
CET: Aside from surfing, what's your guilty pleasure?
JC: I have a for of them. I can tell you one thing is Doritos. I love em but I hate em.
CET: What flavor?
JC: Nacho cheese. I don't know why I like them.
CET: If you could cook for anyone, dead or alive, who would it be?
JC: It would definitely be my grandfather. He used to tell me stories about dining in France where they would bring the lamb our to the table and slice it in front of him. I would get an Elysian Farms 45-day-aged leg of lamb, slow roast it just for him and serve it with fresh, tender fava beans.
CET: What's your favorite thing to eat?
JC: Today, a slow-grilled, aged prime rib chop with grilled balsamic radicchio and porcini mushrooms. But that's just today. Ask me tomorrow, and it might be something totally different.
CET: As an HFWF veteran, you have been a part of our festival 7 times and featured in various events on Oahu and Hawaii Island. What is one of your favorite memories of Hawaii?
JC: I've been part of the festival for almost a decade now, but one of the best memories was when I was in the Hilton Hawaiian Village and I brought along my kids, Augie and Olivia, and my (now) ex-wife. Raphael Lunetta brought along his family as well, so it was a big affair. We had such an amazing time lounging on the beach and going out to dinner with everyone at Alan Wong's. It was so great to share that experience, which I've now had over seven years, also with my family.