COVID-19 has disrupted the entire infrastructure of the food business — from restaurants and food supply, to behavioral changes and the job market. The historic impact on the industry that employees more than 8 million individuals has been catastrophic, with an uncertain future ahead.

For this COVID Conversation, Hashi sat down with chef and restaurateur, Peter Cho, to discuss

 the 

status of his restaurants (one opened during the pandemic!) and outlook on the road to recovery.
From an early age Peter Cho, a native Oregonian, developed an intuitive grasp of cooking from his Korean immigrant mother. Cho cut his teeth in New York City working for April Bloomfield for nearly a decade before returning to Oregon to be closer to his mother, who was diagnosed with cancer and undergoing treatment. He and his wife, Sun Young Park, opened Han Oak, a Korean-American restaurant merging classic Korean flavors with local ingredients and inventive western techniques.
In its debut year of 2016, Han Oak garnered Best New Restaurant recognitions from James Beard Foundation, Eater National, GQ and Esquire magazine, plus Cho was named as one of Food & Wine Magazine's 2017 "Best New Chefs". The Cho's recently opened Toki in Downtown Portland in January 2021 and continue to navigate through the pandemic by balancing work life and home life, while raising their sons Elliot and Frankie.
Photo: Kris Labang/Hawaii Food & Wine Festival, 2019
"If I can take this opportunity to use the magic of this space to slowly invite people back and introduce them to new concepts that we can potentially expand on to other locations, I think that's a way I would love to continue to do the work that we do here."
HASHI: Aloha Peter! It's been just over a year since we last saw you in Hawaii as one of the featured chefs at HFWF19's Crazy Rich Cocktails. 2020 was a very tough year, but Han Oak continues to persevere through these challenging times and you have also recently opened Toki in Downtown Portland. At least 2021 certainly seems to be starting out in a positive direction for you – can you tell us how things have been since we last saw you?
PC: Well you know, it's been sort of the ups and downs of it all, as everyone else has had to deal with. We're just thankful for the health of our family. But I know! Of all times, I decided to expand and open a second restaurant in the middle of all this. It's pretty crazy, but I look of it as kind of an experiment and it's working so far, so we're super happy.
HASHI: Considering the way that you operate at Han Oak, and the preparation you went through to open Toki, what adjustments and/or innovations have you come up with to address the limitations that restaurants continue to face today with regard to COVID-19?
PC: You know, I don't think I was re-inventing the wheel in any way. We just had to be smart about what we were going to pare down the menu to, and switch things up to items that traveled better. I'm fully aware of the fact that the magic of Han Oak is the experience of being in this space. It's that sense of discovery I had when we first came here – walking through a non-descript parking lot and going through these unmarked doors to an area that is so inviting. So I feel like without that experience we had to at least continue to serve the food that people were familiar with and really loved.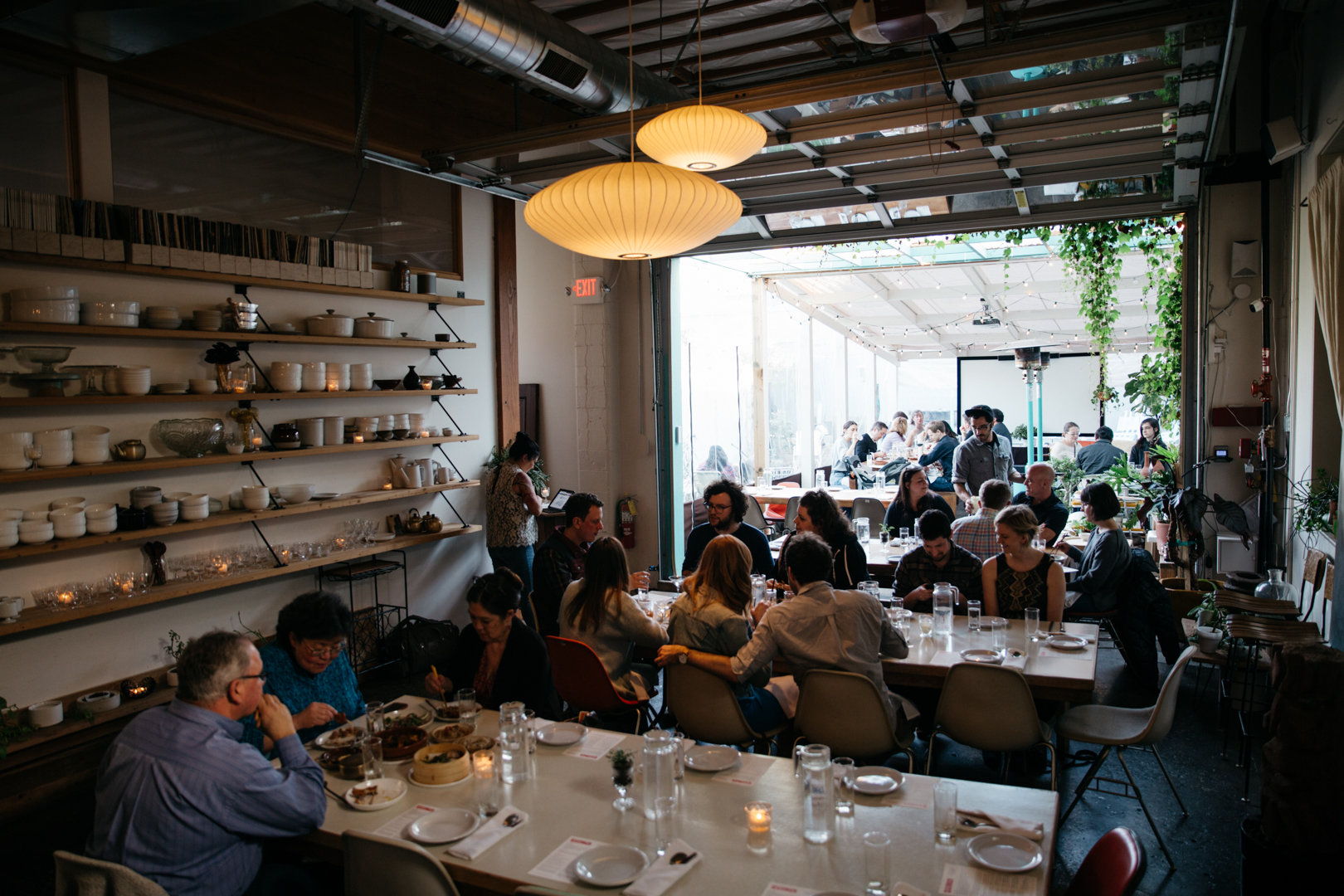 "The magic of Han Oak is the experience of being in this space. It's that sense of discovery I had when we first came here – walking through a non-descript parking lot and going through these unmarked doors to an area that is so inviting." Photo: courtesy of Peter Cho
HASHI: How did you approach the issue of having your food travel well for takeout?
PC: You need to figure out a way for the food to travel in three different forms, right? I've seen some people pick up their food from us and then immediately eat it in their car! The food has got to be delicious right away, and then it has to be delicious still after 30 minutes hanging out inside of a bag until you get home. Then if you're like me, ordering way too much takeout food because I love having leftovers and reheating them the next day.
We looked at the food that we now offer for takeout and figured out how to do it in those three different ways. Hopefully it hits all the marks, but I know that sometimes it won't. I think it's less like, "we're working so hard and doing all this stuff to pivot and not everything is going right" because I'm not one to think of it that way.
HASHI: You seem to have definitely found the way to hit all the marks with your Korean fried chicken!
PC: Oh my gosh! You know, we've kicked that chicken down the path so to speak and let it hang out on the shelf for a couple of hours to see how it holds up, and it's amazing. Still cold, crispy and good!
HASHI: It's evident in following @hanoakpdx and @tokipdx on Instagram that you have a lot of loyal customers that love your fried chicken fresh from pickup, after taking it home, and also eating it as leftovers the next day! They love the rest of your menu too – and continue to support you and your restaurants.
PC: They are amazingly, amazingly supportive. With Han Oak, I feel like we had already opened three different restaurants in the way that we went about it. When we first opened in 2016, it was just a couple nights a week where it felt like a supper club and then we added another two nights a week where it was this casual dumpling and noodle concept. Later we merged the two.
Our following has seen the evolution of Han Oak over the years and it's incredible how supportive they've been. I'm just grateful that people are still continuing to check out the changes that we've made. It's hard to say that we're doing anything much different. We're still serving food that's made with love, and package it in a way that's nourishing, delicious and fun.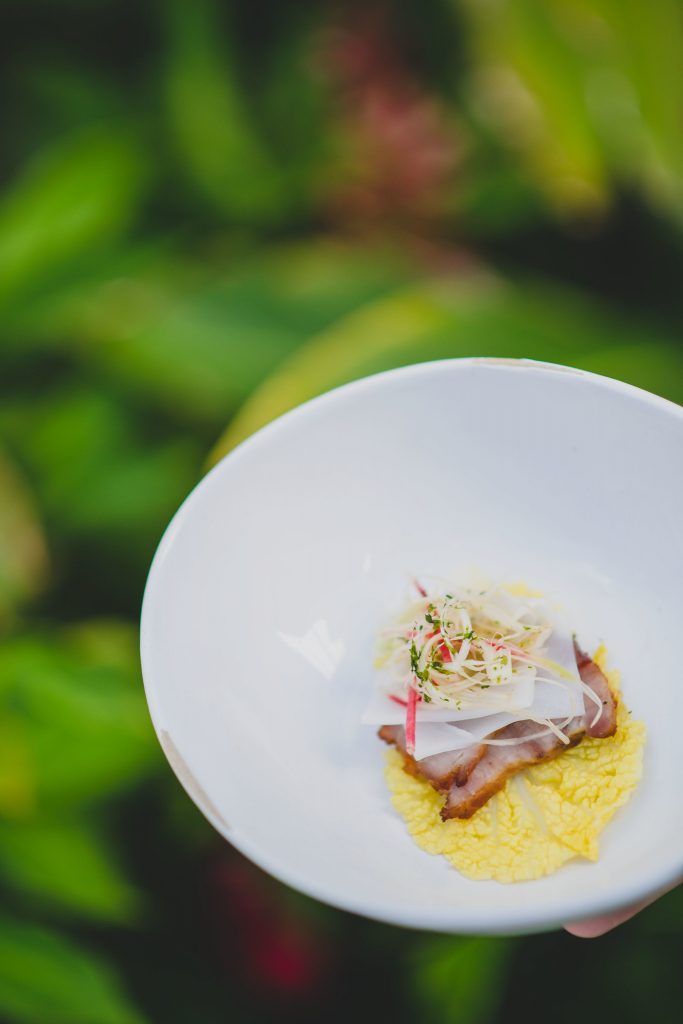 Pork Belly Bo Ssam made with local garlic chives and watermelon radish at HFWF19. Photo: Kris Labang/Hawaii Food & Wine Festival, 2019
HASHI: Toki has been open for just over a month now, and while Han Oak has been primarily takeout, you are gearing up to re-open for a few nights with a layout adjusted for social distancing. How did you decide to open a second restaurant during the pandemic?
PC: Over the past few years during the height of our success, we had offers from all over to expand and my response was always "no." It was because I valued our quality of life and also because our kids were far too young for me to start working so much again like I used to back in New York.
But then, in late summer, a developer we know contacted me about a space that was formerly the location of an iconic Portland restaurant, previously run by one of the more successful restaurant owners in town. It was just one of those things we couldn't say no to. Especially how the developer offered to give us free rent for a good amount of time, then after that rent being a small percentage of sales during these tough times. It was around August that we were talking seriously about it.
HASHI: This was also around the same time you decided to re-open Han Oak for takeout?
PC: Yes. We had temporarily closed Han Oak in mid-March. And I didn't really do much initially, just a few things on my own – Zoom dumpling lessons and stuff like that. Up until August I hadn't brought any of my staff back, but they were about to lose their stimulus checks along with unemployment, so we decided to try delivery with a takeaway friendly menu in mind – that's how we re-opened Han Oak.
There were a few things obviously that were Han Oak signatures or dishes that people are super familiar with, but for the most part we reopened with the idea that we could experiment on new dishes in mind. And at the same time considering a second restaurant! Can we create this new menu, this new entity — pick it up and plop it down into a new restaurant? And it's working so far.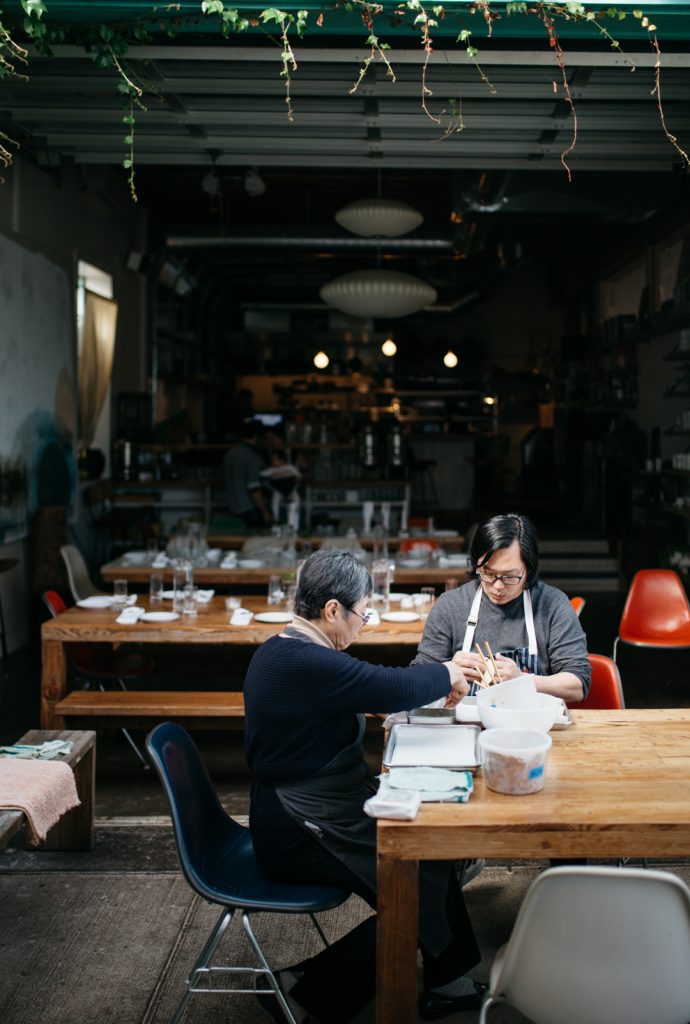 Chef Peter Cho with his mother prepping in an empty Han Oak. Photo: courtesy of Peter Cho
HASHI: That sounds exciting! It certainly appears that you are persevering while moving onward and upward.
PC: It is actually really exciting! What's also come out of it is this idea of using the Han Oak space as an incubator restaurant space for other concepts like Toki — and potentially other chefs to collaborate or partner with. I'm looking at our space here at Han Oak in a different way now. I don't imagine we're going to just re-open for dine-in and have five nights a week with dinner service, lunch service, gangbusters. That kind of thing I don't see that happening for another year or so.
If I can take this opportunity to use the magic of this space to slowly invite people back and introduce them to new concepts that we can potentially expand on to other locations, I think that's a way I would love to continue to do the work that we do here. 
HASHI: What would you have to say to the new generation of chefs and restaurateurs that still have dreams of opening their own restaurants?
PC: I don't think it's a time to hunker down and go into hiding. This situation that we are all in has really pushed me. The advice I would give is the same as advice other parents would tell me before we had kids. If you think you're going to wait until you're ready, you're never going to be ready. And even when it happens, you're still not ready.
I truly believe you need to have a good network of friends, family and colleagues – a good support system. Just have good people all around you. Let's be honest, none of this is done all by myself. We have a great team and a lot of them have been working for me for over a year, some for close to 3 years now. If you have a good network of people to support you, be there for you, and to help you — then go for it.
HASHI: You were featured in the 2020 season of Netflix's Ugly Delicious and its Kid's Menu episode. We learned that just a wall separates your home from the restaurant, and it's a means of keeping you and Sun connected and close to your children throughout the day. We also learned that Elliot didn't like your cooking initially – how does he feel about it now?
PC: Oh yeah! Being on that episode was a great experience. That's how he felt when he was so little. When we first opened Han Oak, I wanted to focus more on Korean dishes that were not as familiar or recognizable and stay away from what most diners identified as Korean food. Now, we are integrating more Korean classics like bibimbap, bulgogi and more. Elliot and Frankie love all that stuff now — they've grown up on my fried chicken and dumplings. I'm also cooking a lot more at home, so I think that's helping a lot with the kids.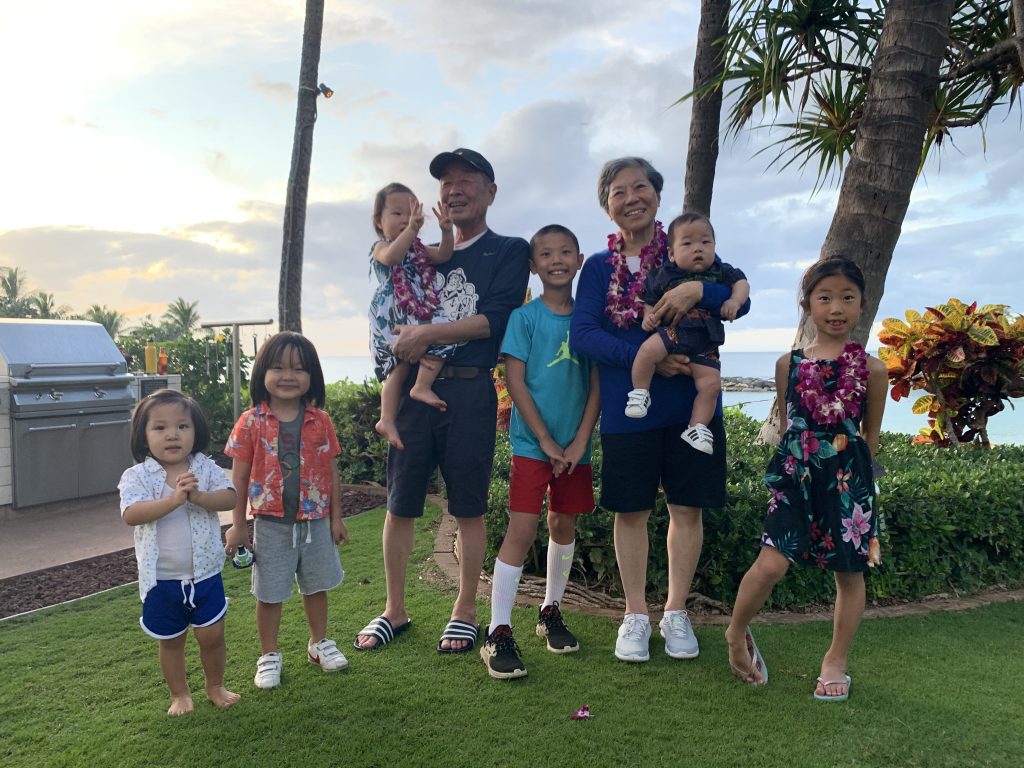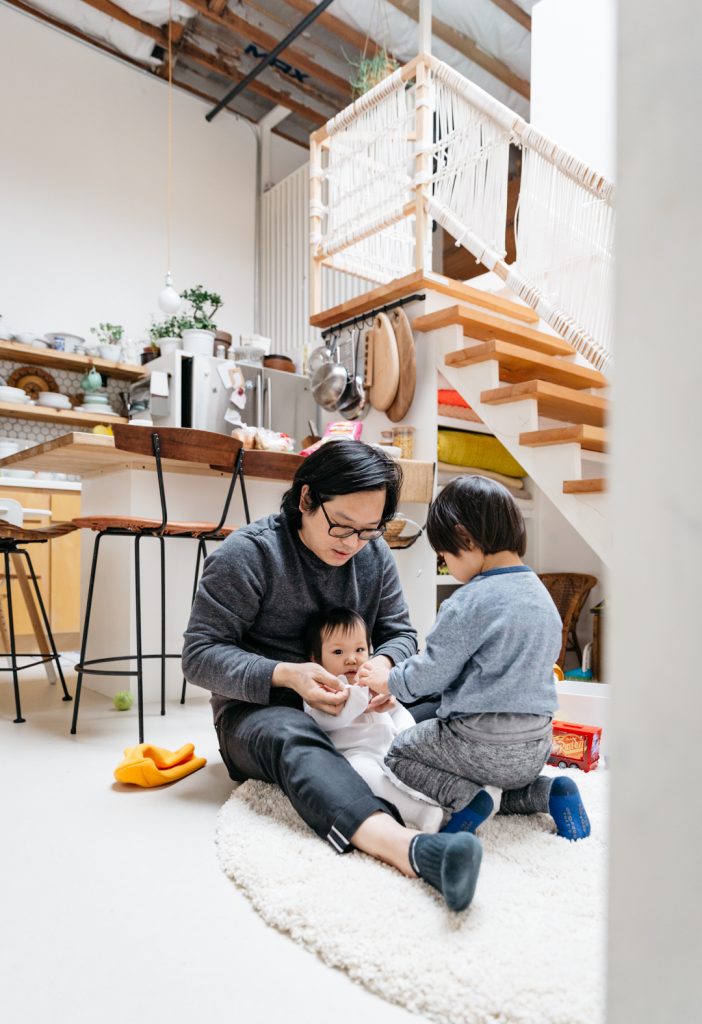 (Left) Peter's parents with all their grandchildren in Hawaii for HFWF19. (Right) Chef Peter with sons Frankie and Elliot at home. Photo: courtesy of Peter Cho
HASHI: On your last visit for the HFWF, your family – including your parents, your two siblings and their families – came along. How are you all handling life right now?
PC: Oh boy, it's pretty tough. Elliot (6) and Frankie (3.5) are getting bigger and they haven't stepped into a classroom for a year. We decided to keep them at home and go the homeschooling route, which is a bit of a struggle every day. Now that the weather is nicer, we're getting out more, going to parks and stuff. Kids are great – they're resilient. I've been totally sort of a mess, cyclically. Every month I go thru my ups and downs, the stresses and the positive things. But the entire family is good, my mom's good – her cancer treatment is still going really well and she's healthy. That's all we can ask for. Both my brother and my sister are also here in Oregon with their own families. Big family gatherings are a thing of the past for now, but we still try and see them as much as we can. We've got a deep crew, and they are all doing really well right now.
HASHI: We enjoyed having you in Hawaii for HFWF19. It must have been so nice to have the people closest to your heart with you. How did the idea to bring your family along come about?
PC: It was so amazing to be able to spend time in Hawaii with my family. My mom had just turned 70, so we decided to make that trip a gift for my mom and a chance for us all to spend quality time with each other. It was a huge deal for us. The second part of her gift was that I bought her and my dad a two-week trip to Korea after Hawaii. Being invited to the Hawaii Food & Wine Festival gave us that opportunity and that's something I will always be super grateful for. 
HASHI: We are also grateful to you for being a part of our festival that year! What can you tell us about your experience as a featured chef?
PC: The festival was our first time participating and we were so excited to be there. It was a special year for us. To be in Hawaii and to be there with family was such an awesome experience all around. I worked for April [Bloomfield] for a long time in New York and she was invited to festivals all over the world, which I was lucky to take part in with her. The Hawaii Food & Wine Festival is seriously one of the only festivals where I feel like the visiting chefs are really taken care of. When a festival has been going on for a long time sometimes you feel like, over time, less and less care is taken of the visiting chefs. But with Hawaii Food & Wine Festival, the red carpet was rolled out for all of us the whole time we were there.
HASHI: Thank you again for speaking with us and we hope to see you again soon in Hawaii.
PC: It's incredible to have been invited into the Hawaii Food & Wine Festival community! I feel like a part of your family and that's something I am super grateful for. I can't wait to be able to travel again and hopefully return to Hawaii. Or even maybe do some collaborations or pop-ups here in Portland with some Hawaii chefs at my restaurants. I made many friends at the festival and would love to work with them!
Soy & Citrus Cured Avocados
Serves 4 | By Peter Cho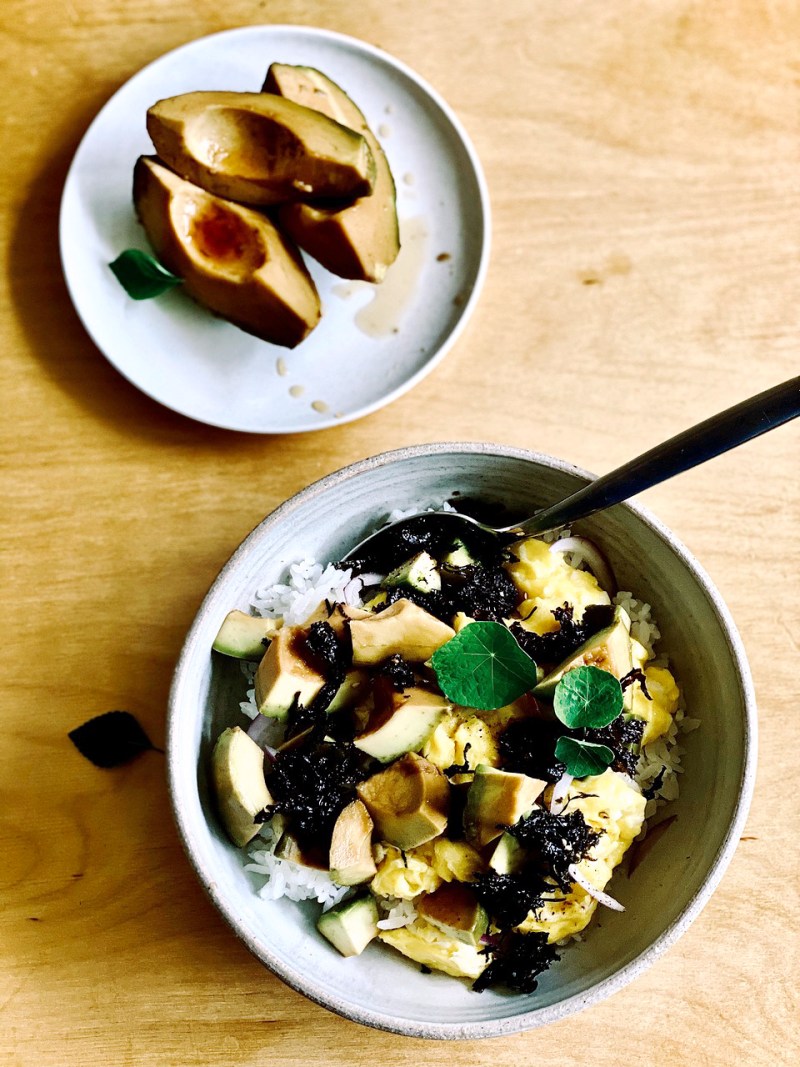 Photo: courtesy of Peter Cho
Soy & Citrus Cured Avocados
Serves 4 | By Peter Cho
1 cup soy sauce
½ cup rice wine vinegar
½ cup lemon juice (or any citrus of your choice)
¼ cup mirin (cooking wine)
¼ cup rice syrup or agave syrup (or 1:1 simple syrup)
3 cups water
3 'almost ripe' avocados
1 large non-reactive container for brining
Slice avocados in half and remove pits.In a large non-reactive container, combine other ingredients before placing the avocado halves in the brine.
Store in refrigerator for seven to ten days.