February is my favorite month of the year as I celebrate my birthday, Valentine's Day and the most auspicious day of the year – Chinese New Year.
For the last 19 years, Master Clarence Lau, a renown feng shui master, has performed a reading on what the outlook for the year will be like for me. (Some of you may remember Lau from our past Hawaii Food & Wine Festival events — Hungry Monkey and Feng Shui & Cocktails — where he did readings for our attendees). Based on my birthdate and time of day I am born, he reads my four pillars of feng shui and places that within the context of the current year. Chinese believe there are five elements, which when balanced, bring the best chance of harmony and success. The five elements are metal, wood, fire, earth and water, which counteract one another. In the most simplistic illustration, wood conquers earth, earth conquers water, water conquers fire, fire conquers metal, and metal conquers wood.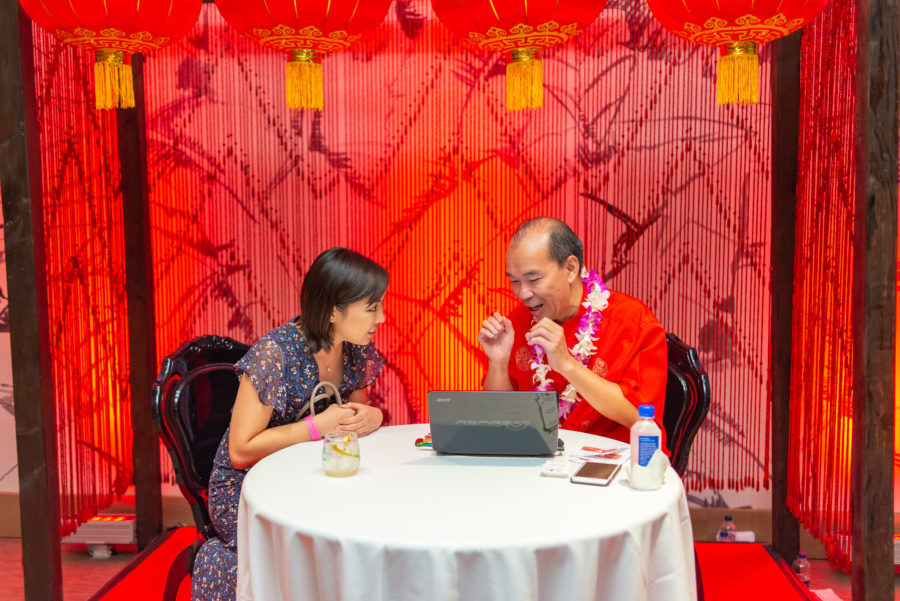 People lined up for a reading with feng shui master Clarence Lau at the HFWF18 event Feng Shui & Cocktails. Photo: Dane Nakama/Hawaii Food & Wine Festival, 2018
Lau visited my house and office last week, and had this news to share about 2021. This is the year of the Metal Ox. Because it is the second successive year of metal (last year was the Metal Rat), there will be carry over from last year and it will not particularly be a good year. There will continue to be health concerns over the pandemic, and he warned that we should continue to be cautious even after getting vaccinated. With challenges ahead, he also warned us about theft and to be extra cautious about valuables left in the home and in the office. He also made some recommendations to bring success, so I found myself in Chinatown this past week buying li shi (red envelopes), copper coins, bamboo plants and other amulets to counteract the negative elements this year.
Lau also shared that the Chinese correlate the elements with taste: sour equals metal, sweet equals earth, bitter equals wood, salty equals water, and spicy equals fire. Depending on the season, Chinese eat different foods based on elements to keep their bodies in balance. For example, during the summer months when it is hot, melon soup is eaten to cool the body down. For this year, Lau also recommends more fire — spicy foods or foods reddish in color to melt the effects of the Metal Ox year. He also says red wine is good to balance out your health.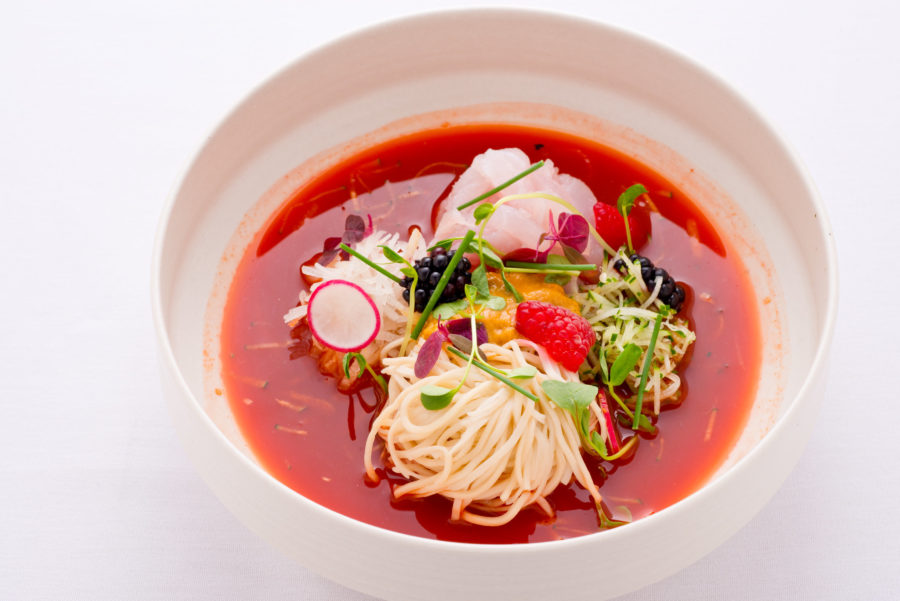 Urchin and snapper with gochujang ice by chef B.J. Kim, hailing from Bicena, South Korea, for HFWF14. Photo: Dane Nakama/Hawaii Food & Wine Festival, 2014
Feng shui has fascinated me for years, and while many may see it as my infatuation with superstition, I nonetheless, believe in this ancient Chinese philosophy that has made me mindful of my life and my actions. Despite the challenges the Metal Ox may bring, I found some piece of mind by following Lau's guidance. A water fountain has been strategically placed in my office, flowing toward me, signifying a promise of prosperity and success that will only come with effort and hard work.
As we start the 2021 Lunar New Year of the Metal Ox, kung hei fat choy. I wish all of you blessings of a great year of happiness and prosperity, eating spicy food and drinking lots of red wine!
With aloha,
Denise Yamaguchi