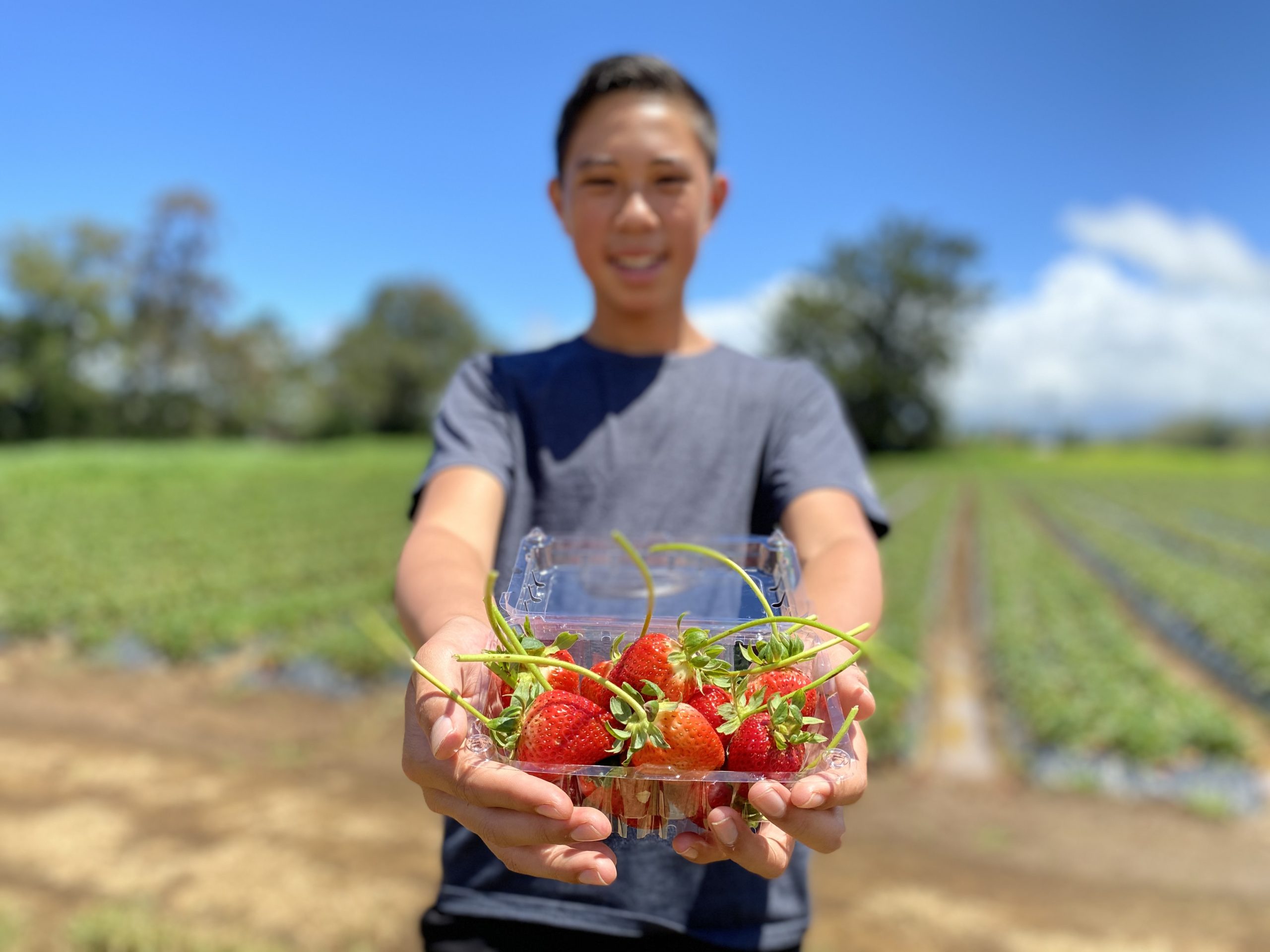 2019 Localicious Recipe Contest winner Kamahao Ocean Kanekoa. Photos: courtesy of Paina by Ocean
"Cooking is fun and I want my generation to discover the opportunities in culinary arts! Whether you're passionate about cooking or just want to try something new, Localicious® Recipe & Video Contest is an experience you won't forget!"
Meet the winner of the 2019 Localicious Recipe Contest: Kamahao Ocean Kanekoa. Since winning last year's contest, this 9th grade culinary superstar has founded a company called Paina by Ocean — an online farmer's market that sells fresh, Island of Hawaii produce grown and distributed to the island community.
To inspire Island of Hawaii, youth through the culinary arts and agriculture, Paina by Ocean will provide a Pina Bag to every student based on Island of Hawaii who submits an entry to the Hawaii Gas Presents Localicious® Recipe & Video Contest by September 17, 2020.
Hashi connected with Kamahao to hear what he's been cooking up over the last year.
Have you always enjoyed cooking?
Yes! I come from a family of chefs – from my dad being a chef, my grandmother being a cook and my sister being a culinary teacher. I guess you could say, "The kitchen raised me" and I was exposed to cooking from a young age. It's something I enjoy and have fun doing.
Why did you decide to submit your winning recipe for the 2019 Localicious Recipe Contest?
For the 2019 Localicious® Recipe Contest, I created Quinoa Crusted Kona Crab Cakes with Watercress and Microgreen Salad & Mango Papaya Relish. I wanted to submit a recipe that was "farm-forward" using ingredients that highlighted my island and where I come from: Island of Hawaii. I love fishing and Kona Crab is something unique to our island waters that I enjoy catching. Combined with the fresh veggies grown by local farmers, it was a chance to share a healthy, delicious recipe that was locally sourced.
What is one thing you learned during the Localicious® Recipe Contest last year?
I learned how to work under pressure while having fun at the same time. I learned timing and balance in the art of cooking, plus being able to answer questions and engage with an audience and judges at the same time. The experience gave me a lot of confidence and also showed me areas I need to improve on.
Kamahao Ocean provide video tutorials through his Paina by Ocean website and YouTube channel.
 Can you tell me a little bit about what you've been up to since the contest last year?
Since last year, a lot has happened! At the start of the COVID-19 pandemic, I founded a company called Paina by Ocean — an online farmer's market that sells fresh, Hawaii Island grown produce that is distributed to our island community. Our Online Farmer's Market offers the opportunity for Hawaii Island residents to purchase curated "Paina Bags" — pre-assembled bundles of fresh, nutritious local produce and other specialized foods that is sold to our community at a minimal cost while simultaneously moving products for our local farmers.
In addition, I create simple cooking video tutorials and short farm-tour segments visiting local farmers located on Island of Hawaii. These videos bring you along on my exploration in the kitchen while also lending insight to the people who make fresh foods possible.
My mission has always been education and awareness, and during these uncertain times, we have also evolved into an outlet that bridges the gap between Hawaii Island residents to our farmers, ranchers and fishermen. Culinary on all levels is not possible without these purveyors, and agriculture is not possible without community support. This is my effort to lead a beneficial cause by giving our locals safe, easy access to wholesome foods, while providing farmers with the resources to ensure a foreseeable future.
Why should other students submit their recipes to the Localicious® Recipe & Video Contest this year?
Cooking is fun and I want my generation to discover the opportunities in culinary arts! The Localicious® Recipe & Video Contest was an inspiring experience that allowed me to network, learn and eventually launch my own platform to make a difference within my community through food. Whether you're passionate about cooking or just want to try something new, this is an experience you won't forget!