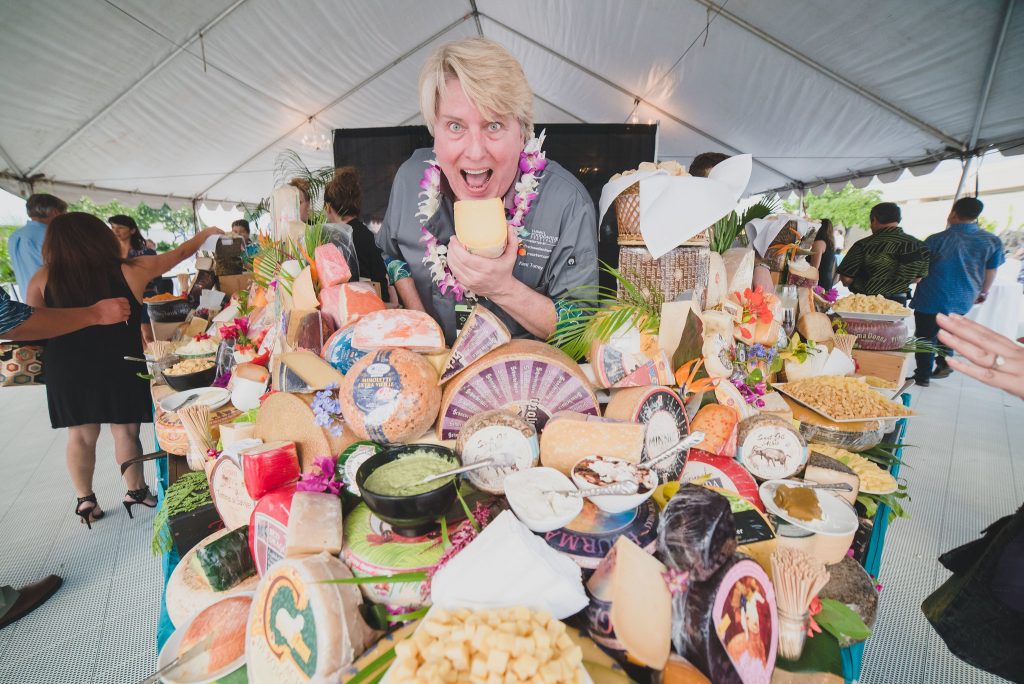 Kent Torrey of The Cheese Shop in Carmel, CA, at Hawaiian Airlines Presents Winederland. Photographer: Kris Labang Photo: Kris Labang/Hawaii Food & Wine Festival, 2018
For the 2017 Hawaii Food & Wine Festival, Kent Torrey of the Cheese Shop in Carmel, Calif., will be bringing more than a thousand pounds of cheese to the Sept. 12 Corks & Forks event at Hawaii Convention Center. Once again, Torrey and his team will amaze attendees with his famed 1,000-pound display — about 70 full wheels, then a whole bunch of smaller soft ones, wedges and more, including some made in his home state of Hawaii.
How many times have you participated in the Hawaii Food & Wine Festival?
This is my fourth year.
Name three things that you associate with Hawaii.
Ohana, home-in-the-islands, and scents of flowers.
A friend or family member tells you they will be vacationing in Hawaii for the first time — what is the one thing – place, activity, experience, etc. — you would tell them to put on their itinerary?
GO TO A BEACH…doesn't matter, any beach in Hawaii is awesome from the smallest to the largest. The ocean wraps around us completely and so much a part of our lives revolves around the ocean, so we locals are blessed to have this available to us 24/7/365! But for those visiting for the first time, that one experience/visit will leave a lasting impression forever!
Which local restaurants are on your list of Hawaii hotspots and why?
Orchids at Halekulani – Dinner with parents.
Morimoto's – Sushi!
Roy's – Any of his kaukau is onolicious!
Which local ingredients excite you?
Lilikoi (miss passion fruit on the Mainland), macadamia nuts, and of course local CHEESES!
Best way to spend a day in paradise?
At the BEACH!
Name your top 3 beaches on any island that you like to go to when coming home for a visit.
Again, WAY too hard for me to simply say three names, but, being from Oahu and only saying beaches on my island (though the other islands have equally many incredible beaches):
1) Waikiki Beach. It's the quintessential icon beach that is world famous for its beauty, accessibility, resources available, and that has been featured/heard/seen in songs, movies, books.
2) Hunakai Beach. This is so very special to me as I use to live a block away (on Aukai Ave) from this tiny, secluded beach as a child. Go down Hunakai Ave, cross over Kahala Ave, and walk between two large private homes, then once on this tiny beach, to the right is almost a natural pool within the reef. Very fond memories, and brings tears of joy to my eyes when thinking of swimming, snorkeling and picnicking there.
3) I have to name two for two reasons: east coast of Oahu is Makapuu (sunrise, especially memorable from my high school graduation morning with classmates of Punahou 1979) and on the west coast of Oahu is Makaha (sunsets and puka shell finding)!
Best beverage or cocktail choice to enjoy at sunset?
BUBBLES… be it champagne or beer!
What's your favorite culinary pairing?
ANY apps from HFWF, there are too many GREAT chefs/ideas. But I do love brie with truffle balsamic glaze on top!
Fill in the blank. Everything's better with ________________.
CHEESE! (Sorry, know that's a bit "cheesy"!)
True or False? I love social media.
True.
What's your must-have souvenir to take home from Hawaii?
Memories from being home and the honor of having been asked to participate in HFWF!