Well-versed in worldly cultures and inspired to "make the world a better, happier place," Richard Betts is starting his next alcohol adventure. Recently moved to Amsterdam, Betts is continuing to find niches and create liquors meant to improve consumers' drinking. "It's not about drinking more, it's about drinking better." Since we last spoke to him, he has moved past wine and into the world of Komos Tequila, which he created with his partner Joe Marchese. "I love Tequila first and foremost because it embodies so much of my first love, Mexico. Add to that the fact that it's an upper, a party starter, it's my favorite thing to drink.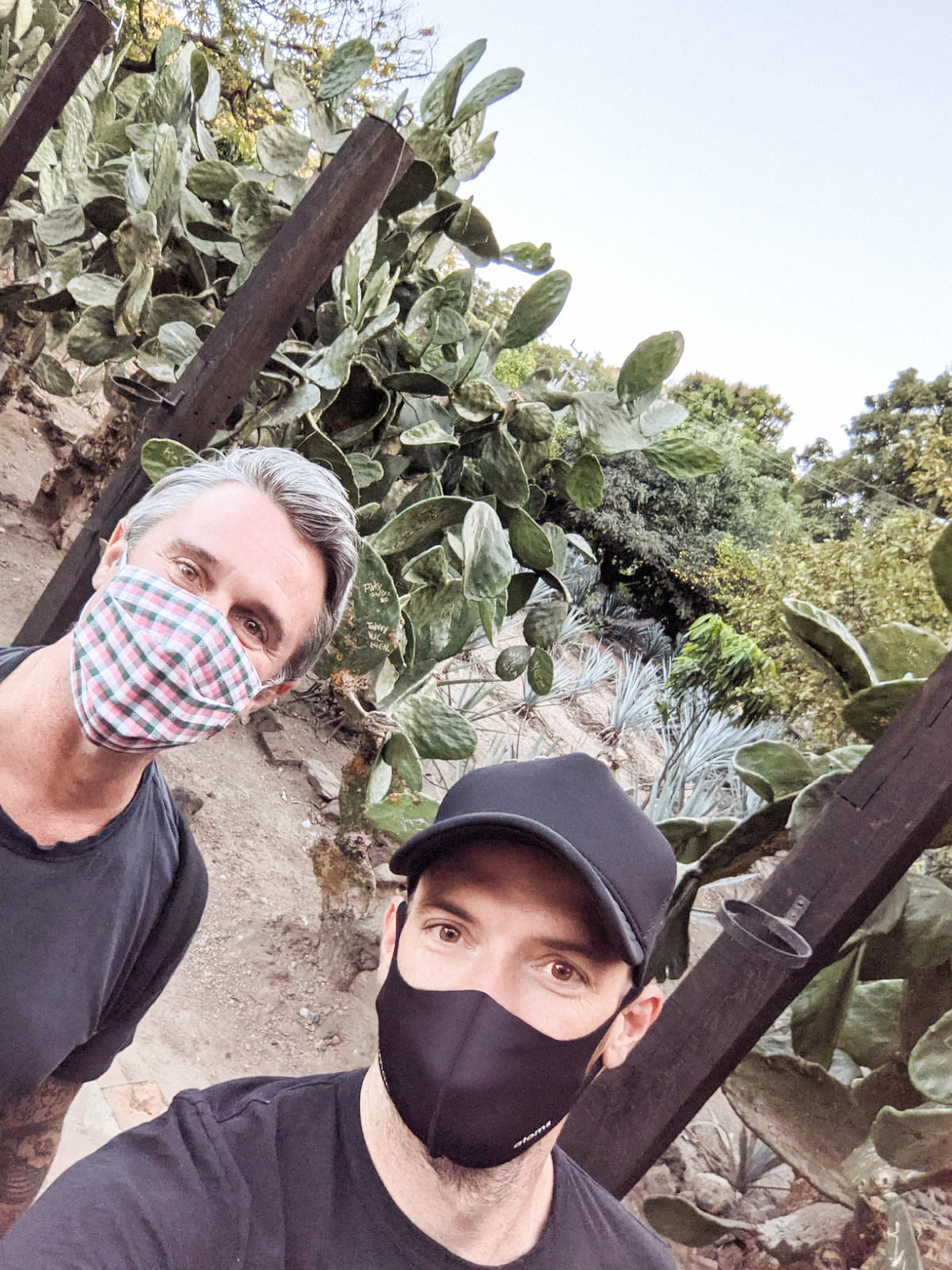 Komos Tequila co-creators, Richard Betts and Joe Marchese in the agave fields. Photo: courtesy of Richard Betts
Focusing on Mediterranean style, Betts is able to lean on his winemaking expertise to enhance his tequila. "We draw inspiration for our production from the places where we actually enjoy tequila: the beach, by a pool, on a boat, at parties, in clubs, fine restaurants, and friends' homes. Collectively, we think of this good living as part of a mediterranean lifestyle. When we look at that lifestyle, it also has a strong affiliation with wine and so we thought, 'Why not lean on some of those techniques to craft something beautiful, subtle, complex and utterly compelling?' That's Komos."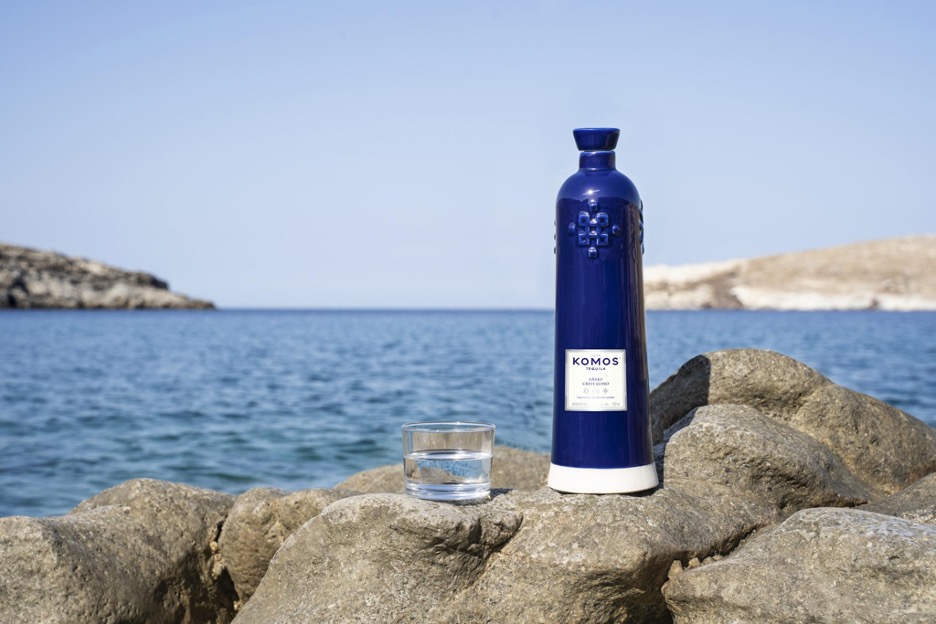 Betts was inspired by the Mediterranean lifestyle when he created Komos Tequila. Photos: courtesy of Komos Tequila
Betts didn't stop at the Mediterranean style. He continues to explore tequila production and packaging to reach his goal of "refined revelry." The blanco tequila is made from agave from the highlands and lowlands, which is rotated in a traditional volcanic stove oven, fermented with native yeast, and distilled in pot stills. After distillation, the tequila is aged in ex-white wine French oak barrels for a year.
"By making wine or tequila — or anything fun and easy and open— people feel included and a conversation begins. With this, the world is a better, more inclusive place."

-Richard Betts
"The wine adds a subtle floral note we find very beautiful. We want to subtly add flavors to create a chorus of beauty." To remove the impurities and color, the "now añejo tequila" is dripped through a column of charcoal. As a final step, the tequila is placed in amphorae from the Republic of Georgia where it is tumbled and oxygen is introduced. "The sum of all of these parts has never before been done, and once you taste it, I know you'll agree it is unique and special."
The Komos bottle reflects Betts' ambitions for the tequila and "feels like a piece of art when held." Made from porcelain by hand in Mexico City, the bottle shape is inspired by "a very early sculpture of man found by our partner Angelo at a museum in the Aegean Islands." The bottles are meant to be continuously reused and upcycled, with labels that can easily be peeled off. Reflecting on the uniqueness of his alcohols, Betts said, "By making wine or tequila — or anything fun and easy and open— people feel included and a conversation begins. With this, the world is a better, more inclusive place."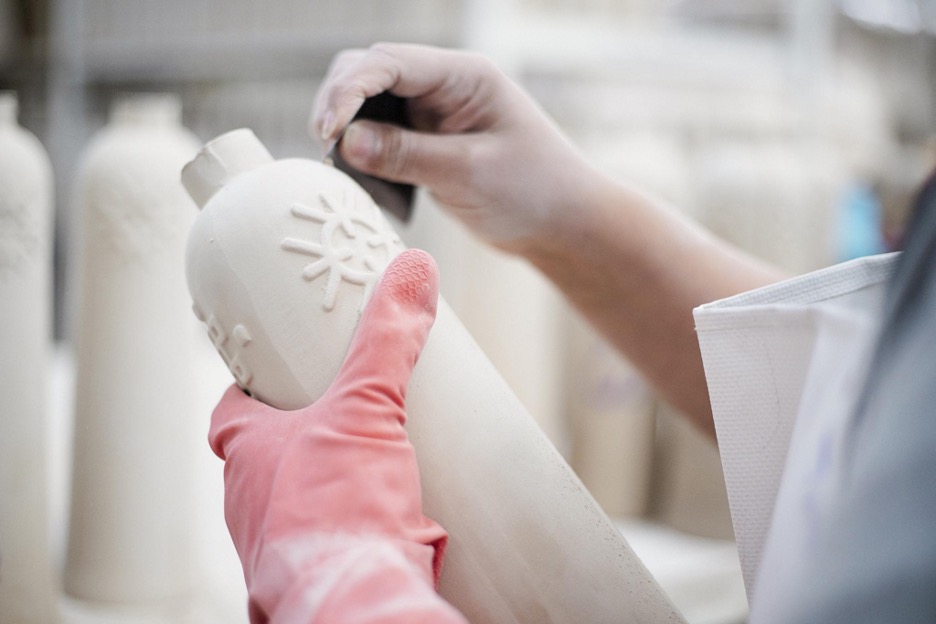 Made out of porcelain, each Komos bottle is hand crafted in Mexico City and feels like "a piece of art."
Having had other ventures into spirits, Betts believes Komos is his best work yet. "There really is something to having been around the block a few times; you learn who you are, what you really care about, what works and what doesn't." He started a mezcal company, created a New York Times bestseller wine guide and tried another whisky. Under CKBG, the parent company to Komos, Betts also created Superbird where "we're making the best damn cocktail that also happens to come in a can."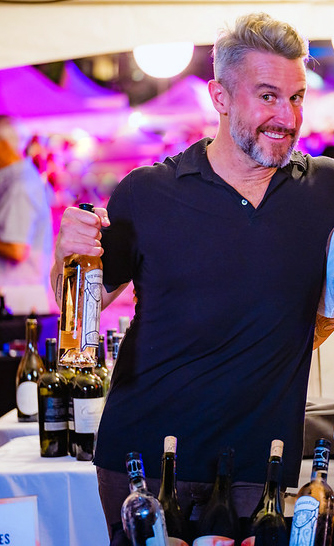 Betts at HFWF18. Photo:  Reid Shimabukuro/Hawaii Food & Wine Festival, 2018
At CKBG, "We are constantly working to build a team of people from all backgrounds and orientations," said Betts, regarding his pride in his recent choice to give back his Master Sommelier title to the Court of Master Sommeliers in response to an injustice in transparency.
"I felt that to be true to myself I had to leave an organization that, at that time, was grossly inconsistent with my own beliefs." Now, in addition to his move to tequila, he continues to engage with winemaking when he can. "My wife Carla and I are producing a lovely, old-vine Grenache called Sucette from the Barossa Valley, Australia."
Komos Tequila can be found at the "finest wine and spirit shops, as well as Hawaii's best restaurants." Betts himself can be found creating "more good things to eat and drink (hint, a hot sauce is in the works!)" with an initiative to improve the world.