Situated directly on the sands of Kaimana Beach, which means "diamond" in Hawaiian, the 122-room hotel has been an integral part of the fabric of the Waikiki for more than five decades. At the intersection of Diamond Head and the sands of the Pacific Ocean, Kaimana Beach — originally named Sans Souci ("without cares") — is a destination for locals and visitors.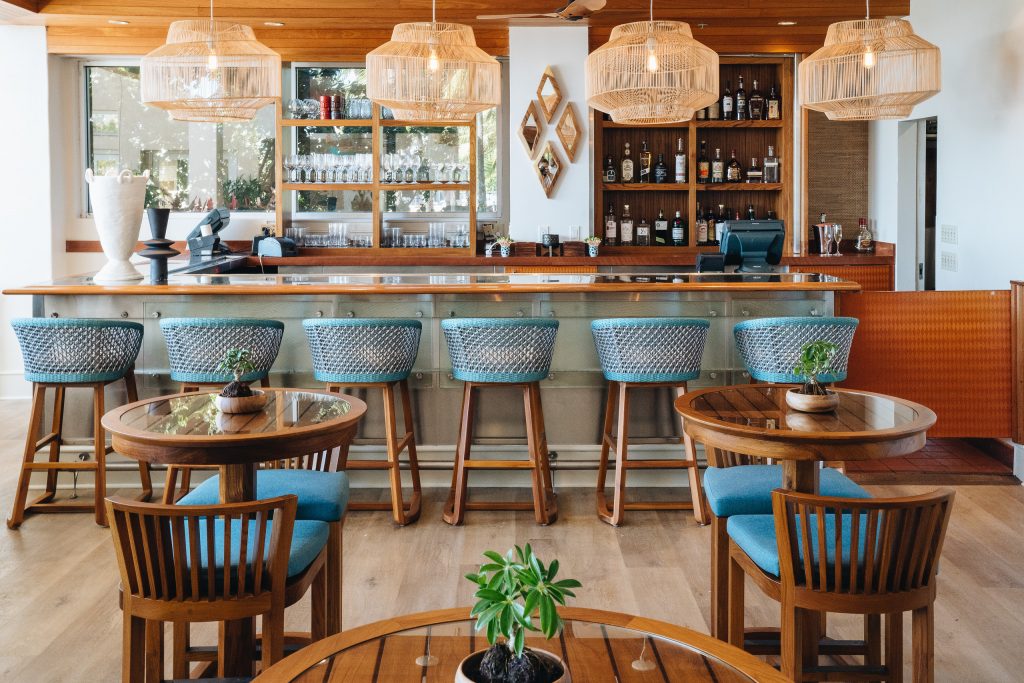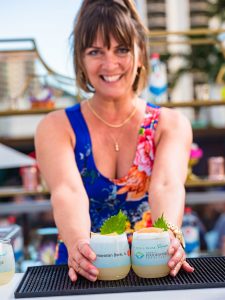 Local mixologist Jen Ackrill leads the bar program at the new renovated Hau Tree restaurant inside the Kaimana Beach Hotel. Photos: (Left) courtesy of Kaimana Beach Hotel/ (Right) Reid Shimabukuro/Hawaii Food & Wine Festival, 2019
With the remodel, the hotel underwent a complete overhaul of the mid-century lobby, now with an eclectic mix of new and upcycled furniture and an eyecatching gallery art wall. Through the lobby, the reservation-worthy restaurant, Hau Tree, has been revitalized with the namesake hau trees dotted throughout the open air architecture.
The bar program is led by local mixologist Jen Ackrill, who manned local Oahu favorites Pint & Jigger, Sky and Top of Waikiki. Complementing the menu, the drinks are designed to pique conversation with nods to the classics and imaginative crafted cocktails.
Kaimana Cocktail
Yeilds 1 cocktail |  By Jen Ackrill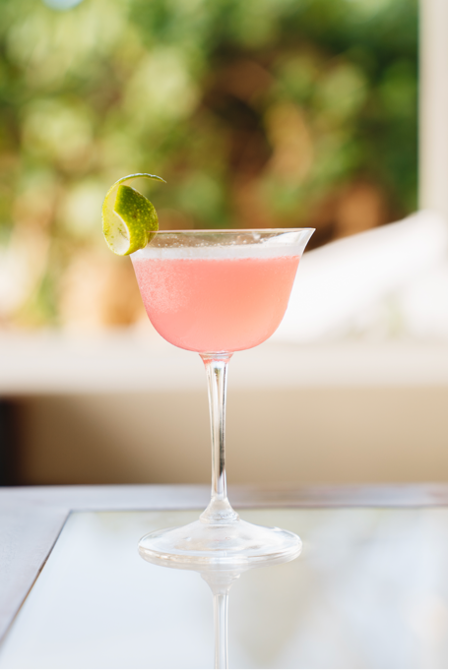 Photo: courtesy of Kaimana Beach Hotel
Kaimana Cocktail
Yields 1 cocktail | By Jen Ackrill
3 tablespoons Roku gin
1½ tablespoons Rotham and Winter apricot liqueur
3 tablespoons calamansi juice
1½ tablespoons lemon juice
3 tablespoons Luxardo maraschino cherry liqueur
1 egg white
1 bar spoon absinthe
Place all ingredients in a mixing tin and dry shake (without ice to aerate). Add ice and shake well (10-12 secs). Pour into a rocks glass with fresh ice. Garnish with dried organic edible flowers.