Because I was fortunate to spend summers on my grandfather's farm in southern Missouri, I gained a deep appreciation of where food comes from at an early age. Farm to table was a way of life for us, with my mother creating dishes directly from our backyard garden while other families turned to processed, canned or boxed foods for dinner.
Later, as a chef, while seeking the freshest ingredients for my restaurant, Dressing Room: A Homegrown Restaurant, in Westport, I learned that small to mid-sized farms were close to non-existent. With government subsidies heavy in soy and corn, small farmers growing fresh fruits and vegetables could not compete and survive. This was something that really upset me to a point where I felt a need to fix food. To me, food can fix everything. Food can be linked to improved health, a healed environment, stronger local and regional economies, and more income for small and mid-sized farm businesses.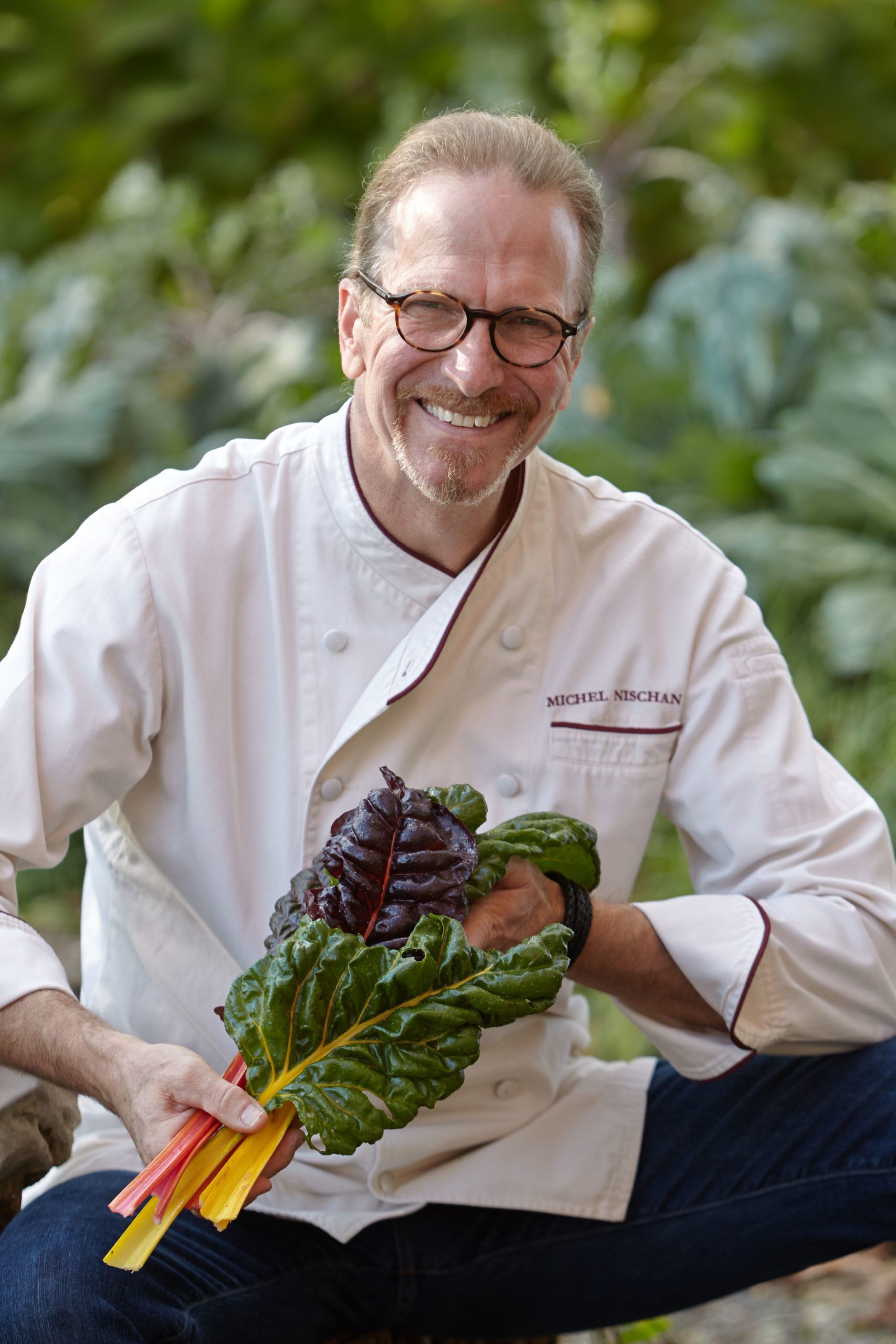 We believe that everyone should be able to put the same healthy fresh fruits and vegetables on the table.
Based in Connecticut, Chef Michel Nischan's Wholesome Wave implements initiatives in thirty-one states and Washington, D.C. Photos: courtesy of Michel Nischan/"Taste Our Love for the Land," 2015
In 2007, I started Wholesome Wave with the vision to provide affordable, healthy, local food for all. By making fresh, locally grown fruits and vegetables affordable and available, Wholesome Wave makes it possible for underserved consumers to make healthier food choices. Our innovative initiatives are improving health outcomes among low-income families, generating additional revenue for small and mid-sized farm businesses and bolstering local and regional economies. Our initiatives are implemented nationwide, in thirty-one states and Washington, D.C. Working in collaboration with more than eighty community-based partners, our impact can be seen at more than five hundred farmers markets, dozens of community health centers, hospital systems and food hubs. Each year, our initiatives reach more than 70,000 underserved community members and their families, as well as thousands of farmers. 
At Wholesome Wave, we believe that everyone should be able to put the same healthy fresh fruits and vegetables on their table. Fixing our food systems is where global sustainability starts. With food, we can change the world by creating greater social justice, a clean environment, a stronger economic base and healthier communities.
Scott County Missori-Style Dry Ribs
Serves 2 to 3 |  By Michel Nischan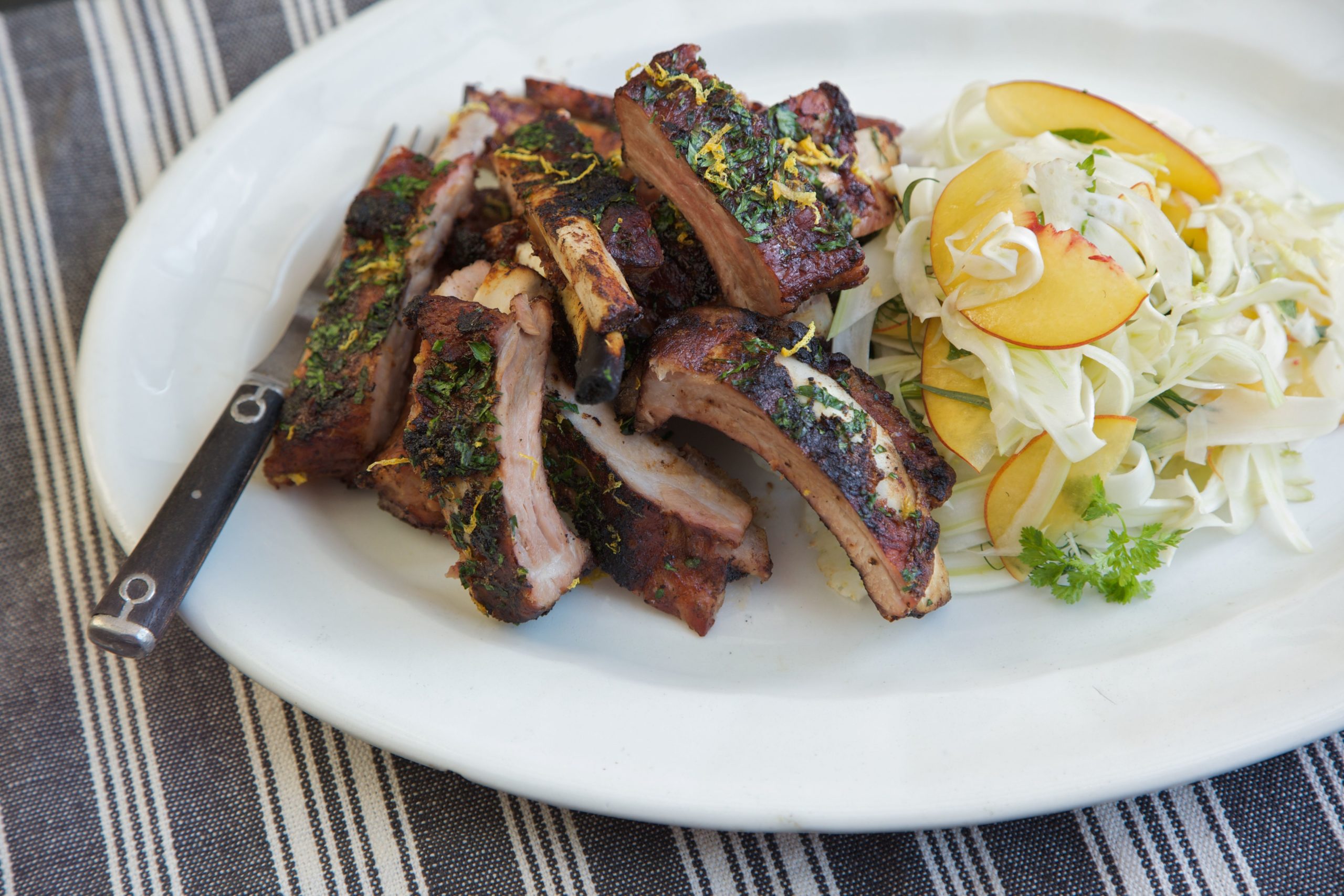 Scott County Missouri-Style Dry Ribs
Serves 2 to 3 |  By Michel Nischan
1 full rack baby back ribs, cut into 4 portions, room temperature
2 cups chicken stock or rich ham hock stock, preferably homemade
Kosher salt and freshly ground black pepper
3 Tablespoons freshly grated lemon zest
3 Tablespoons sliced fresh chives
Prepare a gas or charcoal grill for indirect cooking. For a gas grill, this means turning one side of the burners on high and the other on medium. For a charcoal grill, mound all the hardwood charcoal on one side of the grill so that the ribs can be cooked over both hotter and cooler parts of the grill. Light the coal. Allow them to become white-hot.
Baste ribs with stock and place them on the hot side of the grill. Sear for 2 to 3 minutes on each side, or until they begin to turn brown.
Move the ribs to the cooler side of the grill. Cook for 3 to 4 minutes. Turn, baste with more stock, and sprinkle with salt and pepper. Repeat turning, basting and seasoning for about 1 hour to 1 hour 20 minutes, or until the meat begins to sag off of the ribs when you pick them up to turn. At this point you will have to treat them more carefully because of the softening meat. The goal is to glaze the ribs with the ham-hock stock while equalizing the smokiness from the coals with the saltiness of the ribs.
Garnish with lemon zest and chives.