"As we look to the future of Hawaii, it's more important than ever to offer independent, free-thinking experiences for guests to connect to our world-class sense of place," said Jonathan McManus, founder of Private Label Collection, the luxury hospitality management company which led the modern-boho aesthetic renovations of Kaimana Beach Hotel.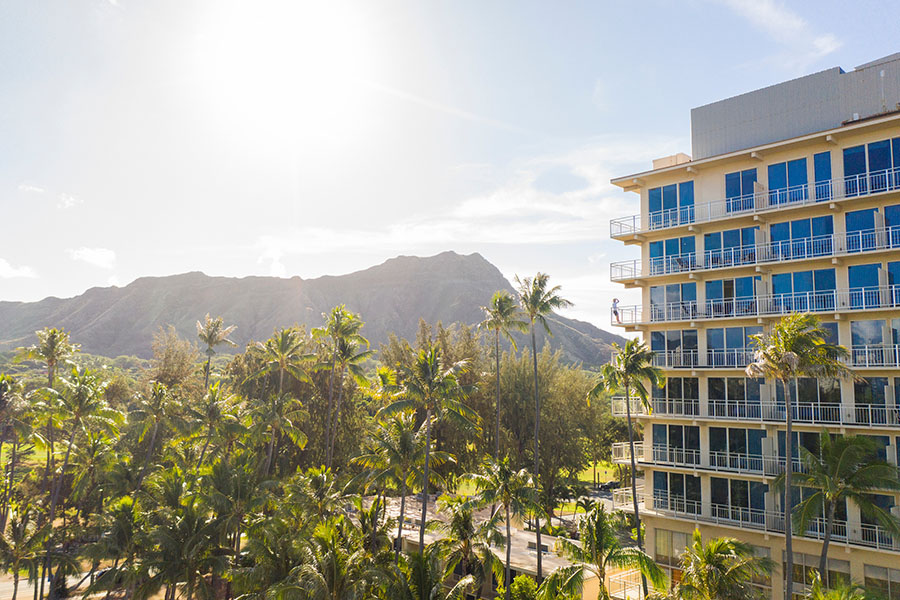 Situated between Diamond Head and Waikiki, the Kaimana Beach Hotel shows off views of Kapiolani Park and the Pacific Ocean. Photos: courtesy of Kaimana Beach Hotel
Situated directly on the sands of Kaimana Beach, which means "diamond" in Hawaiian, the 122-room hotel has been an integral part of the fabric of the Waikiki for more than five decades. At the intersection of Diamond Head and the sands of the Pacific Ocean, Kaimana Beach — originally named Sans Souci ("without cares") — is a destination for locals and visitors. 
The property was formerly owned by the McInerny family, founders of a once-prominent retail chain, with an oceanfront lanai covered by a distinctive hau tree. When Kaimana Beach Hotel was eventually constructed in 1963, the hau tree remained intact.
With the remodel, the hotel underwent a complete overhaul of the mid-century lobby, now with an eclectic mix of new and upcycled furniture and an eyecatching gallery art wall. Through the lobby, the reservation-worthy restaurant, Hau Tree, has been revitalized with the namesake hau trees dotted throughout the open air architecture.
James Beard-nominated Chris Kajioka collaborated with executive chef Alan Takasaki (formerly of Le Bistro) to create a new casual culinary menu based around sharing plates and conversational dining. The evening sunsets stun diners below the lantern-lit hau trees and the weekends welcome guests for all-day brunch, topped with glasses of rose.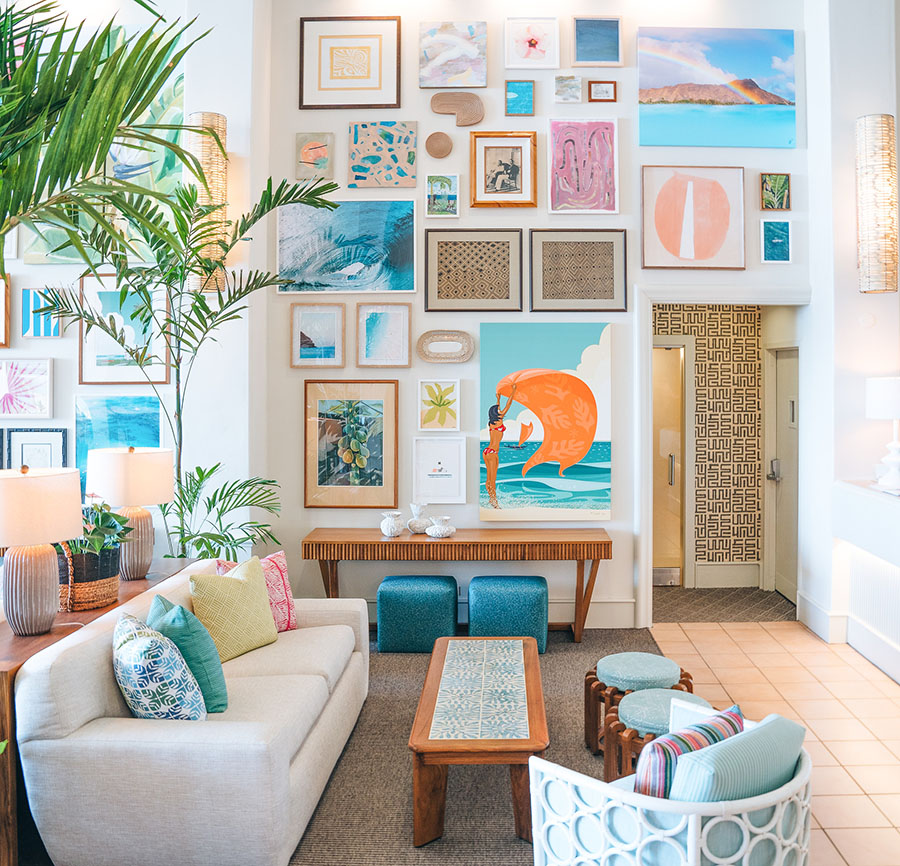 Henderson Design Group re-envisioned the lobby with mid-centry modern textiles and art.
"Growing up in Oahu I have many fond memories of spending time at Kaimana Beach with my friends and stopping into Hau Tree for a bite to eat," said chef Chris Kajioka. "I've always admired Chef Alan and I am excited for our two generations of Oahu dining and our two culinary styles to come together to create a new dining experience for such a special place that means a lot to locals and guests who have been coming here for such a long time."
Featured Hau Tree dishes include Kahuku Corn Salad Salad, Grilled Washugyu Flank and Grilled Kanpachi with Sea Asparagus Vierge, with sweet finishes like the Yuzu Tart or Japanese Cheesecake. The bar program is led by local mixologist Jen Ackrill, who manned local Oahu favorites Pint & Jigger, Sky and Top of Waikiki. Complementing the menu, the drinks are designed to pique conversation with nods to the classics and imaginative crafted cocktails.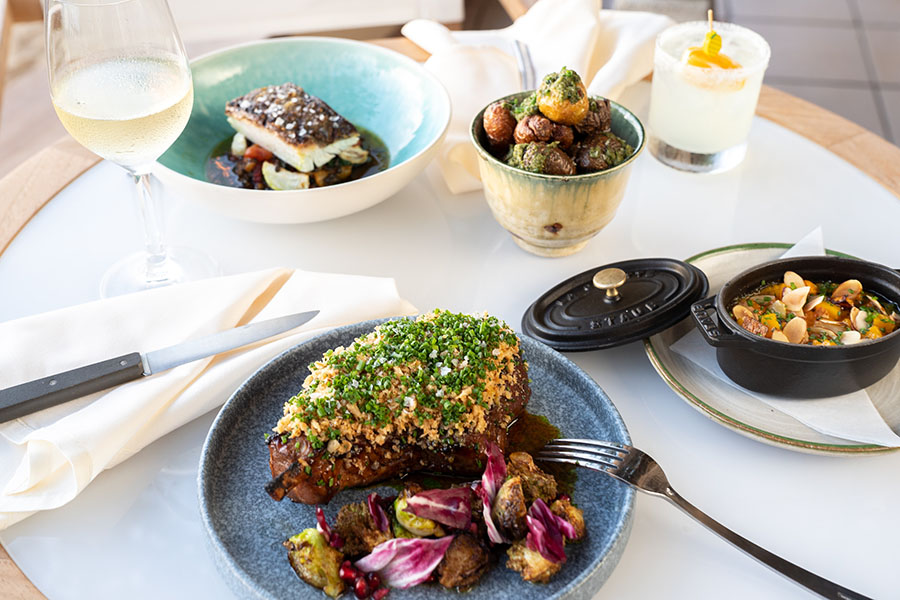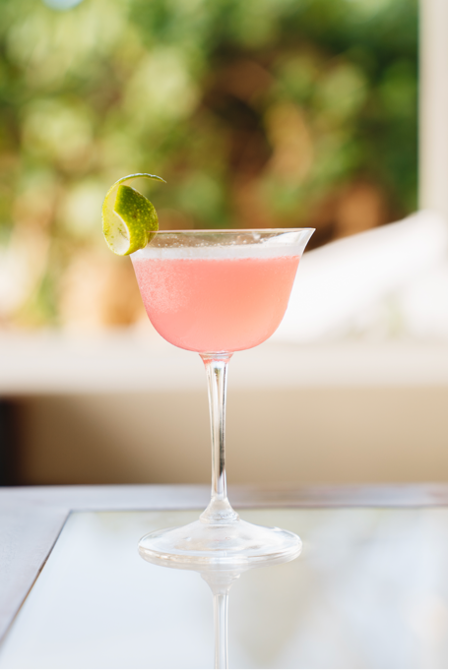 Chefs Chris Kajioka and Alan Takasaki's "culinary casual dining" menu is based around sharing plates and conversational dining, while Jen Ackrill's bar program includes a cocktail for every taste, visitor and local.
"Kaimana Beach Hotel is such a beloved hotel in the community, and we felt there was a huge opportunity to really reimagine it for our generation, and the next generation, to create their own memories much like our parents and grandparents did," said McManus. "We want guests to feel design elements that reflect an experience like you are lounging in your best friend's beach house.
And 2020 proved to be the perfect timing for the renovations. "Reimagining the hotel during a historically slow time for Hawaii tourism also gave us the chance to relaunch the iconic Hau Tree with locals to enjoy first and we've been extremely appreciative of the positive reception from the community."
It's "a new era for the Kaimana Beach Hotel," said McManus.
Ahi Gorgonzola
Serves 4 | By Chris Kajioka
Ahi Layer
1½ ounces ahi tuna, small diced
1 tablespoon olive oil
Kosher salt, to taste
Avocado Layer
1 avocado, diced
¼ cup gorgonzola, diced
1½ tablespoons chives, finely diced
½ cup capers, chopped
1 tablespoon lemon juice
¼ cup olive oil
1 tablespoon kosher salt
Ground black pepper, to taste
Combine all ahi layer ingredients and season to taste.
For the avocado layer, place gorgonzola and capers in a pan. Cover with lemon juice, olive oil and season. Gently toss without breaking gorgonzola. Spread thin again. Top with avocado and fold gently. Re-season, then plate in ring mold. Top with seasoned ahi.