In February 2014, New York Times restaurant critic Pete Wells reviewed Annisa in Greenwich Village. He mentioned the hearts of palm salad that's served there, saying the tender vegetables were prepared in a way that didn't take anything from "their fresh, quiet rounded sweetness."
Those hearts of palm are shipped overnight to New York City from a farm on the Big Island just for this salad. Chef-owner Anita Lo met the farmers of Wailea Agriculture at last year's Paina on the Pier: A Farmers' Food Show that was part of the Hawaii Food & Wine Festival. She loved the hearts of palm so much, she put in a standing order.
This year's Festival is bringing back Paina on the Pier on Friday at Pier 38 at the Honolulu Fish Auction. It's an opportunity for chefs to meet local food growers and producers. This private event brought together about 25 farmers and 250 chefs, retailers and restaurants last year, including some of the festival's all-star culinary lineup.
"I don't think we would have ever connected with someone like Anita Lo had it not been for this event.  For us, it's an invaluable kind of thing to have a chance to meet chefs and let them sample our products and talk story with them. I think this is a really, really important part of the whole festival."

—Leslie Hill, co-founder Wailea Agricultural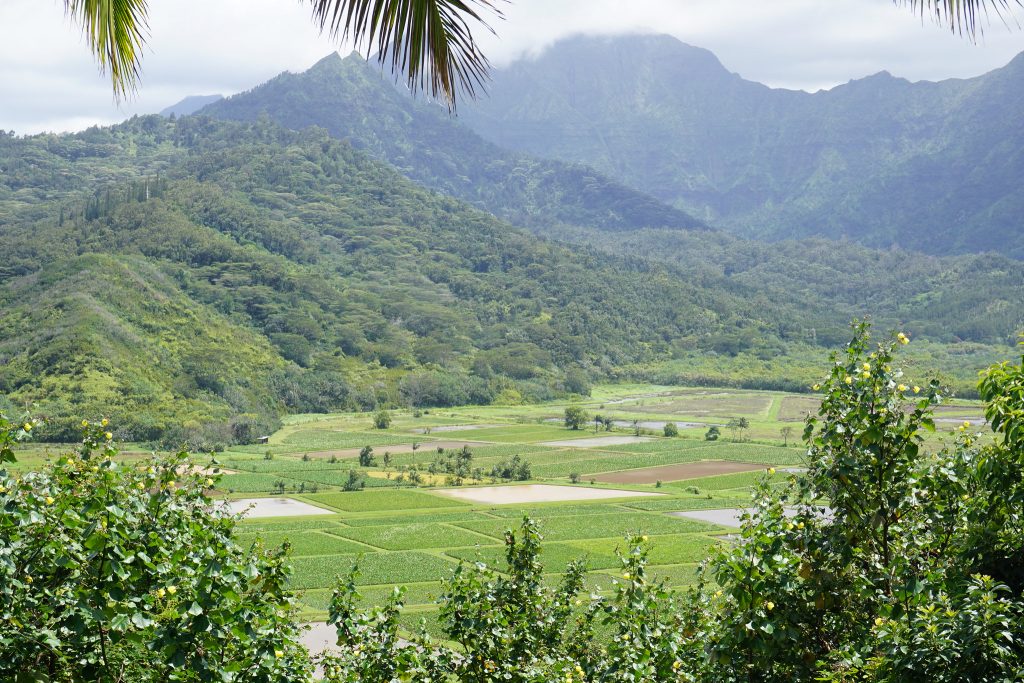 The Haraguchi Taro Farm during the 2017 Culinary Journey tour. Photo: Hawaii Food & Wine Festival, 2017
This event is in line with the Festival's goal of raising awareness about supporting local farmers, ranchers and fishermen to ensure the food security of the Islands. Nearly 85 percent of food in Hawaii is imported.
"Our goal was to connect local farmers with the different chefs and vendors who are part of the Festival," says Les Apoliona, land asset manager at Kamehameha Schools, which, as the state's largest private landowner, sponsors this event. "It's about local agriculture and buying local and creating an impact."
He felt the energy created by last year's event gave the festival another dimension: "It's more than just having white table cloth dinners and eating really great food by really great chefs," he says. "It's about letting chefs meet the food purveyors. It adds a very different dynamic from a lot of the other food festivals out there… It felt like a real marketplace. And the fact that you had the farmers there with chefs cooking with the ingredients from those farms — you can't get much closer to farm-to-table than that."
Though last year's event proved to be successful, Festival co-founder chef Alan Wong says there's still room for growth.
"I would like to see more chefs and more farmers come together," Wong says. "Our farmers hardly get their due in the spotlight. This might be a small thing right now, but I hope it turns out to be a bigger spotlight for them."
Wong, who owns and operates three restaurants in Hawai'i, works with at least 75 different food growers and producers in the Islands. He tailors his menus based on what's available, always trying to use the freshest ingredients possible.
"I feel like farmers and ranchers are right at that cusp," he says. "They need to have more demand and they will take the risk and produce more because they know they're going to sell it. There's nothing worse for a farmer or rancher to have surplus stuff on hand."
The late Floyd Cardoz, acclaimed New York-based chef, author and winner of Bravo's "Top Chef Masters," was impressed by the fresh produce he sampled at last year's event. He especially loved the mangoes offered by such vendors as Makaha Mangoes, a longtime family farm on the west side of Oahu.
"The quality of the mangoes really blew me away," says Cardoz, who will be joining a new restaurant in New York and opening another in India this year, while working on another book and with Disney on the upcoming film, "The Hundred-Foot Journey." "I'm a huge lover of mangoes… Those were just incredible, very aromatic and complex in flavor. A good mango isn't just sweet; it's a balance of acidity and sweetness and aroma."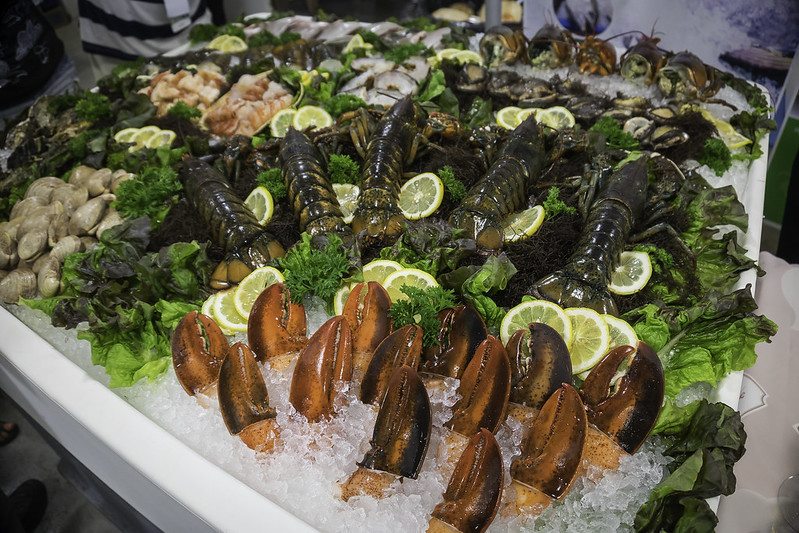 Seafood of all shapes and colors drew attendees and chefs attention at the HFWF 2013 Paina at the Pier event. Photo: Travis Okimoto/Hawaii Food & Wine Festival, 2013
Like all of the chefs participating in this year's Festival, Cardoz believes in having a personal relationship with local food growers and producers. While serving as executive chef at North End Grill in Battery Park City, he worked with more than 25 different farmers. His beef came from Ithaca, his lamb from Pennsylvania, his pork from New York City, and his chicken from New Jersey. When in season, about 90 percent of the vegetables and seafood he used were sourced locally.
"I believe that with ingredients, the fresher, the better they taste and the less you have to do with them," Cardoz says. "My philosophy in working with farmers is not to ask them to grow things for you, but to get what they grow. They know what they grow and they grow it well… The relationship between the farmer and the end user is very, very important. The end user can get to see exactly what the farmer is all about and you really get to see the passion."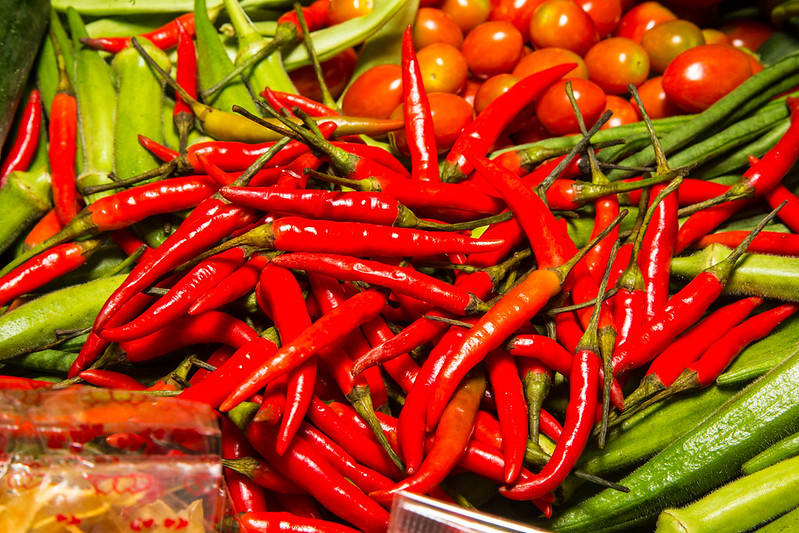 Display of assorted peppers and vegetables at the 2013 Paina on the Pier. Photo: Travis Okimoto/Hawaii Food & Wine Festival, 2013
Candy Suiso, who runs Makaha Mangoes with her husband, Mark, says some of the visiting chefs were surprised at the variety of mangoes Hawai'i farms grow. The exposure was invaluable.
"We really enjoyed meeting all the chefs in town and letting them taste the different varieties of mangoes," Suiso says. "A few chefs didn't realize the texture, sweetness and taste of each (mango) varied."
Since she and her husband both have full-time jobs outside of farming, these kinds of events are sometimes the only way she can talk with chefs, retailers and other food producers.
"We don't get to do this very often, so events like this not only give us time to network with our fellow farmers but allows us to share farming stories and exchange goods," she says.
Sarah Fogelstrom of Buddha's Cup Coffee, an award-winning coffee farm in Kona on the Big Island, says the event last year helped her land the Honolulu Gourmet account. 
"I think this kind of event is very important to get people in the industry sampling our products," says Fogelstrom, who brought samples of its single estate coffee and Kona Gold rum cakes. "I did get a good account from the event, which was what I was hoping for."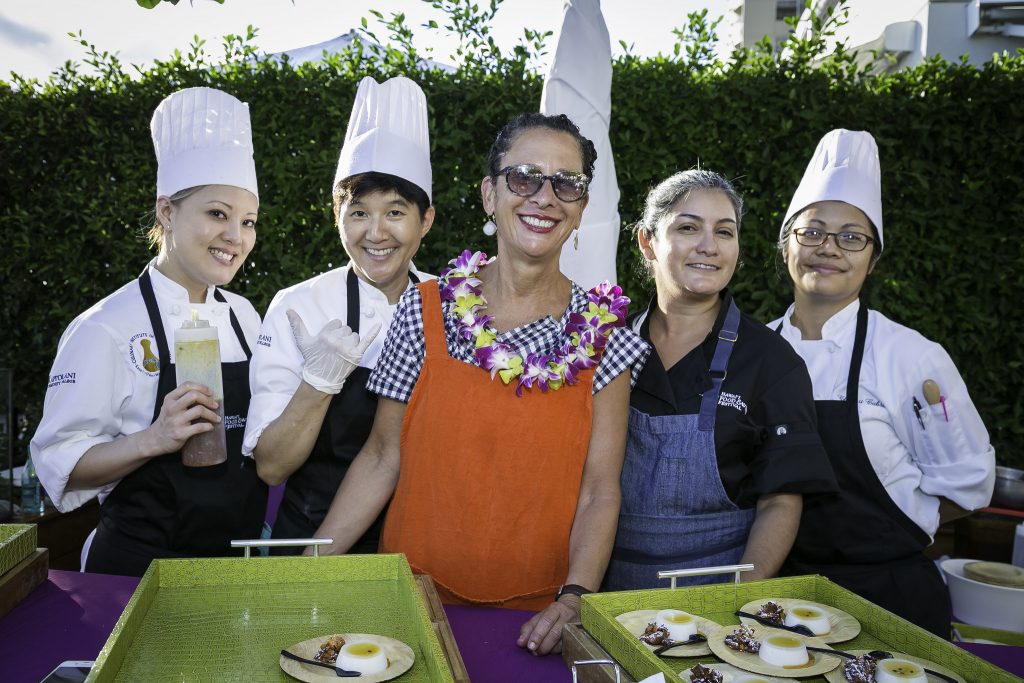 Chef Nancy Silverton and her team at the 2014 Hawaii Food & Wine Festival. Photo: Travis Okimoto/Hawaii Food & Wine Festival, 2014
Nancy Silverton, co-owner of Los Angeles-based Pizzeria and Osteria Mozza, has been working personally with food growers and producers for years, even buying ingredients from local farmers' markets every week. All of the fresh ingredients she uses in her restaurants, which have seasonal menus, are locally sourced.
Last year she was surprised by the local grass-fed beef and enthralled by the varieties of passion fruit (lilikoi) she sampled at the event. In fact, she ordered fruits from that grower for a dessert she was preparing for the festival. This year, she plans to use lilikoi again for a coconut panna cotta she's planning to make, along with local macadamia nuts.
"It's such a wonderful experience to be exposed to what's local," Silverton says. "The coffee you get to taste, the goat cheese you get to eat — it's just always so inspiring."