Episode 3: Aqua + Culture, premiering Thursday, June 23 at 9:30 P.M. on KHON2, features Michelin-starred chef Niki Nakayama of n/naka in Los Angeles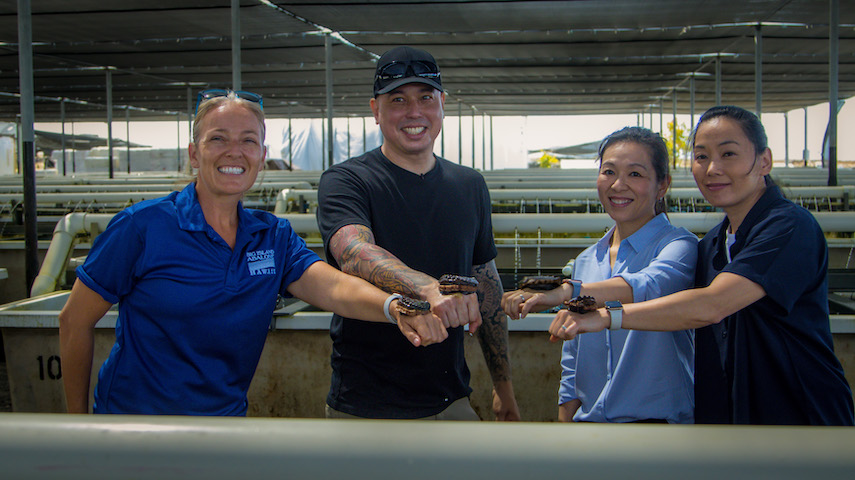 From left to right: Ashley Van Jetzer, Mark Pomaski, Niki Nakayama and Carole Iida-Nakayama at Big Island Abalone
The third installment of Hashi Media's original four-part series, "Taste Our Love For Hawaii," premieres on KHON2 and KHON2 livestream on Thursday, June 23, 2022 at 9:30 P.M. HST. The series, which tells the story of Hawaii's natural beauty and local agriculture and fishing industries through the lens of chefs, spotlights the islands' farmers, ranchers and fishermen that feed our community.
Episode 3: Aqua + Culture, airing this week, explores Hawaii's long legacy as a center of innovation in aquaculture while sharing stories about Hawaii's history, culture and people. Narrated by Hawaii Food & Wine Festival (HFWF) founders, chefs Alan Wong and Roy Yamaguchi and Chief Executive Officer, Denise Yamaguchi, episode three features acclaimed chefs Niki Nakayama and Carole Iida Nakayama—who specialize in modern kaiseki cuisine at their two Michelin-starred Los Angeles restaurant, n/naka. The two are joined by local chef Mark Pomaski—sushi chef and owner of Moon & Turtle in Hilo, HI—to embark on an exploration of Hawaii's past and present through its 800-year history of aquaculture.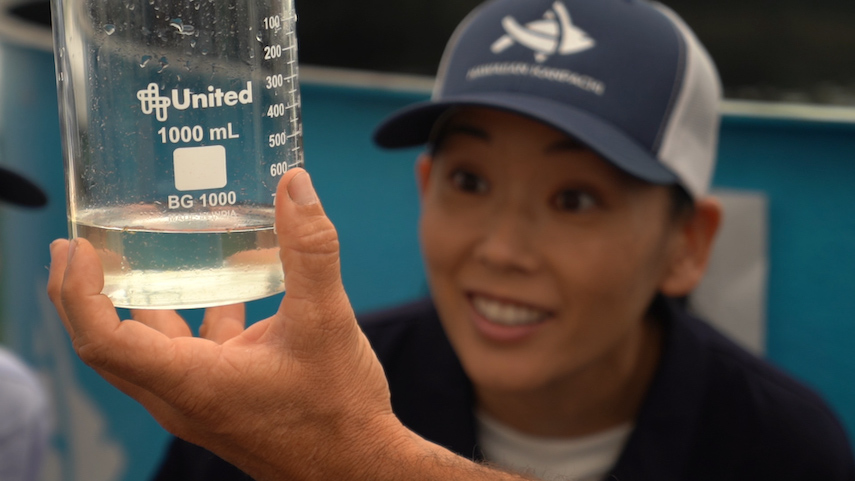 Carole Iida-Nakayama learning about Hawaiian Kanpachi at Blue Ocean Mariculture
Today, aquaculture is the fastest-growing food production sector in the world. Yet despite aquaculture sales in Hawaii reaching a record high of $82.3 million in 2019, a staggering 63% of the fish consumed in Hawaii is imported. In the third episode, chefs Niki, Carole and Mark get a first-hand look at aquaculture leaders turning the tide on Hawaii Island—Blue Ocean Mariculture, raising Hawaiian Kanpachi as the only open-ocean finfish mariculture facility in the U.S., and Big Island Abalone—before learning about centuries-old traditions with Danny Akaka, Jr at Kalahuipuaa Fishponds.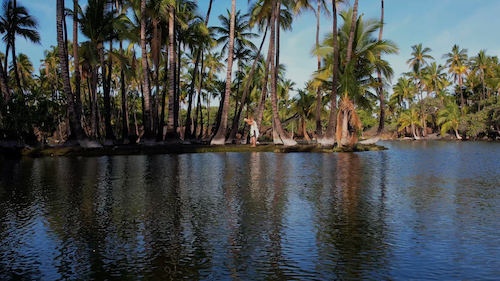 Danny Akaka, Jr welcomes the chefs to Kalahuipuaa Fishpond at
Mauna Lani, Auberge Resorts Collection
"Carole and I are so honored to have been a part of Taste Our Love For Hawaii. It was truly amazing to learn and experience Hawaii's aquaculture… a memorable experience to be so immersed in Hawaiian traditions."

-Niki Nakayama, Executive Chef of n/naka
Hashi, known as the Japanese word for chopsticks, also translates to "bridge." As its moniker suggests, the digital platform explores the deep, tangible relationship between food and culture and looks at how ingredients and culinary traditions build bridges, particularly in the melting pot that is Hawaii.
"Our vision for Hashi and series like 'Taste Our Love for Hawaii' is to use food as a means to spark dialogues about important issues affecting our communities—sustainability, food security, food sovereignty. Food can be used as a powerful tool to unite people—and through the culinary stories of Hashi, we hope to demonstrate that we are more alike than we are different."

-Denise Yamaguchi, Executive Producer of Hashi Media
Get a Sneak Peek of Episode 3 Below!
"Taste Our Love For Hawaii, Episode 3: Aqua + Culture" will air on KHON2 and KHON2 livestream on June 23, 2022 at 9:30 P.M. HST. The episode will be rebroadcasted on June 25, 2022, on KHII at 7:00 P.M. HST and June 28, 2022, on Hawaii's CW at 6:30 P.M. HST. "Taste Our Love For Hawaii" will also be available to stream on-demand on the Hashi Life YouTube channel following the broadcasts.
Missed the first two episodes? Watch Episode 1: Agriculture Meets Tourism, featuring local Oahu chef Ed Kenney of Kaimuki Superette and Mud Hen Water and chef Spike Mendelsohn of PLNT Burger from Washington D.C. Then check out Episode 2: In and On the Ocean, featuring surfing chef Raphael Lunetta, chef/owner of Lunetta in Santa Monica, California.