Five chefs earned their place on a once-in-a-lifetime journey exploring kalo through the Kalo Recipe Contest… see how their recipes are bringing more than poi to the people!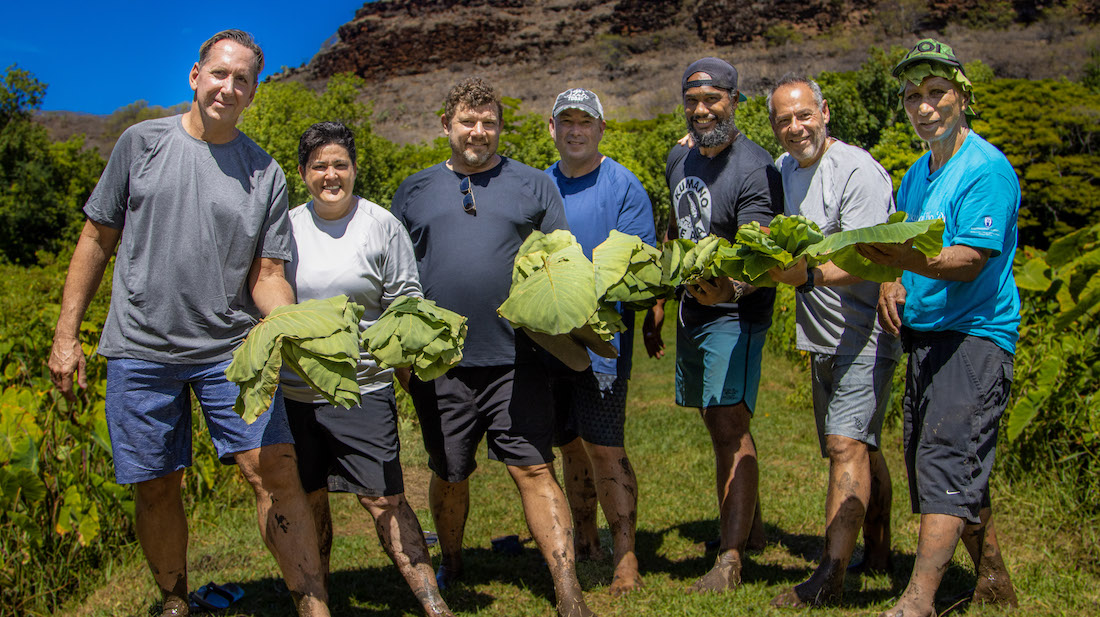 From left to right: Dean James Max, Bonny Davis, Ben Ford, Jason Peel, Kaina Makua, the late Michael Ginor and Uncle Earl Kawaa at Kumano I Ke Ala on Kauai
Google the world "kalo" and search engines will display over 611,000,000 results—everything from Kalo Hemp-Infused Water, to sites touting the roots and benefits of this Hawaiian food staple. Wikipedia attempts to define kalo (widely known as taro) in the most simplistic of terms, a "root vegetable." But this narrow reference overlooks the cultural significance that this sacred sustenance has given to Native Hawaiians for generations.
Last year, the Hawaii Food & Wine Festival (HFWF) joined forces with Hawaii Executive Collaborative and Kamehameha Schools to shine a spotlight on kalo. True to its mission to highlight local ingredients with world-class culinary talent, HFWF invited chefs to create an original dish that elevated kalo from an everyday food source to culinary creation. The Kalo Recipe Contest, which was part of the larger Kalo – Nourishing Hawaii and Sharing It with the World initiative, was the first step in selecting five talented individuals to immerse themselves in Hawaii's rich kalo culture and embark on a Kalo Journey that would ultimately inform a five-course dinner at the Twelfth Annual Hawaii Food & Wine Festival.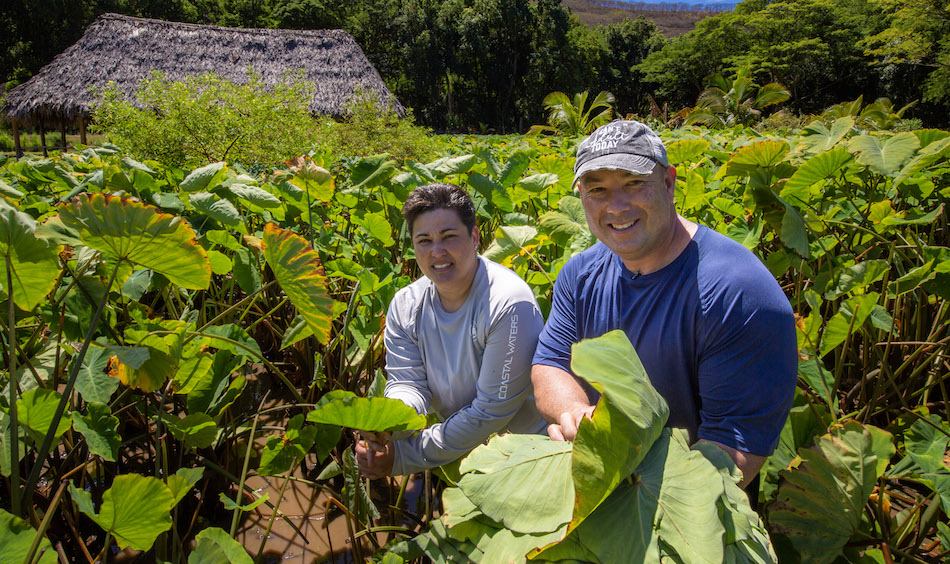 Bonny Davis and Jason Peel picking kalo leaves, or lau, for lau lau at Kumano I Ke Ala
Out of 30 recipe submissions, 5 chefs impressed judges with creative twists on kalo dishes that showcased their varied cooking styles and regional cuisines. Harnessing their Hawaii, New York, Florida and California roots, finalists Bonny Davis, Ben Ford, Michael Ginor, Dean James Max and Jason Peel transformed Moi Kalo—a popular variety for poi making—into something unique with flavors, textures and presentation that would appeal to audiences across the country.
"Chefs have been wonderful in embracing kalo and taro to take it to next level."

-Uncle Earl Kawaa, Kamehameha Schools Resource Specialist and Kalo Recipe Contest Judge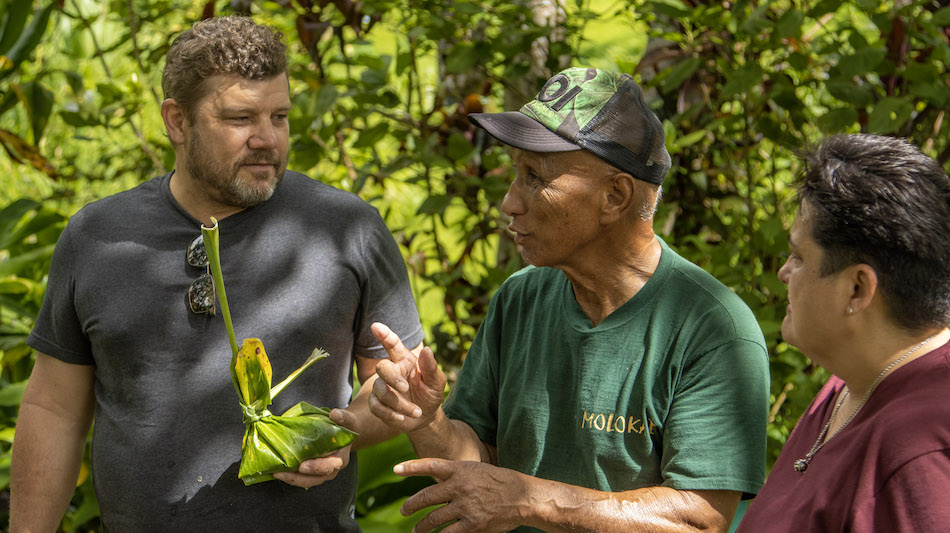 Ben Ford and Bonny Davis listen as Uncle Earl Kawaa (center) shares how to kui ai (pound poi)
Uncle Earl was raised on a Molokai taro farm and spent several days with the finalists imparting, from a cultural perspective, the significance of kalo, as well as the different parts and process of turning kalo into poi. "The recipe is only as limited as one's ability to dream, and to have an artistic eye and artistic tastebud" said Kawaa, after the live cookoff.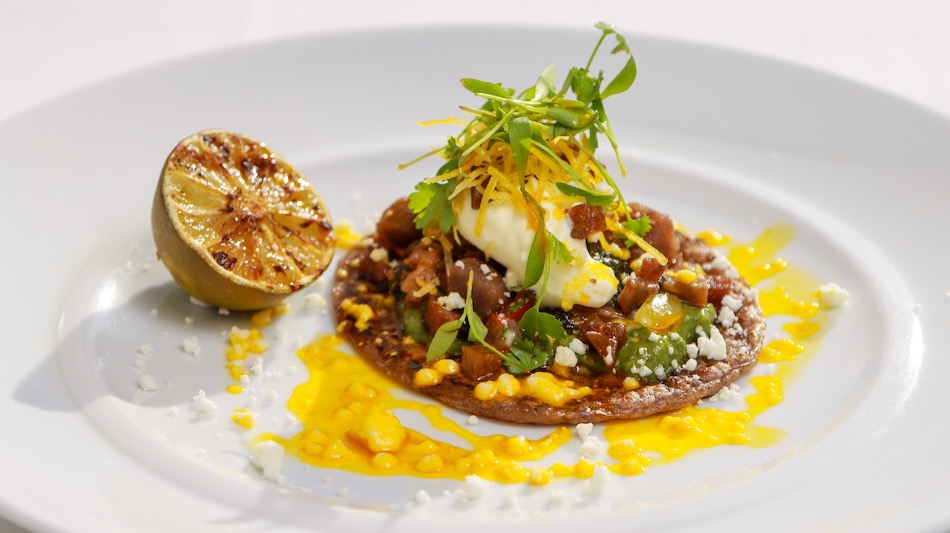 Judges had a tough task ranking the five diverse dishes. Chef Bonny Davis of Kamehameha Schools Maui made Paiai and Puaa inspired by "flavors and smells" from the kitchens for her two Grandmothers, with a dish designed to "utilize all its components from leaf to root."
The Crispy Kalo Sopas created by Chef Ben Ford of Ford's Filling Station in Los Angeles represent his region of Southern California and "how we naturally and with respect incorporate different cuisines."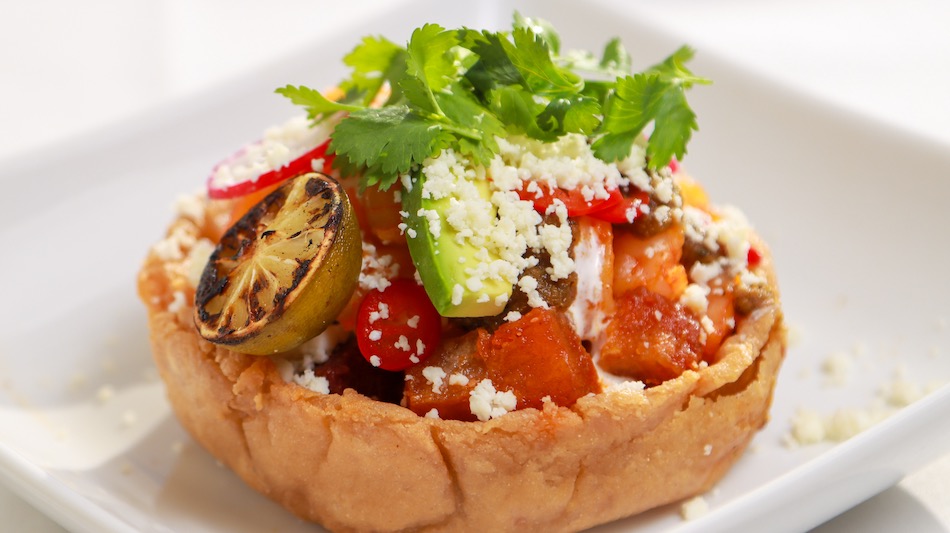 Calling the journey a "once-in-a-lifetime opportunity," Chef Michael Ginor from Restaurant LOLA in New York created Dim Sum Style Kalo Puffs and had "amazing feedback" running it as a restaurant special. He looked forward to creating more kalo dishes on his menu.
Chef Dean James Max – DJM Restaurants, Florida, created a Red Snapper Kalo Stew to play up the texture of kalo and versatility of leaves with a "family style dish that shares within it many different cultural flavors of the Hawaiian Islands."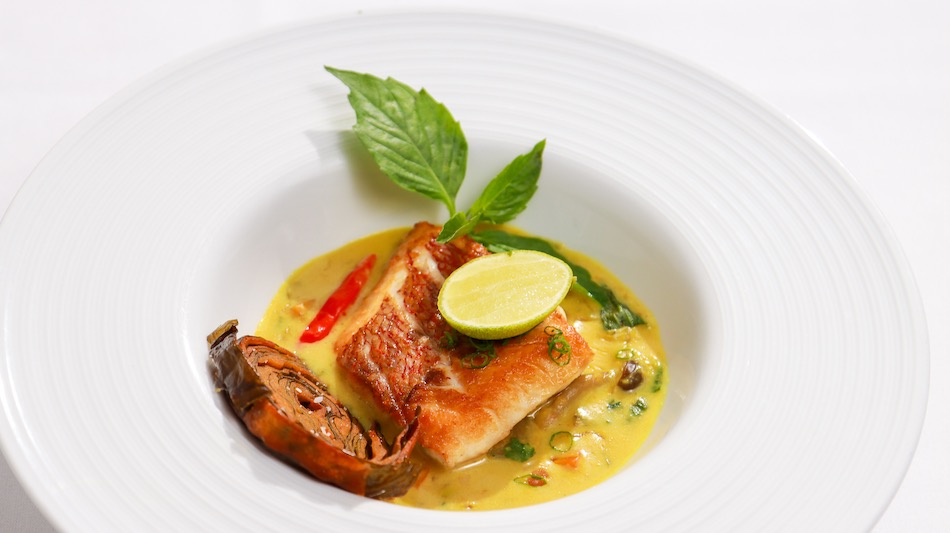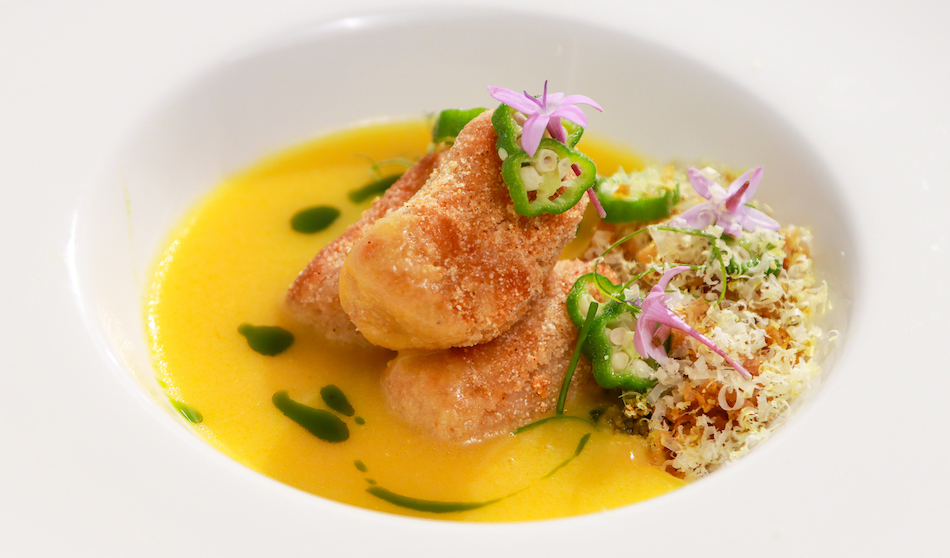 Chef Jason Peel of Nami Kaze in Honolulu made Kalo Gnudi, to honor the melting pot that is Hawaii. "The Gnudi and ricotta are Italian, the white soy is from Japan, the ahi amarillo is from Peru, and the kalo and poi are from Hawaii," explains Peel.
In the end, the winning dish was Michael Ginor's Dim Sum Style Kalo Puffs, but all finalists received a priceless cultural and culinary journey that took them from Oahu to Kauai. A hands-on experience working in the loi or kalo patches; tasting different varieties of kalo and learning from farmers and native Hawaiian practitioners about kalo's nutritional, cultural and spiritual properties. (The experience can be seen in HASHI Media's final episode of the "Taste Our Love for Hawaii" series.) 
Watch Episode 4: Kalo Journey Now!
The journey culminated with a sold-out dinner, Kamehameha Schools presents Outstanding in the Loi, where guests were treated to five gourmet, new kalo dishes created by the "Poi Pounders"—the adopted group name of the contest finalists—each dish informed by the knowledge they gained. The moniker was fitting as finalists were given pohaku (poi pounders) and papa kui ai (poi boards) engraved with their name at the dinner. Ginor was touched to see this personal gift.
"I walked by and thought these are beautiful kui ai boards. Never was presumptuous to assume these were for us and that our names were on it. What a beautiful touch."

-Chef Michael Ginor, Restaurant LOLA in New York
That evening, the chefs created an amazing five-course meal in a serene farm-to-table setting at Kakoo Oiwi. The dinner overlooking loi patches connected guests directly to their food source and producers. "Very fortunate to be invited here to meet Uncle Earl and do a deep dive," shared Ginor. "You know as chefs we try to be as attached as possible to ingredients we use and where they come from. To come up with a menu that incorporates other traditionally high-end ingredients—lobster, foie gras and beef tenderloin with kalo made for an interesting challenge."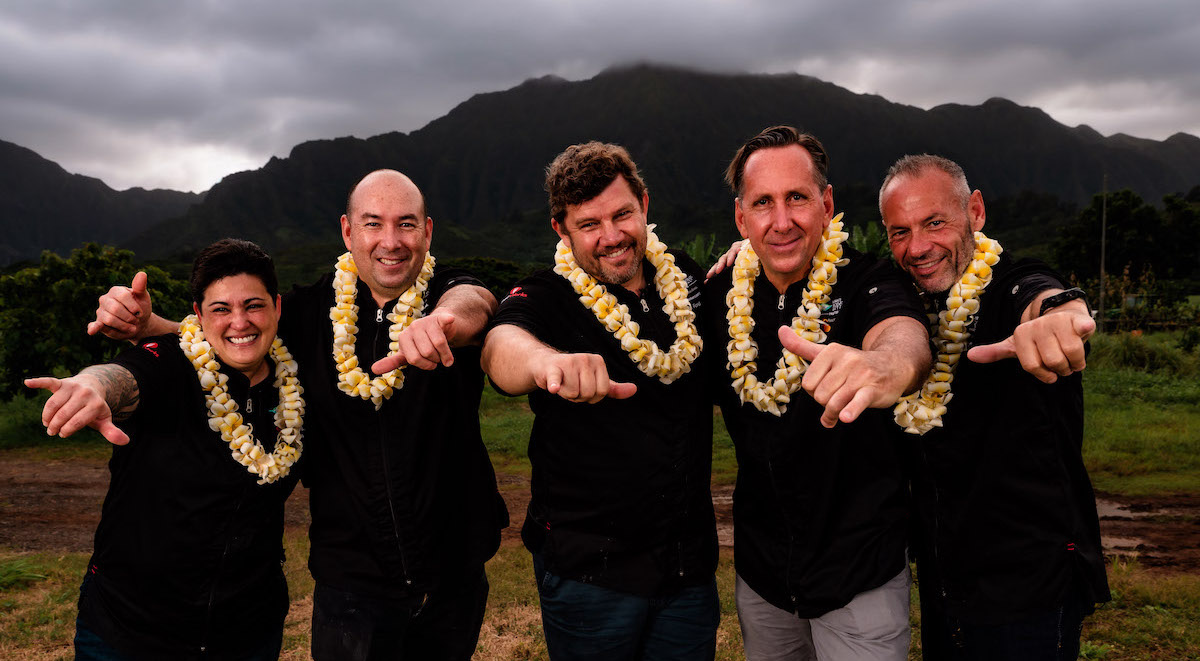 From left to right: Bonny Davis, Jason Peel, Ben Ford, Dean James Max and the late, Michael Ginor at Kakoo Oiwi
Kalo was the main attraction of the five outstanding courses: Kalo and Kauai Shrimp Cake by Chef Dean James Max; Poached Lobster and Krispy Honda Mullet, Smoked Luau Stew by Chef Peel; Dry Aged Hudson Valley Duck Breast, Torchon of Foie Gras and Kalo Bread Pudding by Chef Ginor; Eye of Ribeye, Pan-Seared Kalo Dumplings by Chef Ford; and Spiced Kalo Cake, Kulolo Custard by Chef Davis.
Here, the HFWF mission to "Taste Our Love for the Land" truly hit home. "The Kalo Contest is similar to Hawaii Food and Wine Festival," explains HFWF Co-Founder, Alan Wong. "We want them to be impressed with local product and order for their restaurants. Seeing these chefs come to Hawaii, embrace kalo and do some really creative things. It's this cross cultural, sharing thing. We are spreading kalo to the world through our HFWF brother and sisterhood."
The hope is to see kalo on more menus, with calls from restaurants for "200 pounds a week" dreams Uncle Earl as he wishes for a "kalo-nization" or spread of kalo to the world. Inspiring new recipes by culinary masters is an excellent place to start.
This story is dedicated to the late Chef Michael Ginor—Winner of the Kalo Recipe Contest