Upon touching down on the beautiful shores of Hawaii, Mai Tai is the timeless drink of choice to quench the tropical thirst. This famed cocktail while ubiquitous, has extensive variations. The Mai Tai was born in California, although it is commonly believed to be created in Hawaii. The tiki bar concept was born from two California frenemies who brought on their island haven escape concept to the island post WWII.
Don the Beachcomber first fathered the idea from a small 24 seat bar in Los Angeles. His décor was inspired with trinkets from his travels as a U.S. air force officer and built inspired by beach havens. The cocktails were heavy handed with rum and Polynesian inspired with SoCal sensibilities.
While the tiki bar trend flourished post war, an amicable rival by the name of Vic Bergeron followed in Donn Beach's footsteps. Inspired his concept, Vic Bergeron transformed his existing hotspot called Hinky Dinks in Oakland to a tiki den.
In the meantime, Don returned from his last active duty injured, and found that his ex-wife had grown his small bar into 16 sites. He settled to remain as a consultant and business partner, then relocated to Waikiki to establish one of the biggest tourist landmark bars in the International Market place, Don the Beachcomber. Shortly after Vic also followed suit to establish the now famed Trader Vics.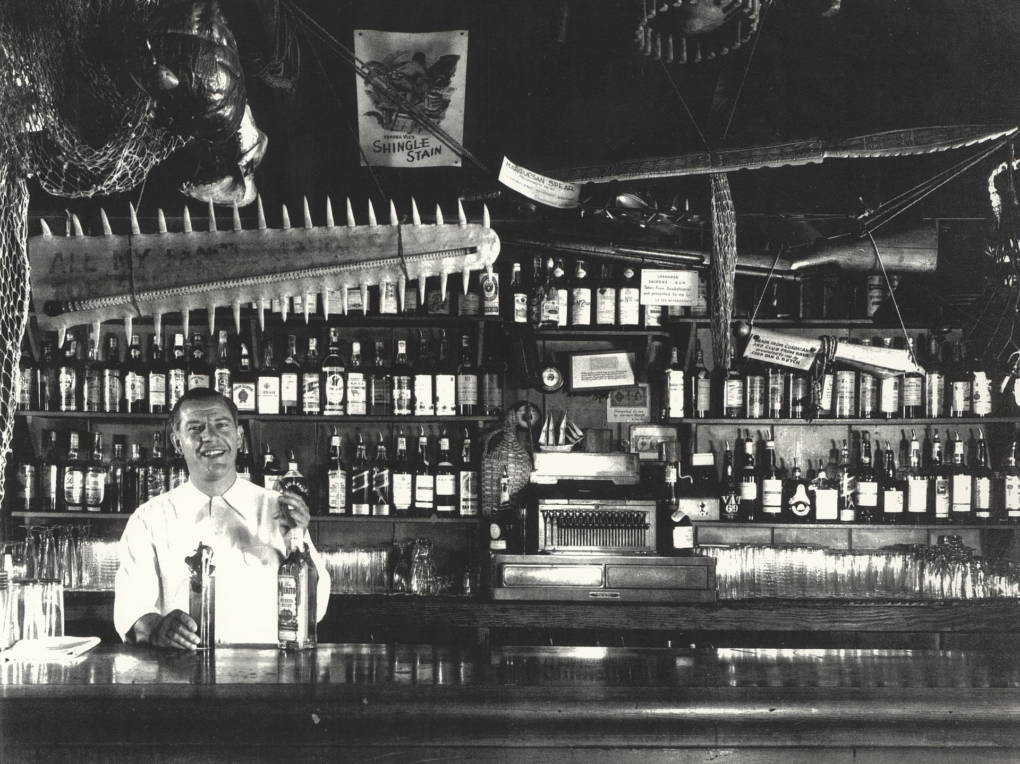 Vic Bergeron at Trader Vic's. Photo: courtesy of @tradervicsworldwide/Instagram
Trader Vic and Donn the Beachcomber both lay claim to fame for the creation of the Mai Tai, but their recipes are vastly different. According to Vic Bergeron (Trader Vic), he served this cocktail to a friend visiting from Tahiti, and upon taking one sip, she exclaimed, "Mai tai-roa ae!" which means "out of this world-the best" in Tahitian. This was the birth of the "Mai Tai." We now refer to this as Trader Vic's 1944 Mai Tai, Vic's recipe below shines in simplicity and balance. Rum is the star of the show balanced with a touch of sweetness and acidity from the fresh lime.
Trader Vic's 1944 Mai Tai
Yields 1 cocktail | By Chandra Lucariello
¾ oz fresh lime juice
½ oz orange curacao (like Ferrand Dry)
¼ oz rock candy syrup
¼ oz orgeat syrup (like Liquid Alchemist)
1 oz dark Jamaica rum (like Appleton Estate Rare Blend 12 yr or Smith & Cross Jamaican)
1 oz Martinique Rum or Rhum Agricole (like Clement Premiere Canne or KoHana Kea Agricole Rum)
Fresh press lime and discard spent shell into bucket or double old fashioned glass. Add syrups, orgeat and liquors to shaker tin. Fill with ice, shake briskly and strain over crushed ice if available.
Garnish with spent lime shell, bouquet of fresh mint, freshly grated nutmeg (optional).
As the popularity of Mai Tai rose, many hotels and bars were competing to create signature recipes of their own. In 1953, Vic created signature cocktails for Royal Hawaiian and Surfrider Hotels. The "Royal Hawaiian Mai Tai" version was more "tourist" friendly, with the addition of pineapple and orange juices and a dash of grenadine for color. He also implemented the dark rum float on this one, which served the bartenders well, as it almost seemed as if it was a "generosity" pour, from the barkeep to his patrons. This is probably the most well-known version of the Mai Tai today, and you are most likely to get this adaptation if you simply call for one at your favorite bar.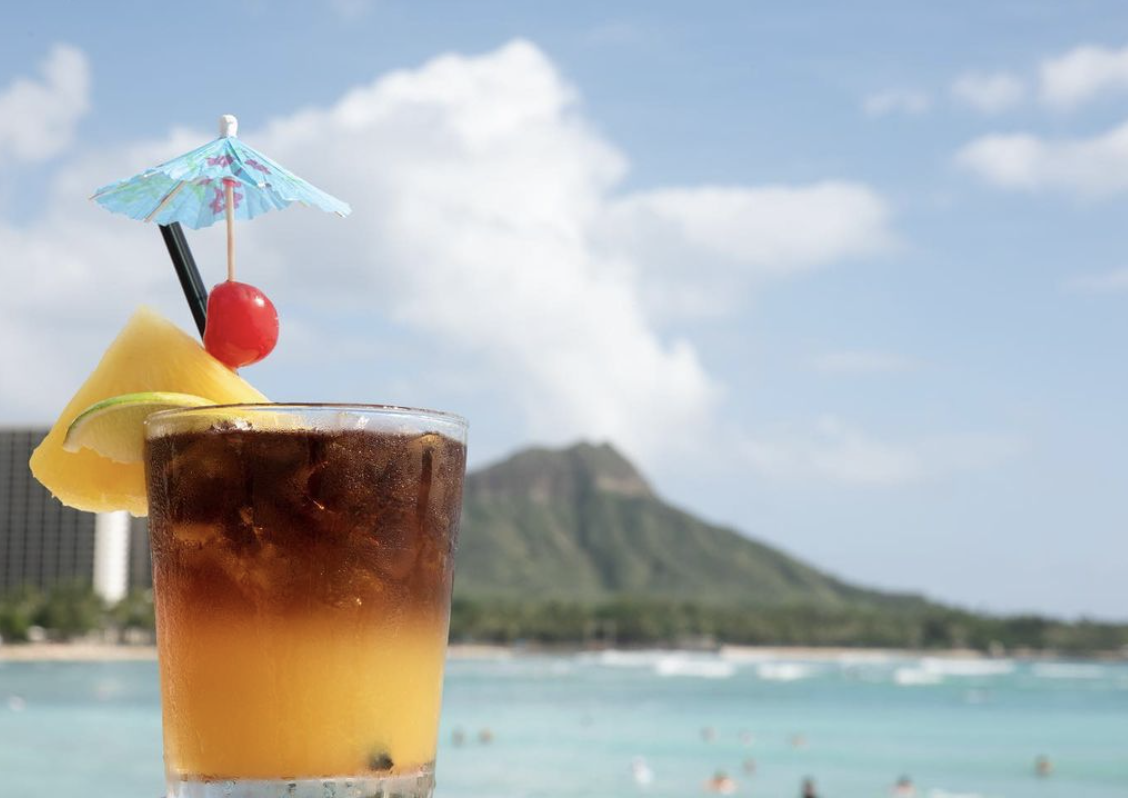 Photo: courtesy of @royal_hawaiian/Instagram
Royal Hawaiian Mai Tai
Yields 1 cocktail | By Chandra Lucariello
¼ oz lime juice
1 ½ oz pineapple juice
1 ½ oz orange juice
1 dash grenadine
½ oz orange curacao (like Ferrand Dry)
1 ½ oz gold or amber rum (like Bacardi 4 yr or Appleton Signature Reserve)
1 oz dark rum float (like Bacardi Black or Old Lahaina Dark)
Add juices and liquors to shaker tin with ice. Shake briefly and strain over ice into bucket or double old fashioned glass.
Garnish with a pineapple wedge, orange slice, cherry and pineapple leaf.
Over the years, we have seen thousands of renditions of this cocktail, with resorts and restaurants all clamoring to create their signature version of the king cocktail in order to make it a "must-try" for visitors. For the last 10 years, the Royal Kona Resort has put on their infamous "World's Best Mai Tai" contest in the summer.
This contest boasts the largest cash prize of any cocktail competition in the nation, with $10,000 for the winner, $5,000 for the runner-up, and $2,500 for third. It has attracted elite bartenders from Chicago, New York, San Francisco and of course, all of our top talent throughout the islands.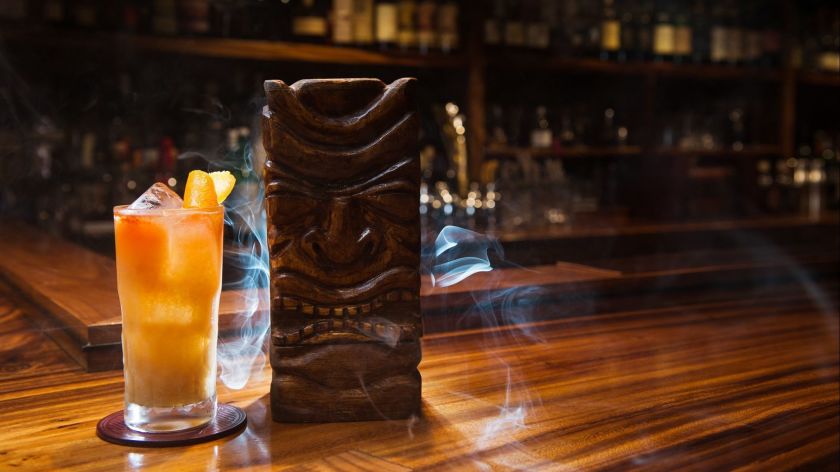 Justin Park's notorious Maikai Tai, which can be enjoyed at Bar Leather Apron. Photo: John Hook/Bar Leather Apron
Justin Park, of Bar Leather Apron, took the title for the second time in 2016. Justin creates his own orgeat, creating a creamy texture and balances it with beautifully aged rums, one of which is raisin infused, to add depth and earthiness. The cherry on top is the vessel it is presented in. Park painstakingly hand-carved hollow tiki gods that holds his cocktail, then encapsulates it in a cloud of kiawe smoke that is transported through a smoking gun.
The wisps of charred kiawe whisper to your senses before you even have a chance to take a sip. He graciously shares his recipe below, but to really soak in the entire experience, a visit to Bar Leather Apron for his Maikai Tai is definitely in order. Make a reservation to sit at the bar, and be prepared to be transported. Mai tai-roa ae!