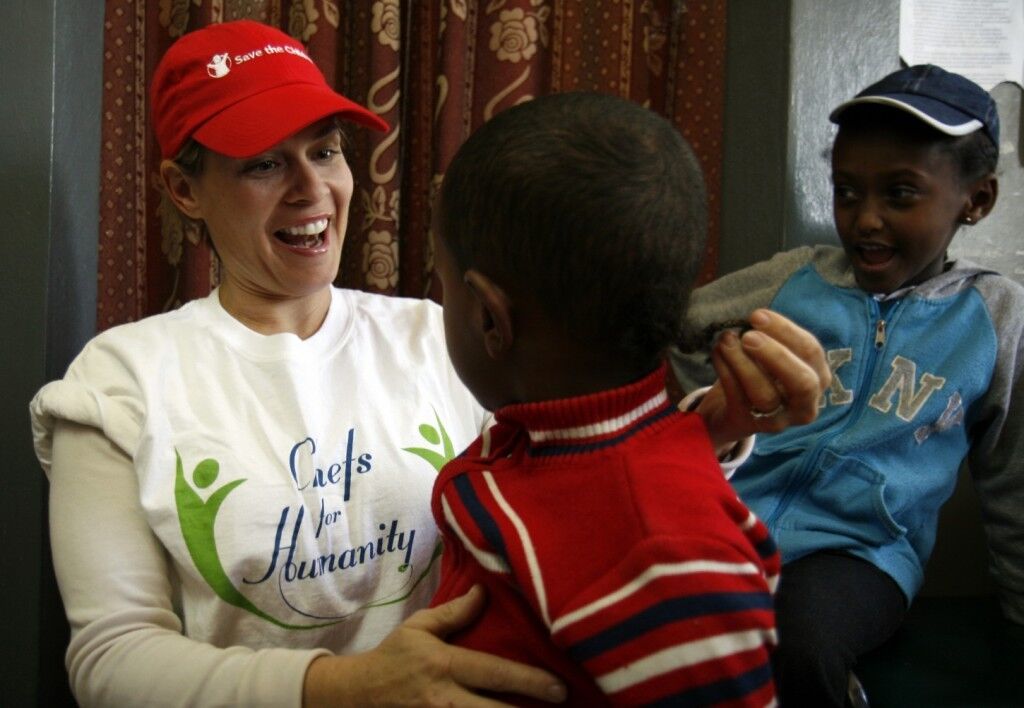 Chef Cat Cora co-founded the charity Chefs for Humanity to fight hungry and obesity. Photo: courtesy of Cat Cora
Imagine managing seven, all while developing two food lines, designing footwear, writing cookbooks (and a children's book), creating an iPad app, running a nonprofit, and hosting TV shows.
That's the life of Cat Cora, acclaimed chef and restaurateur, author and philanthropist, who made television history in 2005 when she was named the first female Iron Chef on the Food Network's "Iron Chef America."
"I'm also the wife and mother of four rambunctious young boys," she adds quickly, "which, I promise you, is nearly as much work as all of those other things combined!"
It's not uncommon for chefs to branch out into endeavors outside the kitchen. Some form or support nonprofits with missions they're passionate about. Some pursue gigs in media or write columns and cookbooks. Some develop product lines or work as consultants.
And then there are chefs like Cora who do it all.
"I can't speak for everyone, but I can say that (doing all this) is important to me.  If you have something to offer the world, I think it is your responsibility to break out of your comfort zone and contribute. I felt that I had things to offer outside of the kitchen …  and it was my responsibility to play that part."

—Cat Cora
This year's Hawaii Food & Wine Festival lineup is dotted with chefs who are busy both in and out of their restaurants.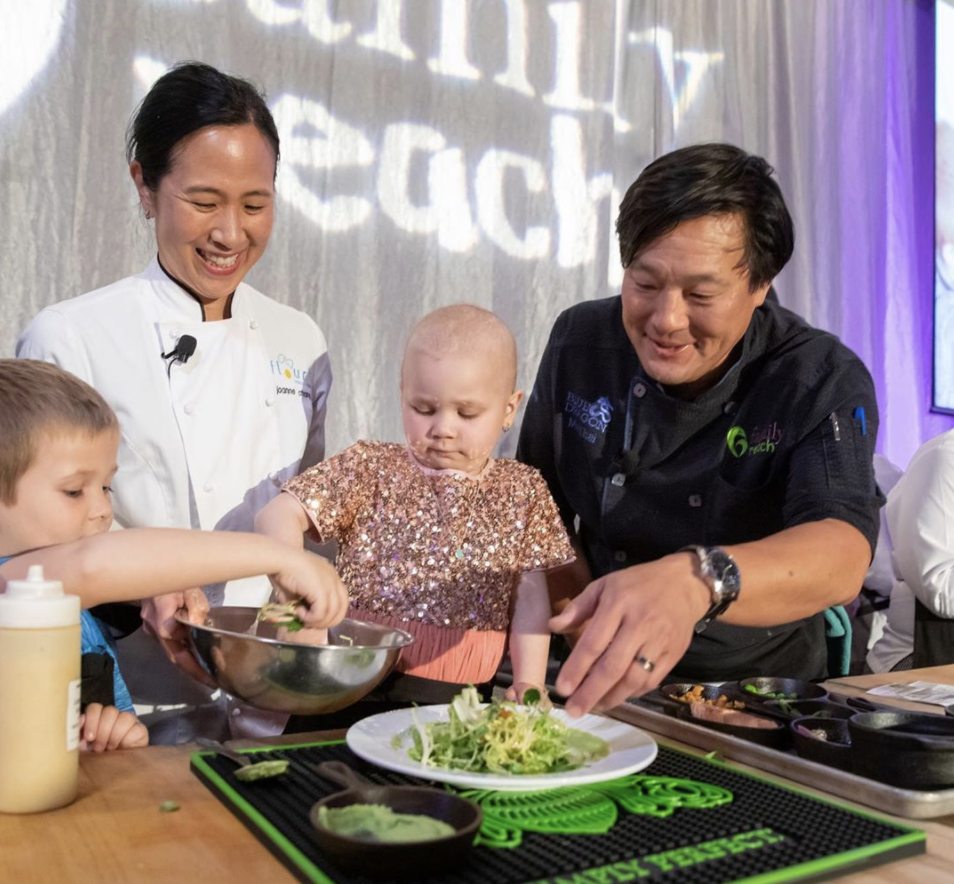 Chef Ming Tsai, member of Family Reach's National Advisory Board, has been raising funds for the organization for more than 10 years. Photo: courtesy of @mingtsai/Instagram
There's Ming Tsai, who, in addition to running two restaurants on the East Coast, hosts and executive produces the Emmy-nominated public television show, "Simply Ming," now in its 10th season. He's also authored five cookbooks and serves as the national spokesperson for the Food Allergy and Anaphylaxis Network, and is a member of Common Threads, the Harvard School of Public Health's Nutrition Round Table, Big Brothers Big Sisters, The Cam Neely Foundation, and the SquashBusters.
Or Nobuyuki Matsuhisa, the acclaimed chief proprietor of Nobu and Matsuhisa restaurants located across five continents, who has authored six cookbooks, consults for Crystal Cruises, and co-owns Nobu Hospitality, a global luxury hospitality brand.
Or Ed Kenney, who runs TOWN in Kaimuki while being active with Mao Organic Farms, the Kokua Hawaii Foundation and Sustain Hawaii.
"It's important we take care of our community," says Roy Yamaguchi, co-founder of the festival and owner and founder of 30 Roy's Restaurants, who manages to find time to serve on several boards, including as a trustee for the prestigious Culinary Institute of America, his alma mater. "Without our community, we're basically nothing. So for us to foster and grow, we need to do whatever it takes to make sure we take care of our community."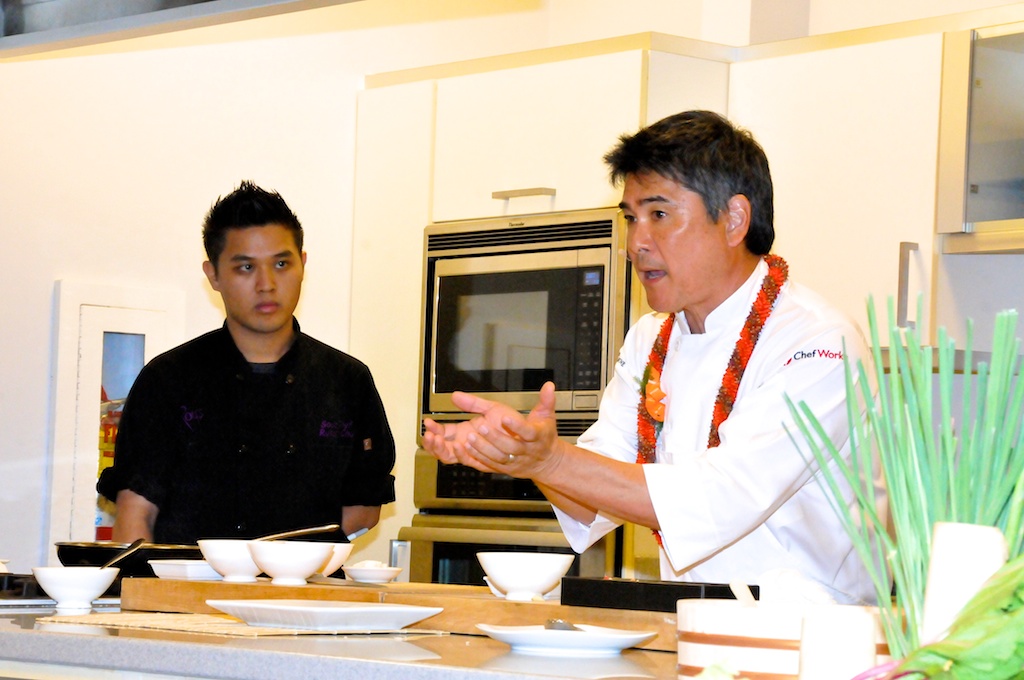 Roy Yamaguchi, a CIA alumnus, gives a cooking demo at Macy's Ala Moana for the Hawaii Food & Wine Festival. Photo: Ed Morita/Hawaii Food & Wine Festival, 2012
For the past three years, Yamaguchi has served on the board of directors of Brand USA, an 11-member board whose mission is to boost international travel to the U.S. and create more jobs. He was nominated to be part of the inaugural board by the late U.S. Senator Daniel Inouye and was appointed in 2011 by then U.S. Secretary of Commerce Gary Locke. He's the only board member from Hawaii — and the only chef.
His Japanese heritage led him to serving on two other boards: the U.S.-Japan Council and the Go For Broke National Education Center. The former is a nonprofit educational organization that aims to strengthen ties between the two countries; the latter is a nonprofit dedicated to the Japanese Americans who fought in World War II.
"Those things take up a lot of time, but we should take responsibility where responsibility is needed," Yamaguchi says.
He admires other chefs and restaurateurs who make the time to give back, in whatever ways they can. In fact, he thinks this charitable mindset is common in this industry.
"I think a lot of chefs are givers because it's an industry where you need to work together as a team to make your business blossom.  Our industry has always been a 'we' industry, rather than an 'I' industry. Teamwork and helping each other, communication and collaboration — these have always been important parts of successful operations."

—Roy Yamaguchi
Chef Tom Douglas is another example of a chef who knows no boundaries.
Along with a couple of partners, this Seattle-based entrepreneur is the chef-owner of several businesses, including Dahlia Lounge, Etta's, Seatown, Rub with Love Shack, Serious Biscuit, Brae Horse Tavern, and Assembly Hall Juice and Coffee. He also has a catering business, Tom Douglas' Catering and Events; the 6,000-square-foot event space at Palace Ballroom; and a product line, Rub with Love, which consists of rubs, sauces and snacks.
As if that isn't enough, Douglas also writes cookbooks — one that earned him a James Beard Award — hosts a weekly radio show, "Seattle Kitchen," and has been running a culinary summer camp, Hot Stove Society, for the past seven years. He's starting a new knife line and is opening a cooking school soon, too, and has plans to open a Mexican cantina, a pizzeria venture with Starbucks, and a karaoke bar. 
"It's probably not for everyone," he says about chefs working in business ventures beyond running their restaurants, "but it does give you perspective on the world to get out of the kitchen once in a while and do something different."
But the most interesting thing on his resume is farm owner.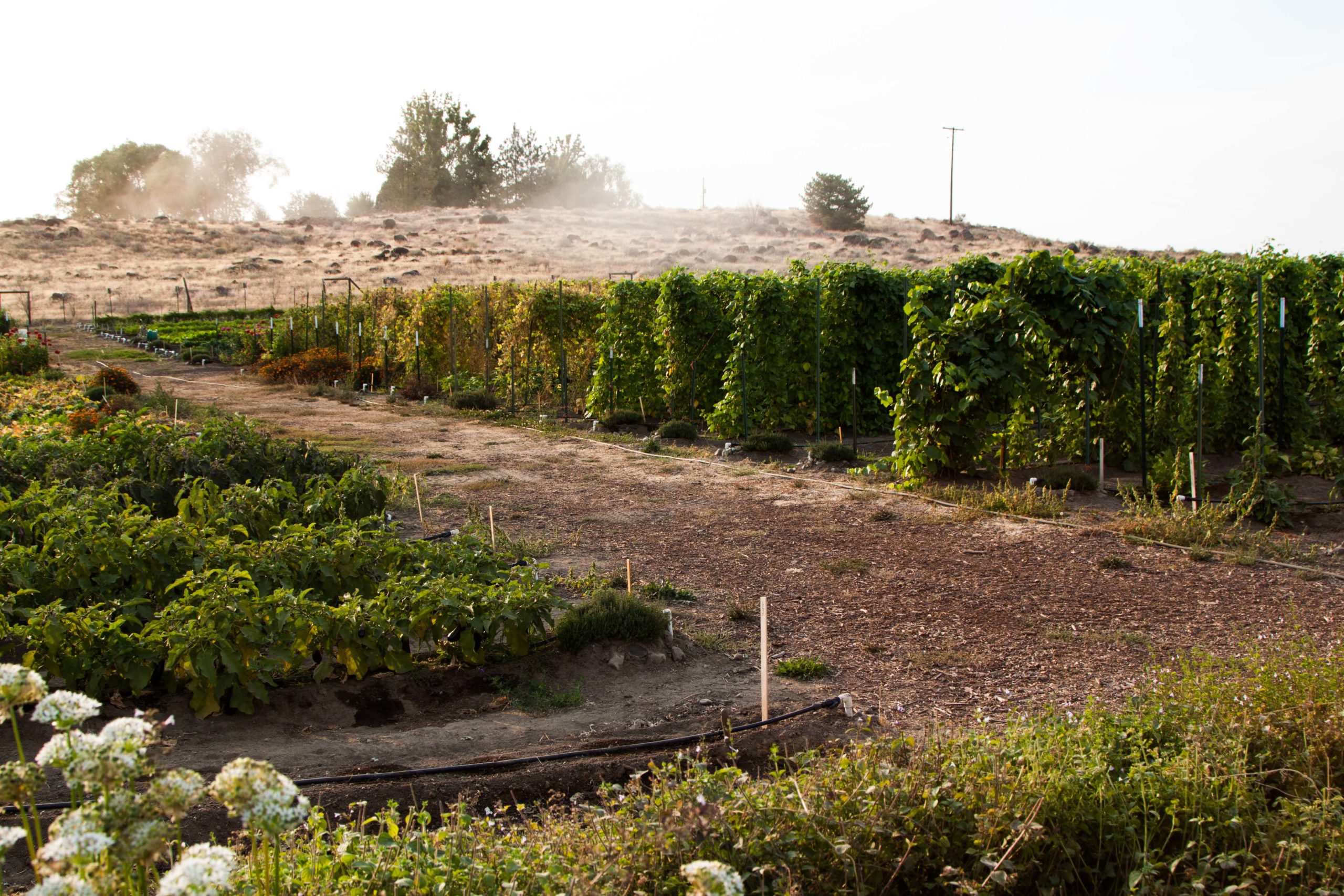 Prosser Farm, founded by chef Tom Douglas and wife, Jackie Cross. Photo: courtesy of Jackie Cross/Rooted Valley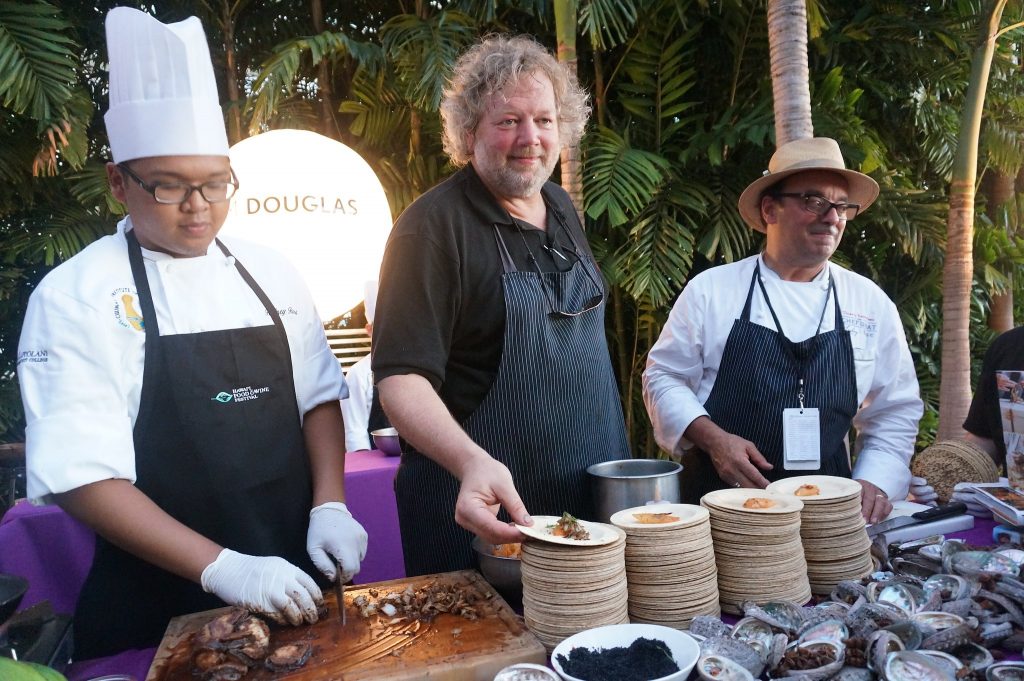 Douglas at Hawaii Food & Wine Festival. Photo: Ed Morita/Hawaii Food & Wine Festival, 2014
 In 2006, he and his wife, Jackie Cross, bought a house on 20 acres of land in Prosser, Washington, in the lower Yakima Valley, about two and a half hours east of Seattle. They turned three of those acres into an irrigated vegetable garden. Today, under Cross' direction, this little farm seasonally yields 50,000 pounds of organically grown produce — beet greens, baby rainbow chard leaves, heads of lolla rossa, white radishes, sweet apricots, heirloom tomatoes — for his restaurants.
"The farm was an opportunity to walk the talk about farm-to-table," Douglas says. "It's really made a nice connection from the ground up for our restaurants to be more sustainable."
Like Yamaguchi, Douglas sees the importance of business owners being involved in their communities. He has put in decades of service on the board of Food Lifeline, a Seattle-based nonprofit food distribution center that provides 82,000 nutritious meals a day to hungry, low-income people.
Cora, too, believes in giving back. In 2005 she co-founded Chefs for Humanity, a nonprofit organization committed to promote nutrition education, hunger relief and emergency and humanitarian aid to reduce hunger worldwide.
"Do you know that over 800 million people in the world can't get enough to eat? Did you know that one in six people in the U.S. suffer from hunger? This is a very real, very tragic epidemic throughout the entire world," Cora says. "But it is also an issue that I wholeheartedly believe can be eliminated … This issue has always been something I've cared deeply about."
It's not easy to juggle everything, Cora says, but the rewards are worth the effort and stress.
"Between my seven restaurants, multiple product lines, TV and personal appearances and four sons, I definitely have a lot of balls in the air," Cora says. "To be successful in this industry, you have to be willing to work a lot, though, so I don't think there's anything wrong with being busy, especially when my work takes me to beautiful places like Hawaii."