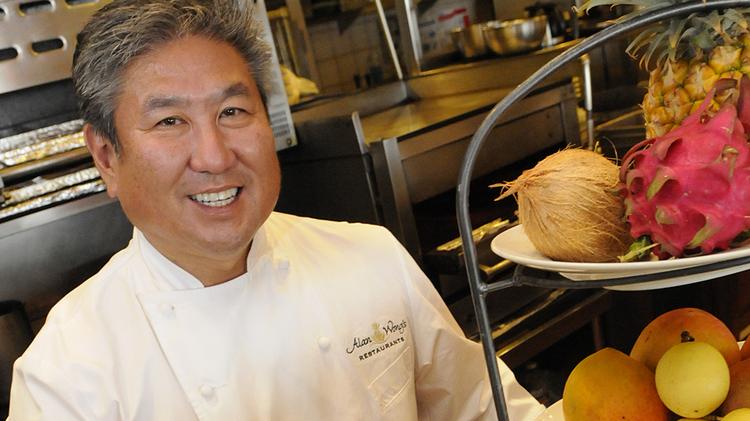 The Pineapple Room, Alan Wong's, Alan Wong's Amasia
Alan Wong owes his life to the movie "PT 109." This 1963 biographical film about President John F. Kennedy's war time experiences of captaining a PT boat that was sunk by a Japanese destroyer during World War II was the first thing that came to his mind when the fishing boat he was on capsized in the waters off the Waianae Coast. Wong, then 21, and two friends were holding onto the overturned boat so far offshore they couldn't see the mountains. "I said, 'We gotta do the "PT 109″ thing and leave the boat,'" he recalls. The three of them swam for five and a half hours to shore. Here's more you didn't know about this James Beard Award-winning chef.
CET: This festival is all about showcasing what Hawaii has to offer. So what makes this state so special?
AW: First of all, we have two seasons: rain and sunshine, So we can enjoy some things year-round. To me, we got the best pineapples and mangoes in the world. The tropical fruits this time of the year are amazing. And when our fish is fresh, it's the best in the world, too. And Kau coffee — try that and it will blow your mind.
CET: President Obama has been known to frequent your restaurant on King Street. How many times have you cooked for him?
AW: At least seven times, three times as president. Once he asked us to do a dinner at the White House on the South Lawn. We also cooked for him at an APEC (Asia Pacific Economic Cooperation) dinner. He's very familiar with our food.
CET: So he must have his favorites then.
AW: He orders the tasting menu, but he does substitute (items). I know he loves the soy-braised short ribs and "The Coconut" (haupia sorbet in a chocolate shell with tropical fruits and lilikoi sauce).
CET: Have you cooked for any other presidents?
AW: I was part of the kitchen at Lutece (in New York City) that fed Richard Nixon a few times. The thing I remember was he always had a souffle for dessert. We would write on top in chocolate, "Mr. President:'
CET: If you weren't a chef, what would you do?
AW: I used to say I'd be a baseball player. But I'm too old for that now. Now, it's the Senior PGA Tour.