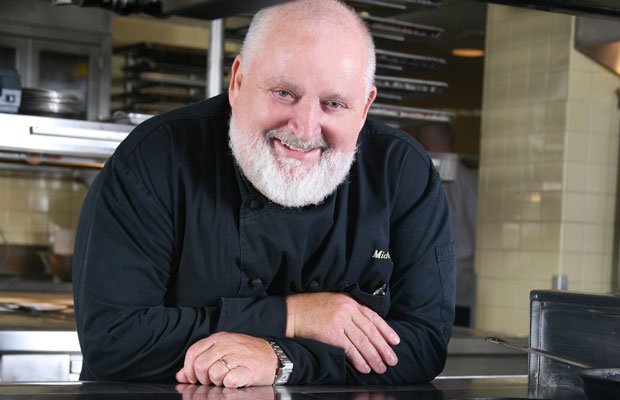 Michael Richard Citronelle, Central Richard
Born in Brittany and raised in Champagne, Michel Richard knew he wanted to be a chef when he first saw a restaurant kitchen — at age eight. He started as a pastry chef, working in Gaston Lenorm's esteemed pastry shop and running his own bakery in Los Angeles. Ten years later, he opened Michel Richard, then Citrus, to immediate acclaim. He's won awards, written books and won't buy unsustainable fish, period.
CET: The festival's mission is to showcase what makes Hawaii so special. So in your opinion, what does Hawaii have to offer?
MR: What you offer is happiness. People are happy over there. The weather is great. You dance all the time.
CET: I hear you're a painter in your spare time.
MR: I've been painting since I was 10 years old. I like to paint, but painting is tough. It's like cooking, takes a lot of energy. You cannot be a chef for a few hours; you're a chef 24 hours a day. That's like painting.
CET: You're part of an elite group of chefs at this year's festival: you have all cooked for presidents and royalty. Who have you cooked for?
MR: (Ronald) Reagan came with his daughter to one of my restaurants back in 1978 or '79.1 made a wedding cake for her, too. (Bill) Clinton came to Citrus before he was president. And last year (Barack) Obama came (to Michel Richard Citronelle). I kissed Michelle on the cheek. No French kissing the president's wife!
CET: What did Obama eat?
MR: I know he had dessert, the Napoleon, with layers of puff pastry and a nice cream. He loved that. His wife ordered crab cakes and a lobster burger. We don't normally serve that in a fancy restaurant, but we gave it to her
CET: It must be such great publicity for your restaurant when the president dines there,
MR: That's the good thing about famous people coming to the restaurant, it's good PR. People believe the president should have good taste, and if the president goes to this restaurant, it must be good.
CET: So do more people come to your restaurant because Obama did?
MR: No, they come because my food is good!
CET: Touche. Is there anyone you'd like to cook for?
MR: Charles de Gaulle. I think he was a wonderful president and person in France. I would give him a nice cassoulet, a white bean soup with pork sausages and duck. The good thing about this dish is it's a very social dish. You can't eat it by yourself. De Gaulle would have to invite his friends.