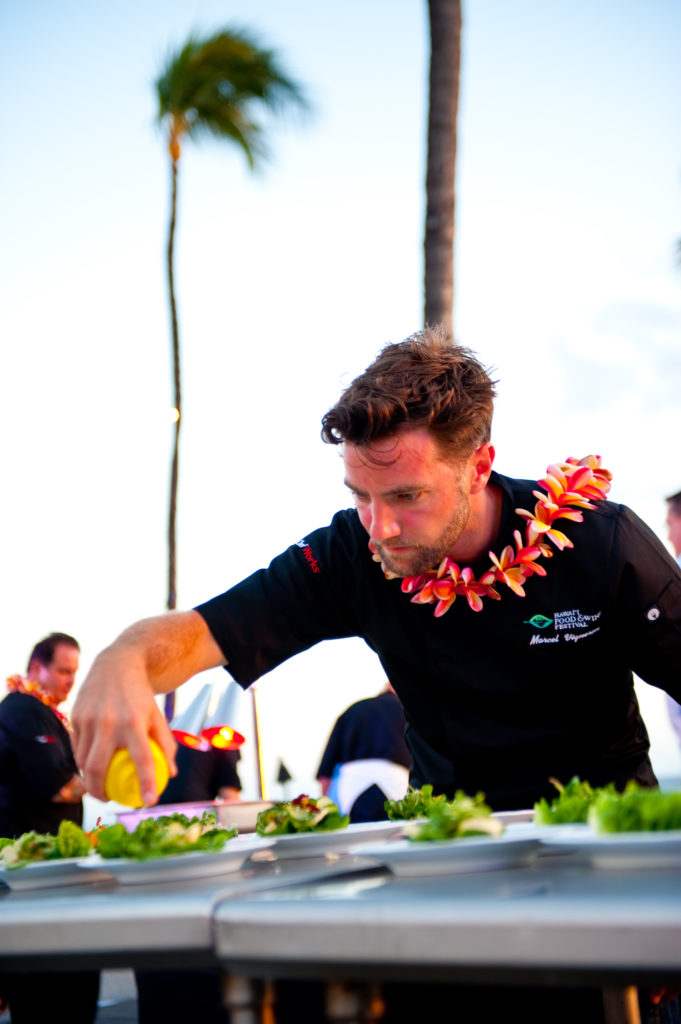 Marcel Vigneron
Chef, Restauranteur
What's been your favorite part of the Hawaii Food & Wine Festival?
The opportunity to be engulfed in Hawaiian food and wine culture is, by far, my favorite part. I mean, don't get me wrong, being able to catch a few waves in the morning is a huge bonus, but the local food and people are by far my favorite thing to get to enjoy.
You are an HFWF veteran who has been a part of our festival from Year One. With such a busy schedule and endless invitations, what is it about the HFWF that keeps you coming back?
The Islands of Hawaii have some of the most incredible gastronomy that I have ever witnessed in all of my worldly travels, but honestly it is the ohana that keeps me coming back to the HFWF year after year!
When it comes to food, what's your guilty pleasure?
Spam musubi may be my favorite guilty pleasure, although a few of us did almost OD on longan from Frankie's Nursery (in Waimānalo) last year
What's your favorite place/dish to eat while you're in Hawaii?
Moi is probably my favorite "dish" to eat out there because it is so specific to Hawaii and can't really be done anywhere else. As far as places to eat, Capische by Chef Chris Kulis on Maui was probably my favorite meal last year.
A friend or family member tells you they will be vacationing in Hawaii for the first time — what is the one thing – place, activity, experience, etc. — you would tell them to put on their itinerary?
I always tell them that they need to get out and experience true Hawaiian food and culture, attending the HFWF or a traditional Luau would be my first recommendation by far because you get the best of both worlds!
What's your favorite ingredient right now?
I live in California, so I would probably have to say that the nectarines are my favorite right now. They are great in or as a dessert or even a crudo. I've even been pickling them and serving them in fattier dishes like pork belly.
What's one thing you'll never eat and why?
GMOs! Can't stand them and don't feel as though they are fit for human consumption. I'd rather have my food come from the earth then some scientist in a lab. And that says a lot coming from me.
What's your favorite dish from your childhood?
Pumpkin pie and lasagna. Those were the first two dishes that I made growing up as a kid with my mom and I get all nostalgic every time I cook or eat them.
What's the best part about your job?
Doing a good deed for humanity and seeing the joy that my work beings to others.
If you weren't a sommelier, what would you be?
I would probably be a farmer. I love gastronomy and would still try to figure out a way to be involved in it in some way shape or form.