Hashi caught up with chef Rick Tramonto to get the latest updates from this renown chef, cookbook author and culinary entrepreneur.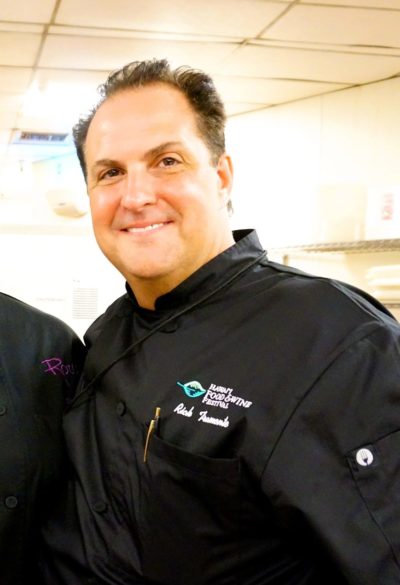 Photo: courtesy of Ed Morita
Rick Tramonto
Chicago, IL/New Orleans, LA
Chef/CCO: Tramonto Cuisine Hospitality
Past Event: Symphony of Flavors, October 21, 2018
2020 was a tough year for the food and beverage industry, how did you spend your time? How did you have to pivot?
I worked on writing a new cookbook, my 10th, as well as launching an online virtual kitchen platform with Foodhaul called Smoke Heads Barbecue. 
What has 2021 brought and what have you been up to?
Re-opening my restaurant in New Orleans, Restaurant R'evolution, and lots of consulting work for other restaurants and helping them get back online. 
What do you miss most about HFWF?
The people and the food.
Name 3 things you associate with Hawaii.
The locally grown and caught product–especially the fish, the events and seeing all our chef community and the sun.
Which local restaurants are on your list of Hawaii hotspots and why?
I always loved eating at Alan's and Roy's. Also, Mama's Fish House Restaurant. Those are kind of my stock. I'm excited for chef Lee Anne Wong's restaurants as well.
What local ingredients excite you?
The fresh fish!
What's your favorite culinary pairing?
Ripe tomatoes and Burrata cheese.
Top beverage or cocktail choice to enjoy a Hawaiian sunset?
Tequila and grapefruit juice.
Must have kitchen tool and why?
My knife. I can do anything with it.
What are you looking forward to in the second half of 2021?
 Breathe. And try to get some sun and get back to Hawaii.