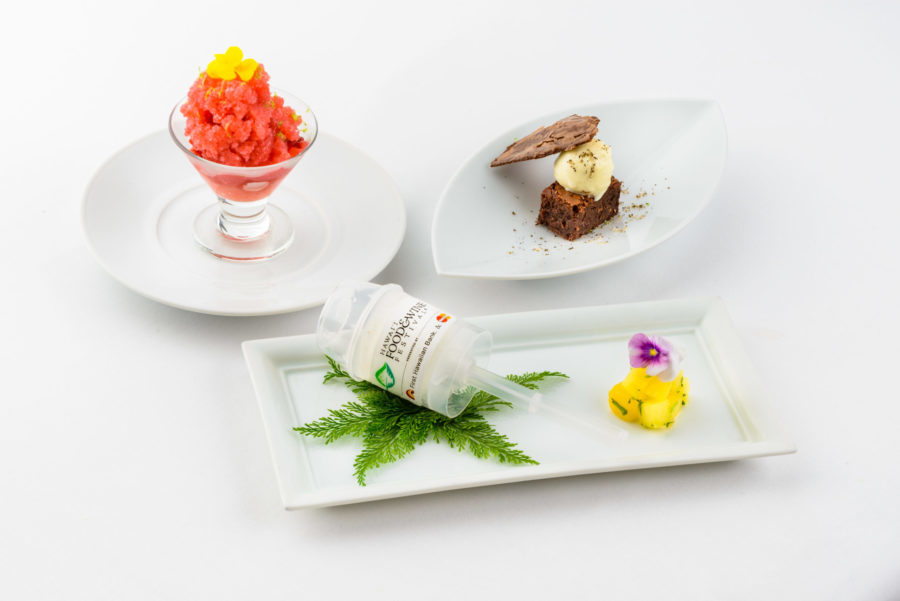 A trio of desserts by chef Michelle Karr-Ueoka. Photo: Dane Nakama/Hawaii Food & Wine Festival, 2016
Don't be part of a trend—a trend has a beginning and an end, Be part of a movement. A movement lasts forever.
This year's sixth annual Hawaii Food and Wine Festival (HFWF) coincides with the 25th anniversary of Hawaii Regional Cuisine (HRC), a movement started in 1991 by 12 Hawaii chefs to overturn the culinary stereotypes of the day: that Hawaiian food meant pineapple on everything and haute cuisine in the islands was stodgy, formulaic fare borrowed from Europe (think sole amandine), using imported, frozen ingredients.
Chefs such as Alan Wong, HFWF Co-Founder and Co-Chair, threw all those stale ideas out of the kitchen and replaced them with fresh dishes like a tempura ahi with soy mustard beurre blanc and his version of a soup and sandwich: locally-grown tomatoes pureed into a chilled soup and paired with a rich kalua pig and foie gras grilled cheese sandwich, melding traditional Hawaiian influences with quintessential American food. Likewise, Roy Yamaguchi, also an HRC founder and HFWF Co-Founder and Co-Chair, deftly incorporated Hawaii's multicultural influences into his cuisine, as in Szechwan-style baby back ribs and a lemongrass chicken on a Thai take on local-style cake noodles. "Fusion" may have been a trend on the continental U.S., but for Hawaii, it was a way of life, an effortless blending of Japanese, Chinese, Filipino, Korean, and other cultures by way of the island's plantation history, when workers were brought in to work sugar and pineapple fields.
Hawaii has had a long history with agriculture, but HRC ushered in a new era of farming, delivering fresh, crisp heart of palm and creamy, softly tangy goat cheese from Hawaii Island, tender salad greens from Waimanalo, and even sweet, firm lobster from an aquaculture farm in Kona.
HRC started as a movement to unify our commitment to work with local food producers like the farmers, ranchers, and fishermen—and 'if you grow it, we will buy it' mindset. Twenty-five years later, HFWF is the new movement, one that invites chefs from the world over to experience Hawai'i's culinary and agricultural scene for themselves
The HFWF could also be seen as an extension of the HRC movement, for Hawaii's culinary ethos is still much the same and as relevant as ever: a multicultural mashup showcasing Hawaii's bounty from the land and sea. Now, a new generation of chefs enters the stage, infusing menus with their own rich experiences. Take Andrew Le, the chef and owner of The Pig and the Lady, who serves soulful Vietnamese noodle soups learned from his mother alongside inventive dishes such as a green papaya salad dressed with a lemongrass-sumac vinaigrette and punctuated with puffed rice and preserved lemon.
There's also Michelle Karr-Ueoka, who worked under Alan Wong and Thomas Keller, and opened MW restaurant with her husband, Wade Ueoka: the two have a knack for transforming local, comfort-food favorites into upscale, uniquely Hawaii dishes. There's the mochi-crusted opakapaka, the delicate fish seared with a wafer-thin crust of mochiko flour, and their version of Hawaii's beloved shave ice, in which Karr-Ueoka shaves frozen fruit such as strawberry or pineapple and layers it with sorbet, jellies, mochi, and coconut tapioca for a playful riot of textures.
Chris Kajioka, who honed his skills at Thomas Keller's Per Se, and recently came home to Oahu after helping Mourad Lahlou open his eponymous San Francisco restaurant, is in the throes of opening his own place—Senia. He hates to define his cuisine, reluctantly calling it regional American, which he says is "a loose term for a lot of different things." His chef-partner is from England, his pastry chef is Mexican, and his own style draws on Asian and French flavors. It's in his kitchen that it becomes clear that Hawaii is no longer defined by its plantation past—modern-day Hawaii draws on influences the world over. But what grounds the cuisine, what gives it a sense of place, is the locally-grown ingredients: the sweet lychee, the endless varieties of mango. And the ingredients are just "getting better and better," says Kajioka. "We even have oysters now!" He's raving about one of Hawaii's newest agricultural products: Kualoa's deeply flavorful oysters that have been decades in the making.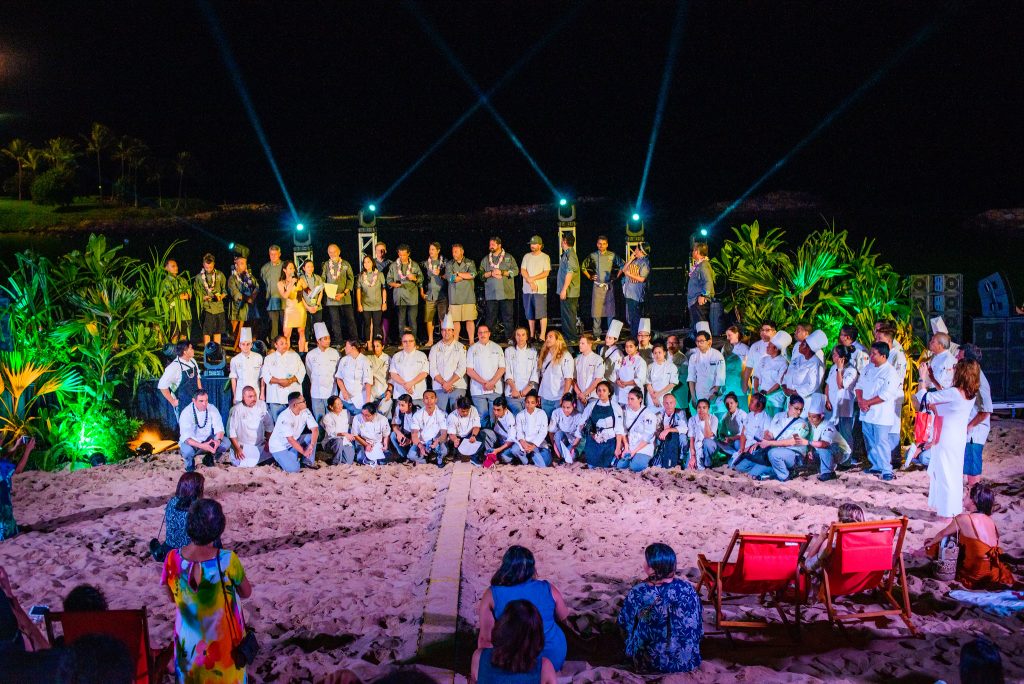 HFWF chefs with students from the Culinary Institute of the Pacific. Photo: Reid Shimabukuro/Hawaii Food & Wine Festival, 2018
While HRC continues to transcend generations, the old guard certainly isn't idling. Both Wong and Yamaguchi hit 60 this year. "All great things in life happen after 60," says Yamaguchi. "There's much more in life to accomplish." By the end of this year, he will have opened four new restaurants on Oahu, including Eating House 1849, the name a nod to one of the first restaurants ever opened in Hawaii. Wong recently opened a restaurant in Shanghai, and he says, "I feel like I am in my creative prime. Just like in football, when the quarterback is more experienced, and the game actually slows down so that he can see everything happening in front of him on the field and make the right calls."
And so the HFWF sets the field for the mentors to work side by side with youthful exuberance, both in the form of young chefs and students from the Culinary Institute of the Pacific, who are invited to help out at the events: it is the past, the present, the future, all working for one movement.