COVID-19 has disrupted the entire infrastructure of the food business — from restaurants and food supply, to behavioral changes and the job market. The historic impact on the industry that employees more than 8 million individuals has been catastrophic, with an uncertain future ahead.

For this COVID Conversation, HFWF friend and chef, Ed Morita, sat down with Chris Kajioka to discuss

 the status of his businesses and plan for the long road to recovery ahead.

Ed wrote this article for Hashi before his tragic passing earlier this month. This story has been published with permission from Ed's wife.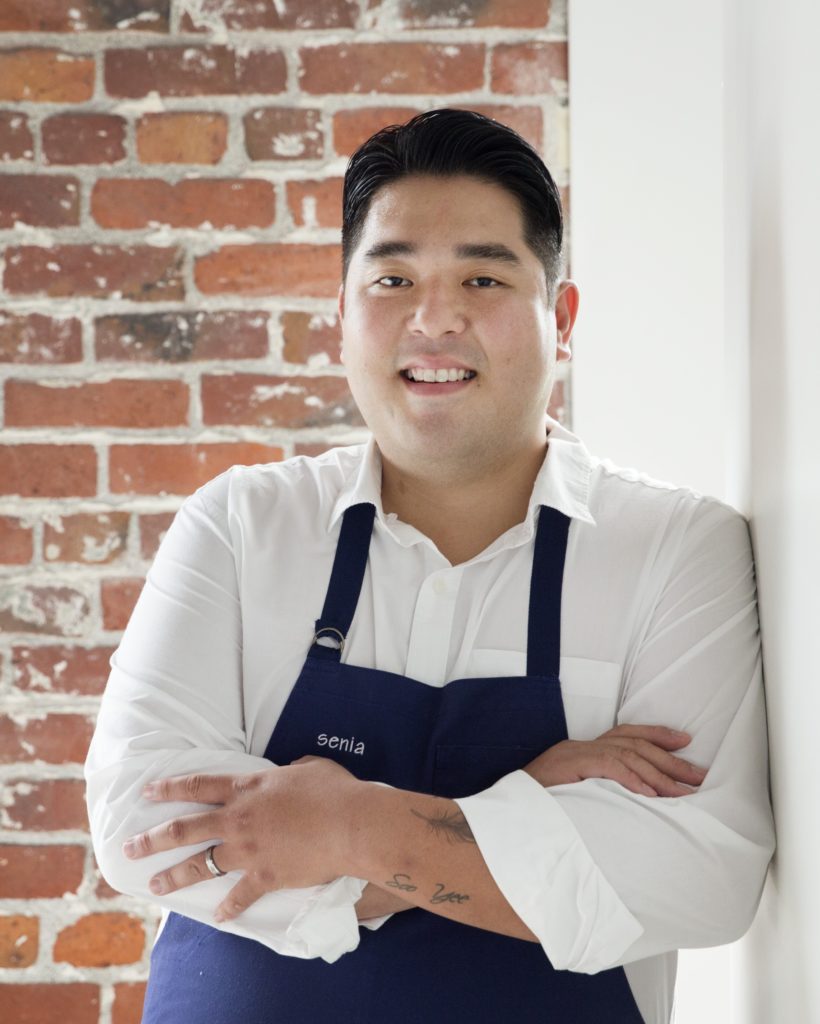 Photo: courtesy of Chris Kajioka
"I think that people need to understand the importance of supporting local establishments. There is a chance that we will come out of this pandemic with a food scene made up predominantly of corporate restaurants. If you really love your local saimin place, now is the time to support them most."
Despite the various COVID related setbacks that has affected the state of Hawaii, chef Chris Kajioka remains optimistic in the face of adversity. The week Kajioka was set to open his new restaurant, Miro Kaimuki, a state-wide order forced many businesses to close. Kajioka and his team quickly adapted to the state mandated take-out only regulations, and has, in many ways, been able to thrive.
Adapting quickly was a matter of survival for Kajioka, who operates Restaurant Senia (for which he and fellow chef, Anthony Rush where nominated for a James Beard Award), Miro Kaimuki, along with new projects in the works that include Bar Maze in Kakaako, and Papa Kurt's in Moiliili.
HASHI: Aloha Chef, and Mahalo for taking time out of your schedule to talk with us. How have you been holding up during the COVID-19 Pandemic?
CK: We've been okay. I think it's more; you're used to working so much, and then to suddenly do nothing. It's kind of shocking. But you know, we kind of have a routine right now, so, it feels somewhat normal.
HASHI: How has the pandemic affected your business(es)?
CK: We were set to open, my new restaurant, Miro. It was going to be the first week of April. We were preparing to do friends and family dinners, and then literally that week, the state shutdown.
We had a full restaurant ready, full staff ready, and then we get shut down. So, it's been a little bit tough obviously, but we're able to hang on.
HASHI: Has there been any issues with in terms of prepping your menus and getting products in for service?
CK: Actually, not really. I know there was, a beef shortage for a while, but we use what's available locally, so there wasn't a big issue there. You know, obviously the fish prices went up tremendously, so that was a little more challenging.
HASHI: Did you have any issues adapting to the new COVID regulations?
CK: I think wearing a mask at all times is tough when you're a cook, you know?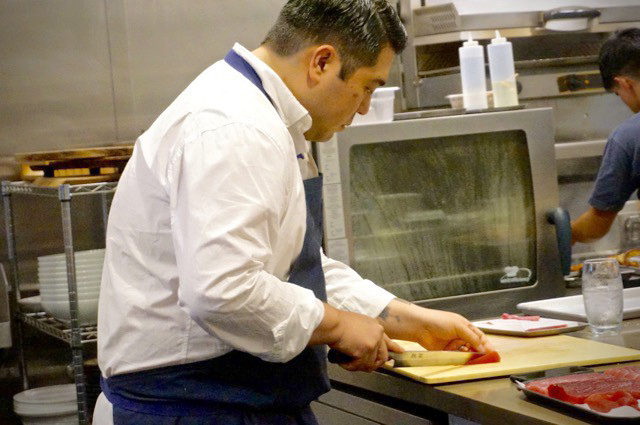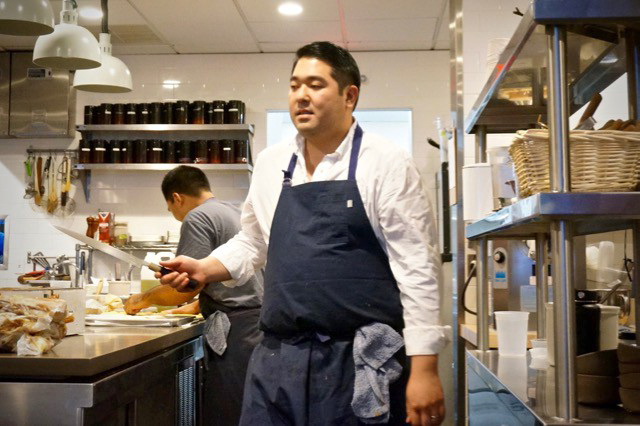 Chef Chris Kajioka prepping at Restaurant Senia. Photos: Ed Morita/Hashi
 HASHI: Especially on the hot line.
CK: Yeah, especially on the hot line.
Our dining room was pretty spaced out to begin with, so we didn't really lose anything. I think restaurants are already used to being pretty clean, so, it wasn't that big of a shock. If anything, I think it's good, that they are cracking down on the sanitizing. But having to wear a mask when you're working in a hot kitchen, is kinda hard.
HASHI: We've seen on social media that Senia has started to sell take away meals, and you've been selling take-out bentos at Cafe Miro. How did you manage such a quick turnaround and adaptation to takeout service?
CK: Basically, we needed it to survive. We needed to do something. I had a staff of cooks who were already here.
At Miro, we tried to do a higher end take-out. We started with that, and that went really well. Then the state allowed restaurants to re-open, and we were able to open for two months. It was starting to get to the point where we were so busy that it was getting scary. We were concerned about the staff possibly getting sick, so we decided to close down.
 The bento idea came about as we were messing around one day, and it seemed to really take off. This is our fourth week now doing it, and it has sold out every week so far. It's been good, and it has enabled me to pay my cooks.
HASHI: If COVID were to get under control, and restaurants could return to traditional dine-in experience, would you continue to offer the take-home meals and bentos?
CK:  Probably not, at least not from Senia or Miro. The bentos can be viewed as a preview of another concept I am developing called Papa Kurt's, which will sell saimin, bentos, cheeseburgers and teriyaki sticks. The bento service will transition into Papa Kurt's, and Miro will return to its original concept.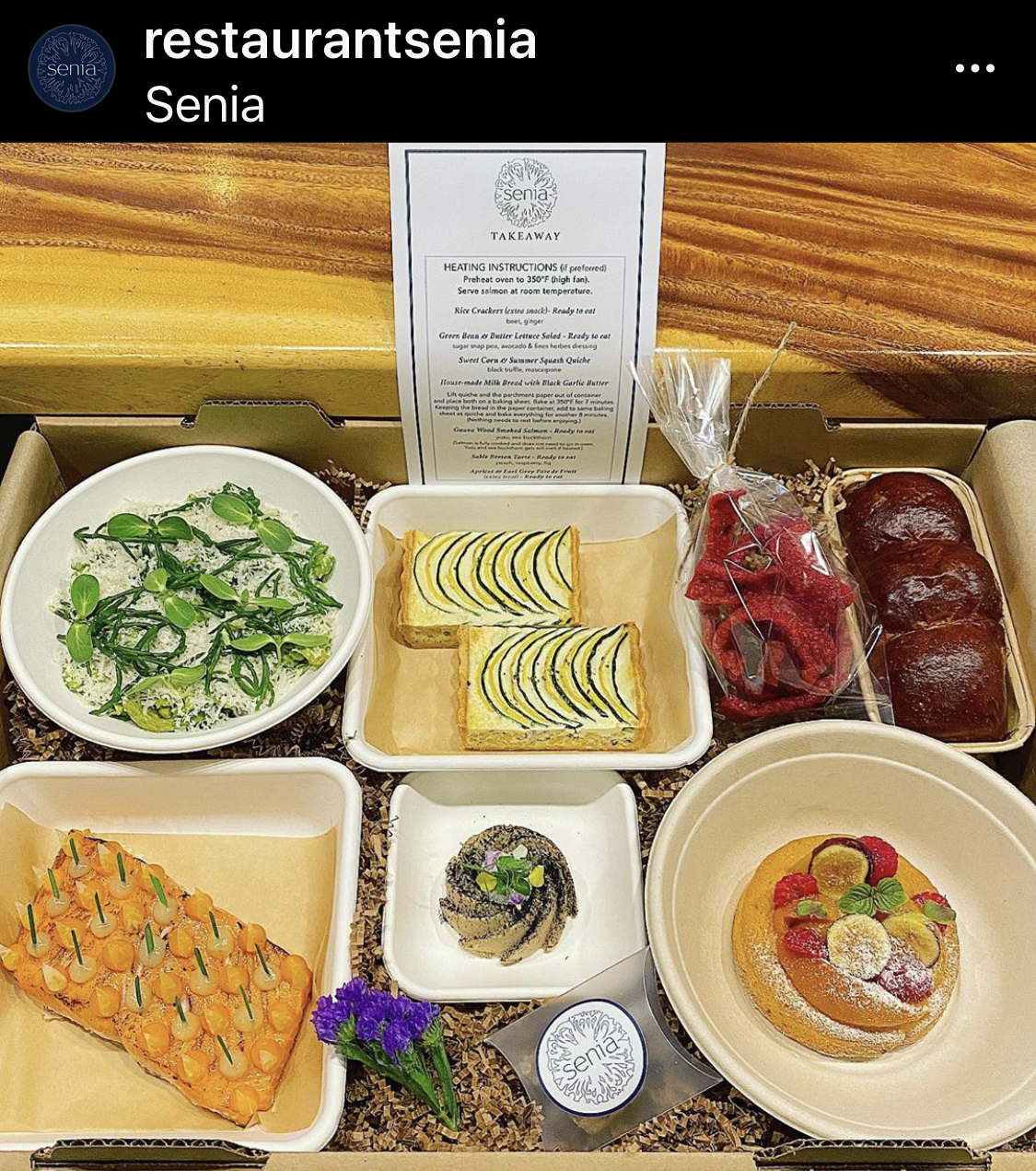 Take away box from Restaurant Senia. Photo: @restaurantsenia/Instagram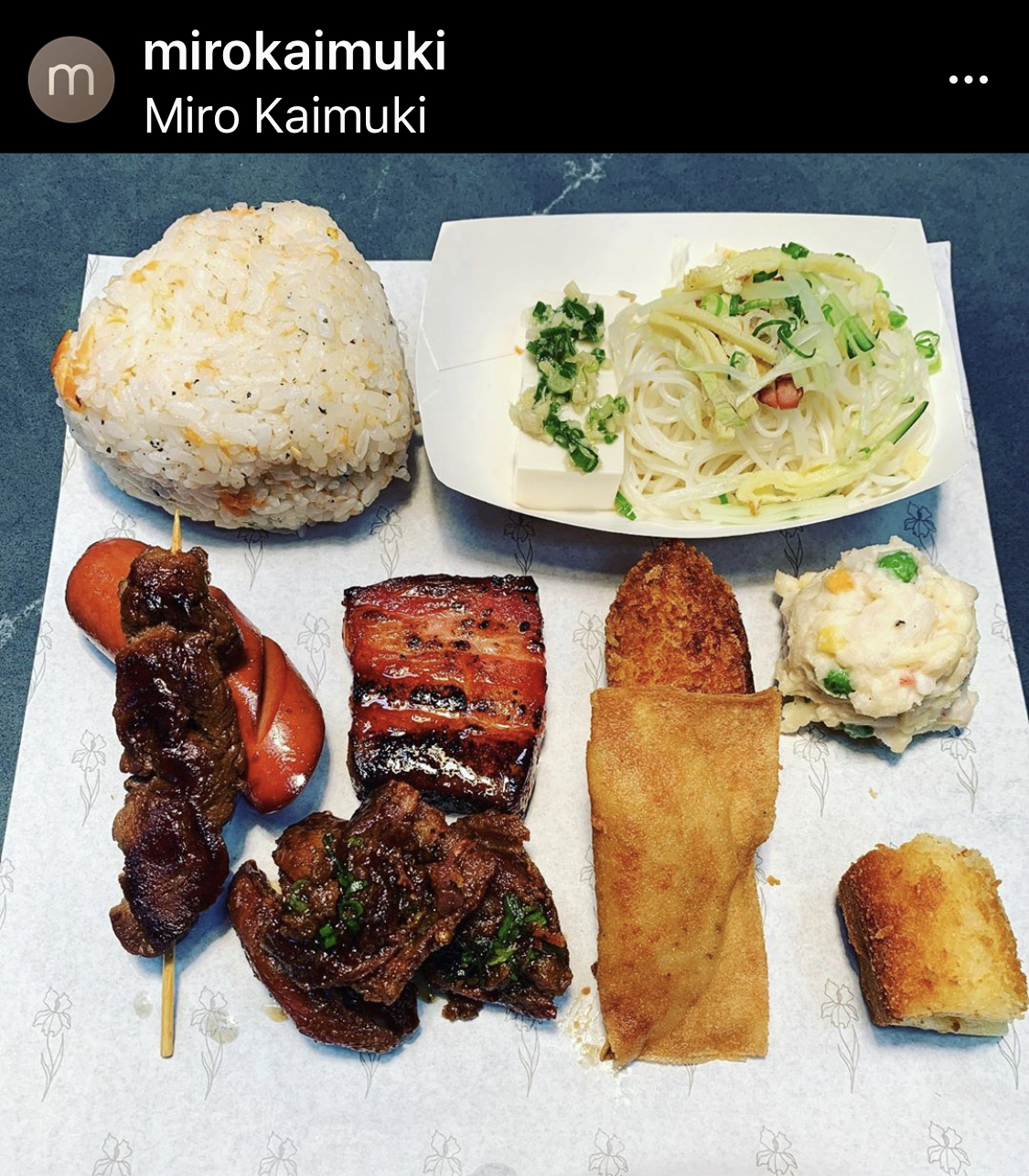 Miro Kaimuki bento: King Salmon Musubi, Somen Salad, Ginger Scallion Tofu, Shoyu Hot Dog, Charsiu Pork Belly, Curry Beef Croquette, Spaghetti Crab and Pea Salad, Teriyaki Beef Stick, Crispy Gaugee, Korean Chicken, Butter Mochi. Photo: @mirokaimuki/Instagram
 HASHI: Are there any ongoing projects that you have been working on during the COVID shutdowns?
CK: Yeah, we stay pretty busy. There's the day-to-day at Miro, and I'm opening Papa Kurt's [which will occupy the old Agu Ramen location on Isenberg street]. That came out of left field. It was an opportunity that presented itself, and it was a good time to do that concept.
Overall, we are looking forward to reopening.
HASHI: You've been working on another project called Bar Maze. Has COVID affected that project in any way?
CK: Bar Maze is completed, but due to state COVID regulations, we are not able to open. So, that's kind of a setback, but we are hoping to open soon.
HASHI: You and your partner, Anthony Rush, are the first Hawaii based chefs to be named as finalists for the James Beard Awards in 17 years. What are your thoughts on James Beard nominations, and the cancelling of the Awards through 2021?
CK: It is what it is. Obviously, we would have liked to know who the winner was, but I think that at this point in life, there are much bigger things to worry about. It's great to bring recognition to Hawaii, but I'm pretty happy with where things are at. If in two years they decide to hold the awards, hopefully we can be recognized again.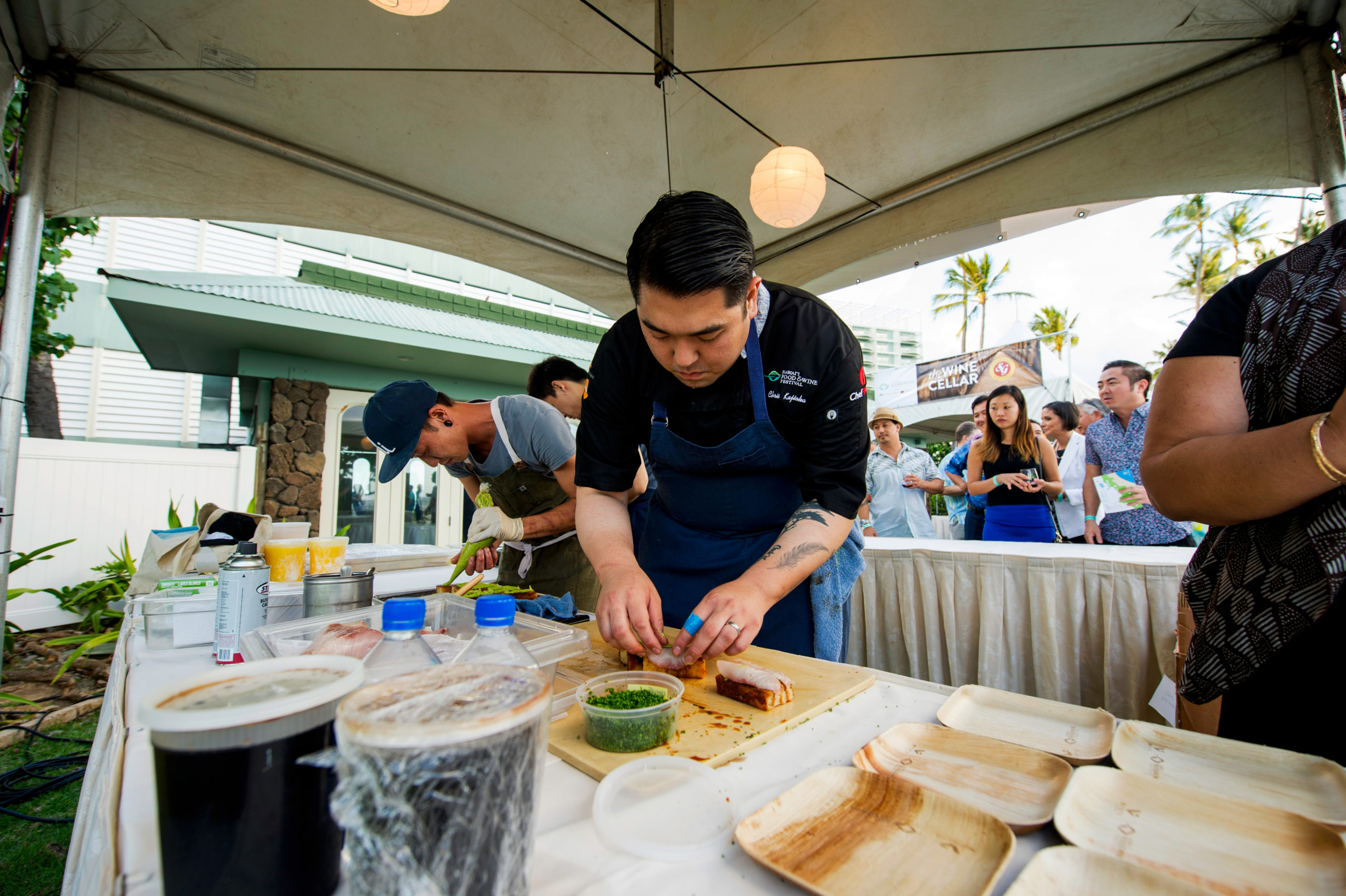 Chef Chris Kajioka plating at HFWF. Photo: Hawaii Food & Wine Festival, 2015
HASHI: Have you been tinkering with any personal projects, recipes, or dishes during the COVID shutdowns?
CK: Not really. I've had to deal with a lot of the business end of things. It's great to be home at night, to be able to spend time with my son. 
Right now, the routine is so weird. In terms of cooking, I'm looking forward to when we can open so that we can return to a normal routine.
HASHI: Are there any lessons you have learned over the past few months — personally or professionally — that you would like to share?
CK: Never take anything for granted. I definitely appreciate the support that I've gotten over the years, and that is something that I will never take for granted. I think that people need to understand the importance of supporting local establishments. There is a chance that we will come out of this pandemic with a food scene made up predominantly of corporate restaurants. If you really love your local saimin place, now is the time to support them most.
HASHI: Do you have any words of encouragement for your peers or others out there?
CK: Hopefully, everything will be figured out soon. Stay positive. People who are forced to close, don't be down on that. There will be a time when we will be back again, and I think that people will be stronger. Just stay positive.