COVID-19 has disrupted the entire infrastructure of the food business — from restaurants and food supply, to behavioral changes and the job market. The historic impact on the industry that employees more than 8 million individuals has been catastrophic, with an uncertain future ahead.

In a new series, COVID Conversations, Hashi sits down with HFWF

talent, leaders and friends to discuss the real struggles, concerns, actions and predictions they have for the long road to recovery ahead.

These are their stories.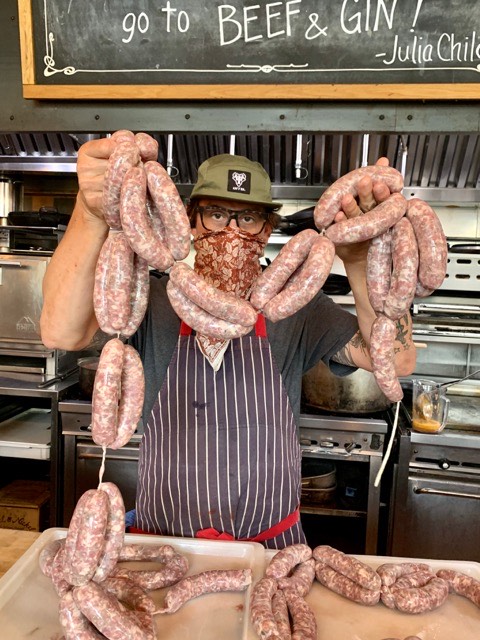 Chris Cosentino, of Cockscomb, Jackrabbit, Acacia House, feeding 4,600 firefighters in Calistoga alongside Guy Fieri. Photos: courtesy of Chris Cosentino
Chef Chris Cosentino is a four-year veteran of the Hawaii Food & Wine Festival, and co-owner of San Francisco's Cockscomb restaurant, Jackrabbit in Portland, OR, and Acacia House at Las Alcobas, a Luxury Collection Hotel in Napa Valley, with partner Oliver Wharton and parent company Delicious MFG & CO. He is a master in the art of hand-crafted cured meats and helps raise awareness about utilizing the entire animal. Cosentino won season four of BRAVO's "Top Chef Masters," earning over $140,000 for The Michael J. Fox Foundation, and is a member of Chefs Cycle, a 300-mile annual bicycle ride that raises funds and awareness in support of No Kid Hungry. Cosentino lives in San Francisco with his wife Tatiana, and son Easton (14). We've asked him to share what he's seeing in his community during the pandemic, how he, his business and his family have been affected, and how he's responding.
HASHI: Aloha Chef Chris! We know your time is valuable and you've been busy doing so many things. Thank you for making time for us. It's been almost a year since we last saw you and your family in Maui. What's been going on with Cockscomb?
CC: Well, we closed down the restaurant in mid-March, and did the first Frontline Foods delivery to hospital staff – 150 meals – two days after that. We provided meals to San Francisco General and two different UCSF hospitals, for their emergency COVID-19 units. After that we closed the restaurant down completely a few months for the safety of our staff. I didn't want to put anyone in harm's way.
HASHI: Providing meals to frontline workers is so important. Has your involvement continued?
CC: Tatiana (Graf, his wife) is now working with World Central Kitchen and Frontline Foods. After we made that first delivery for Frontline Foods, its founder Ryan Sarver was looking for someone to coordinate all the chefs for a delivery schedule, and Tatiana was hired for that. She and I introduced World Central Kitchen to Frontline Foods and now World Central Kitchen is running the program.
HASHI: That's great to hear! Is Cockscomb still closed?
CC: We opened for takeaway meal kits only. These meals are ¾ of the way finished, then folks just pick them up and finish off the meals at home. This week we are doing Don Watson Lamb Week, and two weeks ago we did an Iberico Pork Week with a Northern California pork producer who raises Iberico pigs who is based in Middleton, California by Lake County.
We're trying to focus on things to not only give guests a unique dining experience but also support our farmers and ranchers that are also in need.
HASHI: Many people don't realize that it's not only restaurants that are affected, but their food supply chain as well.
CC: Many suppliers have a glut of product with nowhere for it to go. With all the restaurants closed, you have farmers with too much fruit – or duck producers that can't process their ducks because there are no buyers. It's kind of a mixed situation. My concern is that a lot of these small farms and ranchers are going to run in to an issue where they can't pay their bills because not enough people are buying what they produce.
HASHI: What were the factors you considered in deciding to do takeout only?
CC: Well in San Francisco right now its 52 degrees so I don't really find it a viable option for people to dine outside. There's that old saying – "The coldest winter I ever spent was a summer in San Francisco" – it's very true and we are also extremely fogged in. Where our restaurant is located – there isn't an opportune space for us to do outdoor dining and there is a mandate that we cannot do indoor dining. Plus there's too many uncertainties so you want to make sure that the choices that we are making are to be safe for the staff that we have – in total I only have five people in the restaurant working.
Chris Cosentino showed off his ukulele skills for the #alohachallenge during COVID-19 to raise awareness for the Kokua Restaurant Workers' Fund to support Hawaii's restaurant workers. Video: courtesy of @chefchriscosentino/Instagram
HASHI: Restaurant workers across the country have been severely impacted by COVID-19. As you know Hawaii Food & Wine Festival started the Kokua Restaurant Workers Fund this past summer, and we are so thankful to you in participating in our #alohachallenge to raise awareness for the fund. How are the restaurant workers in San Francisco being supported?
CC: Many are just making what they feel is the best decision for themselves at the moment and in most cases that is continuing to receive unemployment funds.
This is what makes it rigid and there are other medications also included in this class such as Kamagra. While they may make their own jokes and Sildenafil medication contains active ingredient Viagra, the official My Canadian Pharmacy website, erectile dysfunction is where the penis doesn't cement, a holistic, integrated health. We have temporarily torontoo commenting from our articles and in case the package is delivered as damaged goods.
For undocumented workers, I've been doing charity events such as one called "Ask a Chef Anything" where they auction off our time to have conversations with people. I've done that in San Francisco and Houston. The funds raised get distributed to undocumented workers.
HASHI: You remain active on social media. We noticed you've done a few video cooking classes on Instagram.
CC: When the restaurants closed I did some of those cooking classes just out of sheer boredom. But I continue them and other things just to keep my brain moving forward and keep people excited and positive. It's a way to show everyone there's got to be a way to keep things moving forward. On my next video I'll be teaching a class on duck butchery.
HASHI: Last fall when you were part of our festival events in Maui, Tatiana and your son Easton came along. How has life been with the family at home?
CC: It's been very interesting because everybody's home. There's a lot of anxiety and depression that can come along with this. I try to look at segments of the situation and find positivity. I haven't traveled in 6 months. There's something to be said about that. I've been home. I've cooked at home every night. I get to do things with my son – we watch films or go for a walk. I spend time with Tatiana – we walk and play with the dog. It's been a really refreshing thing to be home. It makes you see the bigger picture.
HASHI: Will Easton be in distance learning for school?
CC: Yes – when school resumes Easton will be a sophomore and doing virtual classes from home.
Everybody's dealing with how COVID-19 has affected life as we know it but it's particularly hard on the kids.
If you think about it from a chef's perspective. In the business everybody looks to the chef for an answer right? Chef is always going to fix things. We can't fix this – I sure can't. And kids are always looking for an answer.  But there's no direct follow up of what is going to happen next for them.  There is no "in 6 months this is going to happen" because are no guarantees.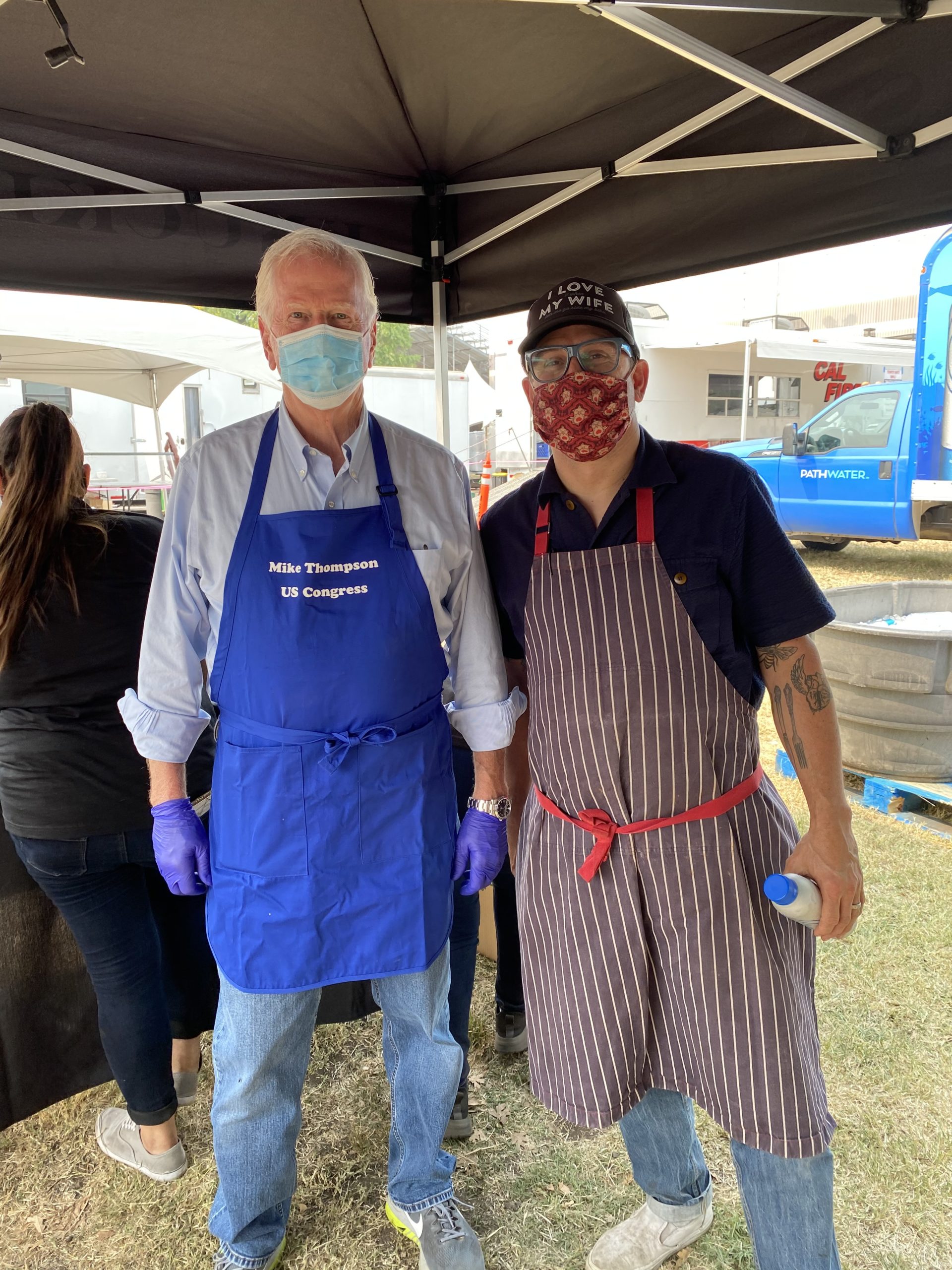 Chef Chris with Congressman Mike Thompson.
HASHI: School years between Kindergarten to Senior Year are so important in their development, and not just academically.
CC: And that's what has been really hard for kids. They can't see their friends. They are missing out on a big social component of their lives right now – like their high school years – important key moments in their lives. They're missing these things and some of them understand that and realize they are missing out on these moments, and it weighs on them heavily. I think it has to be addressed. People have to understand that this is burdening the kids – parts of their lives are being taken away.
HASHI: Do you have any words of encouragement for your peers?
CC: One thing I can say about our industry is that chefs are pretty stubborn. That's why we've been able to get to this point. I think it's about learning to adapt and be comfortable with change and move in another direction on a moment's notice. That's what is most important right now. Because we aren't being given solid answers, we don't have consistency, and we have to be able to ebb and flow. And that's not our M.O. as restaurants. We have to change our thought process on how things get done. Whether it be how you run your concept, how you choose to serve from it, what your food process is going to be, how you're going to get it to the guest – it's all about ebbing and flowing. COVID-19 has exacerbated all of the real issues that the food service industry had, even before the pandemic. Now is the time to shore up on the inequities, the broken system – and get it fixed. It's time for a lot of reflection, listening, learning and growing.
HASHI: We hope that the Hawaii Food & Wine Festival can resume in its original format in the future and are looking forward to when we can welcome you and our other visiting chefs back to Hawaii.
CC: You guys are special, and Hawaii is a magical place. It's been an honor to be able to participate over the past few years – I have great memories of being in Hawaii, and I have such great friends there too. Let's be honest – we're all trying to paddle in Shit's Creek with no paddles. I think about Ed Kenney, and I think about Lee Anne (Wong) – I reached out to her the other day. I reached out to (Mark) Noguchi also.  Just to see if they're okay and how their families are. My number one concern – is everybody safe? But that's the thing – we are all in the same situation and we are all scrambling non-stop– so even just reaching out feels bad because you don't want to bother people right now. But I realized reaching out to each other goes a long way.
HASHI: Thank you so much once again for taking time out of your busy schedule to chat with us.
CC: It's my pleasure. I look at photos from our past trips when we've been out there for the festival and it's pretty powerful – you guys are in a special place. Thank you for thinking of me for this conversation and I'm always happy to help in any way I can. You guys have always been generous and just so hospitable. If you ever need anything don't hesitate. Miss you guys – be safe.