Chef Chris Cosentino is a four-year veteran of the Hawaii Food & Wine Festival, and co-owner of San Francisco's Cockscomb restaurant, Jackrabbit in Portland, OR, and Acacia House at Las Alcobas, a Luxury Collection Hotel in Napa Valley, with partner Oliver Wharton and parent company Delicious MFG & CO. 
"

Now is the time to shore up on the inequities, the broken system – and get it fixed. It's time for a lot of reflection, listening, learning and growing

."
Chris Cosentino, of Cockscomb, Jackrabbit and Acacia House, speaks about COVID-19 effects on the restaurant industry. Photo: Reid Shimabukuro/Hawaii Food & Wine Festival, 2019
He is a master in the art of hand-crafted cured meats and helps raise awareness about utilizing the entire animal. Cosentino won season four of BRAVO's "Top Chef Masters," earning over $140,000 for The Michael J. Fox Foundation, and is a member of Chefs Cycle, a 300-mile annual bicycle ride that raises funds and awareness in support of No Kid Hungry. Cosentino lives in San Francisco with his wife Tatiana, and son Easton (14).
Hashi spoke to him about what he's seeing in his community during the pandemic, how he, his business and his family have been affected, and how he's responding.
Dungeness Crab Fra Diavolo
Serves 4 | By Chris Cosentino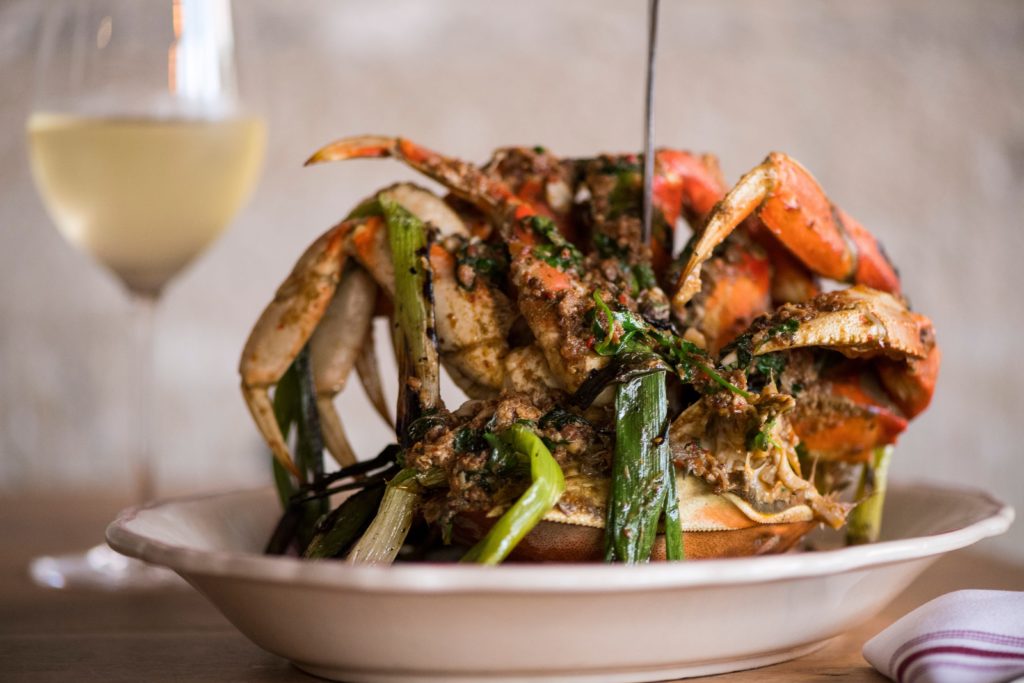 Photo: courtesy of Chris Cosentino
Dungeness Crab Fra Diavolo
Serves 4 | By Chris Cosentino
3 pounds Dungeness crab, 1.5 pounds each
3 fra diavolo sauce 
1 bunch scallions, end trimmed
2 tablespoons mint leaves, fresh
1 gallon court bouillon
1 cup fish stock
¼ cup olive oil 
Boil a large pot of court bouillon over high heat; add crabs and boil for 5 minutes. Remove and shock the crabs in an iced court bouillon. Turn each crab on its back; lift and remove the apron (it should bring the intestinal tube with it). Remove and discard fuzzy gills on both sides. Save the creamy, yellow tomalley in the center for the finish of the sauce. Cut body in half and then cut again to have 4 sections of legs all attached to the body. Crack legs and claws at the joints with a nutcracker.
Heat olive oil in a wok or a large sauté pan over high heat. Sauté crab pieces for 5 minutes, add the fish stock and cover to help steam the crabs to heat through.
Turn down heat to medium; Cook 3 minutes, stirring frequently. Add the fra diavolo sauce. Reduce heat to low and simmer for 30 seconds, then add the reserved lobster tomalley from the body.
Add the whole scallions, toss until coated with sauce and cooked through for 2 minutes. To serve, turn the body shell upside down, place the sections of the crab back into the body with the legs and claws facing up. Lay the scallions into the legs then garnished with mint leaves.