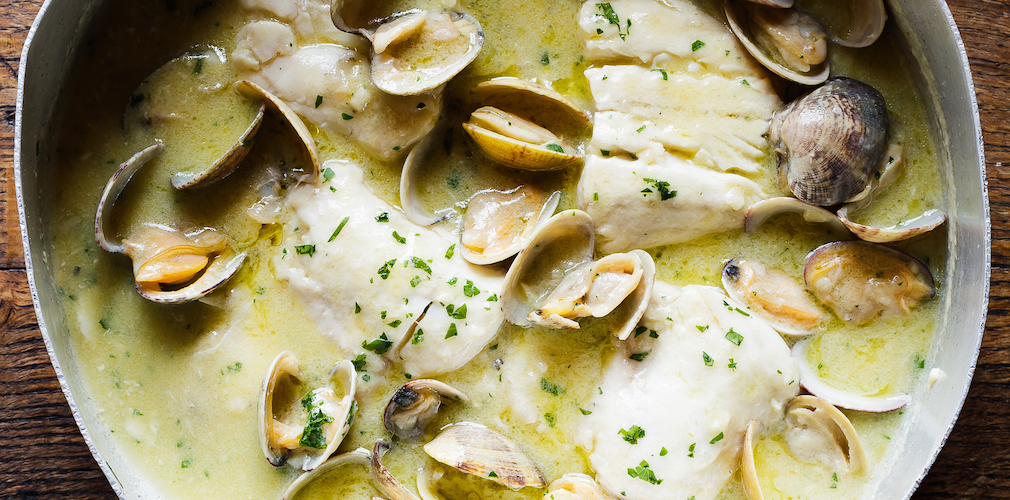 Recipe from The Latin Road Home by Jose Garces. Copyright 2012 by Jose Garces. Shared with permission of Lake Isle Press.
Merluza en Salsa Verde — Hake Fillets in Clam and Herb Sauce
Serves 4 | By Jose Garces
Hake is a member of the cod family. It has a light, slightly sweet flavor and an agreeably firm texture.
The hake could easily be substituted with any number of local varieties of firm-fleshed, flaky white fish, such as pink snapper, snapper, or long-tailed red snapper.
2 Tbsp + 2 Tbsp vegetable oil
4 fresh boneless, skinless hake fillets (about 1/4 lb each)
4 Tbsp + 2 Tbsp unsalted butter
1 medium shallot, finely diced
1 Tbsp minced garlic (3 to 4 cloves)
20 fresh clams (preferably Spanish cockles or littlenecks), scrubbed and rinsed under cold water
1/4 cup dry white wine
Kosher salt
1/4 cup finely chopped flat-leaf parsley
Place a rack in the middle position and preheat the oven to 400°F.
Heat 2 tablespoons of the oil in a large stainless-steel sauté pan over medium-high heat. Lightly season the fish with salt. When the oil begins to shimmer, carefully set the fillets in the pan and let them cook undisturbed for 1 minute. Transfer the pan to the hot oven to cook the fish for 3 minutes more, then return the pan to the stovetop over medium heat. Add 2 tablespoons of the butter to the pan and baste the fish for 1 minute, or until the edges flake easily and the center is firm to the touch. Use a flexible spatula to transfer the fillets to a serving dish or individual plates. Cover with aluminum foil to keep warm.
Heat the remaining 2 tablespoons oil in a sauté pan over medium heat. Cook the shallot and garlic, stirring often, until translucent, about 1 minute. Add the clams and white wine, cover the pan, and steam the clams until they open, 2 to 3 minutes. Discard any that don't open. Lift the clams out of the pan with tongs and continue cooking the liquid in the pan, uncovered, until it has reduced by half to about 1/4 cup. Add the remaining 4 tablespoons butter and whisk gently until the butter is melted and the sauce is emulsified, 1 to 2 minutes. Season with salt to taste and stir in the parsley.
Return the clams to the pan to get them a little saucy. Place them alongside the fish, lightly spoon sauce over all, and serve.