2022 Hawaii Gas Presents Localicious Recipe & Video Contest Winner, Grades 4-8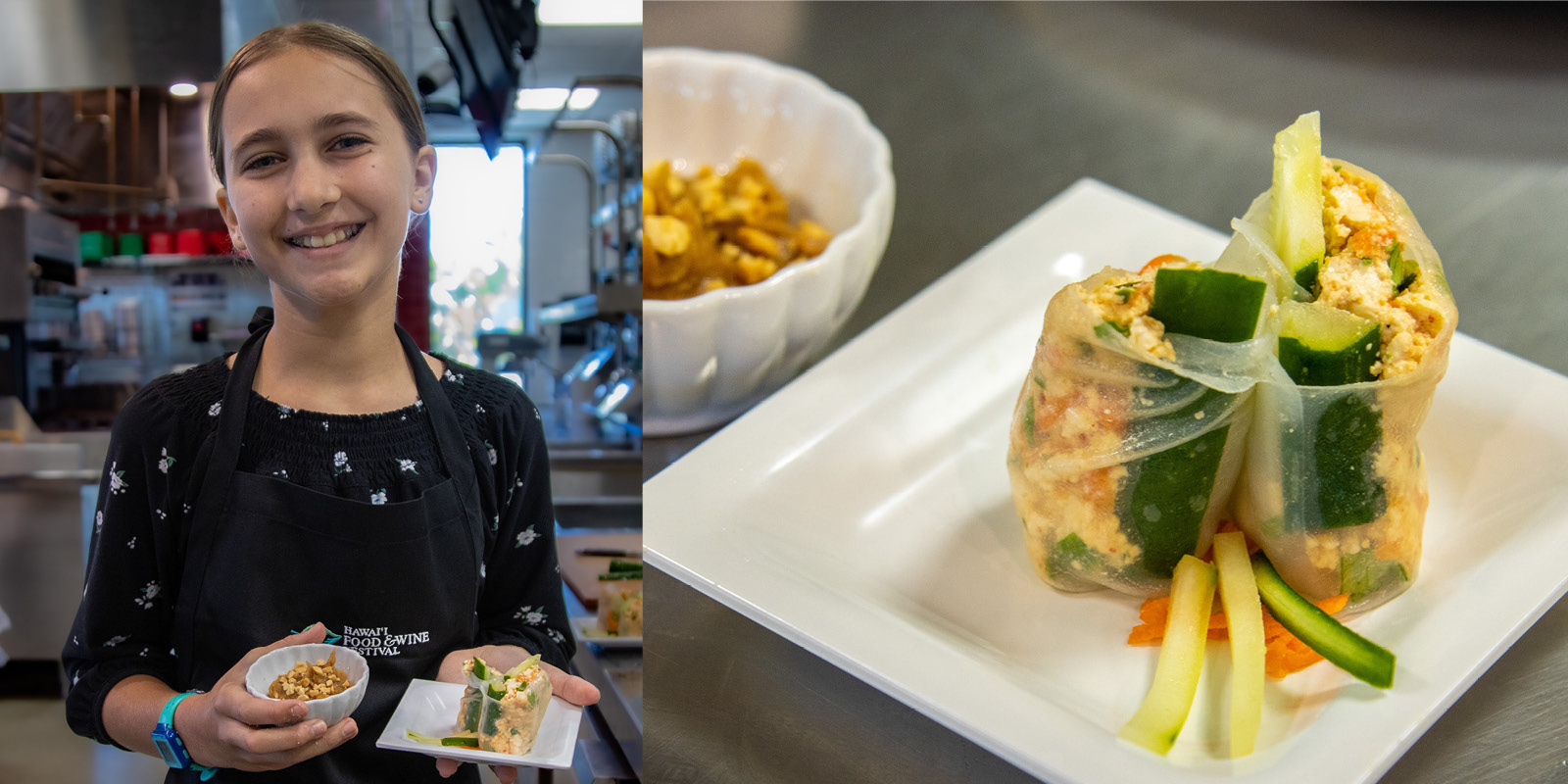 Curry Rolls
By: Saige Imig, Grade 7, Hawaii Technology Academy
Winner of the 2022 Hawaii Gas Presents Localicious® Recipe & Video Contest, Grades 4-8 Category
My dish is made from locally grown vegetables. The vegetables & tofu are seasoned with red chili paste. The dipping sauce consists of equal ratios of peanut butter and coconut milk. My inspiration was to create a delicious, yet healthy, quick lunch alternative. Kid lunch options are very high in fat and calories. I came up with this summer roll recipe that is easy to make, nutritious and quick to grab on a school day!
Yields 10 Summer Rolls
Ingredients for Rolls:
8 oz. of firm tofu (drained)
½ cup carrots (shredded)
¼ cup green onion (chopped)
¼ cup cilantro (chopped)
⅛ tsp salt
1 ½ tsp red curry paste
1 Tbsp coconut milk
1 ½ tsp garlic (minced)
Rice noodle wrapper
½ medium sized Japanese cucumber (cut into spears)
Ingredients for Dipping Sauce:
¼ cup peanut butter
¼ cup coconut milk
Preparation:
In a medium sized bowl, combine crumbled tofu, carrots, green onion, cilantro and salt. Mix well.
In a small bowl mix red curry paste, 1 Tbsp coconut milk, and garlic.
Add the contents of the small bowl into the medium sized bowl of tofu and veggies. Mix well.
Soak noodle wrapper in a dish of water until soft (about 1 minute per wrapper).
On a plate, lay out the soft noodle wrapper and add desired amount of seasoned tofu and veggies (About 3-4 Tbsp). Add several cucumber spears and wrap tightly into a roll.
For the dipping sauce, mix the peanut butter and ¼ cup coconut milk in a small bowl.
Dip the summer roll in sauce and enjoy!