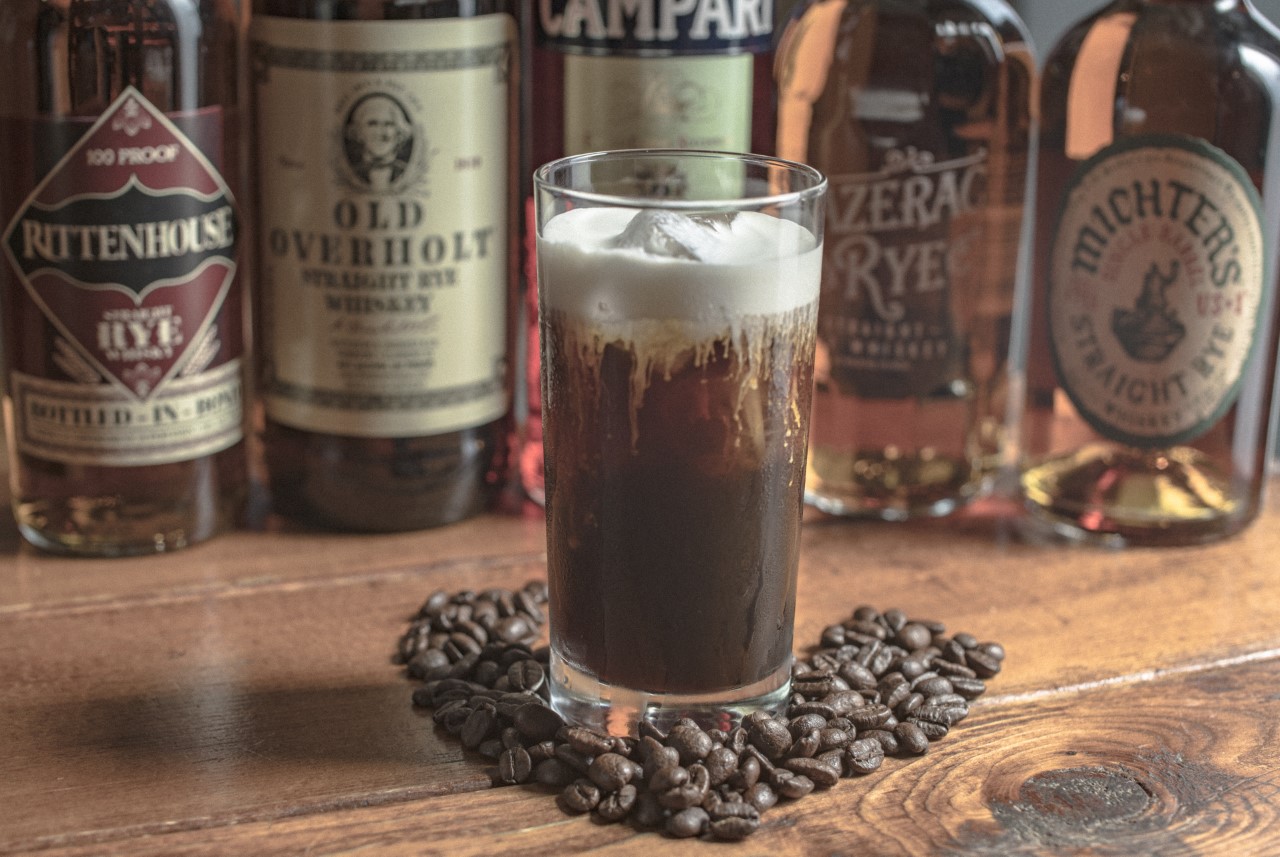 Photo: courtesy of Dave Newman
Vera Cruz Spiced Coffee
Yields 1 cocktail | By Dave Newman
72-hour Cold Brew Coffee (recipe below)
Housemade Vanilla Cream (recipe below)
¼ teaspoon ground cinnamon
1/8 teaspoon ground cayenne pepper
Local dark chocolate (recommended: Manoa Chocolate Waiahole 70% cacao bar)
1 cinnamon stick
1 cup ice
Pour 8 ounces of 72-hour Cold Brew Coffee (recipe below) into glass. Add ground cinnamon and ground cayenne pepper to cold brewed coffee and stir for 10 seconds or until spices are well incorporated. Add to the glass 1 cup of ice. Top mocktail with 2 ounces Housemade Vanilla Cream (recipe below). Garnish your mocktail by shaving approximately 1 tablespoon of the local dark chocolate bar on top of the vanilla cream and finish with a cinnamon stick. Enjoy!
72-hour Cold Brew Coffee
Freshly ground medium to dark roast coffee, coarsely ground for a French press 
4 cups filtered water
6 or 8 cup French Press
Place ground coffee into French press and top with filtered water. Cover and place in fridge for 72 hours. After 72 hours, remove French press from refrigerator. Strain coffee by placing plunger on French press and pushing plunger down until it stops. Set aside 8 ounces of iced coffee and place remaining amount of iced coffee in the refrigerator to enjoy at a later time.

Housemade Vanilla Cream
8 ounces heavy cream
4 teaspoons white granulated sugar
2 vanilla beans
Take your 16-ounce mason jar and fill it with 8 ounces of cold heavy cream, 4 teaspoons white granulated sugar. Next, take 2 fresh vanilla beans, cut and scrape the vanilla bean seeds into the cream and sugar mixture. Cover mason jar tightly so there is no spillage and shake heavy cream mixture vigorously for 15 seconds. This will work best if everything is as cold as possible. Cream should be thick, but not whipped. 
TIP: You are looking for a consistency that will float on top of the drink and allow the cold brew below to flow into your mouth dragging a bit of the cream with it. Refrigerate Vanilla Cream until needed for the recipe below.