If you have something to offer the world, I think it's your responsibility to break out of your comfort zone and contribute. I felt I had things to offer outside of the kitchen and so it was my responsibility to play a part.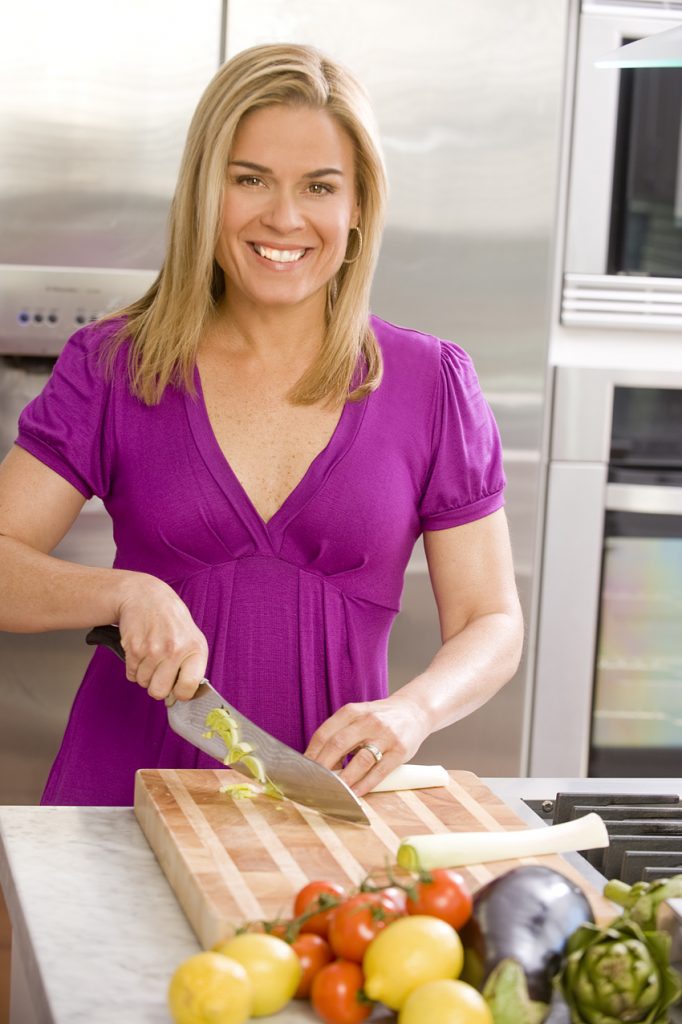 "Did you know that over 800 million people in the world can't get enough to eat?"
Chef Cat Cora helps with on-site relief efforts after the devastating Haiti earthquake of 2010. Photos: courtesy of Cat Cora/"Taste Our Love for the Land," 2015
In addition to our restaurants (Ocean Restaurant by Cat Cora in Singapore; Cat Cora's Kitchen in San Francisco, Houston and Salt Lake City; Kouzzina by Cat Cora in Orlando), TV shows, multiple product lines, cookbooks and iPad cooking app, I'm very much involved with Chefs for Humanity, which we started in 2004 in response to the Asian tsunami disaster. I'm also a wife and the mother of four rambunctious young boys—which, I promise you, is nearly as much work as all those other things combined!
Chefs for Humanity is a nonprofit organization founded to promote nutrition education, hunger relief, and emergency and humanitarian aid to reduce hunger worldwide. After Hurricane Katrina, my fellow chefs and I joined the American Red Cross in cooking for and feeding hundreds of victims and relief workers in my home state of Mississippi. I have also joined with First Lady Michelle Obama in her Chefs Move to Schools program, to help solve America's childhood obesity epidemic.
And in the wake of the Haiti earthquake in 2010, Chefs for Humanity raised $100,000 to find ways to address the hunger crisis sustainably. Those funds have enabled the United Nations World Food Program to buy clean cookstoves for use in school meals programs.
Did you know that over 800 million people in the world can't get enough to eat? Or that one in six people in the U.S. suffer from hunger? This is a very real, very tragic epidemic throughout the entire world. But it is also an issue that I wholeheartedly believe can be eliminated. This issue has always been something I've cared deeply about. It's not easy to juggle everything, but the rewards are worth the effort.
Salmon Skewers with Romesco Sauce
Serves 4  | By Cat Cora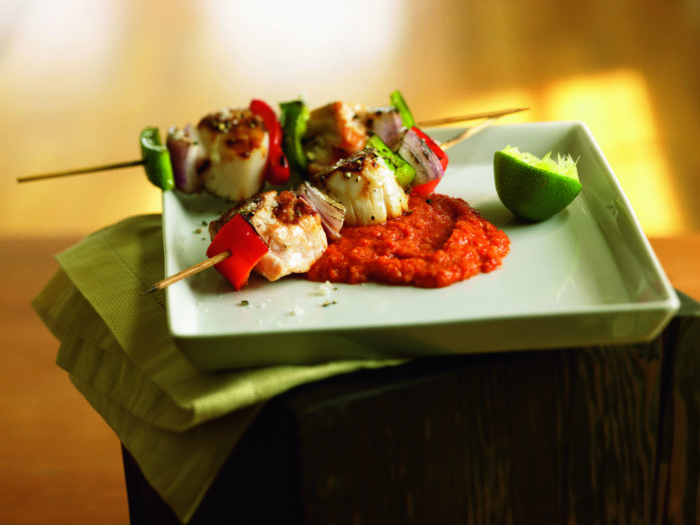 Salmon Skewers with Romesco Sauce
Serves 4   |  By Cat Cora
8 8-inch wooden skewers, soaked in cool water for at least 1 hour
8 ounces salmon filet (one large piece or several smaller pieces), cut into 8 equal chunks
8 sea scallops
2 tablespoons olive oil
Kosher salt & freshly cracked black pepper, to taste
3 tablespoons fresh lime juice
1 red bell pepper, cut into 1¼-inch chunks
1 red onion, cut into 1¼-inch chunks
1 poblano chili pepper, cut into 1¼-inch chunks
Romesco Sauce (recipe follows)
Preheat a grill, or preheat oven to 400 degrees Fahrenheit, whichever you prefer. In a 9-inch square Pyrex dish, combine 2 tablespoons of olive oil with salt, pepper and lime juice. Add the salmon and scallops to the dish and coat with the marinade. Cover and refrigerate for about 20 minutes. During this time, make the Romesco Sauce.
Remove the seafood from the marinade, and discard the liquid. With a paper towel, pat dry each chunk of fish and scallop. (If you don't dry each piece, they'll steam while cooking; the exterior will be soft, rather than crisp.)
Thread each skewer with onion chunks, 1 salmon chunk, red and poblano pepper chunks and a scallop. Set the skewers either over the grill, or on a baking sheet placed on the top rack of the oven. Cook for 4 minutes and then rotate the baking sheet in the oven and give each skewer a half turn. Cook another 4 minutes or until the salmon is firm to the touch and the scallops have begun to brown on their edges.
Arrange two criss-crossed skewers on each plate and spoon Romesco Sauce over them, or pile the skewers on a serving platter and serve the sauce in a bowl, allowing everyone to take as much sauce as they'd like.
Romesco Sauce
1 roasted red pepper, seeded, peeled and roughly chopped (or substitute jarred roasted peppers)
¼ cup roasted cherry tomatoes
1 tablespoon roughly chopped almonds (8 or 9 whole almonds)
2 cloves garlic, peeled and roughly chopped
1 tablespoon sherry vinegar
¼ cup olive oil
Pinch of salt
Freshly ground black pepper
In a blender, combine all ingredients through olive oil, blending until smooth. Season with salt and pepper, and set aside.
(Note: If you like, you can toss whole almonds and peeled garlic cloves into the blender, but I find giving them a rough chop first prevents any large chunks from ending up under the blender blades.)