I am incredibly fortunate and proud to work for a company that embraces sustainability and gives back to its employees and the greater community. As Hawaii's only locally-owned supermarket chain with stores statewide, Foodland Supermarket, Ltd. has a vested interest in the well-being of our community.
From the start, our founder, Maurice J. "Sully" Sullivan had the vision to build a community-focused company that put its customers first. Today, that vision continues through the efforts of our current chairman and CEO, Jenai Wall, who inspires all of us at Foodland to deliver outstanding shopping experiences for our customers.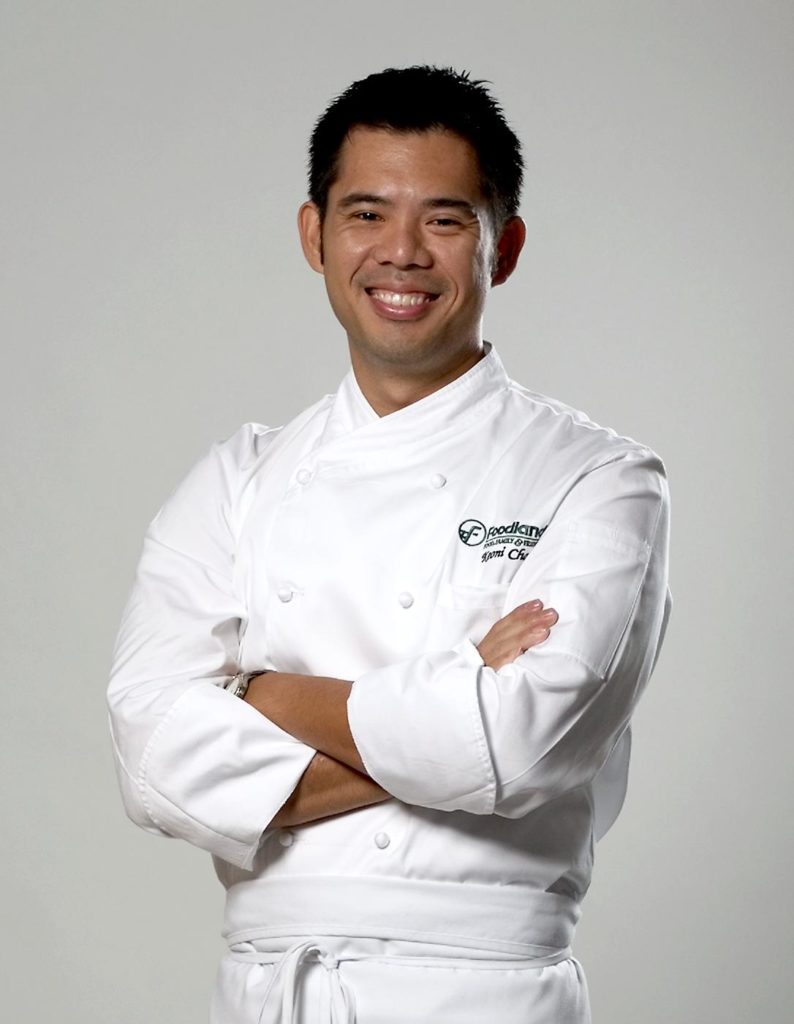 "More than 200,00 people have pledged to 'Eat Local Tuesday'—that's nearly twenty percent of our population!"
Foodland executive chef Keoni Chang: promoting local products in 32 stores statewide. Photos: courtesy of Keoni Chang/"Taste Our Love for the Land," 2015
Since 2004 I have also been part of the company's mission to buy locally as much as possible. We are part of the journey to help Hawai'i become more sustainable—it's always local first with backflow from the Mainland. Foodland has also been influential in motivating its employees and its customers to do the right thing for the Islands. Recently we started Foodland's "Eat Local Tuesday" campaign, in which we ask the public to pledge to eat local products on at least that one day each week. More than 200,000 local residents have pledged to date—that's nearly twenty percent of our population! Foodland has also partnered with local high schools in creating the Foodland Local Ambassador program, working with students to sample local products in all of our 32 stores. It's a great way to help our youth learn about what's locally grown, why it tastes better, why it has greater nutritional value and, most important, why it helps our farmers and our state's economy.
As an employee, I enjoy supporting Foodland's innovative initiatives and community programs. Every quarter, we participate in a "give day" at MA'O Organic Farms in rural O'ahu, where we help weed, plant and harvest. We also partner with Hawai'i Medical Services Association to promote healthy lifestyles among our employees through the Blue Zones Project. This community well-being initiative encourages changes to our environment that help lead to healthier options.
While I have had the opportunity to work in some of the world's finest restaurants, I've found my passion at Foodland, where I can be part of an awesome, 2,500-employee company that cares about its people and works to build a better and more sustainable Hawai'i.
Grilled Asparagus with Crispy Pipikaula and Blistered Tomato Vinaigrette
Serves 4, as a side | By Keoni Chang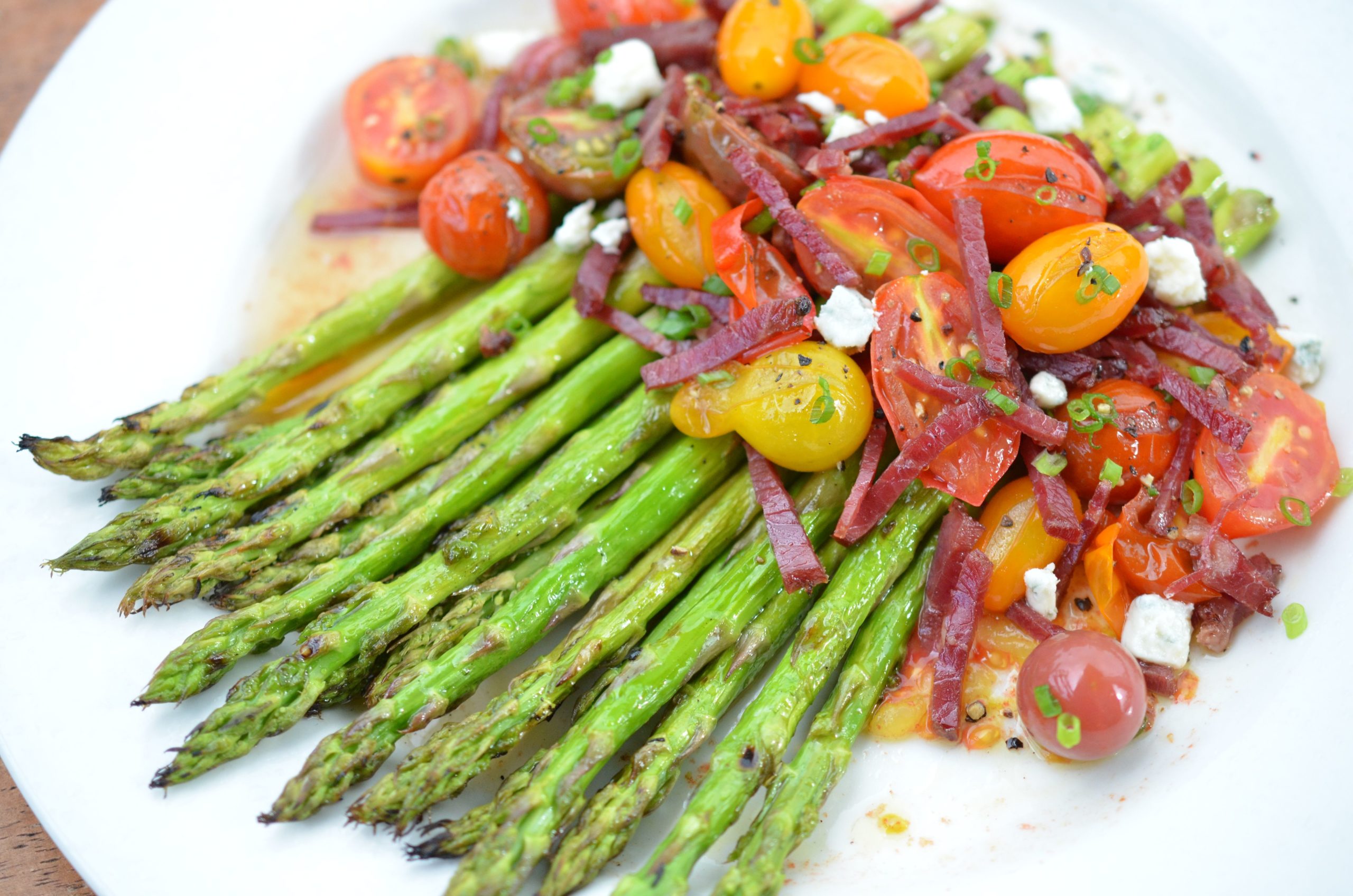 Grilled Asparagus with Crispy Pipikaula and Blistered Tomato Vinaigrette
Serves 4, as a side | By Keoni Change
Grilled Asparagus (recipe follows)
Blistered Tomato Vinaigrette (recipe follows)
¼ cup crispy pipikaula (Hawaiian dried beef)
1 tablespoon sliced chives or green onions
1 tablespoon blue cheese or goat cheese crumbles
Lay out the asparagus on a platter. Evenly drizzle the tomato vinaigrette over the asparagus. In neat lines, arrange the pipikaula, chives and blue cheese crumbles.
Grilled Asparagus
1 pound fresh Twin Bridge Farms asparagus, trimmed (cut off 1 inch of woody bottom stem)
2 tablespoons olive oil
1 teaspoon salt
1 pinch black pepper
Preheat a grill. Place asparagus on a plate and drizzle with olive oil, salt and pepper. Cook asparagus for 5 minutes. Each minute or so, partially roll the spears on the grill to cook all sides. Asparagus should have nice grill marks. Remove from grill. May be served warm or at room temperature.
Blistered Tomato Vinaigrette
1/4 cup pipikaula, sliced into thin strips roughly the size of 1-inch match sticks
1 tablespoon olive oil
3 tablespoons extra-virgin olive oil
1 cup Ho Farms currant tomatoes
2 tablespoons red wine vinegar
Salt and freshly ground pepper
Heat a sauté pan over medium heat. Add in the 1 tablespoon olive oil. Add pipikaula and slowly cook until crisp. Remove the pipkaula and drain on a paper towel. Keep the rendered fat and olive oil in the sauté pan.
Turn the heat up to medium-high. When the rendered fat and olive oil is hot, carefully add in the tomatoes and sauté until the tomatoes blister.
Add in the 3 tablespoons extra virgin olive oil and vinegar and season with salt and pepper. Remove from heat and keep warm until served.