When we started Commonwealth, I wanted to make sure we built a restaurant that was dedicated to serving great food and offering excellent service, but also supported others who were doing good in the world beyond our restaurant. My partners and I wanted to make sure that we were invested in the community and that the community could rely on us to do the right thing. The restaurant is named Commonwealth after the early modern concept of organizing for the common good, and that's what we set out to do from the very start. Ten dollars from the sale of each tasting menu is donated to local charities. Over the past five years, our contributions have totaled more than $300,000.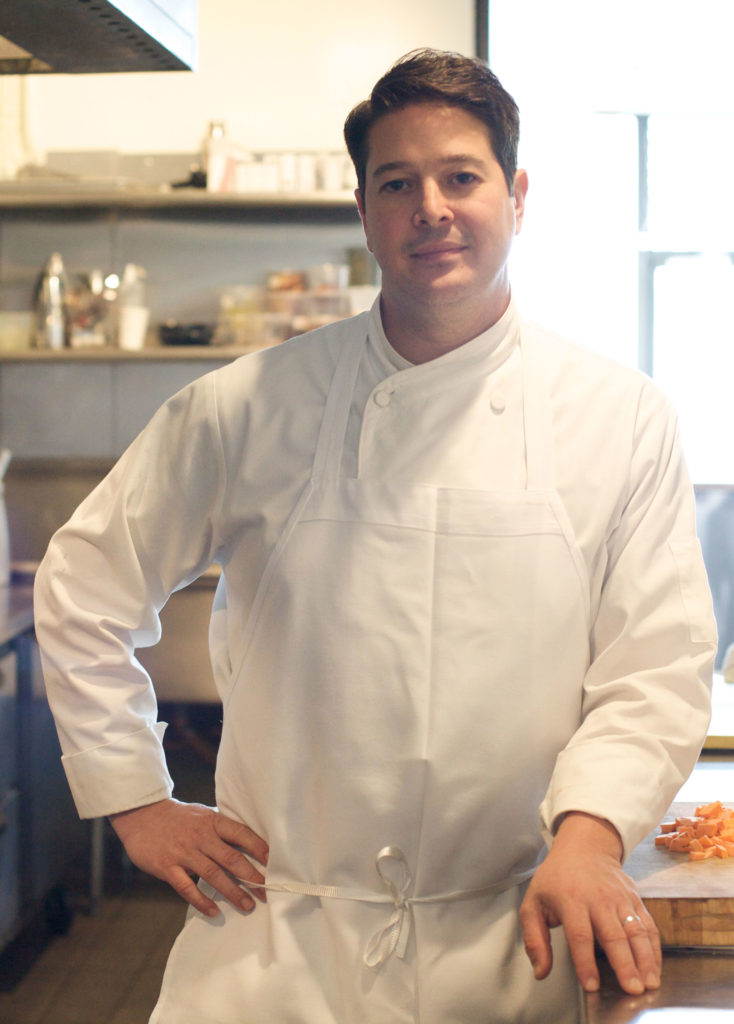 "We wanted to make sure that we were invested in the community."
Chef Michael Fox: Doing what's right to make the world a better place. Photos: courtesy of Michael Fox/"Taste Our Love for the Land," 2015
To me, the true meaning of sustainability goes beyond the environmental context—it's a call to action to improve the quality of human life. At Commonwealth, we do our very best to do this in every way. In addition to giving back to our community, we purchase food from local farmers—all of our veggies, for example, are locally grown. We've also adopted a rigorous recycling and composting program to ensure we do as much as possible to reduce waste and the impact to our environment. We've started a 1,500-square-foot rooftop garden where we grow some thirty different kinds of vegetables including lettuces, cucumbers and radishes, as well as flowers. We also have a beehive and make our own honey, yielding nine gallons one year. If you think about it, if we all did a little to make a difference, what a monumental impact we could make in helping others and ensuring the best quality of life for our next generation.
I'm proud that we've been able to build a great restaurant and give back to the community. And, I also hope that my efforts will make an impact in inspiring others to do good—to do what's right to make this world a better place.
Spring Garlic Custard with Abalone, Mushrooms and Wildflowers
Serves 4  | By Jason Fox
Spring Garlic Custard with Abalone, Mushrooms and Wildflowers
Serves 4  |  By Jason Fox
1 ounce small watermelon radish, peeled and cut into 1 x 1/8 in batons
4 ounces assorted wild mushrooms
6 ounces spinach
2 ounces green garlic white stems, thinly sliced
Grapeseed oil, for sautéing
Salt, to taste
2 cups Spring Garlic Stock (recipe follows)
4 eggs
1 tablespoon white soy sauce
2 baby abalone, removed from shells, lightly pounded and thinly sliced
Rice wine vinegar, to taste
Assorted wildflowers (onion, garlic, radish, borage, etc.)
Soak watermelon radish batons in ice water for 15 minutes. Drain and reserve. Saute mushrooms in grapeseed oil with salt to taste. (Depending on variety and size, use mushrooms such as morel, chanterelle, maitake or hon shimeji either whole or chopped into 1-inch pieces.) Saute spinach in grapeseed oil with salt to taste. Cover sliced garlic stems with water, bring to boil with a pinch of salt. Strain and reserve.
Mix Spring Garlic Stock, eggs and soy sauce together. Pass through a fine sieve. Divide mushrooms, spinach and poached garlic stems between four 8-ounce heatproof bowls. Cover tightly with plastic wrap. Steam in tabletop steamer for 8 minutes, or until just set.
Saute abalone slices in a little grapeseed oil for 30 seconds, until just cooked through. Divide abalone between the custards. Dress radish batons with a splash of rice wine vinegar and salt, divide between the custards, garnish with flowers and serve.
Spring Garlic Stock
3 cups water
½ cup green garlic, chopped (green parts only)
1 tablespoon green garlic, chopped (white parts only)
1 teaspoon salt
Simmer all ingredients for 30 minutes, until flavorful. After stock is simmered, strain out and discard all ingredients, reserving only the liquid to make the custard base.