When I was born in Scotland quite some time ago, sustainable farming and the concept of sustainability weren't really on the "table," so to speak. I was raised in Dundee, Scotland and moved with my family to Canada as a young man. I started my culinary career in Canada in less than "organic" surroundings, and worked my way up through kitchens all over the world. Lucky enough to travel and cook in England, France, Germany and Australia, I started to get a real understanding of the source of great food as I grew in my career.
My journey luckily landed me on the Big Island of Hawaii in the early '90s. It gave me a new and unique look at farming and fishing and solidified my love for what a sustainable table could truly look like. I dived into a real passion for the products that the Islands had to offer—such as Big Island goat cheese and local greens—and the opportunity to work with some of the world's best local fisherman. Hawaii was the beginning of a strong phase in my pursuit of a cleaner, better way to cook and source my food.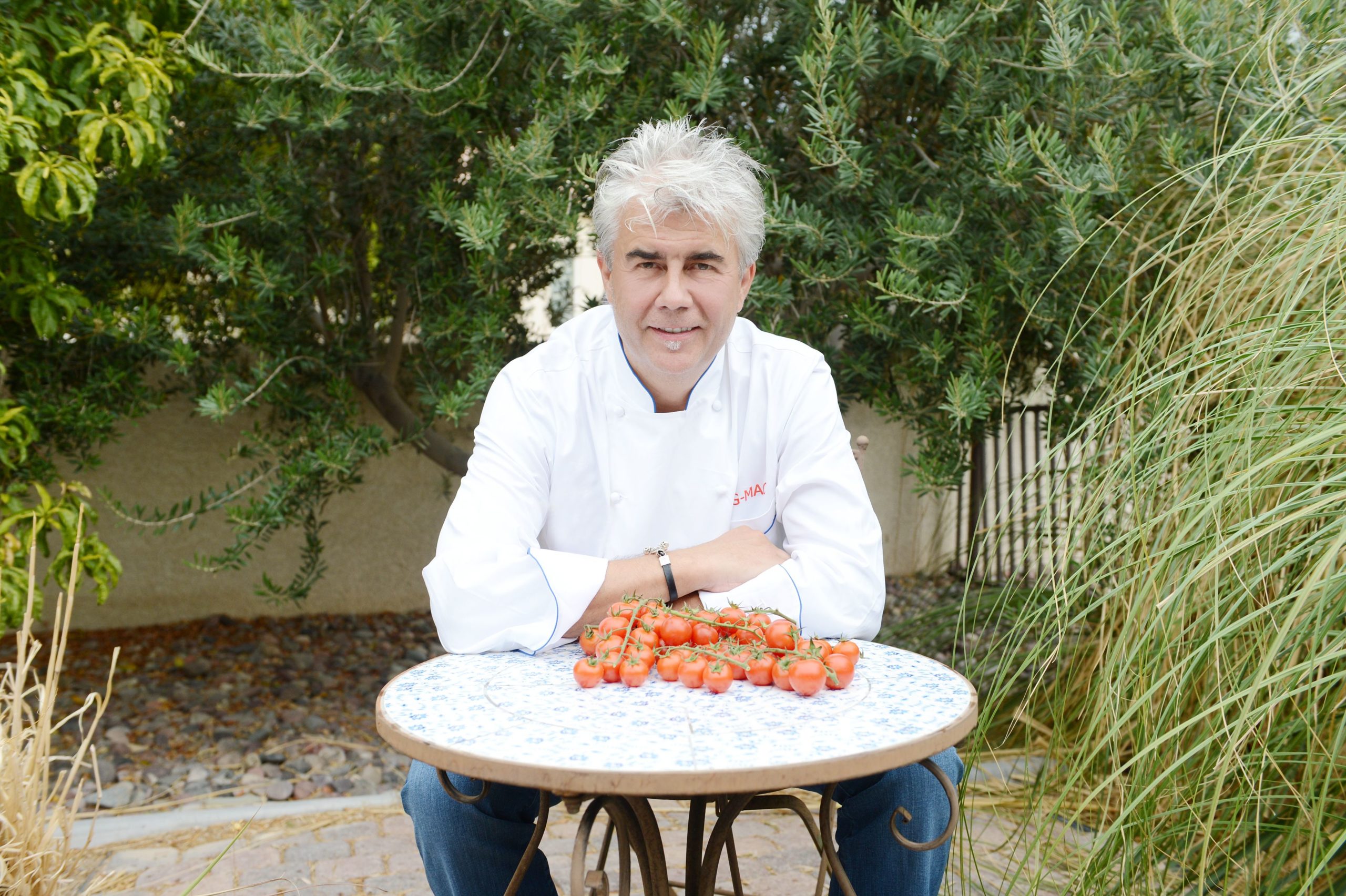 Now Las Vegas is my home, the Vegas Farmer's Market my haunt.
Chef Grant MacPherson: "We use products that follow the seasons." Photos: courtesy of Grant MacPherson/"Taste Our Love for the Land," 2015
This island experience got me revved up to head to the Far East for more adventure as I trekked to Malaysia, Singapore and Thailand. At this point, the word "sustainability" still wasn't used much. Farmers and fisherman were doing what they did naturally in those cultures, getting food to table quickly and with freshness and flavor. My goal was to get to the food locally and to be able to use my table to tell the story of these wonderful flavors and tastes. My adventure was learning new spices and ingredients daily, walking through the incredible wet markets and seeing the best of the local cultures and lives.
My Far East experiences put me under the lens of hotel magnate and innovator Steve Wynn, and I was invited to come back to the United States to open his Bellagio and Wynn Hotels in Las Vegas as executive chef. That extended to allowing me back through the gates of China for the experience of opening the Wynn Macau.
Now Las Vegas is my home, the Vegas Farmer's Market my haunt. Vegas is a great chapter in this journey: vital, ever changing, packed with chefs and restaurants and striving to offer the best of every possible experience. I am able to take my appreciation of sustainable farming into the work I do here. We utilize products that follow the seasons, and my two young sons are learning to value the land that sustains them as we eat ninety-five percent organic, and as clean as we possibly can. After decades in the kitchen, my culinary journey has still just begun, but I'll always look back on my time in Hawai'i as one of the best times in my life, and I'll value the lessons that the Islands gave me to enjoy for a lifetime of inspiration.
Wild Mushroom Soup and Woodland Mushrooms
Serves 4  |  By Grant MacPherson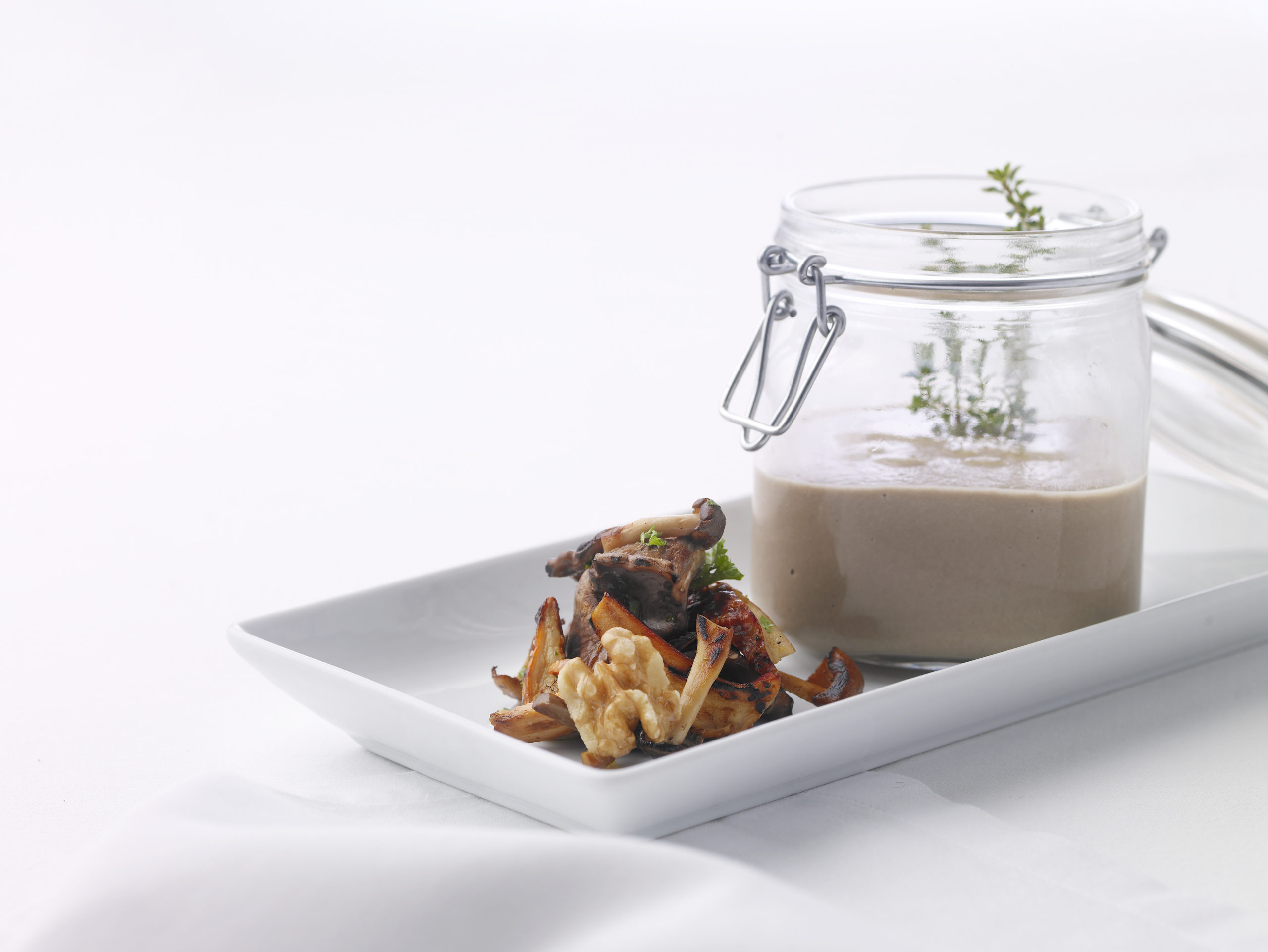 Wild Mushroom Soup and Woodland Mushrooms
Serves 4 | By Grant MacPherson
2 tablespoons olive oil
5 shallots, chopped
3 garlic cloves, chopped
1 pound wild mushrooms such as chanterelle, bluefoot, button, lobster or shimeji, each cut into quarters
6 cups mushroom stock
2 cups heavy cream
Salt and ground white pepper, to taste
Lemon thyme sprigs, for garnish
In large saucepan over medium-high heat, warm olive oil. Add shallots and garlic, and cook 3 to 5 minutes. Add mushrooms and cook for 10 minutes more, stirring occasionally. Add mushroom stock; bring to a boil over high heat. Reduce heat to low; simmer 45 minutes longer. Let cool. In a food processor or blender, blend mixture well. Return to pan, add cream, salt and pepper, and heat through. 
Serve hot, garnished with lemon thyme, with Woodland Mushrooms (recipe follows).
Woodland Mushrooms
1 tablespoon vegetable oil
8 ounces wild mushrooms, each cut into quarters
2 teaspoons good-quality red wine vinegar
1 teaspoon Dijon mustard
⅓ cup extra-virgin olive oil
1 tablespoon chopped walnuts, toasted
1 tablespoon chopped lemon thyme
In a 12-inch (30.5 cm) skillet over medium-high heat, warm oil. Add mushrooms, and cook until just tender, about 5 minutes, stirring frequently.
In a medium bowl, combine red wine vinegar and Dijon mustard. Whisk in olive oil until well blended. Stir in mushrooms, walnuts and lemon thyme to mix well. Cover and reserve at room temperature until ready to serve.