On January 7, 2015, U.S. District Judge Stephen Wilson struck down California's ban on the sale of foie gras, a law in effect since July 2012. In 2008 Chicago's city council overturned a similar law banning the sale of foie gras, a measure it had passed two years earlier. 
A few years ago, Hawaii was also targeted with bills designed to ban the production of foie gras (even though there are no poultry farms in the Islands), as well as its possession, sale and distribution. All of these foie gras bills eventually died in committee, but not without a major fight from animal rights lobbying groups. 
I've spent a lifetime spreading the foie gras gospel because I believe in the product and the methods we use to produce it. Izzy Yanay and I founded Hudson Valley Foie Gras in 1990 after discovering the delicacy of foie gras in Israel and the potential of modern-age foie gras processing. While we've been the target of animal activists who depict hand feeding as inhumane, many of the claims against us are misguided and simply not true.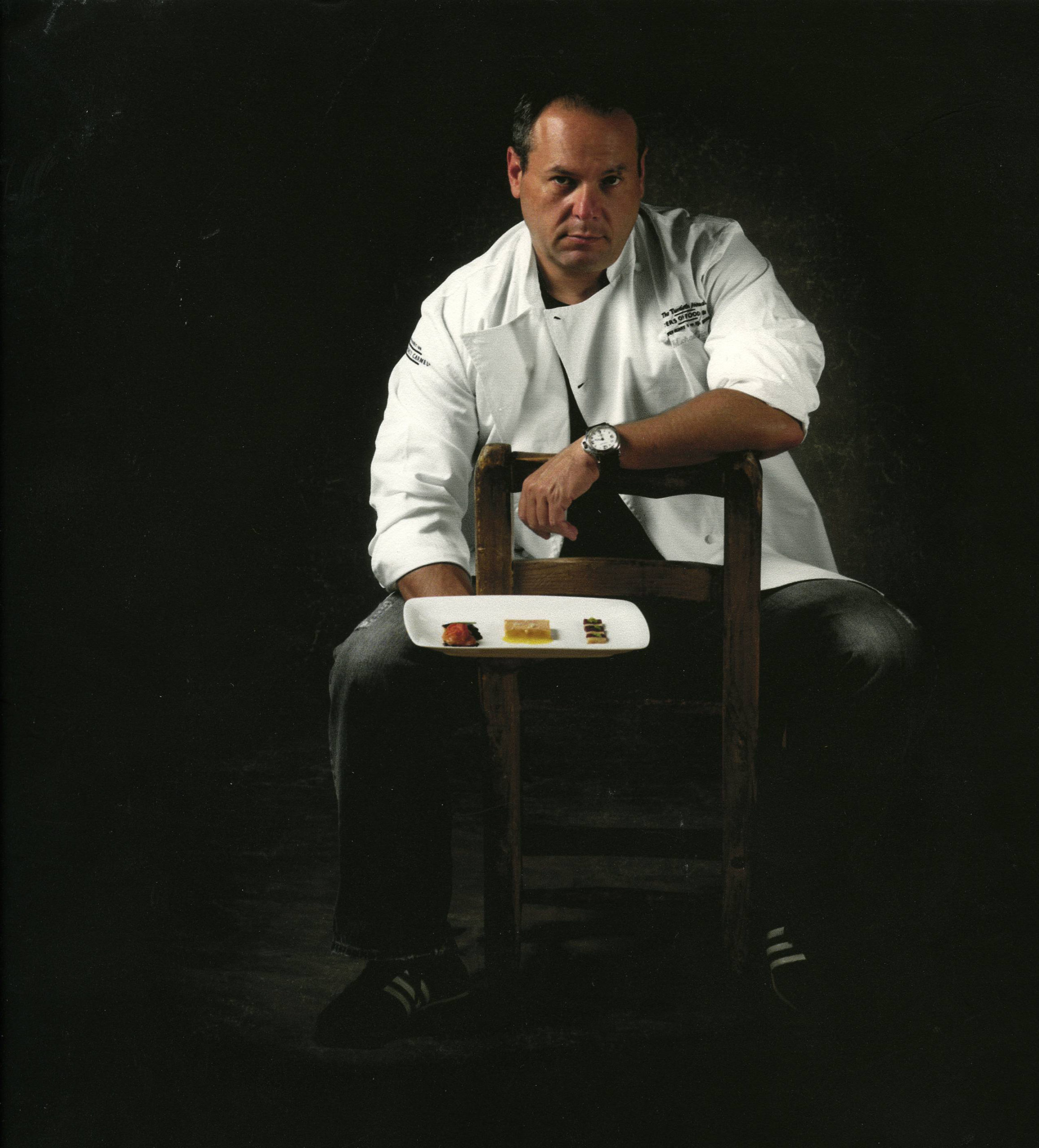 "I've spent a lifetime spreading the foie gras gospel because I believe in the product and the methods we use to produce it."
Chef Michael Ginor: Overseeing a process of total respect and care for the animal. Photos: courtesy of Michael Ginor/"Taste Our Love for the Land," 2015
The ducks at Hudson Valley Foie Gras are cage-free and live in conditions that allow for social interaction, exercise, freedom of movement and reduction of stress. When the ducks reach twelve weeks of age, they go through the gavage, or hand feeding. Hand feeding does not harm the duck because, unlike with other animals, its windpipe opens at the center of the tongue so it has no gag reflex and can breathe during the feeding. Furthermore, ducks naturally gorge during times of migration and create their own fatty livers. Foie gras ducks are normally slaughtered at fifteen weeks, compared to eight weeks for an average duck. I also want to emphasize that we don't just use ducks for foie gras, but rather utilize the entire fowl for its meat and for further processing. We sell the breast meat as magret and the legs for confit. We sell the fat and all the innards. We also produce smoked duck breast, duck prosciutto, duck bacon and duck rillettes, as well as foie gras mousse, terrine, torchon, pate and other products. We maximize use of the entire animal.
At Hudson Valley Foie Gras, our entire process is done with total respect and care for our animals. We've always had an open door and invite the public to come and visit our farm to learn more about our methods. We are proud stewards of our animals, our land and most important, our people.
Seared Hudson Valley Duck Breast with Israeli Couscous
Serves 4  |  By Michael Ginor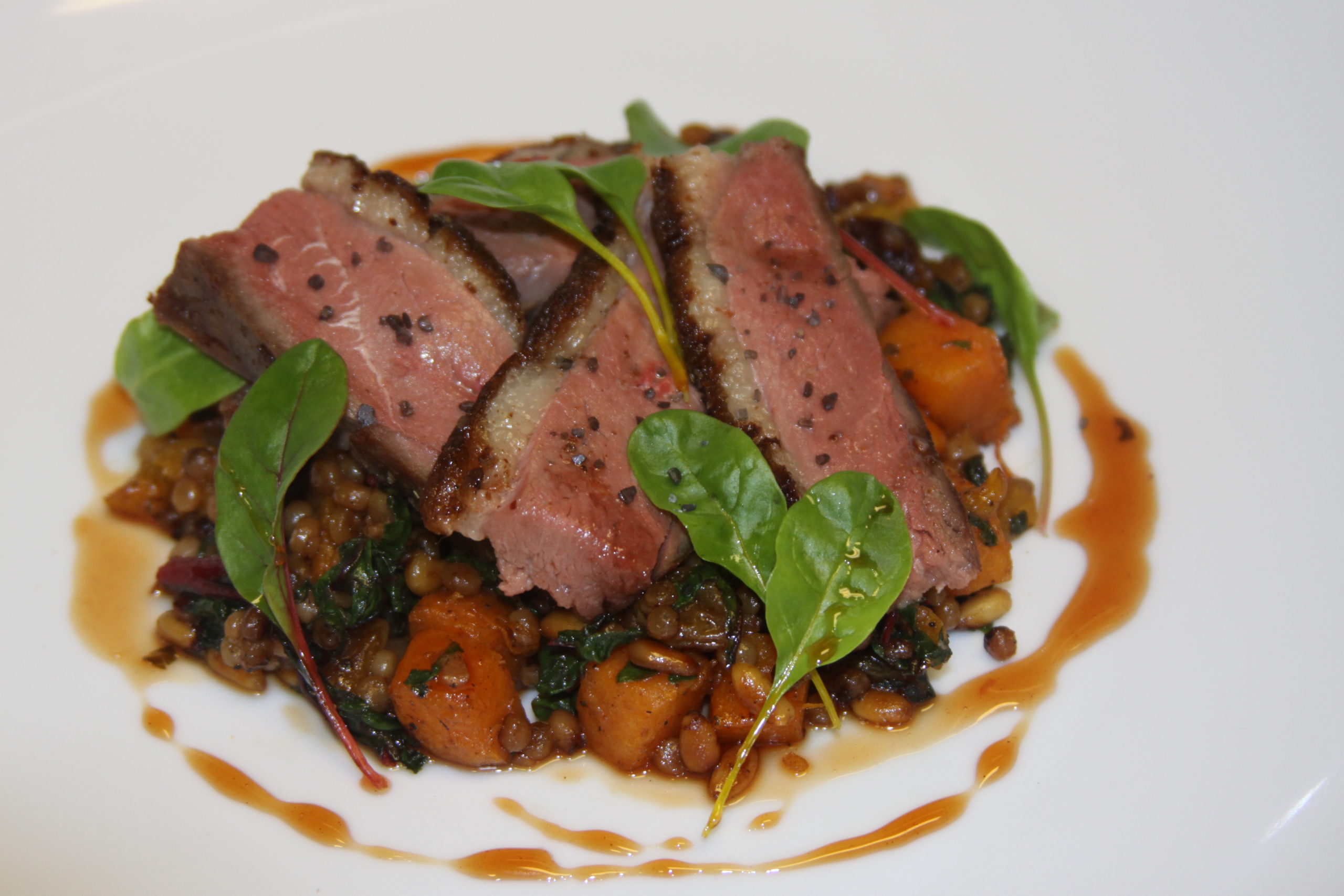 Seared Hudson Valley Duck Breast with Israeli Couscous
Serves 4 | By Michael Ginor
1 pair Hudson Valley moulard duck breasts (about one pound each, two pounds total)
1½ tablespoons olive oil
1 cup dry Israeli couscous
½ cup small-diced onions
½ cup small-diced carrots
2½ cups vegetable or chicken broth, divided
1 cup small-cubed butternut squash
1½ tablespoons butter
2 tablespoons golden raisins
2 tablespoons small-diced dried apricots
2 tablespoons pine nuts, toasted golden brown
1½ cups Swiss chard leaves
2 tablespoons ras el hanout (see note)
4 tablespoons silan (Middle Eastern date honey); substitute regular honey
½ cup champagne vinegar
1 tablespoon fresh-squeezed lemon juice
Baby Swiss chard leaves, for garnish
Salt, to taste
Heat 1½ tablespoons of olive oil in heavy, medium-sized saucepan over medium heat. Add couscous and onions, sprinkle with salt and sauté until couscous and onions are golden brown, about 4 minutes. Add diced carrots and sauté for one additional minute. Add 1½ cups of broth, increase heat and bring to boil. Reduce heat to medium-low and simmer until liquid is absorbed, about 10 minutes, adding more broth if couscous is too dry. Set the cooked couscous aside for later use.
Bring a small pot of slightly salted water to a boil. Add the cubed butternut squash to the boiling water and blanch for about 5 to 7 minutes until partially cooked. Remove the squash from the water and immediately stop the cooking by "shocking" the squash in a bowl of ice water. When cool, remove squash from water and set aside for later use.
Using a knife, cross-score the skin of the duck breasts to help render out fat. Season the breasts with salt on both sides. Heat a heavy pan on medium-low heat and sauté the duck, skin side down, until the skin is rendered and crispy, about 10 to 12 minutes. Raise the heat to medium, flip the breast over and sauté for an additional 5 minutes. The breast should be medium-rare. Remove the breasts from the pan and let rest for about 10 minutes.
Heat a heavy pan over medium heat. Place 1½ tablespoons of butter in the pan. Add the blanched butternut squash and sauté for about 2 minutes. Add raisins and apricots and sauté for an additional 1 minute. Add the cooked couscous and pine nuts and sauté for 1 minute. Add the Swiss chard and sauté for an additional minute. Sprinkle 2 tablespoons of ras el hanout (or to taste) into the pan to season all ingredients. Add 1 cup of broth and reduce until most of the liquid has been absorbed.
While squash and couscous mixture is reducing, bring a sauce pan to medium-high heat. Add vinegar to pan and reduce by half. Add the date honey and reduce to a syrupy consistency. Turn off heat and finish with a squeeze of fresh lemon juice.
To plate, place a mound of the couscous mix onto the center of the plate. Thinly slice duck breast and season with a sprinkle of salt and ras el hanout. Top couscous with several slices of duck. Garnish with baby Swiss chard leaves and sauce the plate with the date honey syrup.
Note: Ras el hanout is a North African spice mix. It can be purchased in Middle Eastern or North African grocery shops. Substitute baharat spice mix or make your own using the following: 1 teaspoon each of salt, ground cumin, ground ginger, ground turmeric; ¾ teaspoon each of cinnamon, black pepper; ½ teaspoon each of ground coriander seed, cayenne, allspice, nutmeg, cloves. Mix together.