Was this pre-ordained? Was it destiny that I—born and raised on India's Andaman and Nicobar Islands—would carry my island-bred sustainability approach around the world and influence the culinary scene on three distant, yet very similar, islands within the same approximate latitudes?
For me—raised in a place where fishing and farming were the main revenue generators and eating protein, vegetables, fruits and herbs grown mostly in our backyard or around the neighborhood—sustainability was a way of life, ingrained from childhood. "Mainland" food supplies were expensive, purchased only if imperative, but not generally considered "fresh and life giving," according to the Ayurvedic way of living.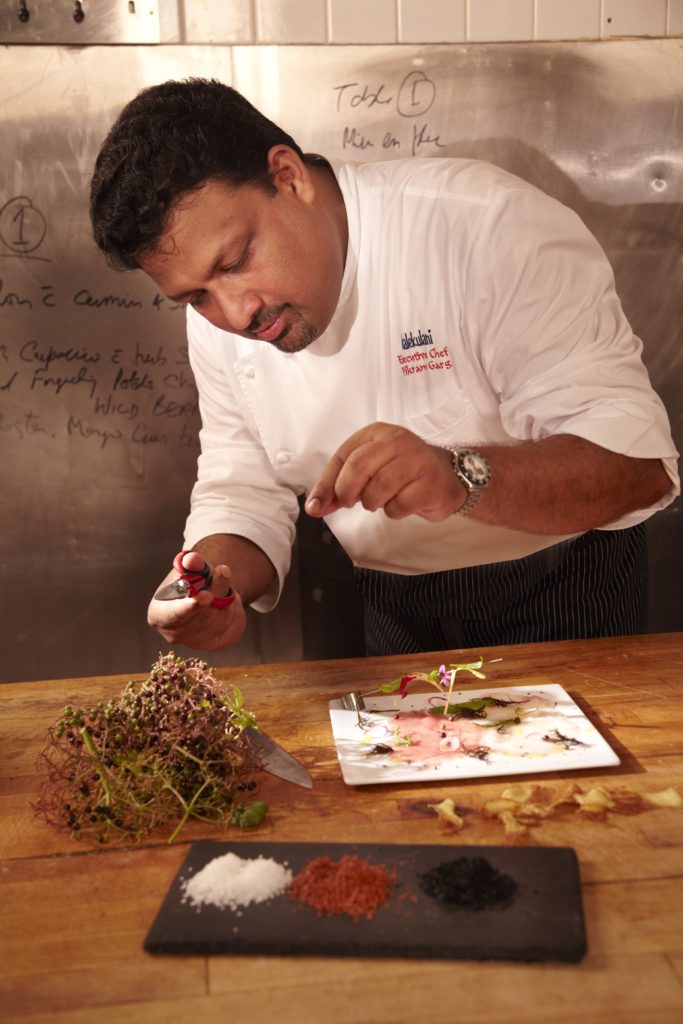 "In the Andaman and Nicobar Islands, 'mainland' food was not generally considered 'fresh and life giving,' according to the Ayurvedic way of living."
Former Halekulani executive chef Vikram Garg: Playing a humble part in the resurgence of an ancient Hawaiian practice. Photos: courtesy of Vikram Garg/"Taste Our Love for the Land," 2015
Sharing with the neighbors and caring for the fragile ecosystem and original inhabitants of our precious islands was key. Little did I know that the imprinted knowledge of everyday interaction, social etiquette and sustainable menu planning that I experienced daily would eventually pull me into the world of cuisine and greatly influence my culinary creations.
As I honed my cooking skills alongside some of the great masters of international cuisine, experiencing both ancient and new styles of cooking, I found time and time again how the best and tastiest food was the simplest, freshest and prepared closest to the source! The Ayurvedic dictum is true that nature has a reason for offering the variety of food that grows naturally in the environment around you. It is best to eat what's in season and sourced locally, as it will help you thrive in that particular climate or environmental conditions.
Having started a food and wine event in the British Virgin Islands—where locals and businesses suffered the repercussions of sourcing almost all their food from the U.S. mainland in an economy that was essentially tourism-based—I saw firsthand the economic turnaround that happened when all the hotels and timeshares encouraged and supported local farms and fisheries. Today, in Hawaii, I'm delighted to play a humble part in the resurgence of the ancient Hawaiian practice of sustainable food sourcing—as encouraged, propagated and supported by the Hawaii Food and Wine Festival.
 This paradise on Earth reminds me of the beautiful and pristine islands of my childhood, and I realize my humble responsibility toward such fragile places around the world. Flora and fauna from almost all geographical zones grow and thrive in these amazing little islands. It is our responsibility to the land that feeds us and to our children—as well to the ancestors who nurtured these islands before us—to limit our ecological footprint and leave the world a little better than what was given to us. We must be mindful of our imprint on the environment, both today and in our children's future.
I consider it my responsibility as a chef to put Hawaii on the global culinary scene—to honor our island food sources that are so versatile and abundant, and our food culture that is so very diverse and creative.
Ahi Crudo with Sake–Lime Dressing
Serves 4 | By Vikram Garg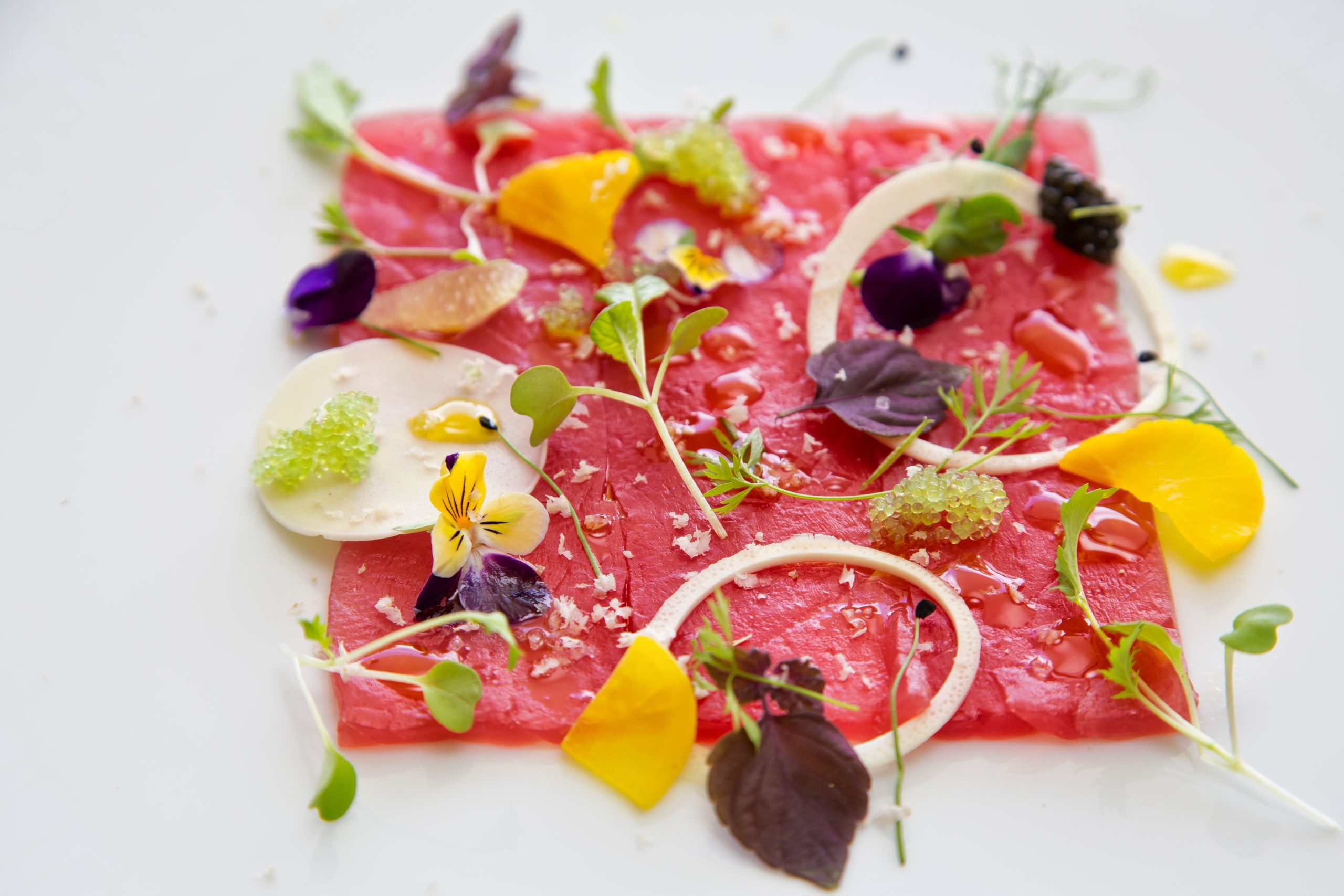 Scallops with Oxtail
Serves 4  |  By Vikram Garg
12 ounces bigeye tuna, thinly sliced into 3-inch by 1-inch by 1/8-inch strips
1 ounce pickled daikon (white radish)
1 ounce heart of palm
½ ounce horseradish
¼ ounce micro greens and edible flowers
2 ounces Sake–Lime Dressing
¼ ounce wasabi tobiko (seasoned fish roe)
Black lava salt, for seasoning
Grape seed oil
Brush grape seed oil on a plate and place 3 slices of fish side by side. Drizzle Sake–Lime Dressing over fish. Arrange daikon and heart of palm on top of fish. Grate horseradish over the top. Arrange micro greens and edible flowers on and around ahi. Sprinkle with wasabi tobiko. Garnish with salt. Serve chilled.
Sake–Lime Dressing
Makes 8 ounces
1/16 ounce Hawaiian chili pepper, seeded
2 ounces lime juice
2 ounces sake, junmai grade
2 ounces honey
3 ounces grape seed oil
Kona sea salt, for seasoning
Blend all ingredients together. Adjust salt to taste.