In 1990, Hudson Valley Foie Gras opened in Ferndale, New York, by chef Michael Ginor and his partner Izzy Yanay. Now the largest American producer of foie gras, this was also the first vertically integrated foie gras operation in the world, where all the facets of the operation were done at one location. The company prides themselves "on being the world's premier foie gras producer, going on to create a global reputation that chef's know to ask for by name." Among its numerous accolades, Hudson Valley Foie Gras boasts the 1993 Gold Merit Award from Chefs in America, the 1996 Award for Excellence from The James Beard Foundation, and the 1998 Award of Excellence from the American Tasting Institute, to name a few.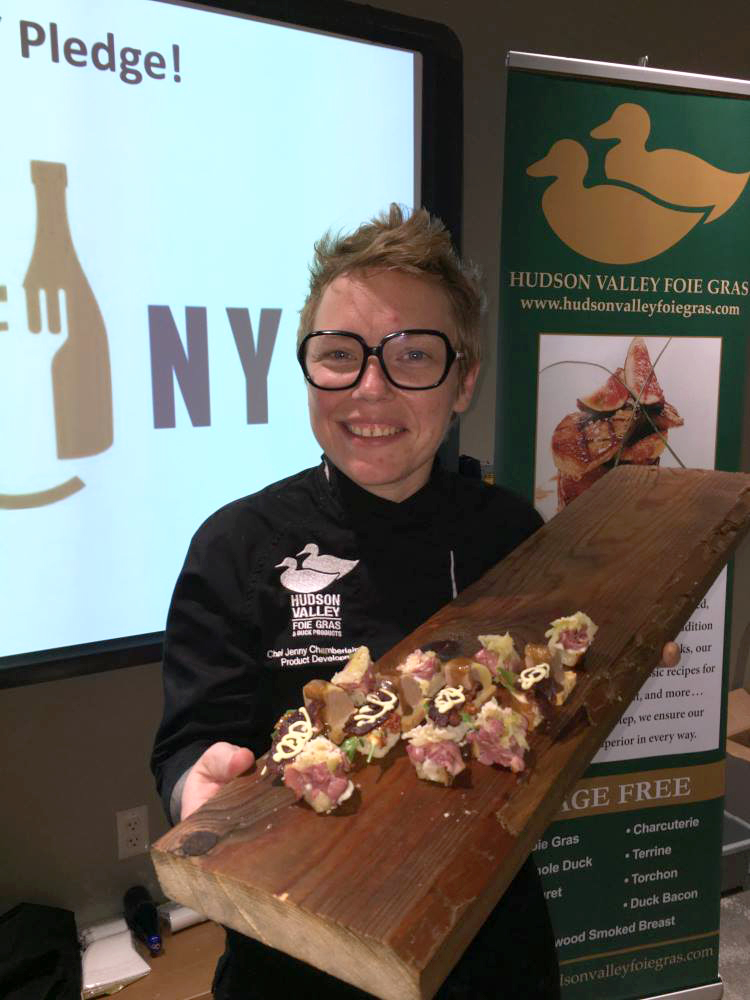 "It is very versatile and can find a place on any chef's menu."

-Michael Ginor, co-founder, co-owner, and President of Hudson Valley Foie Gras
Jenny Chamberlain, Hudson Valley Chef of Product Development. Photos: courtesy of Hudson Valley Foie Gras
"We are very passionate about foie gras and its production and consumption. We were also the ones to introduce foie gras to the United States," said Ginor. "We have spent nearly thirty years producing, teaching and preaching its merits. Through those years we were fortunate to work with many of the countries most esteemed chefs and journalist and have lifelong friendships with the country's leading food & beverage personalities."
"Foie gras has the most illustrious history as compared to any other luxury food product. It is a product that is artisanally and humanly produced with outmost care for the animals."
From one chef to another, chef Ginor states: "It is very versatile and can find a place on any chef's menu."
Hudson Valley Foie Gras Stuffing
Serves 2 | By Jenny Chamberlain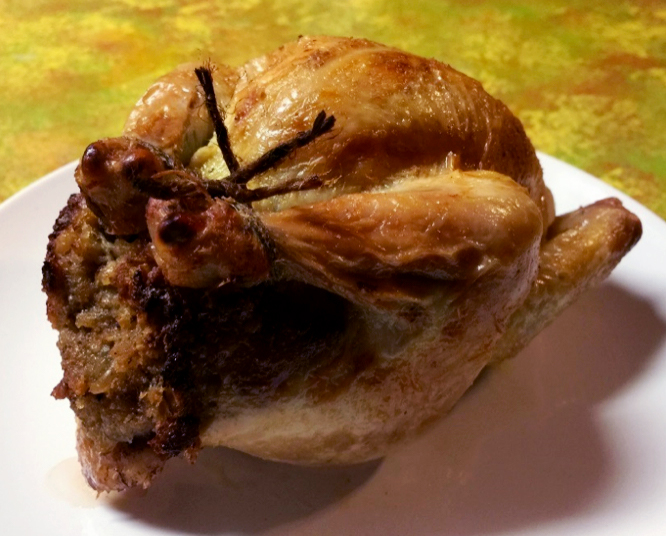 Hudson Valley Foie Gras Stuffing
Serves 2 | By Jenny Chamberlain
10 ounces Hudson Valley Foie Gras, deveined, cut in ¾ inch cubes
½ cup Sauternes Wine, for marinating
4 cups toasted croissant, 1 inch cubes
½ cup leeks, sliced
8 garlic cloves, sliced
1 stick butter, salted
2 eggs
2 Cornish game hens
Take out the primary veins of the liver using your finger or a paring knife. Cut into ¾ inch cubes and marinade with the Sauternes wine.

Cut croissant into 1 inch cubes and toast in a 375 degree oven until golden and dry, about 5-10 minutes.
Saute leeks and garlic in butter until soft. Season with Salt and pepper.

Remove liver from the Sauternes marinade. Add foie gras cubes, butter, leeks, garlic and egg into a mixing bowl equipped with the paddle attachment. Whip on med/high speed until creamed together. Add toasted croissant to bowl and mix to incorporate.

Season Game hens with salt and pepper inside and out. Rub butter or duck fat on the outside of the skin. Stuff birds then truss for even cooking.

Roast in 425 degree oven for 20 minutes to oven sear skin. Lower heat to 375 and continue roasting for 30-40 minutes or until an internal temperature of 158 degrees. Allow to rest for a minimum of 10 minutes in order for juices to redistribute.