When I was a little kid, it was my hobby—as well as a part-time job—to catch fish in the river near my house. From that time on, I knew how precious and invaluable such natural food ingredients can be.
I was born and raised in Kagoshima prefecture in southern Japan, where the river was pure and it was easy to catch fish at the time. Whenever I caught enough fish for my family, I become the house cook and prepared dinner for them. It was a great challenge and honor for me to cook the fish and offer it to my family, especially to my mom, who devoted all of her time to earning money to raise her three children. I felt great happiness when they would enjoy my dishes and say, "It's yummy!" It was also a great opportunity for me to have such a proud feeling in making this contribution to the family.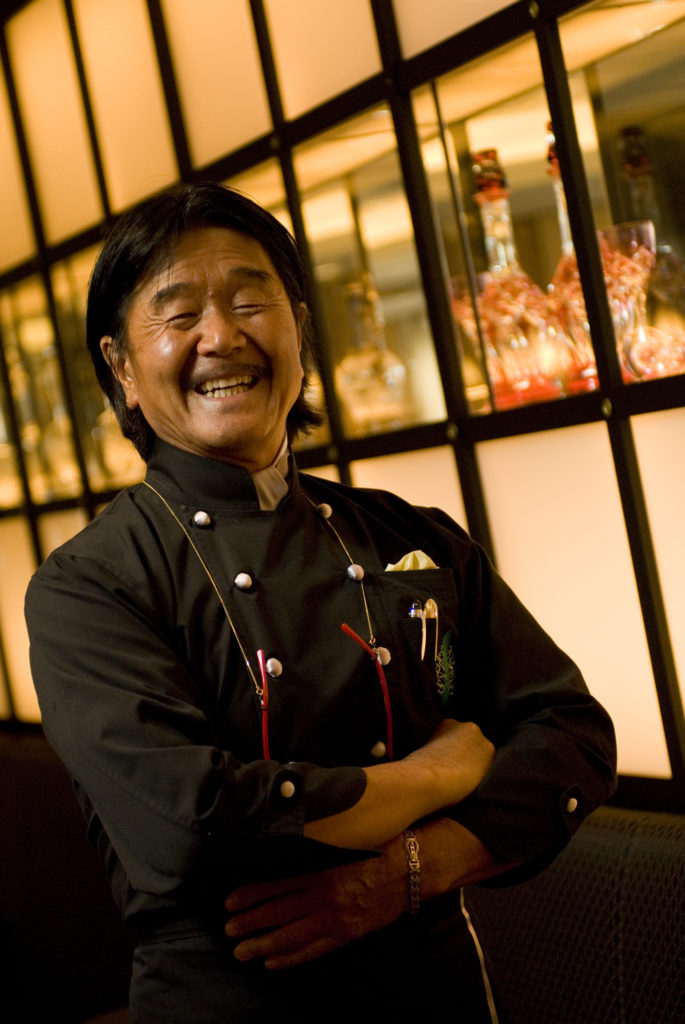 "Not enough consumers pay attention to the hard work of their local farmers and fishermen."
Chef Hiroyuki Sakai: From a kid with a fishing pole to Iron Chef. Photos: courtesy of Hiroyuki Sakai/"Taste Our Love for the Land," 2015
Because of this early experience, I made up my mind to become a chef—someone who could bring happy moments to people with tasty dishes made with fresh ingredients. I believe we should always focus on such natural ingredients in our food, especially seasonal ingredients from our local farmers and fishermen.
With the advancements in kitchen equipment and logistics these days, it is very easy to experience almost any local food ingredients. But the side effect to this is that not enough consumers pay attention to the hard work of their local farmers and fishermen, and their ability to offer us more great ingredients than ever before.
Fortunately for me, I have had the opportunity to work in many countries with many different chefs, and I wish everyone could share the same experiences with natural ingredients that I have had. I love to visit local growers and fishermen, to interact with them and get to know them better. One result of this is that I try my best to use and promote the ingredients that they provide. I believe that this is the best way to help preserve local farming and fishing areas for the future.
Eventually, this will bring more opportunities for many others to catch precious fish in the rivers of Kagoshima prefecture and all over the world, just as I caught them in my childhood.
Zucchini-Wrapped Kahuku Prawns with Clam Sauce
Serves 4 | By Hiroyuki Sakai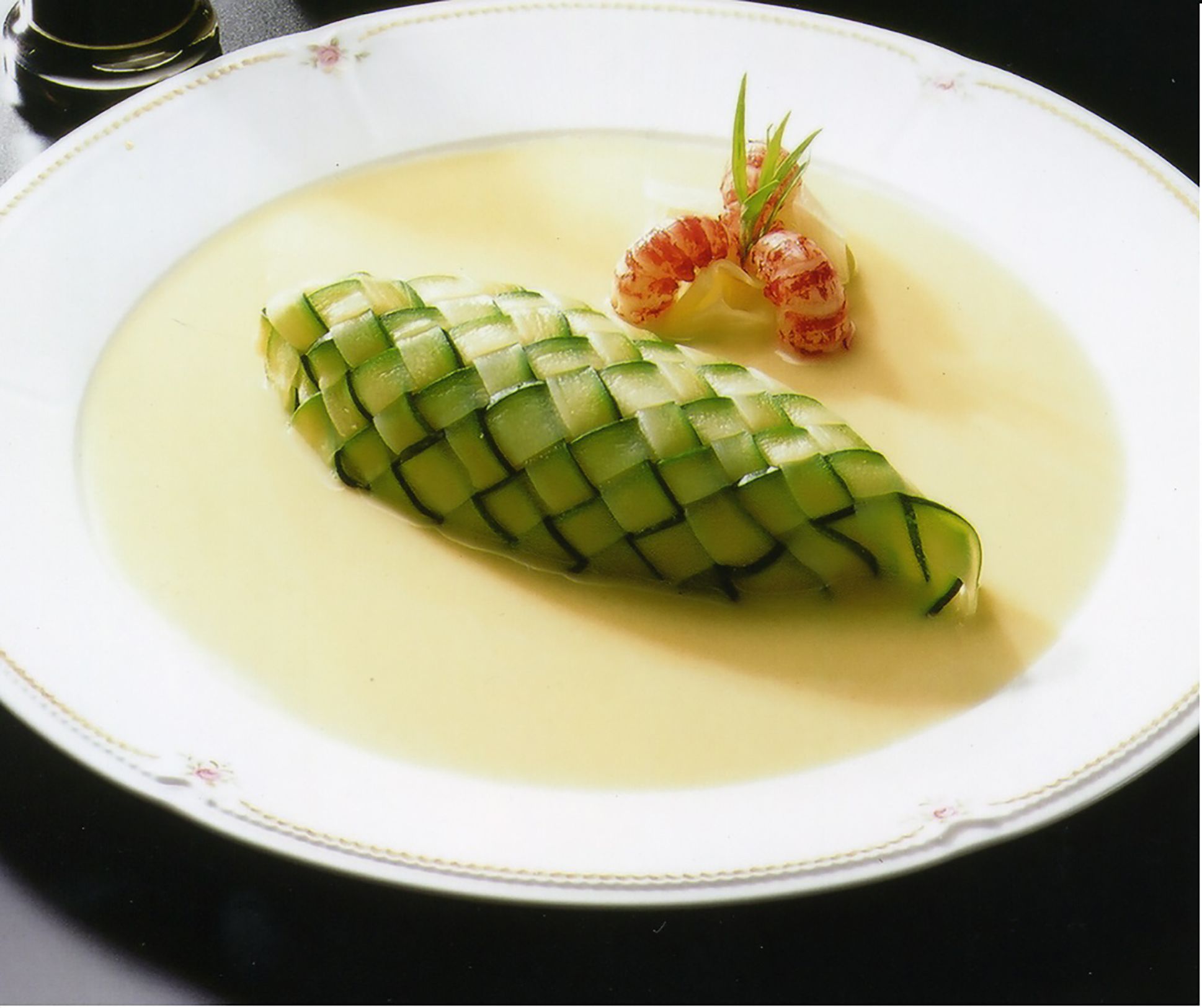 Zucchini-Wrapped Kahuku Prawns with Clam Sauce
Serves 4  |  By Hiroyuki Sakai 
4 Kahuku prawns
1/8 ounce salt
1/8 ounce pepper
1/8 ounce minced garlic
2 zucchini
¾ ounce olive oil
4 pieces chervil
10 5/8 ounces clams
2 cups water
½ ounce shallots, sliced
½ ounce garlic, sliced
2 ounces fresh cream
1/8 ounce lemon juice
1 teaspoon butter
½ ounce kuzuko (kudzu starch)
Wash and peel prawns. Boil in salted water for 15 seconds. Marinate prawns in salt, pepper, minced garlic and olive oil for 30 minutes. Slice zucchini into 24 ribbons (6 per serving), each approximately 6 inches long by ½ inch wide by 1/16 inch thick. Weave ribbons to form a mesh to wrap around each prawn. Steam wrapped prawns for 7 minutes at 160 degrees F.
Boil clams, water, shallots and garlic in a pot for 15 minutes to extract the essence. Combine clam essence liquid with cream in 2 to 1 ratio for desired amount of sauce. Adjust flavor with lemon juice. Strain the liquid, heat it and add butter to make the clam sauce. Adjust the consistency using kuzuko.
Plate wrapped prawns and sauce with chervil on the side.