I love food. I love to cook it and I love to eat it. I especially love to experience the new and innovative food being created by talented local chefs here in Hawaii.
My culinary journey in the Islands began back in the early 1980s, when things were very different than they are today. When I started Celebrations Catering it was shocking how little local produce was available. At that time everything was brought in from the Mainland and it couldn't have been more lacking in quality. I guess the Mainland produce companies figured we weren't going to send it back for a refund!
My husband, Joe, and I were living in upcountry Maui with a big yard, so we decided to start our own garden. We inherited beautiful old wooden lathe houses, and a local gardener taught me how to grow vegetables in plastic bags (as a form of weed control) and to fertilize with fish emulsion. Before long we had the most amazing produce. We grew everything including corn, tomatoes, squash, radishes, lettuces, spinach, carrots, herbs and every kind of citrus. You just couldn't "grow" wrong! So why was fresh local produce so hard to find?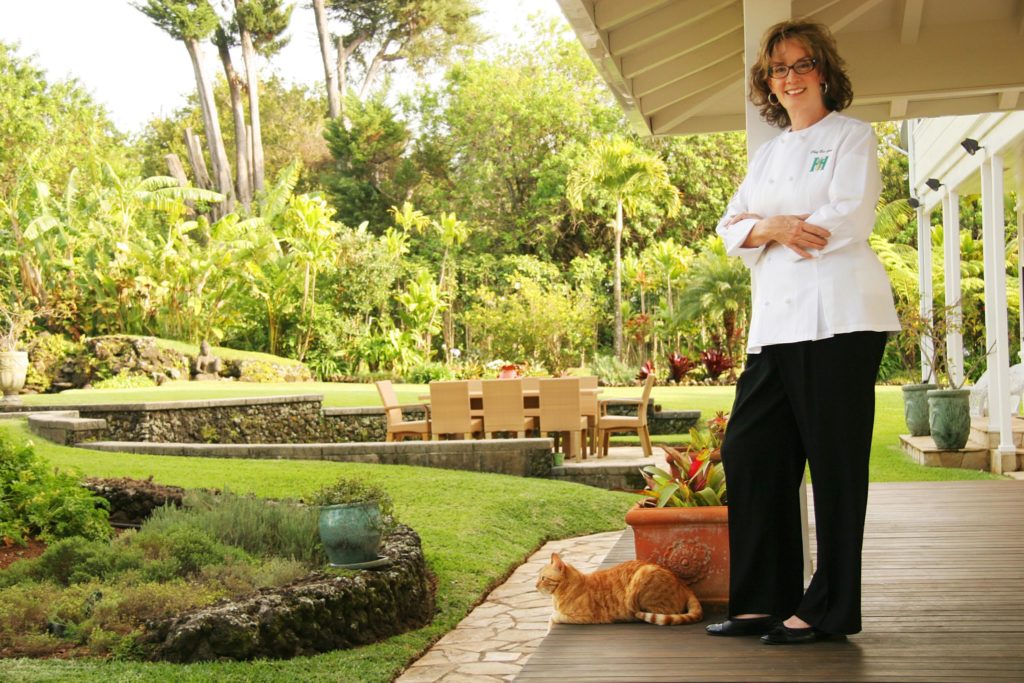 "Why was fresh local produce so hard to find?"
Maui chef Beverly Gannon helped start a culinary revolution in the Islands. Photos: courtesy of Beverly Gannon/"Taste Our Love for the Land," 2015
When I opened my restaurant Haliimaile General Store in 1988, I struggled to find vendors who could supply the ingredients we needed. The few local farmers on Maui were exporting most of what they grew to the Mainland. In the restaurant, I was using fresh herbs from a flower grower I convinced to grow for me and fresh fish caught by friends.
Then in 1991 many of the local chefs were starting to talk about the plight of the food situation in Hawaii. We banded together to convince local farmers to grow the things we needed. We met with the State Department of Agriculture, Hawaii Fisheries and farmers from all islands. This was the start of the Hawaii Regional Cuisine movement.
Today Island farmers grow and raise the most amazing fruits, vegetables, herbs, beef, eggs and cheese. I'm continually finding new and different items from passionate growers. These resources were the foundation of the culinary revolution that was able to take place in Hawaii. All residents now have access to and appreciation for great tasting, quality food.
Hawaii has blessed me in so many ways and so I'm dedicated to ensuring that quality food is sustainable and affordable for future generations. The only way to do this is for Hawaii to become self sufficient with its food supply. Currently, up to eighty-five percent of our food is imported. We need to reverse that. We need to reverse our dependence for food from outside Hawaii, and we need to reverse the ratio from eighty-five percent imported to eighty-five percent Hawaii-grown. This can be achieved by helping people understand that we need to be supportive of local farmers. Support through legislation, farmer incentives and educating our children about the source of food and the value of farming. Basically we need to take care of our farmers so they can take care of our need for locally grown product. In the end, we all win.
I am delighted and proud to be a part of the Hawaii Food & Wine Festival and support its initiatives for a sustainable Hawaii.
Macadamia Nut-Crusted Mahimahi with Mango Beurre Blanc, Pineapple Salsa and Purple Sweet Potatoes
Serves 6  | By Beverly Gannon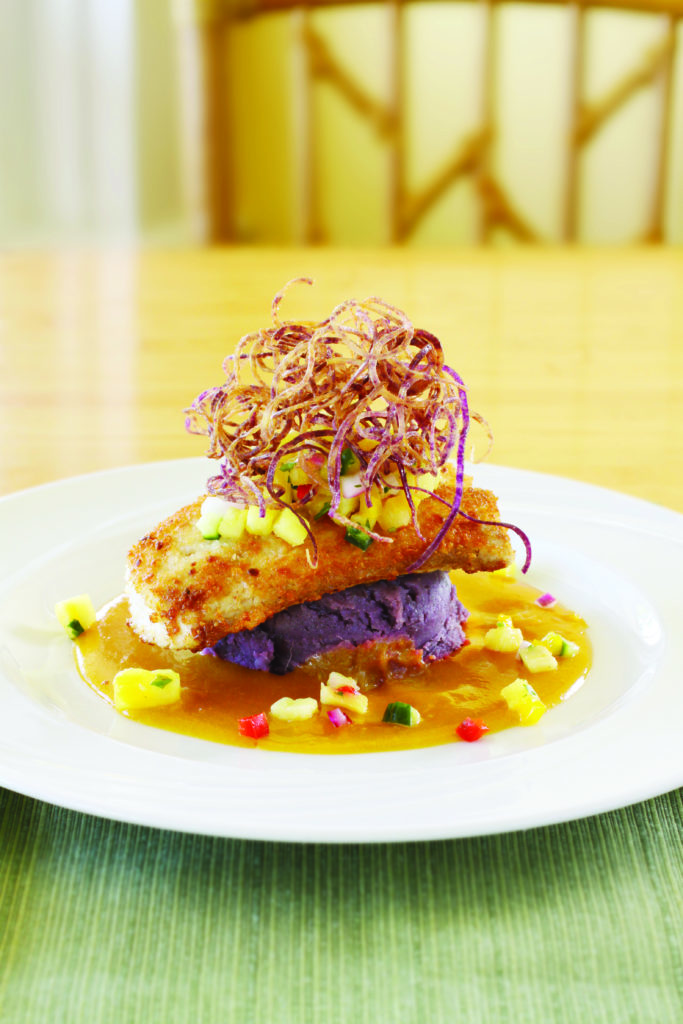 Macadamia Nut-Crusted Mahimahi with Mango Beurre Blanc, Pineapple Salsa and Purple Sweet Potatoes
Serves 6  |  By Beverly Gannon
½ cup macadamia nuts, whole or pieces, lightly toasted
½ cup panko (Japanese bread crumbs)
¼ cup basil
½ cup good-quality mayonnaise
1 tablespoon sriracha (Thai chile sauce)
6 mahimahi fillets (six-ounces each)
Salt
Freshly ground black pepper
Canola oil, for sautéing
Preheat the oven to 400˚.
Process nuts, panko and basil in a food processor until finely ground. Spread mixture on a plate. In a bowl, combine the mayonnaise and sriracha and mix well. Lightly season the fish with salt and pepper. Spread a light, even coat of chile mayonnaise on one side of each fish fillet. Coat the same side evenly with the coating.
In an ovenproof sauté pan or skillet, pour in just enough oil to coat the bottom and heat over medium heat. (Be careful not to heat the pan too hot or the macadamia nuts will burn.) Add the fish, crust side down, and sauté for 3 minutes, until golden brown. Turn the fish and place in the oven for 5 minutes, until cooked through and firm to the touch.
Serve topped with Mango Beurre Blanc and Pineapple Salsa with Purple Sweet Potatoes on the side. (Recipes follow.)
Mango Beurre Blanc
1 cup butter, cut into ½ inch cubes, plus 2 teaspoons butter
1 tablespoon shallots
½ cup white wine
1 cup heavy cream
¼ cup mango purée
½ cup cream
Melt 2 teaspoons of butter in a sauce pan over medium heat. Add shallots, cook for two minutes. Add white wine, bring to a boil, then decrease heat and continue to cook until liquid is reduced to 1 tablespoon. Add cream and cook until reduced by half. Add mango purée. Strain the mango cream into another sauce pan, using a fine mesh strainer. Place saucepan over low heat. Add the remaining butter a few pieces at the time until the sauce becomes silky and slightly thick, whisking constantly. Season with salt and white pepper. Remove from heat and keep warm.
Pineapple Salsa
1 cup ¼-inch diced fresh pineapple
1/8 cup finely diced red onion
1/8 cup finely diced red bell pepper
1 tablespoon fresh squeezed lime juice
1 tablespoon chopped fresh mint
Combine all ingredients in a bowl and mix thoroughly.
Purple Sweet Potatoes
2 pound purple sweet potatoes, peeled and cut into 2-inch cubes
¼ cup milk, at room temperature
2 tablespoons butter, at room temperature
Salt and white pepper
Place the potatoes in a pot of salted water and bring to a boil over high heat. Decrease the heat to low and cook the potatoes until tender, about 20 minutes. Drain the potatoes in a colander. Place the milk and the butter in a bowl. Using a potato ricer, rice the potatoes into the bowl. With a rubber spatula, mix the potatoes thoroughly with the butter and milk. Season with salt and white pepper. Set aside and keep warm.