I love seafood. The flavors. The variety. The endless recipe possibilities.
Today, however, there's more responsibility on cooks and restaurants everywhere to be aware of and source more sustainable seafood. Overfishing and destructive fishing methods have threatened our ocean's vitality.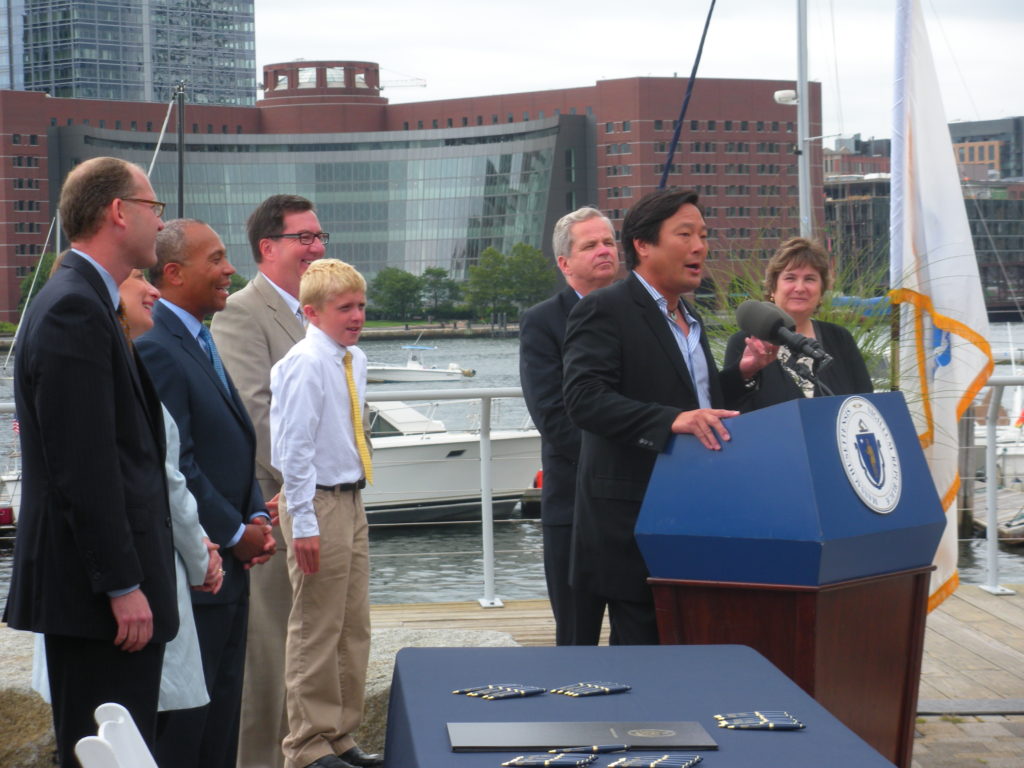 "I have been and will continue to be a huge ally in all efforts to 
drive awareness of the need to keep our seas healthy."
Chef Ming Tsai speaks at the signing of the Massachusetts bill banning the sale or possession of shark fins. Photos: courtesy of Ming Tsai/"Taste Our Love for the Land," 2015
To me, this is about finding the right balance. We all want to serve the freshest, most fantastic flavors, but we also need to recognize the potential impact our choices have on the livelihood of certain at-risk species. These efforts really can help protect our ocean's diversity.
One example for me was at my flagship restaurant, Blue Ginger. We opened in 1998 with a signature entree of Sake-Miso Marinated Chilean Sea Bass. The recipe was also featured in my first cookbook. Within the first year, I learned that the number of this species was being dramatically reduced by overfishing. We immediately revised the dish to feature sablefish, an equally viable and delicious substitution. We sourced the sablefish from EcoFish, a pioneering seafood distributor that works exclusively with environmentally sustainable fisheries. What's amazing is that this "revised" dish has continued to be one of the best sellers throughout our many years in business.
As a board member of the New England Aquarium Overseers, I also participated in efforts to help pass bill H. 3571 with Governor Deval Patrick, which eliminated Massachusetts' role in the global shark fin market by banning the sale, trade and possession of shark fins in the Commonwealth. Research has demonstrated that the loss of these predators has cascading impacts on the entire ocean ecosystem. We're hoping our efforts will encourage more widespread support across the U.S. and throughout the world.
I am always thrilled to return to Hawaii and especially to the Hawaii Food and Wine Festival. I am honored to be part of the program. I especially love the overall sustainability theme. I have been and will continue to he a huge ally in all efforts to drive awareness of the need to keep our seas healthy.
Sake-Miso Marinated Alaska Butterfish
Serves 4  | By Ming Tsai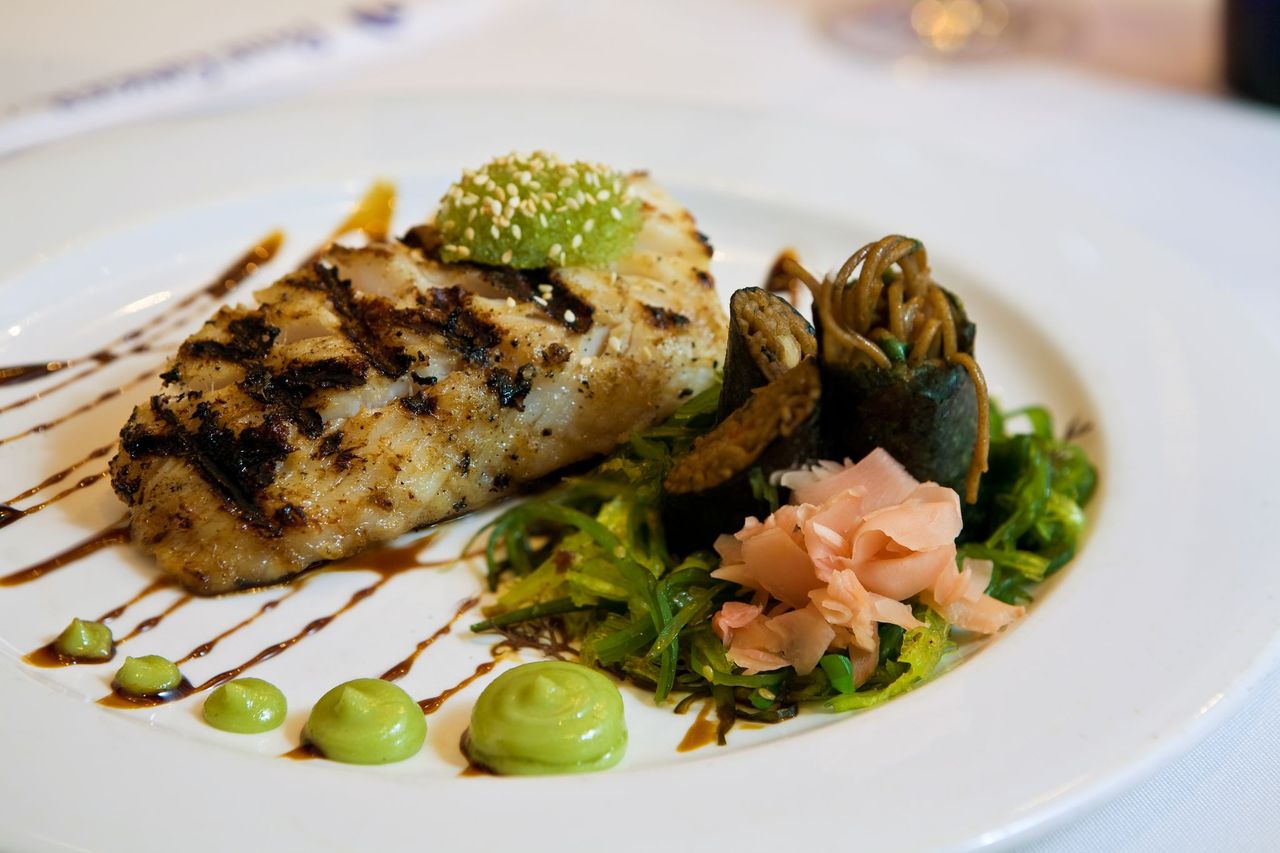 Sake-Miso Marinated Alaska Butterfish
Serves 4  |  By Ming Tsai
1 cup shiro miso (light miso)
½ cup mirin (sweet Japanese rice wine)
½ cup sake
1 tablespoon finely chopped fresh ginger
½ cup grapeseed oil
¼ cup sugar
4 5-by-3-inch pieces Alaskan butterfish (sablefish), cut from fillet, about 7 ounces each
Freshly ground black pepper
Soba Noodle Sushi (recipe follows)
10 ounces wakame (seaweed) salad, optional (see note)
Soy Syrup, for drizzling (recipe follows)
¼ cup toasted sesame seeds
In a medium nonreactive bowl, combine the miso, mirin, sake, ginger, grapeseed oil and sugar. Stir to blend. Add the butterfish, turn to coat and marinate, covered and refrigerated, overnight, or at least 8 to 12 hours.
Prepare an outdoor grill or preheat the broiler. Wipe the marinade from the fish and season it with pepper to taste. Grill or broil the fish, turning it once, until just cooked through, about 10 to 12 minutes.
Meanwhile, cut each Soba Noodle Sushi roll into 5 pieces: 3 straight across and 2 diagonally. Divide pieces among 4 plates. Add a small mound of wakame salad, if using, and top with a piece of fish. Drizzle over the soy syrup and wasabi oil, garnish with the sesame seeds and remaining pickled ginger, and serve.
Notes: This dish pairs well with a toasted oak, vanillin chardonnay, like Miramar Torres or any Le Montrachet. Wakame salad can be found prepared in Japanese and Asian markets, and many Hawai'i grocery stores.
Soba Noodle Sushi
½ pound dried soba noodles
¼ cup chopped fresh cilantro
¼ cup chopped scallions, green parts only
2 tablespoons soy sauce
1 tablespoon finely chopped ginger
2 tablespoons rice wine vinegar
2 tablespoons Wasabi Oil, plus additional for drizzling (recipe follows)
4 tablespoons chopped gari (pickled ginger)
Salt and freshly ground black pepper
4 sheets toasted nori (dried seaweed sheets)
1 cucumber, peeled, seeded and julienned
1 red bell pepper, cored, seeded and julienned
1 yellow bell pepper, cored, seeded and julienned
Special equipment: Bamboo sushi rolling mat
Bring a large quantity of salted water to a boil. Fill a medium bowl with water and add ice. Add the noodles to the boiling water and cook until slightly softer than al dente, about 8 minutes. Drain and transfer the noodles to the ice water. When cold, drain well. In a large bowl, combine the noodles, cilantro, scallions, soy sauce, chopped ginger, vinegar, Wasabi Oil and 2 tablespoons of the pickled ginger and toss to blend. Season with salt and pepper to taste.
Have a small bowl of water handy. Place a sheet of nori shiny side down on the sushi rolling mat with a long edge towards you. Spread an even ¼-inch layer of the noodle mixture on the bottom half of the nori. Top the upper third of the mixture with 3 to 4 strips of cucumber and 2 pieces of each color pepper. To roll, lift the mat, compressing it against the filling as you roll the bottom edge in on itself. Continue rolling toward the top edge until only ¼ inch of the nori remains unrolled. Moisten a finger and wet the edge of the nori. Press the mat to seal the roll. Allow the roll to rest, seam side down, for 2 minutes. Repeat with the remaining nori and filling ingredients. Cover the rolls lightly with plastic wrap and set aside.
Wasabi Oil
Makes about 1 cup
½ cup wasabi powder
2 tablespoons mirin (sweet Japanese rice wine)
2 teaspoons sugar
½ cup grapeseed oil
In a small stainless-steel bowl, combine the wasabi powder, mirin and sugar and whisk to blend. Add a little less than ½ cup of water gradually, whisking, until the consistency of pancake batter. Whisk in the oil. Let stand for 10 minutes before using.
Soy Syrup
Makes 2 cups
2 cups naturally brewed soy sauce
½ cup brown sugar
Juice of 1 lime
In a medium saucepan, combine the soy sauce, brown sugar and lime juice. Bring to a boil slowly over medium heat, turn down the heat and reduce the mixture by three-fourths or until syrupy, about 30 minutes. Strain, cool and use.