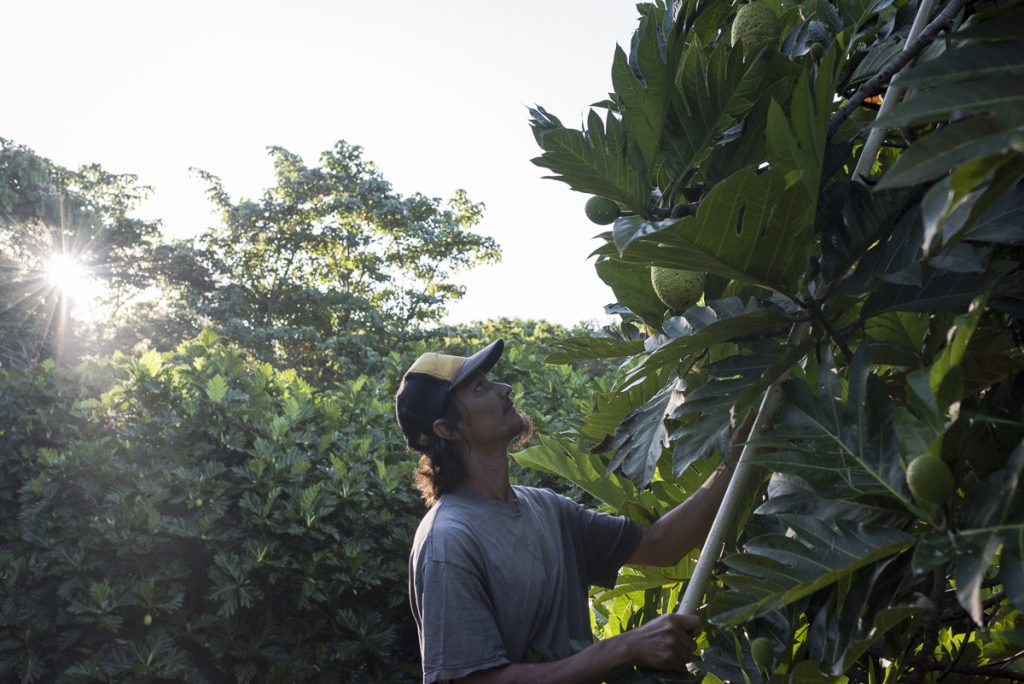 Ulu harvester Imaika Yeaman harvesting maafala at the Hawaiian Ulu Company farm in Keauhou Mauka. Photos: courtesy of Hawaii Ulu Cooperative
Like the resilient, climate-positive ulu tree, the Hawaii Ulu Cooperative continued to grow in 2020, launching a new online store, developing products for sale through groceries, and partnering with chefs and schools to promote the versatility and health benefits of the fruit. As the pandemic heightened awareness about the risks involved in relying on imported foods, the Hawaii Ulu Cooperative has emerged as a vital part of the effort to strengthen Hawaii's local food security and resiliency.
General Manager Dana Shapiro spoke with HASHI about the ideas and inspiration behind the Cooperative, the latest developments with their new initiatives, and what's next for the organization as Hawaii begins to emerge from the pandemic.
Hashi: When did you first begin thinking about the potential for ulu and the need for a cooperative for it?
DS: I started thinking about the potential for ulu probably back in 2014 or 2015 when my husband and I started looking into getting a farm of our own. The idea for a co-op came in early 2016 when we had our own farm and recognized the advantage of working in partnership with other growers to obtain economies of scale and make our business more viable.
Hashi: What is it about this crop that sparked interest for the farmers and consumers?
DS: Ulu is an abundant, prolific producer that is of historical and cultural significance but remains really underutilized. There is huge potential both on the commercial production side and also on the consumption side of reincorporating this crop into our local everyday diet.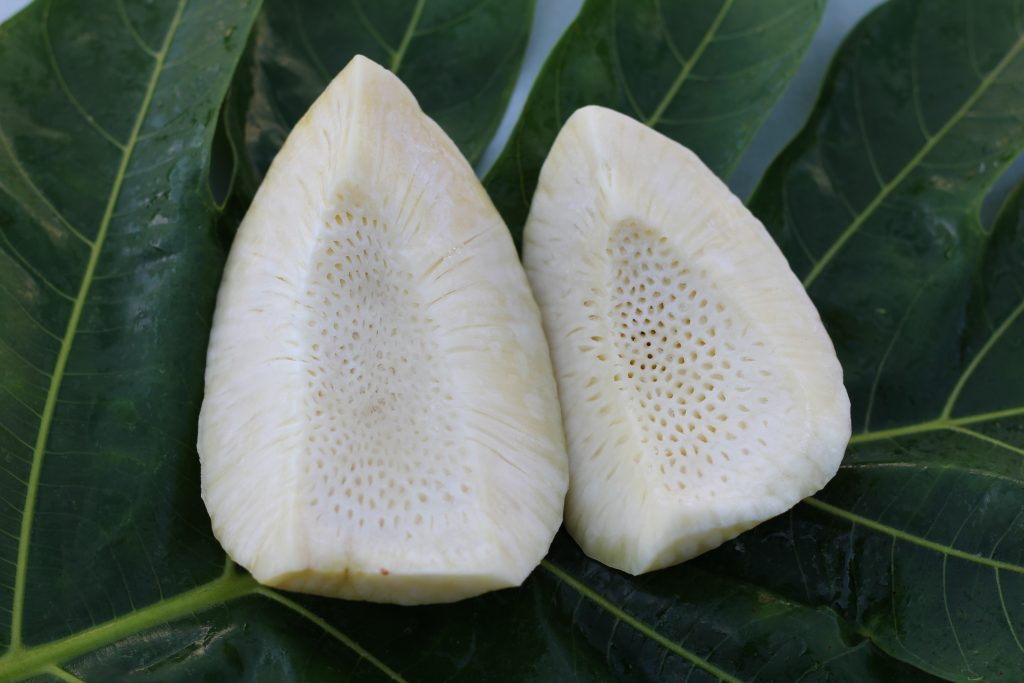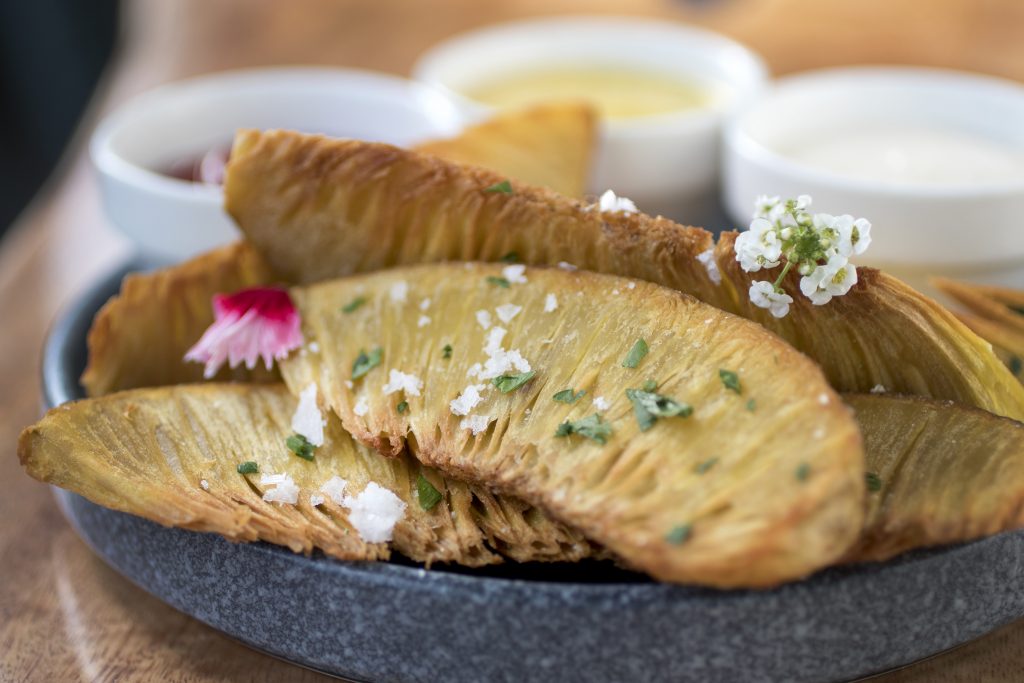 (Left) Hawaii Ulu Cooperativeʻs recipe-ready, cooked and frozen mature ulu quarters. (Right) Magicʻs famous ulu wedges by Chef Dan Robayo.
Hashi: What was the biggest challenge that you faced in launching the Cooperative?
DS: Initially, it was communicating the concept of the cooperative and demonstrating the viability of the business plan to the farmers. It took a series of community meetings and a good amount of pre-planning to get the farmers on board — about five months in total.
Then once we were established it became the infrastructure. We had to adapt the right sort of commercial scale infrastructure to aggregate, minimally process and distribute the products. Year to year, there is a supply and demand challenge of typically growing the market enough to absorb our farmers' increasing volumes, but then every year we have been successful enough that we have accomplished that and have run out of fruit. So there is a constant push and pull on needing more demand and then needing more fruit.
Hashi: What role has Kamehameha Schools had in the development of the Cooperative?
DS: We personally accessed our farm through the Kamehameha Schools Mahiai Match-Up program, which was a farm business plan contest that Kamehameha Schools has hosted for the last four or five years. We were the 2015 winners. If not for that program I'm not sure if we would be in ulu farming, and if we had not been in ulu farming, I know that I would not have initiated the Co-op. And so Kamehameha Schools has had an indirect but a really fundamental role.
Then in summer of 2019, we established a right of entry permit with Kamehameha Schools on the Alae Postharvest Facility. This is now our Eastside hub and where we aggregate all of our Eastside farmers' fruit. Collectively we have more volume coming out of the Eastside and through that facility than we do anywhere else. A lot of kalo, squash, those are the main crops. And we are now in negotiations over a longer-term lease for that facility.
Hashi: What are some of the opportunities that you see for the Cooperative as Hawaii begins to emerge from the pandemic? 
DS: We see opportunities in increasing partnerships with different market segments locally, including manufacturers, grocery stores and food service. Pre-pandemic food service accounted for the lion's share of our market and the pandemic exposed the fragility of relying on any single type of customer, so now and moving forward we are intentionally trying to diversify our market base.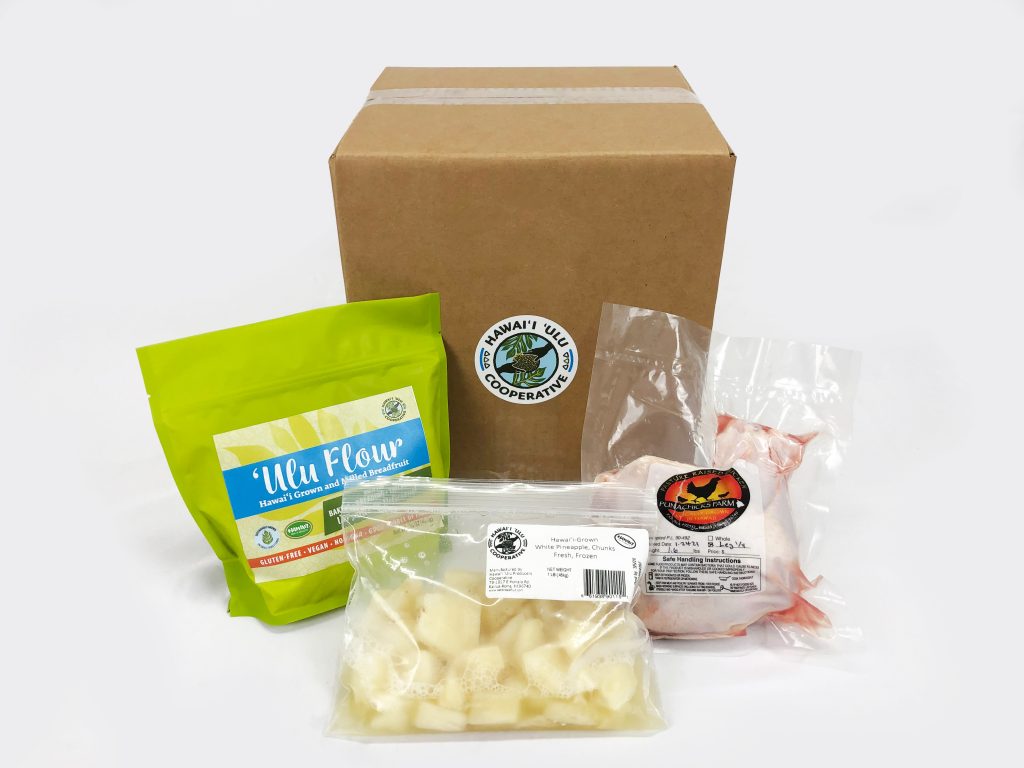 The Ulu Flour Food Box included all ingredients, 4 recipes and exclusive access to a Cooking Demo and Live Q&A with Chef Chris "Kamalu" Fujimoto and the farmers behind the box, while supporting Hawaii Ulu Cooperative.
Hashi: Can you tell us about your curated box and cooking demo program?
DS: This is a project where we partner with chefs to co-design a box, including our products and other local agricultural products. There are a set of recipes that can be made from the contents of the box and a live cooking demo where participants will actually learn not only how to make the recipes with the ingredients, but also learn more about the farmers who produce the ingredients in the box.
There is going to be a meet-the-farmers video, and then the chef's demo, and a live Q&A segment where the participants can ask the chefs and the farmers questions. Our second box with Chef Chris "Kamalu" Fujimoto is the one that we are really highlighting right now.
The demo event is on Saturday, March 27 and the last day to order is midnight on Sunday, March 21. We did our first box in January with Chef Kealoha Domingo and we're going to do one more box in April with Chef Dan Robayo of Magic's Beach Grill. And it probably won't end there, we are already talking about doing more boxes, but these are the first three that we've done. The boxes can be shipped nationally.
Hashi: How is the Ulu Ambassador program and partnership with Chef Hui going?
Chef Hui works with chefs statewide, and in partnership with them we established the Ulu Ambassador program where professional chefs and other chefs that are spearheading the revitalization of ulu from a culinary perspective joined the program. We help to feature their work and spotlight all the innovative ways they are using ulu. It's also a platform for us to partner with them in different ways such as developing new products together — we have a few chefs working on R&D projects with us around new ulu value-added products. We also share media opportunities with them, TV or magazine interviews.
Hashi: Are there international or historical examples of cooperatives that have influenced you?
DS: I'm originally from a kibbutz in Northern Israel so I have personal roots in the cooperative structure. I went back to Israel for my Master's degree and studied co-op business strategy. Through that more professional lens, I was really inspired by the success of businesses that were using the cooperative model — specifically the way in which they were really able to balance local community benefit and ownership with a more capitalistic agenda of generating profits.
For me that's really the North Star for the Ulu Coop: how can we really leverage our collective resources and collective strengths to create a business that is able to be really successful economically so it can give back to the community, give back to the farmers, and really benefit Hawaii and help to strengthen Hawaii's food system.
Hashi: What are some day to day steps that individuals can take in order to contribute to Hawaii's food security and resiliency?
DS: Eat ulu or other local staple foods at least once a week. This critical food group is the one in which we are the least self-sufficient. Less than 1% of Hawaii's staple foods are produced locally. By replacing imported staples like rice, wheat or potatoes with a local starch like ulu, kalo or squash just once a week you can actually make a huge difference in our food security.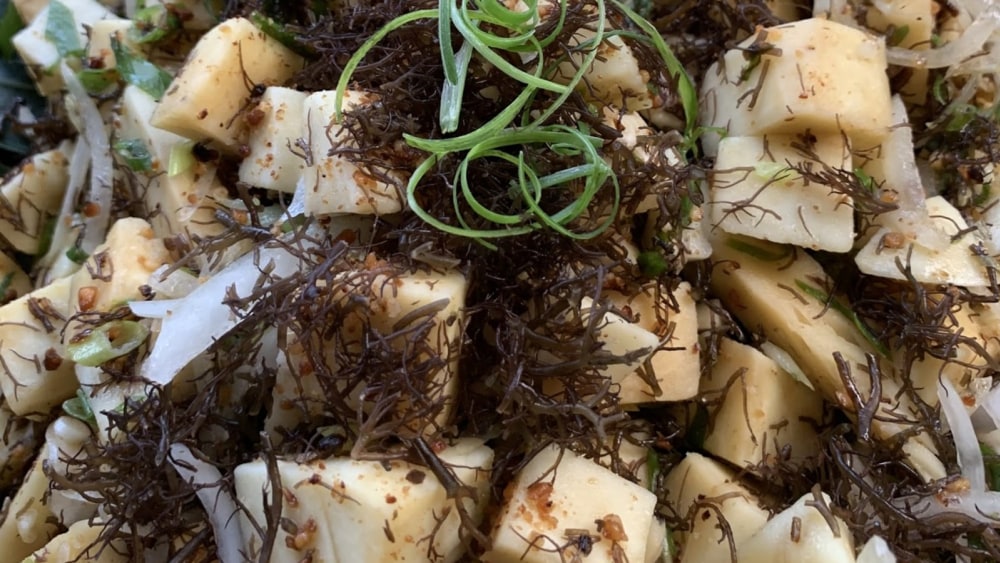 Try preparing this nutty and savory Hawaiian style ulu poke recipe by renown local chef Kealoha Domingo. Photo: Kealoha Domingo/Hawaii Ulu Cooperative
Ulu Poke
Serves 16 | By Kealoha Domingo
4 medium-sized ulu
Dressing
2 cups coconut aminos
1 ½ cups macadamia nuts
2 cups water
2 cups olive oil
1 tablespoon sea salt
¼ teaspoon cayenne pepper
Poke Ingredients
1-2 bunches green onion, finely sliced (⅛ – ¼ inch)
1 small/medium sweet onion or yellow onion, very finely diced
2- 3 cups cherry tomatoes, halved (avoid using the large tomatoes)
2-3 cups limu or ogo, as fresh and crunchy as possible
1 cups inamona or macadamia nuts, finely chopped and toasted (toast on stainlesssteel skillet)
Scrub, clean and wash breadfruit. Then quarter, core and steam for 25 minutes or until fork can be easily inserted into the flesh. After steaming the fruit, remove any imperfections and cut into ½ – ¾ inch cubes.
Use a blender to mix the Dressing ingredients. Pour dressing over the cubed ulu and mix well with a large spoon. Taste test for salt and pepper and adjust if necessary.
Add sliced green onions, diced sweet or yellow onion, cherry tomatoe halves, limu or ogo, 'inamona or finely chopped and toasted macadamia nuts. Mix gently until all ingredients are well distributed.
Make any adjustments to your preference.
*For more ulu recipes, visit Hawaii Ulu Cooperative's website.