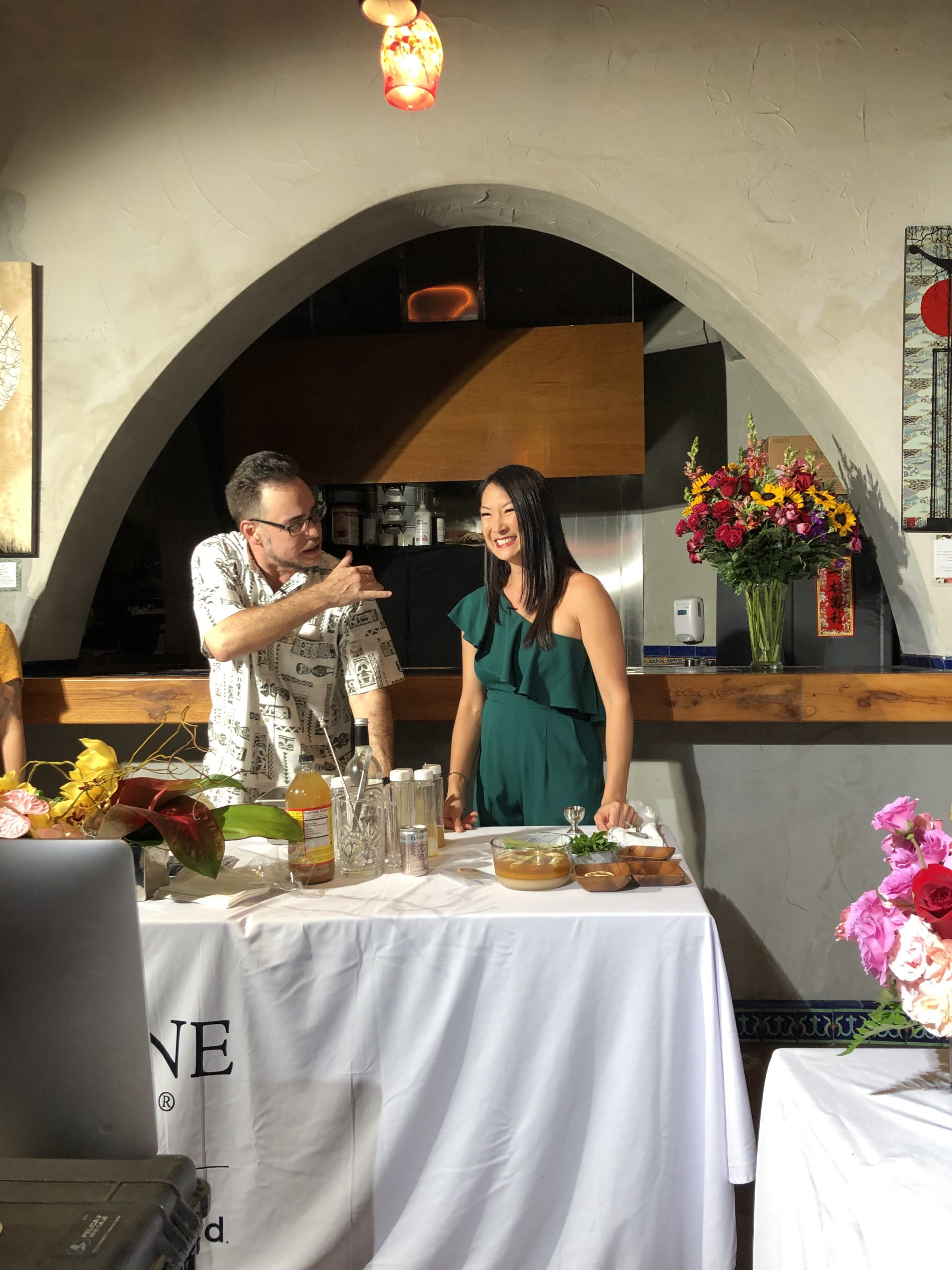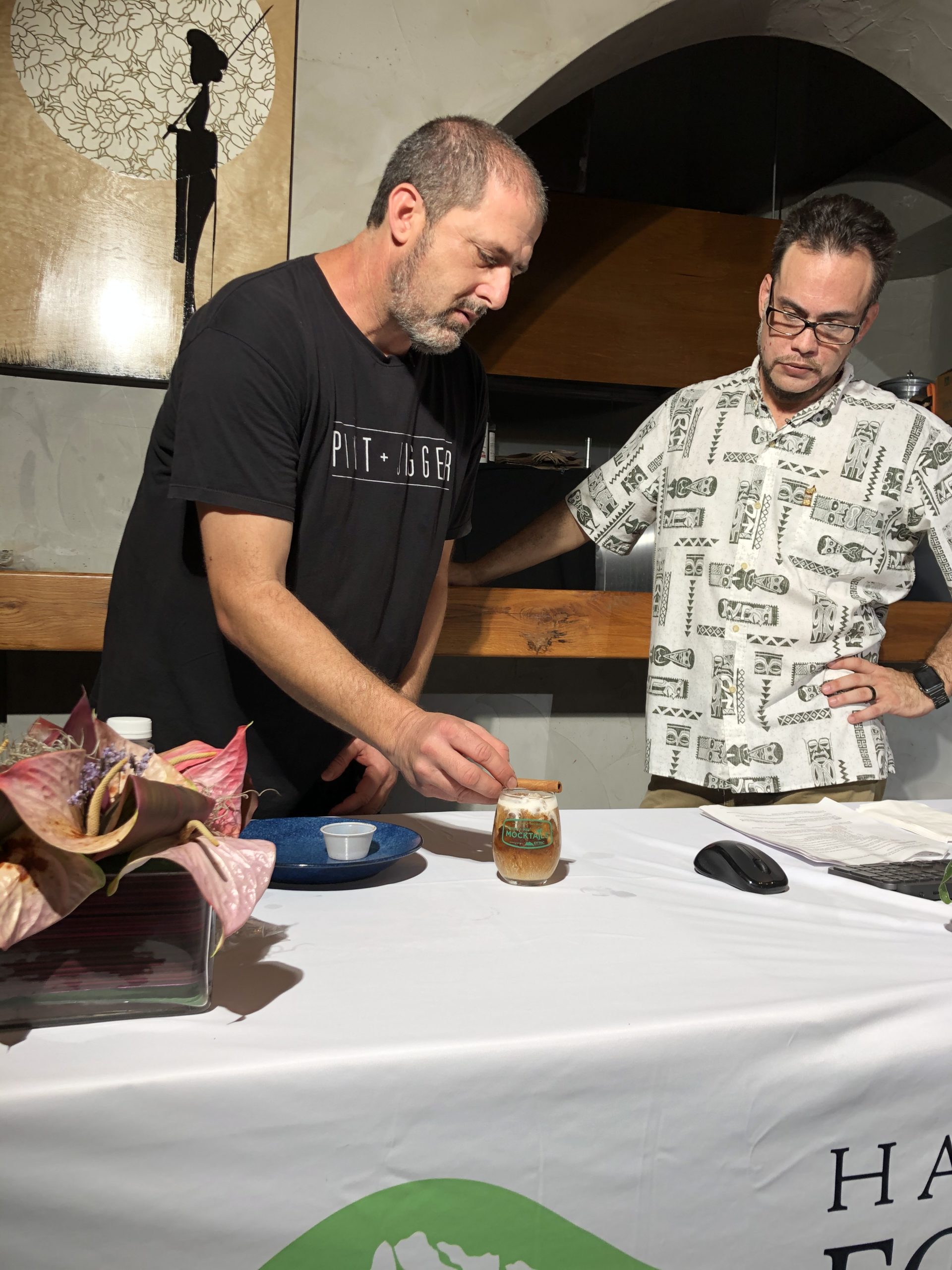 Mixologists Chandra Lucariello and Dave Newman demostrating their alcohol-free cocktails with host Jason Genegabus. Photos: Hawaii Food & Wine Festival, 2020
To continue educating the public on safe driving throughout the pandemic, DTRIC Insurance partnered with Hawaii Food and Wine Festival for a virtual Hawaii's Best Mocktails event. Four cocktail artists, Teves-William Freitas (standing in for Kyle Reutner), Chandra Lucariello, Dave Newman and Gwen Whiting, joined chef Jon Matsubara of FEAST, to create a virtual mixing and cooking class for the guests, hosted by Jason Genegabus.
"We're proud to partner with HFWF for a new twist on one of our most important community initiatives to prevent drunk driving, encourage positive road behaviors, and keep our roads safe," said DTRIC President and CEO, Michele Saito. "The 'Hawaii's Best Mocktails' campaign encourages responsible drinking with alcohol-free cocktails that provide tasty options for designated drivers." In the past, Hawaii's Best Mocktails was a competition between mixologists to find Hawaii's best mixed drink, sans alcohol.
This year, DTRIC took the event in a different direction: "Rather than having a competition between mixologists as we've previously done, DTRIC and HFWF invited a select panel to be part of our virtual event. And we're especially thrilled that Chef Jon Matsubara created bites to pair with these delicious, yet alcohol-free drinks." The event is also serving as a fundraiser for the Kokua Ag & Culinary Fund, which supports programs that help our agricultural, culinary and hospitality industries, and their employees, that have been negatively impacted by the COVID-19 pandemic. "We are proud to also support this fundraiser," added Saito.
"Hawaii Food and Wine Festival has supported Hawaii based businesses of every industry for the last decade. Shining their bright light on our local businesses may be more important now than ever before."

-Teves-William Freitas 
Her drink complemented "Sunrise Sour," a pineapple-based mocktail made by Whiting, "Vera Cruz Spice Coffee," an iced coffee drink made by Newman, and "E Pili Mai," a mocktail highlighting sugarcane, created by Reutner and presented  at the event by Freitas.
Reutner and Freitas explained the inspiration behind their drink: "What we create here at KoHana Distillers is agricole style rum made from the fresh juice of Hawaiian heirloom sugarcane. We grow 34 different types of sugarcane on our farm! We decided on our mocktail because we wanted to showcase the purity of the Hawaiian sugarcane before it is fermented and distilled." The four drinks combined with the lobster roll and birria quesadilla prepared by Matsubara made for a delicious night at home for the Hawaii Food and Wine Festival guests.
The virtual event was filmed at FEAST and broadcasted live via Zoom to guests who registered and picked up their Mixology & Meal Kits in advance. . The guests tuned in to watch the mixologists in action. At the same time, attendees were invited to  turn on their own camera so mixologists could see the guests prepare their own mocktails at home and answer any questions. "To have people to actually interact with was really helpful, and I thought that made the event really successful and gave it a personal feel," said Lucariello. "It was great to see people in their homes, in their environments making the cocktails and interacting with us."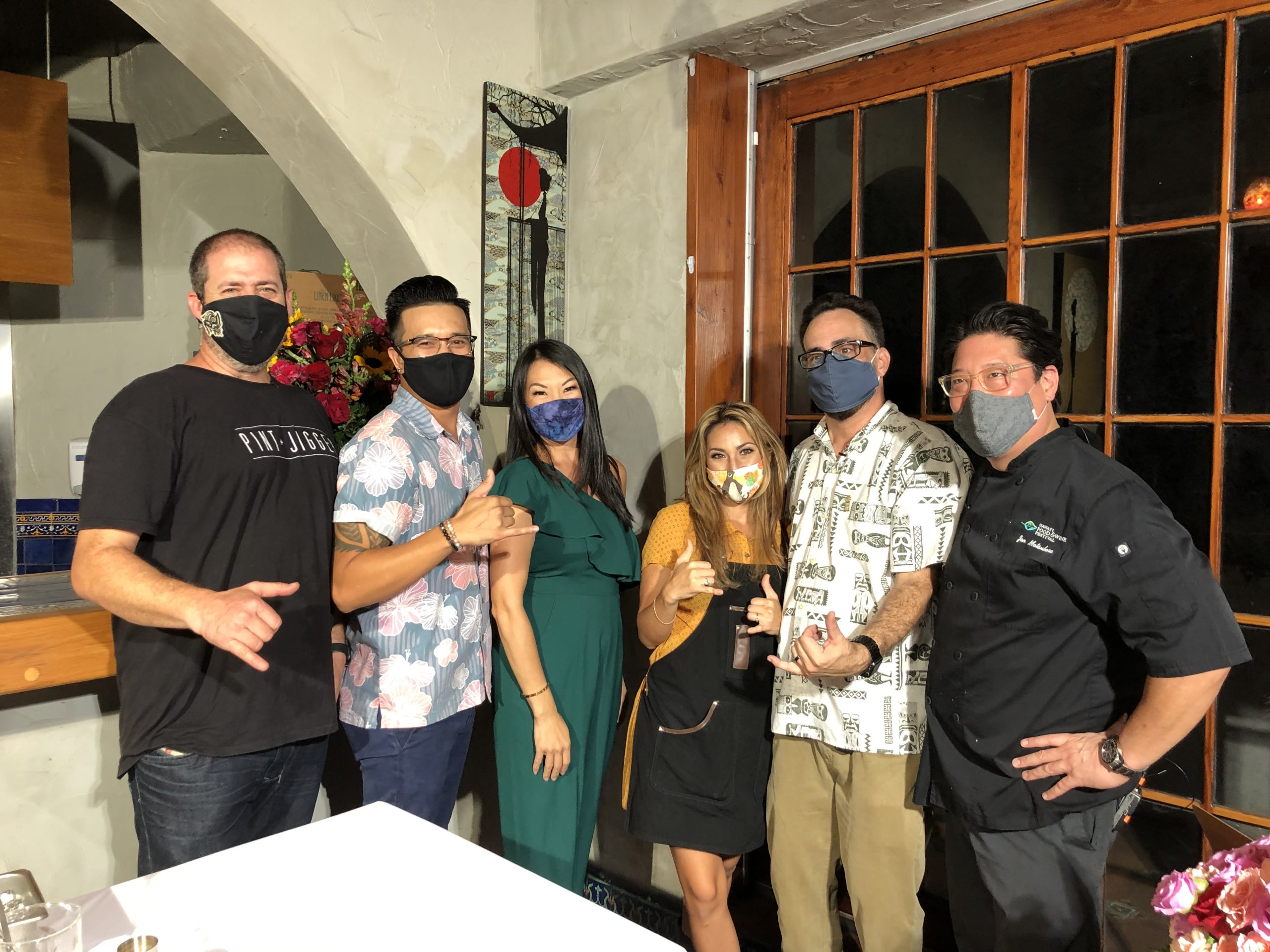 The featured mixologists, chef and host of the 2020 virtual event, DTRIC Insurance Presents Hawaii's Best Mocktails.
Before the event, each mixologist prepared a bag filled with the ingredients needed to make their mocktail, such as the base and garnishes. "They sent the containers to us and we batched all of the mocktail kits at home. To make 150 portions, I basically had an assembly line in my house! This was definitely something new," explained Lucariello. The guests picked up their to-go kits, complete with all four prep bags and the food items, before the event. "I believe the event ran smoothly with great energy. Chef Jon and Jason did a fantastic job hosting the event. The film crew was spot on and it's always a good time whenever Dave, Chandra, and Gwen are in the mix!" said Freitas.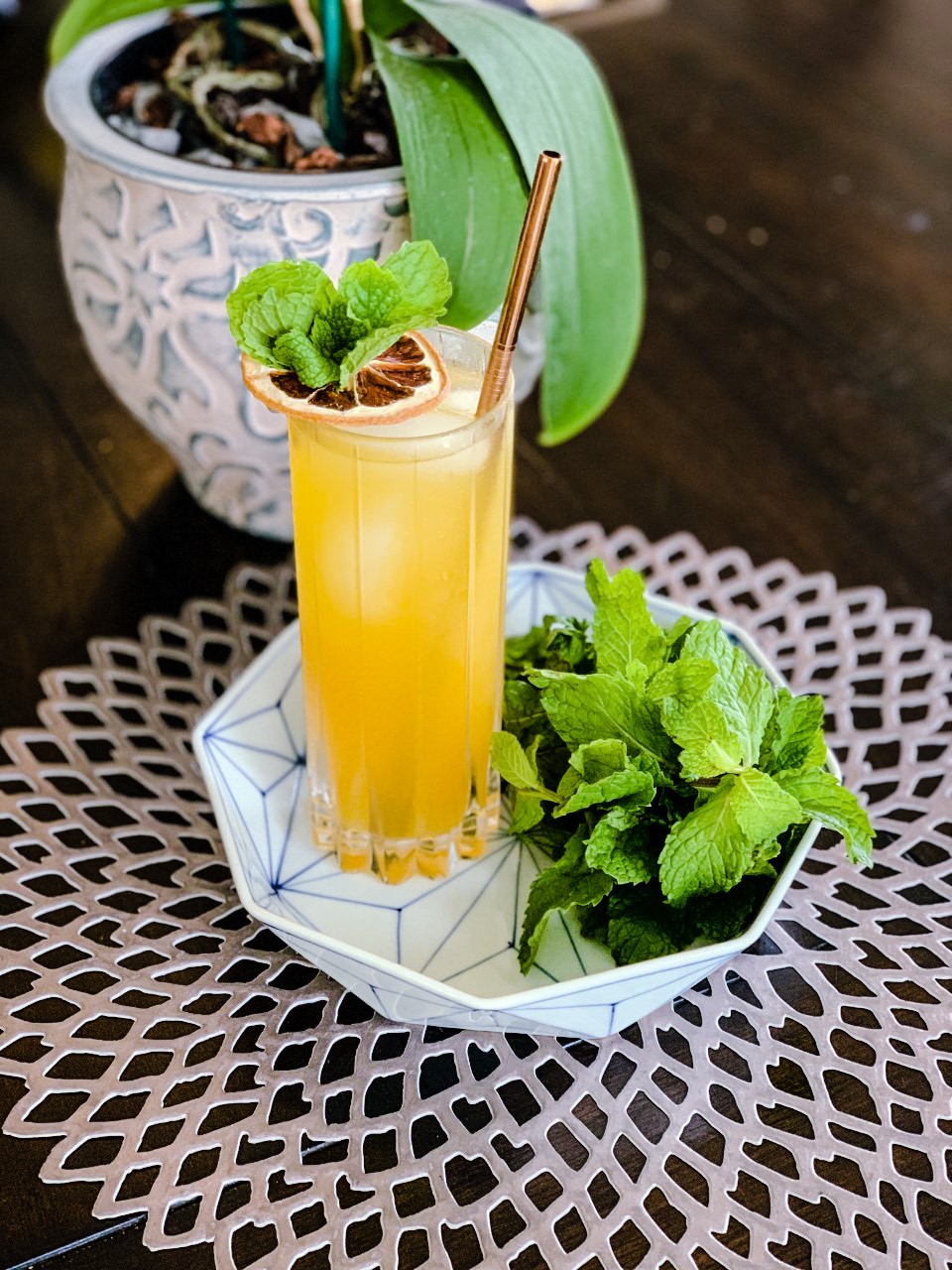 Eternal Sunshine by Chandra Lucariello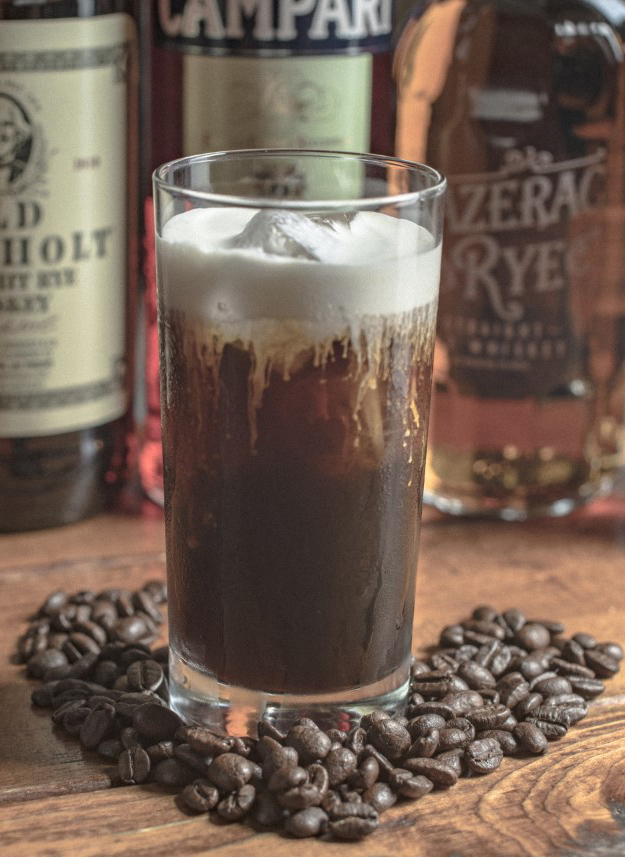 Vera Cruz Spice Coffee by Dave Newman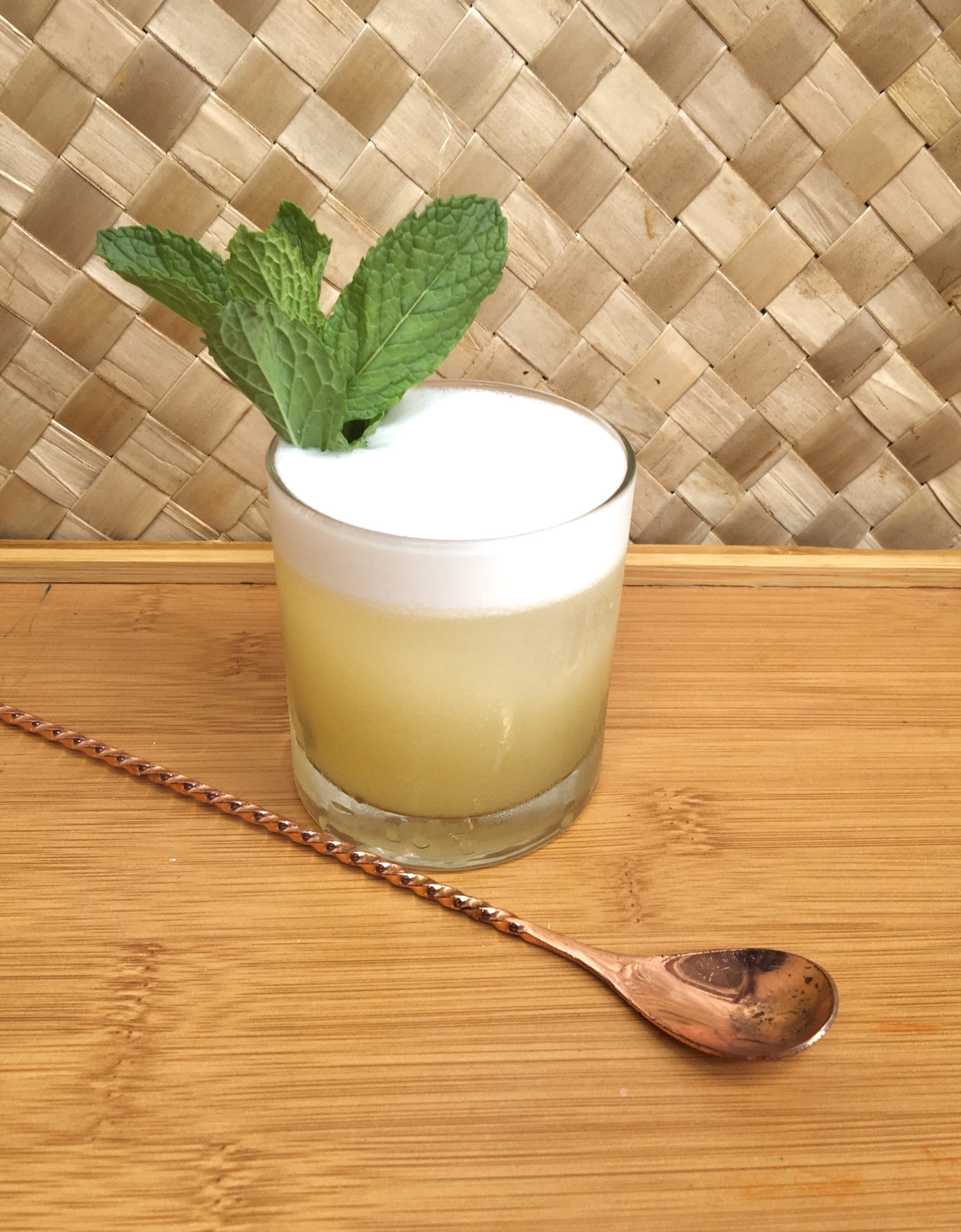 Sunrise Sour by Gwen Whiting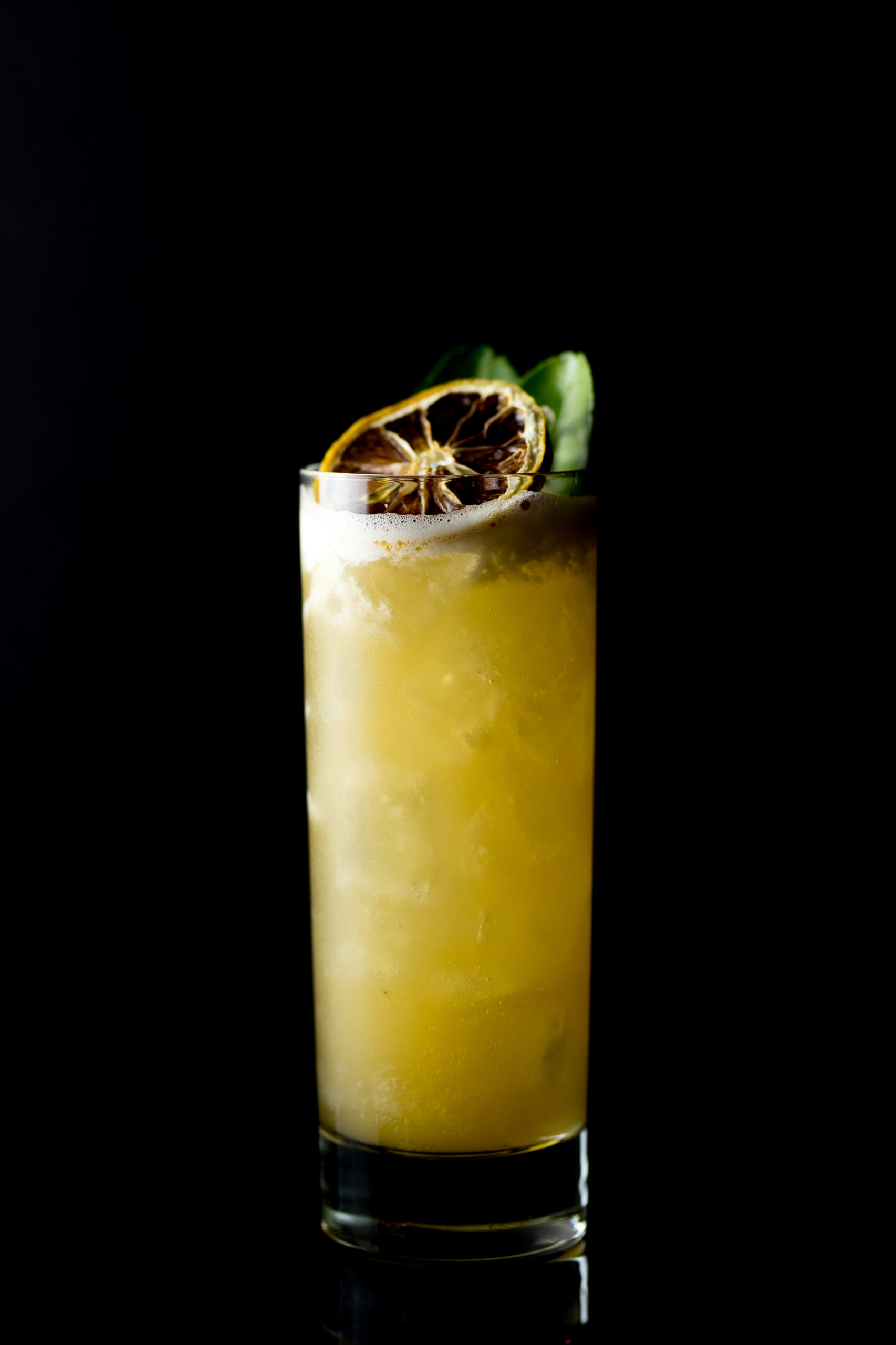 E Pili Mai by Kyle Reutner
Although the "Hawaii's Best Mocktails" event looked different from past years, Lucariello was proud to "give consumers and guests a little sense of normalcy" through the event. "I applaud Hawaii Food and Wine Festival for stepping up to the plate and finding new and inventive ways for people to still experience the festival." Freitas added, "Hawaii Food and Wine Festival has supported Hawaii based businesses of every industry for the last decade. Shining their bright light on our local businesses may be more important now than ever before."  DTRIC and Hawaii Food and Wine Festival successfully hosted a beautiful virtual event to remind guests about safe driving practices and about the wonderful food and drinks Hawaii has to offer.