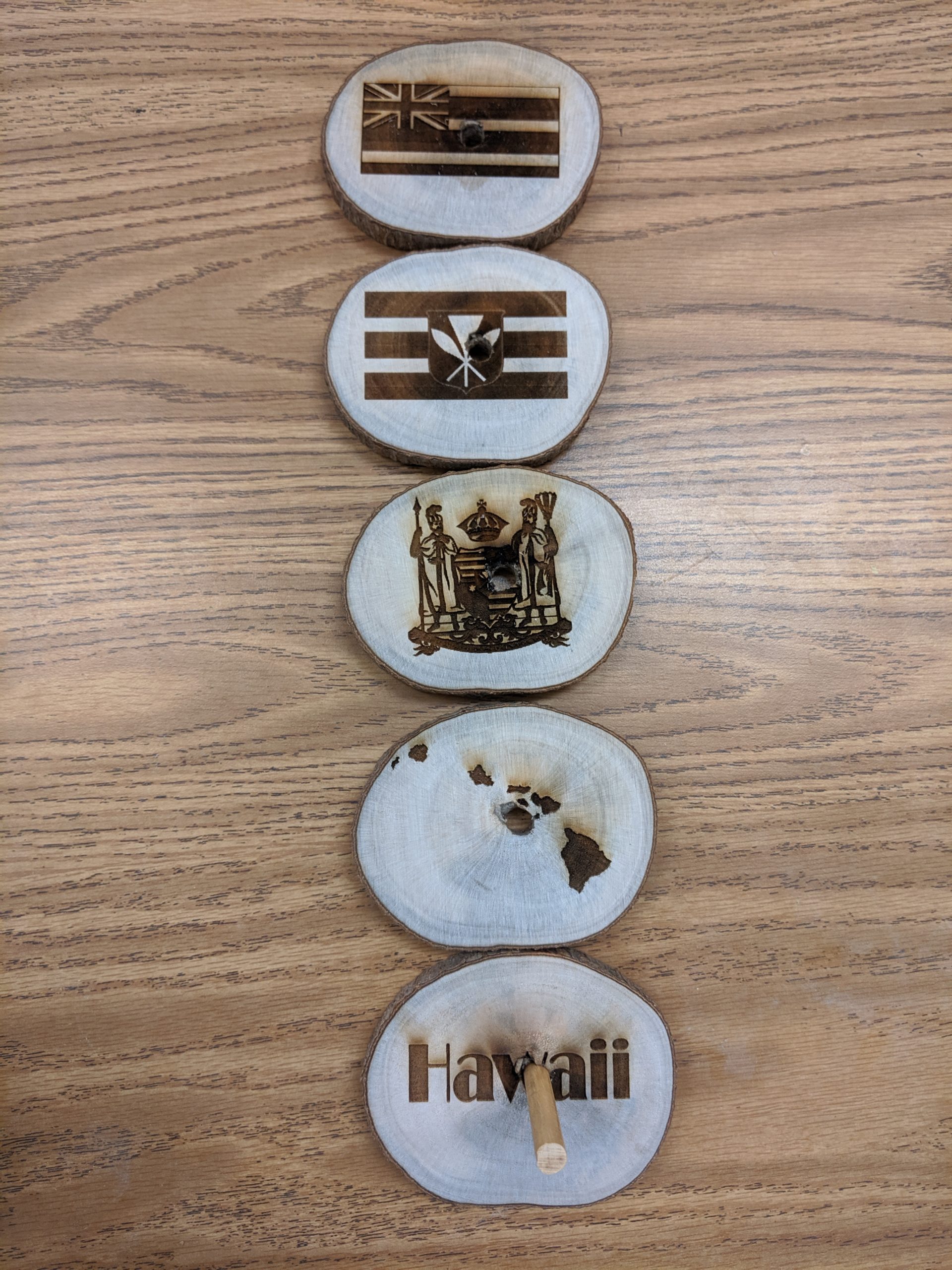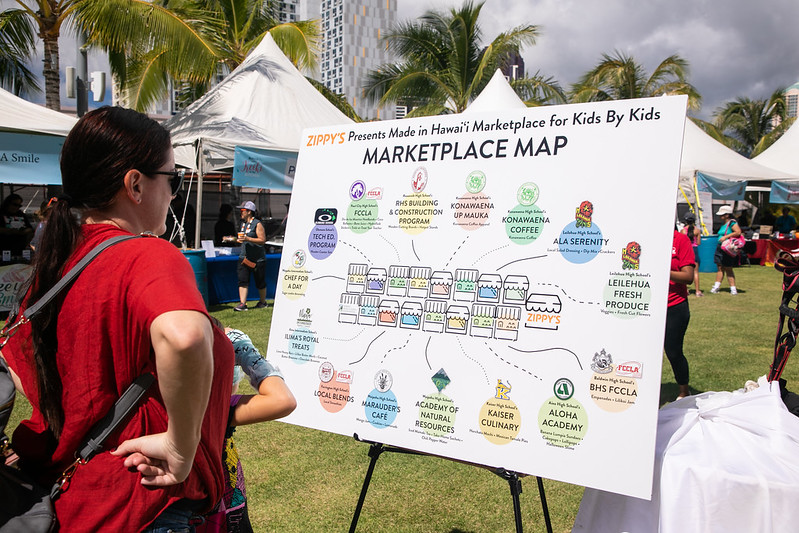 (Top) Homemade coasters by the students of Olomana School for the 2019 YEP marketplace. Photo: courtesy of Keane Kumashiro (Bottom) A map of the marketplace at the 2019 Keiki in the Kitchen® event. Photo: Travis Okimoto/Hawaii Food & Wine Festival, 2019
"Give a man a fish and you feed him for a day. Teach a man to fish and you feed him for a lifetime."
The Hawaii Food and Wine Festival (HFWF) and Hawaii Agricultural Foundation partnered to put this wisdom into practice for Hawaii students. In effort to help cultivate the next generation of Hawaii's agriculture and food business leaders, these organizations launched the Young Entrepreneurs Program (YEP) in 2019.
The objective of the program is to provide middle and high school students a real-world experience of creating a start-up business with an original product using locally grown ingredients or materials. The materials ranged in diversity from Hawaiian kapa, lauhala, local natural woods, ulu (breadfruit), taro, lilikoi and more.
"We started out by letting the students know that we were participating in a big program. They started reading who was involved and everything associated with it. Seeing how big this was opened the students' eyes," said Keane Kumashiro of Olomana School in Kailua, Oahu. Olomana is the alternative-education organization serving incarcerated youths.
"It's important that our students are aware that the marketplace is rapidly changing, and it's not just due to COVID-19. Embracing change is necessary in business."

-Keane Kumashiro 
"Our students are from the Hawaii Youth Correctional Facility, which brings a different set of challenges than other schools," continued Kumashiro. "Being incarcerated youth, sometimes they think that they aren't good enough to be successful in the real world. I still remember some students were skeptical that we would sell anything and were questioning if our sale price was too high. But we stuck with our business plan."
YEP culminates with a marketplace at the annual Keiki in the Kitchen® event, as part of HFWF, where each entrepreneurial team is represented and sells their handmade goods to the public. Revenue earned from each business goes to the respective school program.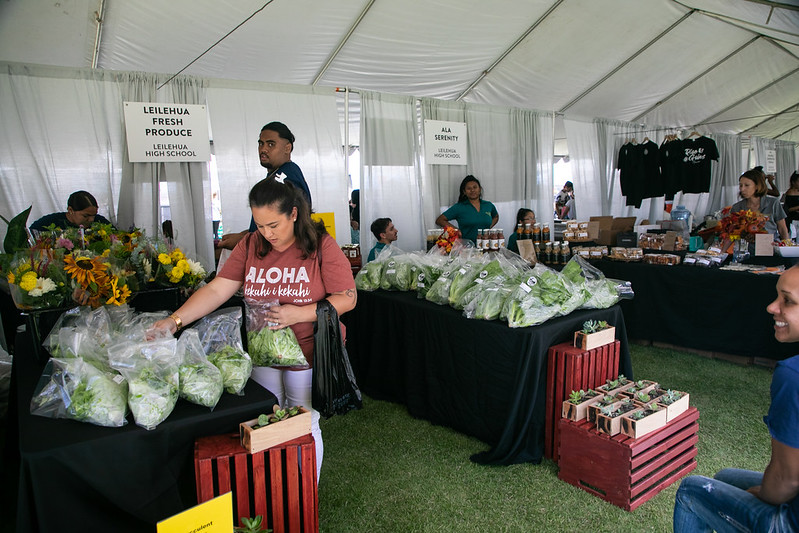 Attendees shop the homemade goods and products at the Keiki in the Kitchen® Made in Hawaii Online Marketplace for Kids by Kids in 2019. Photo: Travis Okimoto/Hawaii Food & Wine Festival, 2019
"We knew we had to work hard on our product because there would be competition," said Kumashiro. "We invested a lot of time and effort into each product that we made. After the event, when the students found out we had completely sold out of everything, it was a great moment. They realized that they can compete in today's marketplace if they empower themselves with the right things — knowledge, skills, hard work and a solid support system."
In 2019, the total revenue generated from the market exceeded $5,000. Through YEP, Kumashiro's class was able to replace some of their worn down equipment and other materials, which they continue to use to this day.
In 2020, the coronavirus restrictions canceled the in-person event — but the program quickly responded by launching the Keiki in the Kitchen® Made in Hawaii Online Marketplace for Kids by Kids on November 6, introducing an ecommerce component to the program.
The 2020 online marketplace featured 14 student businesses from culinary and agricultural classes from statewide public schools. In three short weeks, the schools surpassed the sales from the 2019 marketplace at Keiki in the Kitchen®, generating over $7,000 for the participating schools.
"It's important that our students are aware that the marketplace is rapidly changing, and it's not just due to COVID-19," said Kumashiro. "Embracing change is necessary in business.  Whether it's changing our product or changing from in-person to online, we need to openly embrace these changes. Going into each new year with the right mindset allows our program and our students to evolve in a healthy way."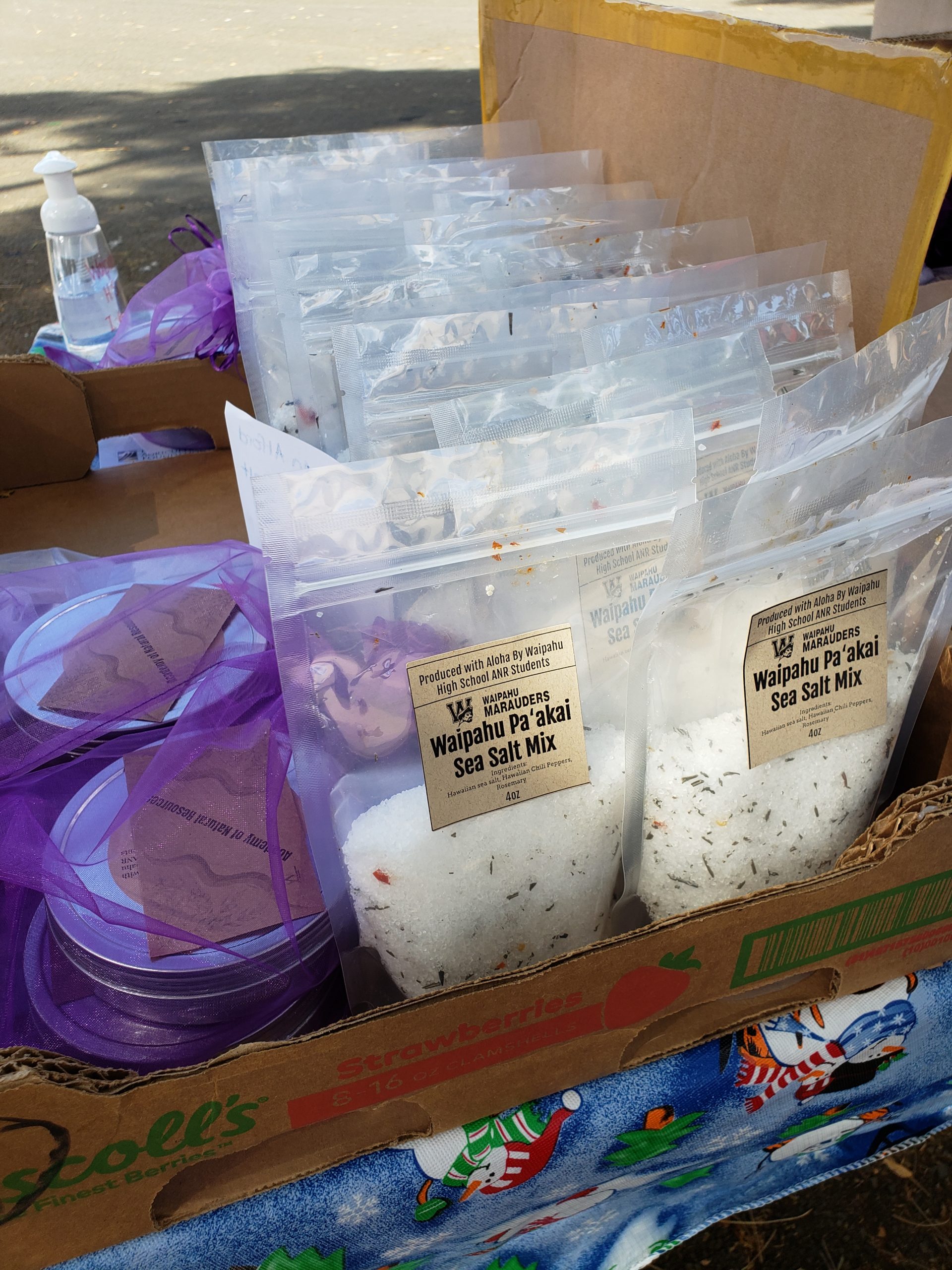 For the 2020 online marketplace, some schools opted for in-person pick-ups, such as Waipahu High School, which sold its student-made Paakai Sea Salt Mix. Photo: courtesy of Hawaii Agricultural Foundation