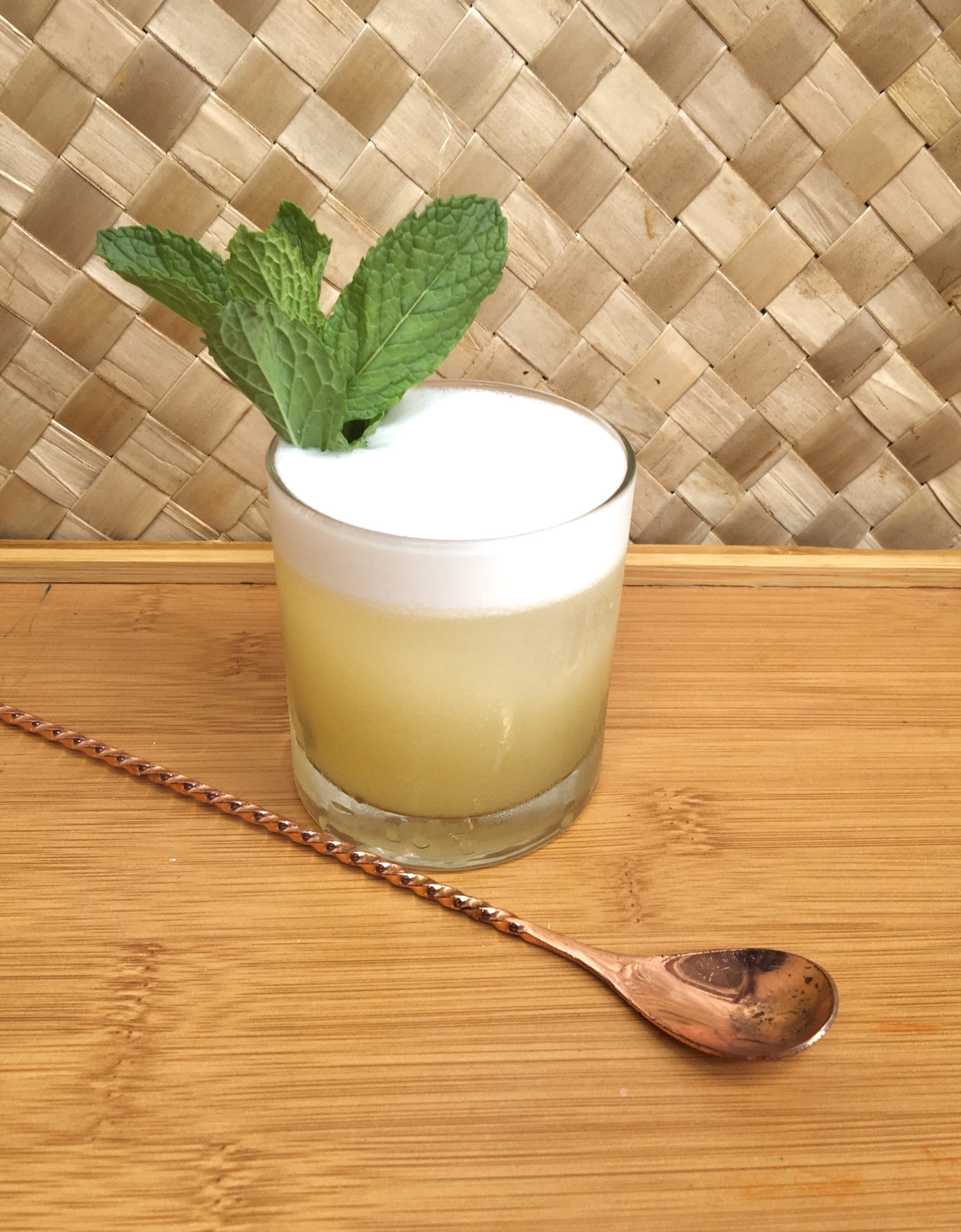 Photo: courtesy of Gwen Whiting
Sunrise Sour
Yields 1 cocktail | By Gwen Whiting
2 ounces Pineapple Tepache (recipe below)
¾ ounce Clove Simple Syrup (recipe below)
¾ ounce lime juice
½ ounce egg white (optional)
1 pineapple leaf, garnish
1 cup ice cubes
Combine Pineapple Tepache (recipe below), Clove Simple Syrup (recipe below), and lime juice into a shaker tin. Fill with ice and shake. If using egg white, reverse dry shake.* Pour into a 10 ounce old fashioned glass with large cube of ice. Garnish with a pineapple leaf or any fresh herb available and enjoy!
*Reverse Dry Shake — shake all ingredients with ice and strain into tin. Shake again with no ice.
Pineapple Tepache

The core and skin peels of 1 Dole Pineapple
1 stick of cinnamon
3 to 5 cloves
½ cup brown sugar
1/3 cup grated ginger
1 liter of water
Combine all ingredients in a large container and cover with a tea towel. Rubber band the tea towel to the container and let sit for at least 24 hours.

Clove Simple Syrup 
½ cup Demerara sugar
½ cup water
3 tablespoons of whole cloves
In a small saucepan combine sugar and water over medium heat and stir until sugar has fully dissolved. Add cloves and simmer for 10 minutes. Remove saucepan from heat and let stand until cooled (10-15 minutes). Strain into a clean bottle and refrigerate for up to two weeks.