For me, it all comes down to the details. While my formal culinary career started as sous chef for the Commander in Chief of U.S. Allied Forces Southern Europe—where I prepared formal dinners and ceremonial cuisine for numerous dignitaries—my head and heart were never far away from the place where I grew up, in the mountains of Eastern Tennessee. While abroad, I found inspiration in the culture and cuisine of Italy and in the Italians' passion for food. Then from Naples to the Pentagon, I moved back to the United States to begin my next assignment with the Secretary of the Navy.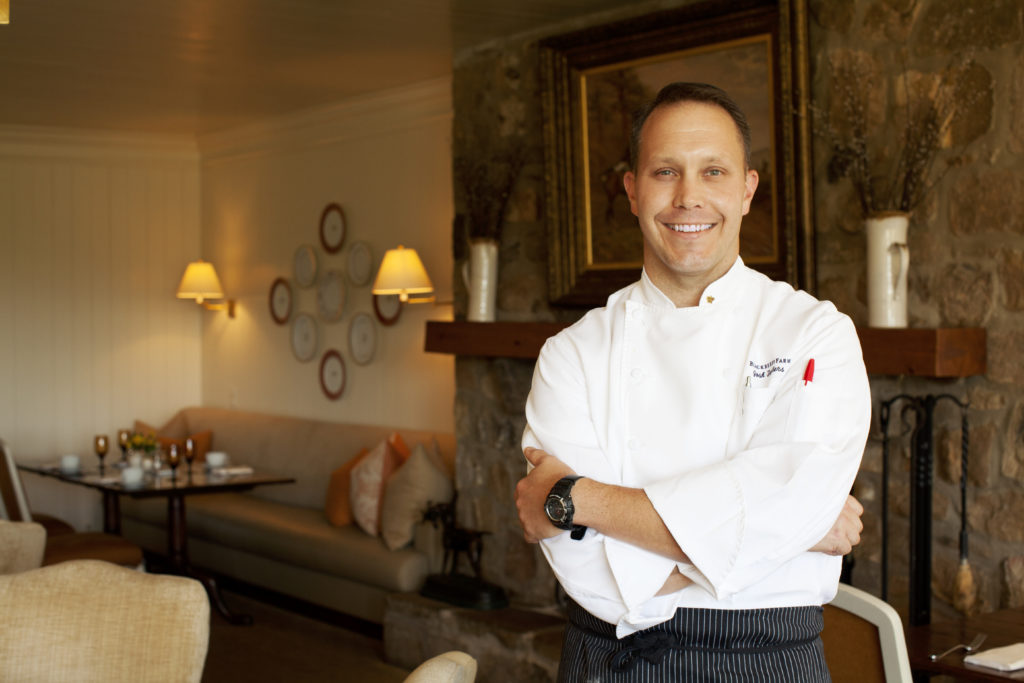 "I strive to share the flavors and seasonality of the Appalachian region in each dish."
Chef Josh Feathers: An avid hunter, forager and fisherman. Photos: courtesy of Josh Feathers/"Taste Our Love for the Land," 2015
After my service, I moved my family back home to the mountains. Today, as the Corporate Chef of Blackberry Farm, my role overseeing breakfast, lunch and our Larder kitchen allows me the perfect opportunity to share farm-to-table cuisine and sustainability methods with our guests. I am an East Tennessee native who grew up with a great appreciation for the region and its land. As an avid hunter, forager and fisherman, I understand and appreciate the flavors that the South has to offer.
While overseeing the Larder—which includes the operations of our preservation kitchen, cheese room and butcher shop—I work daily with our team of artisans to cultivate products from this land with sustainability always at the forefront. Using indigenous ingredients—as many of them as we can from the farm—our Larder program has grown significantly over the past decade to produce a wide variety of cheeses, charcuterie, preserves, pickles, dry mixes, vinegars and more. Each product is uniquely Blackberry Farm and is vetted, tested and tasted before ever hitting the shelves.
While in the kitchen of the Main House I create breakfast and lunch for our guests, where I strive to share the flavors and seasonality of the Appalachian region in each dish. It is important to me that while our guests are here experiencing this breathtaking area, they taste as many regional selections as possible, so the menu changes daily.
My head, heart and hands will always be in these hills and mountains of East Tennessee, striving to share this majestic place with guests from all over the U.S, and the world.
Smoked Turkey and Sweet Potato Hash
Serves 6  | By Josh Feathers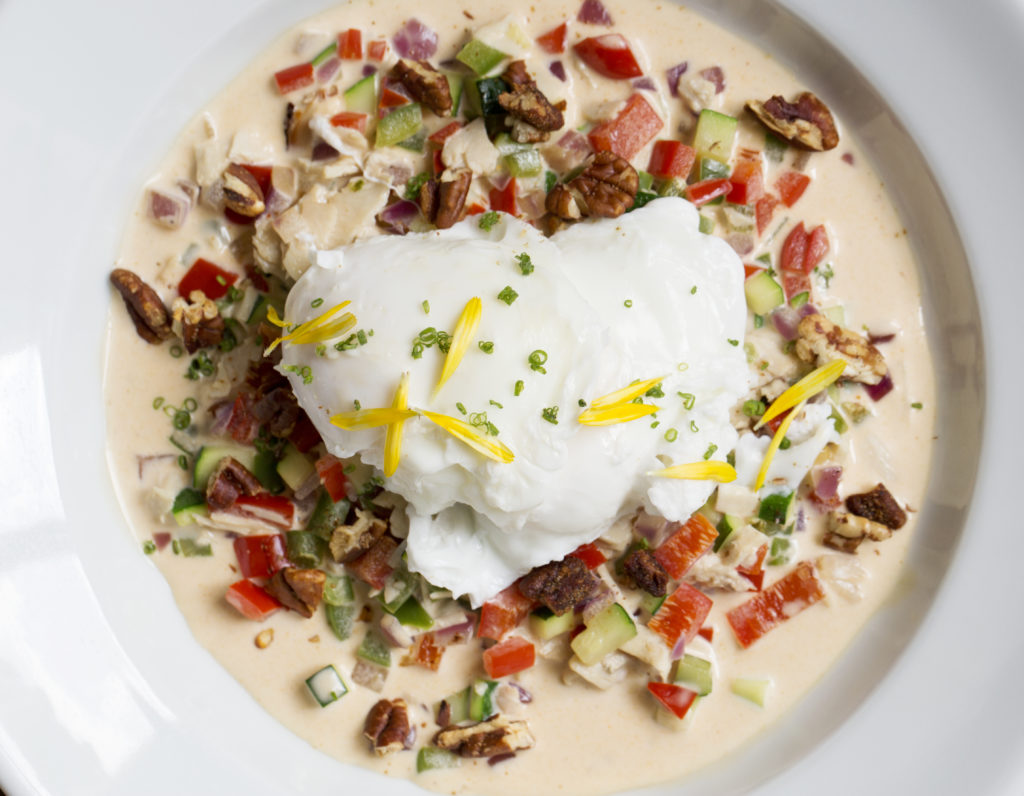 Smoked Turkey and Sweet Potato Hash
Serves 6  |  By Josh Feathers
Red Sauce
1 teaspoon white pepper
½ teaspoon cayenne pepper
½ teaspoon dried thyme
1 teaspoon sugar
2 tablespoons hot sauce
Hash
1 cup small-diced red onion
1 cup small-diced red bell peppers
Clarified butter, for sauteing
1 cup hominy
½ cup small-diced celery
1 cups small-diced roasted sweet potato
2 cups small-diced smoked turkey
4 tablespoons chopped smoked pecans
½ cup heavy cream
Salt and pepper, to taste
Combine Red Sauce ingredients and set aside. Saute onion and pepper in a small amount of clarified butter. Add hominy. Continue to sauté until onions are soft. Add celery, smoked turkey, sweet potatoes and a dash of Red Sauce. Add cream and reduce slightly. The sauce should be a pinkish color and should not be too spicy. Season with salt and pepper. Top with poached eggs or any style preferred.